Anguilla Chamber of Commerce's
"Around Anguilla In "18 Holes"...
Play Golf For A Good Cause!
Archived Article. Updates to come.
Anguilla's Chamber of Commerce and Industry (ACOCI) is one of the most trusted and relied upon organizations on the island. With a team of warm, genuine and hard-working professionals at the helm, Anguilla Chamber of Commerce is an excellent resource, uniting businesses on the island.
The good they do doesn't just end with the business community. In 2010, the Anguilla Chamber of Commerce established its Scholarship Fund, helping promising youth in Anguilla.
The Whole Group at the First Annual Fundraising Golf Tournament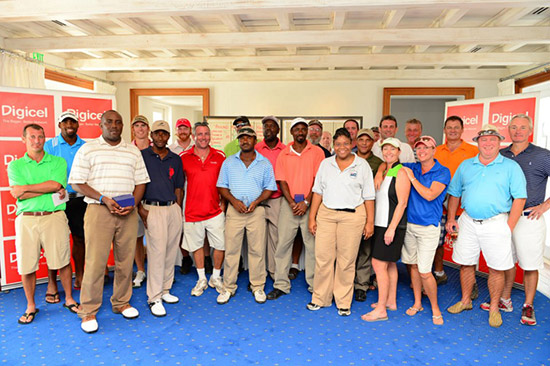 With a number of exciting fundraisers held over the years, their Annual Fundraising Golf Tournament is amongst the most anticipated!
Around Anguilla in "18" Holes
This year's Anguilla golf tournament held by ACOCI is their third.
Around Anguilla In 18 Holes is a day of fun under the sun at the pristine, PGA-style CuisinArt Golf Course.
Drawing visitors and residents alike, spirits run playful with the four-man scramble set up.
Teams At Last Year's Tournament in Front of the CuisinArt Golf Course

All players are put into teams of four (or, you can pick your team) and each team competes against each other down those green fairways overlooking the Caribbean Sea and St. Martin in the distance.
Working the Short Game!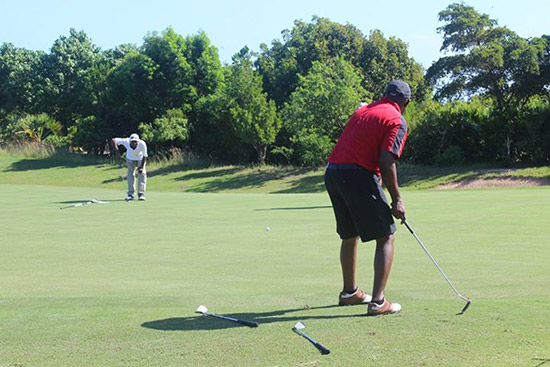 There is a $200 entry fee per player, which includes the green fee, coffee and tea, your golf cart, lunch and an open cocktail hour with tapas at the post-tournament reception.
Held inside CuisinArt's luxurious club house, everyone unwinds after an afternoon of golf while the scores are calculated and the awards are prepared.
Post-Tournament Reception During 2013's Event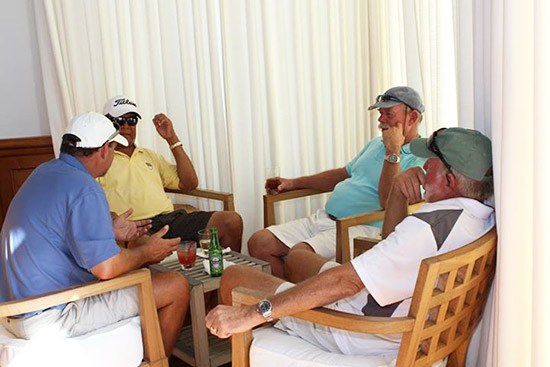 The sweet end to the day? Prizes and awards!...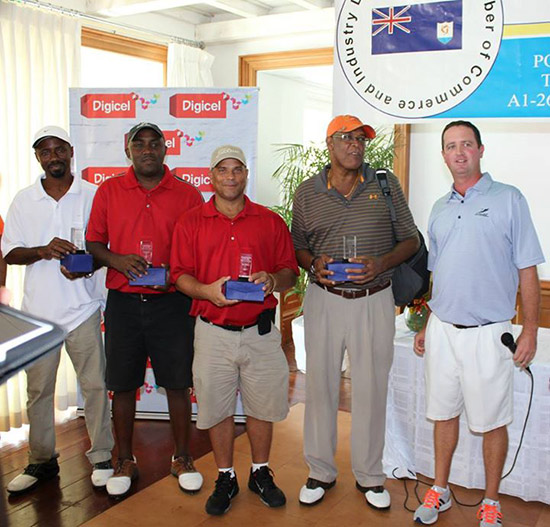 ... and knowing it's all been for an important cause, the ACOCI Scholarship Fund.
ACOCI's Scholarship Fund
The Scholarship Fund was born out of the desire to help strong, smart Anguillian students who are eager to learn business or hospitality at Anguilla Community College but who lack the funds to attend college.
At its inception it was designed for students graduating high school. It has evolved over the years and today, the scholarship is available to anyone 26 years old and under.
Anguilla Community College Donation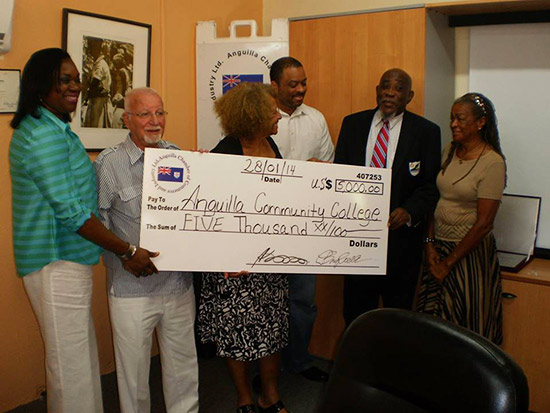 Offering Associates Degrees in a number of disciplines (including business and hospitality), and with a staff of experienced professors (who carry a long list of degrees from a number of universities across North America and the UK!), Anguilla Community College is integral to developing higher education resources in Anguilla.
Dancing at Starry Night Dinner Dance & Silent Auction

ACOCI's fundraising comes in many forms. Two of their most popular fundraisers are their Annual Fundraising Golf Tournament and widely loved Starry Night Dinner Dance & Silent Auction, a night of dinner and dancing inside CuisinArt's beautiful Italia restaurant.
The fund has raised a total of $16,000 over the years. The funds go directly to the Anguilla Community College where they are held in a scholarship fund. Then, they are provided to the scholarship winner who is chosen by both the college and ACOCI.
In 2013, they announced their first award recipient, Ms. Wykeisha Mills. She is currently pursuing her Business Associates Degree at the college.
Honorable and key to Anguilla's community, ACOCI goes above and beyond to empower the island's youth and strengthen the island's immediate and more affordable higher education system.
If you're interested in contributing to the Scholarship Fund, and taking part in ACOCI's 3rd Annual Golf Tournament, simply contact Lily at Anguilla Chamber of Commerce!
This year's event will be held on December 5th.
Contact Lily
Tel.: 264-235-2840 / 264-497-2839
Email: acocilily@caribcable.com
ACOCI Official Website: Click here