Beach Escape Villa...
A Hidden Gem Hideaway
Set in Cul-de-Sac, Beach Escape Villa is true to its name. The five-bedroom beach house is a contemporary Caribbean hideaway on one of Anguilla's best "hidden gem" beaches.
Welcome to Beach Escape Villa

Beach Escape Villa sits directly on the powdery-fine shores of Sandy Point.
This special spit of sand has long been a local favorite for quiet days at the beach. Set all the way west of Blowing Point, she is a tucked away beauty.
Sandy Point's Blue Waters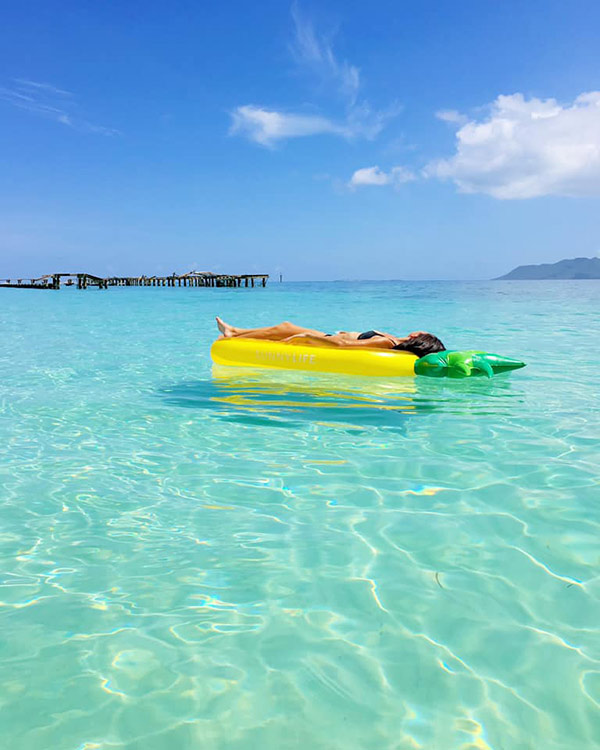 Here, the water can sparkle in a million different shades of blue. Gazing out to St. Martin, Sandy Point is in no short supply of "Tranquility Wrapped in Blue and View."
Inside Beach Escape Villa: The Main House
Beach Escape Villa marries classic Caribbean charm with beach house chic and comfort. The five-bedroom property is made up of two separate villas, separated by lush tropical landscaping.
The Main House

Two bedrooms are set upstairs of the villa's main house.
Wood floor lies under foot and high wooden vaulted ceilings are overhead, creating a classic Caribbean beach house feel. Straight ahead? Arresting views of the Caribbean Sea and St. Martin. Light, bright and surrounded by blue vistas, the bedrooms take your breath away.
Eastern Master Bedroom

The first master bedroom is set on the eastern corner of the main house. A hall with workspace separates it from the second master, set in the main house's western corner.
Workspace with Printer

Both bedrooms have king beds, air conditioning, ensuite bathrooms and walk in closets.
Western Master Bedroom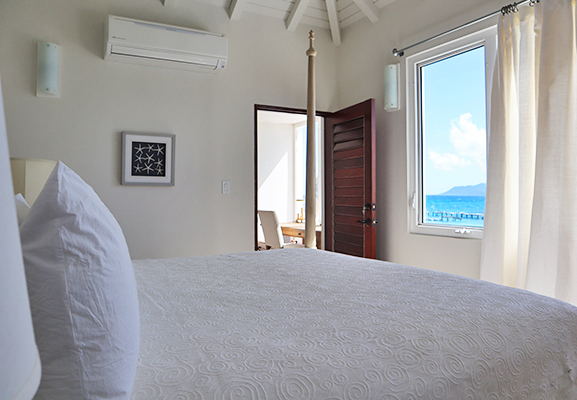 The Main House: Living & Dining
Downstairs, the villa's living, dining and kitchen area lays out in an open-floor plan.
Living Area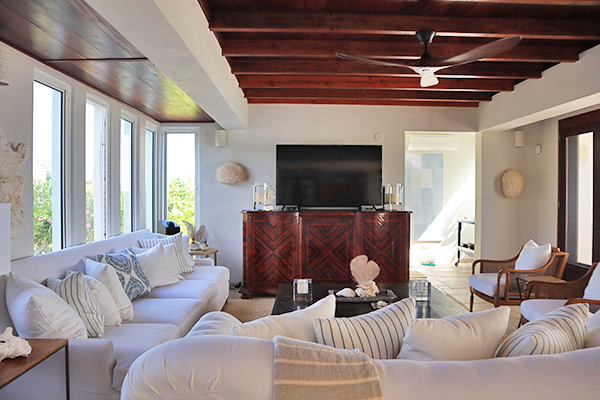 The living area is complete with plush couches, board games and a large flatscreen TV with Apple TV. The whole space is adorned with sea fans and sea urchins collected by the owners on their many outings to Anguilla's beaches.
Living Area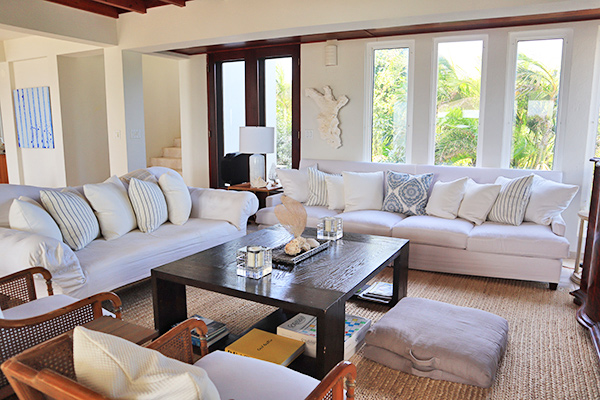 Their beautiful finds from days at the beach are spotted throughout the villa.
Treasures From The Sea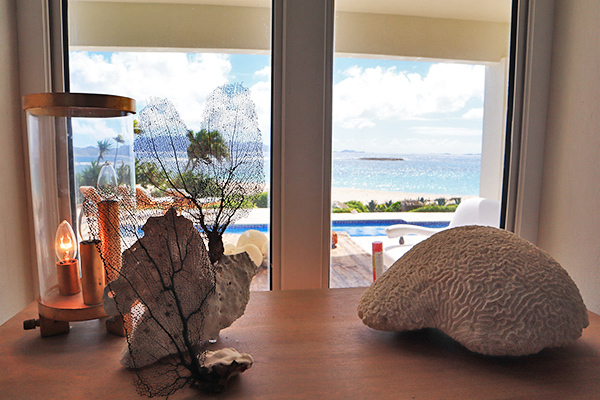 Adjacent to the living room is the villa's fully equipped and modern kitchen. It has everything you need for preparing and enjoying meals in, including stove, oven, coffee machine and even a wine fridge!
Modern Kitchen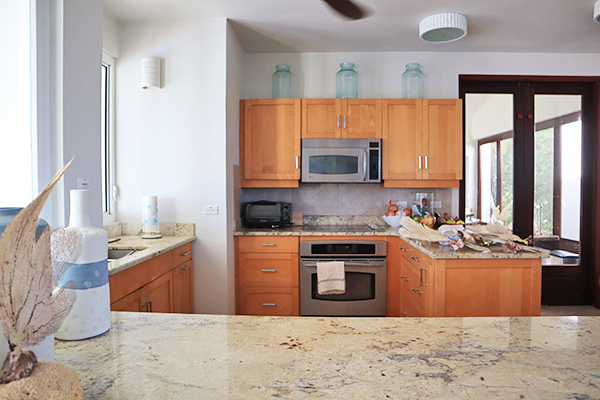 The kitchen opens into one of the most special rooms in Beach Escape Villa...
The Screened-In Sun Room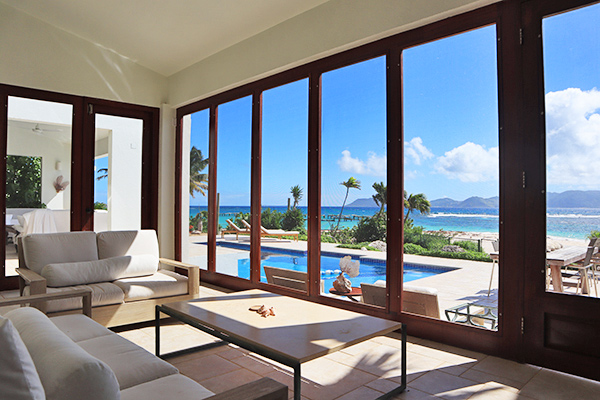 Here, you can snooze, lounge and dine to the sounds of the sea, cooled by the sea breeze gently passing through. Dining tables, couches and a large-surface flat-top grill fill this space.
Screening in the room is a genius touch. No mosquitoes, and should the skies give way to rain, this room becomes a perfect escape.
Outdoor Living
The screened-in sun room flows onto Beach Escape Villa's oversized terrace with 14x35' pool, outdoor dining area and plenty of shaded outdoor seating.
Oversized Terrace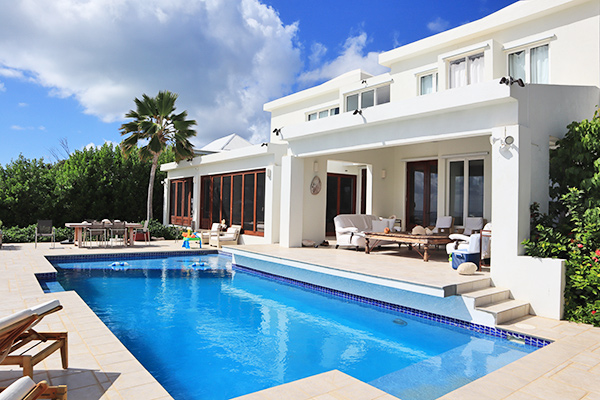 When it's time for sunbathing? Beach Escape Villa's lounge chairs have a tremendous view.
Lounge Chair With A View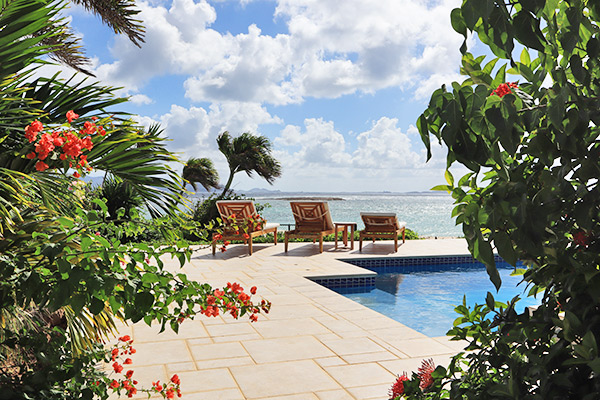 For a closer view? Step down from the terrace across a small grassy lawn to the beach!
Immediate Beach Access & Loungers on The Beach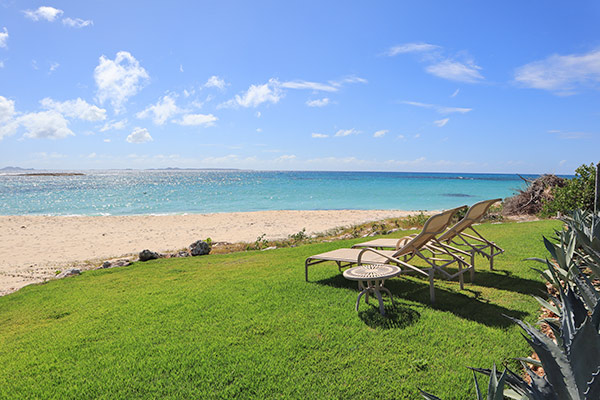 Beach Escape Villa: The Second House
The property's second house sits next to the terrace. It is right on the sand and makes full use of its location with a lounge and dining area on the beach.
Sandy Beachfront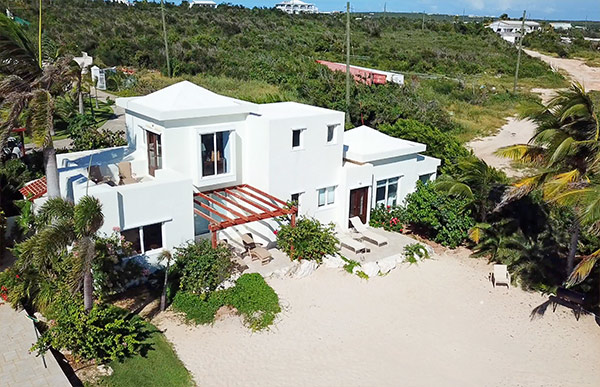 Inside, the house opens into a games room. The games room leads into the villa's fifth bedroom with trundle twin bed and oversized ensuite bathroom. The twin bedroom is set right before the villa's master bedroom.
Master Bedroom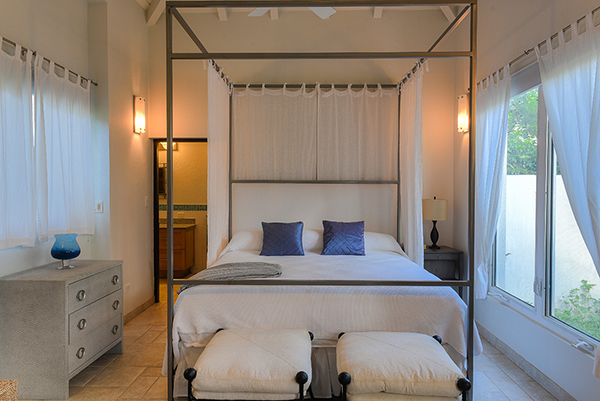 Elegant and chic, this bedroom opens onto the beach. The largest bedroom in the villa, it is complete with desk, sizable sitting area and an ensuite. Its proximity to the twin bedroom makes it an excellent choice for families traveling with young children.
Upstairs, via an outdoor staircase, lies the villa's final bedroom.
Second Floor Master Bedroom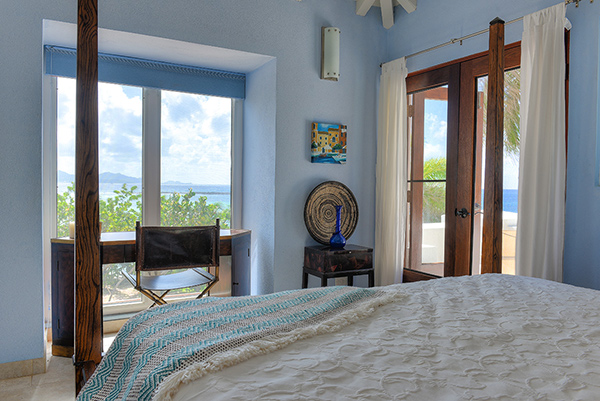 Completely separate from the downstairs area, this master suite boasts both privacy and one of the best views in the house!
It is complete with a private balcony, lounge chairs, TV and ensuite bathroom with rain shower.
Ensuite Bathroom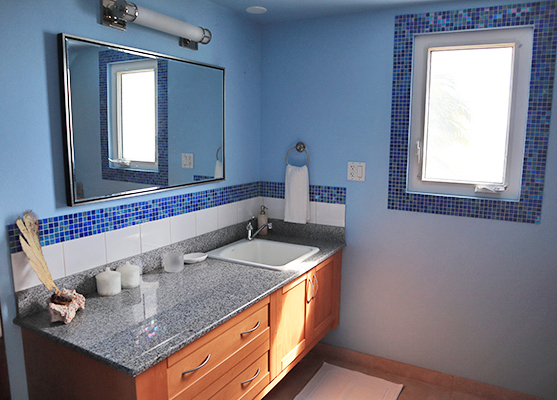 Beach Escape Villa is a true gem on one of Anguilla's best hidden gem beaches.
Location & How to Book
Beach Escape Villa is an Anguilla Card Partner. Save 10% when you book with your Anguilla Card.
Directions: West of Blowing Point in Cul-De-Sac.
Book Directly via The Website: Click here.
Villa Manager Email: catherine@anguillavillacompany.com
Tel.: 1-264-498-2741