Favorite Anguilla Beaches
33 magnificent Anguilla beaches.
"Choose one."
Certainly there can be no harder task than to name the single best from so many perfect, yet different, beaches.
For all Anguilla Beaches watch here...
How can you pick just one special favorite from Anguilla's 33 beaches? Let's cheat a bit and pick five, each for a different reason...
Infinite Blue Waters of Meads Bay

For our Top 5 Anguilla Beaches, watch here...
1) Scenic Shoal Bay East
This is a 2-mile strand of perfect white sand. It has been named the world's best beach (not just the Caribbean's!) by many top tourist magazines and authorities.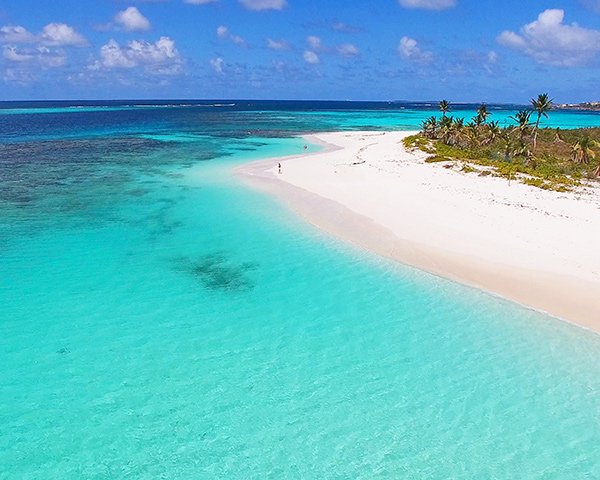 We love walking this beach. The sand is so powdery and stretches a mile, comes to a point with some fantastic reefs, and then goes another mile.
Several good beach bars, not to mention terrific, open-air restaurants sit right on the beach. This beach is also known for its outstanding snorkeling!
More on Shoal Bay.
2) Relaxing Rendezvous Bay
One of the most popular beaches in the region, Rendezvous Bay has been voted the #1 beach in the Caribbean time and time again. One look at those crystal clear blue waters and you SEA why!
Let's "Rendezvous"

This beach is favored for long, easy walks. Mornings strolls here are quiet and magical. A gentle sea breeze blows through, keeping you cool as you walk. Gaze at the mesmerizing, peaceful ocean waves…
Rendezvous should really be called RendezVIEW :-)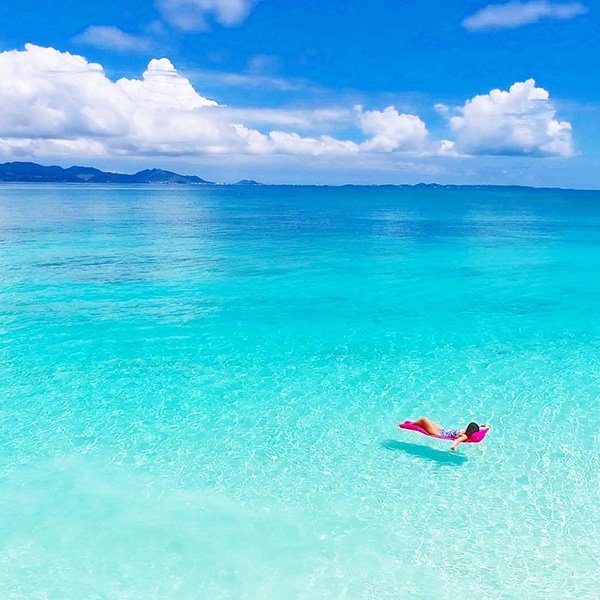 Out in the distance, neighboring island, St. Martin stands tall with its alluring tropical mountains.
Around 11:30am the beach gets busier. The main attraction?
Grilled Lobster & Fries With a View at Sunshine Shack!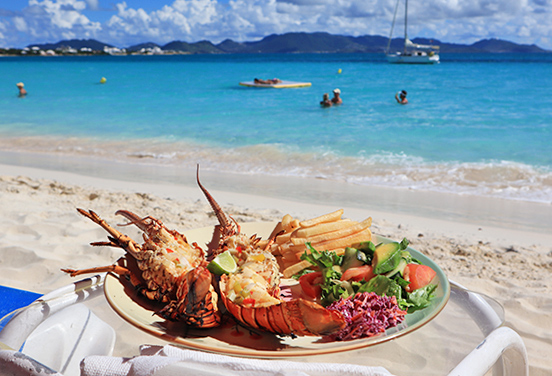 This charming restaurant right on the white sands of Rendezvous Bay is the perfect spot to eat, drink and laze away the day. Serving up tasty BBQ and drinks all afternoon long, Sunshine Shack is a must vist!
More on Rendezvous Bay.
3) Magnificent Meads Bay
Meads Bay's beauty is one of a kind. It is Louise's personal favorite.
Crystal-clear blue water stretches for as far as the eye can see over the bay's sandy bottom. The result? Infinite turquoise waters that shimmer an extra-special azure hue.
Paradise is Here!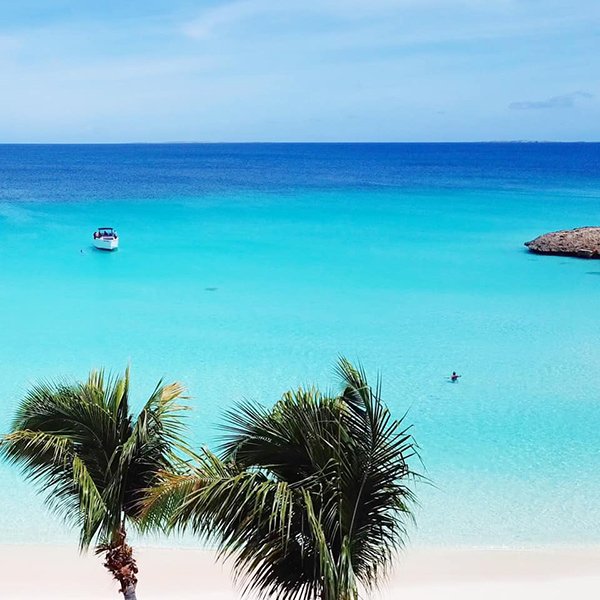 Meads Bay has become a destination over the years. It's now home to many high-end resorts, hotels, villas and 5-star restaurants! (Click here for full video tour of Meads Bay). During high season, Meads Bay is lined in million dollar yachts and enjoyed by celebrities.
Its popularity makes sense from the moment you see its waters...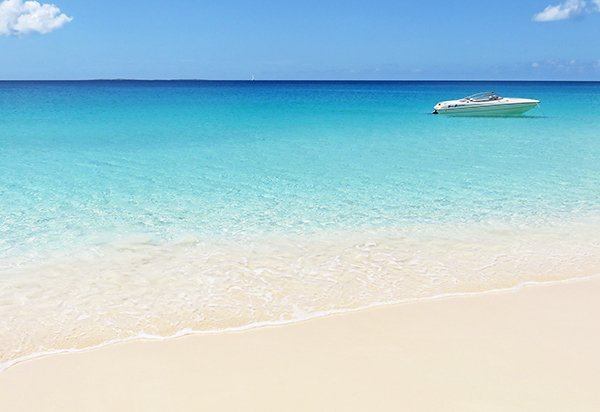 Our favorite spot on Meads? Nims Nook, a magical cove at the beach's Eastern corner, right under Malliouhana.
Happiest on Meads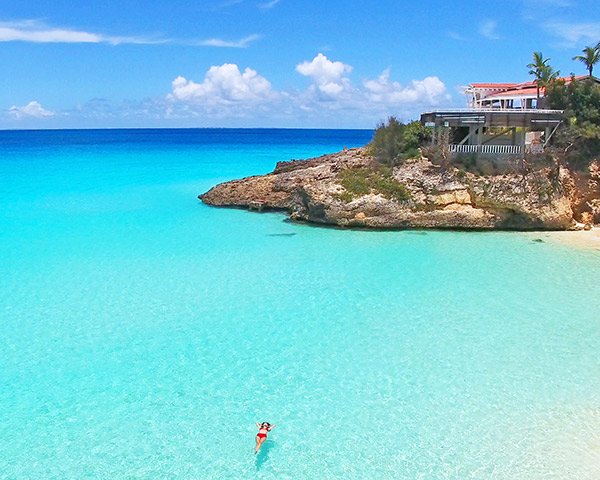 This little inlet is perfect for an afternoon float.
More on Meads Bay.
4) Marvelous Maundays Bay
A pristine semi-circle of fluffy white sand, Maunday's Bay is picture-perfect.
Hello Maundays Bay!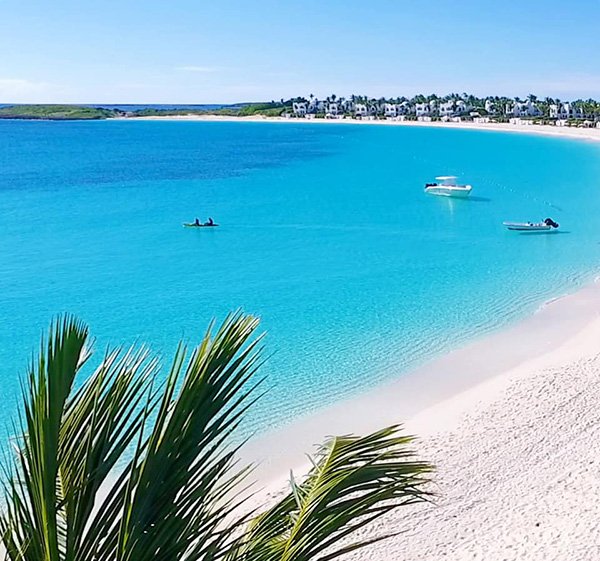 The beach is home to one property, LVMH Belmond's Cap Juluca. One of the top luxury resorts in the entire Caribbean, Maunday's Bay has become synonymous with the five-star hotel.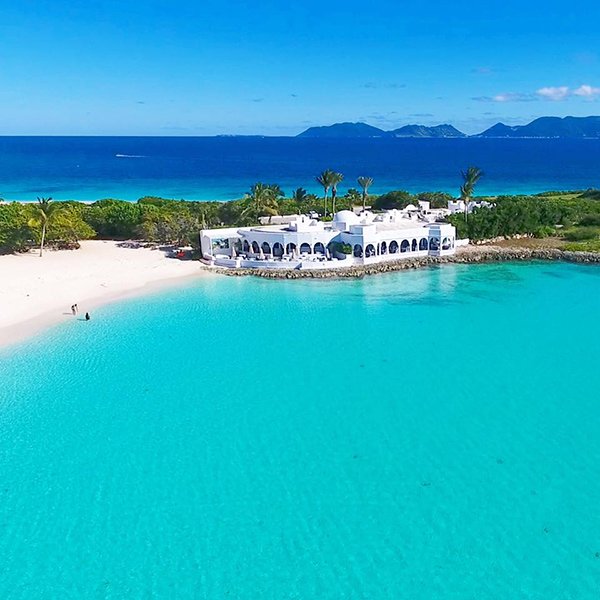 With white sands, blue waters and a view of St. Martin, too, the scenery is ahhh-mazing!
5) Beautiful Barnes Bay
Here, you are snuggled in among some of the most luxurious villas in the entire world. Barnes Bay is a favorite of the jet set! Robert Deniro, Billy Crystal and even Robin Williams have all stayed at the luxury villas that line the western side of this beach.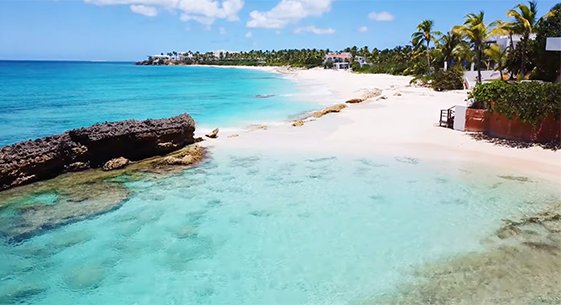 At the beach's eastern end? None other than the exquisite Four Seasons resort! From end to end, this beach exudes privacy, calm and total relaxation.
The snorkeling here is great too!
The beach is a wonderful fine powder, no rocks or coarse shells as some of the others have. And, as you can see, it's simply beautiful...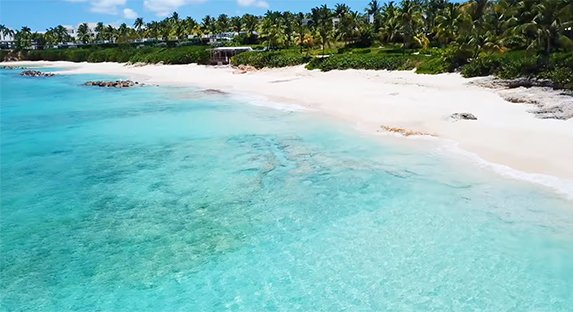 Most of all though, I really feel comfortable on this beach. For years, Barnes Bay has been a family favorite of ours.
My sister and I swam & played here every day and
we even got mom into the water!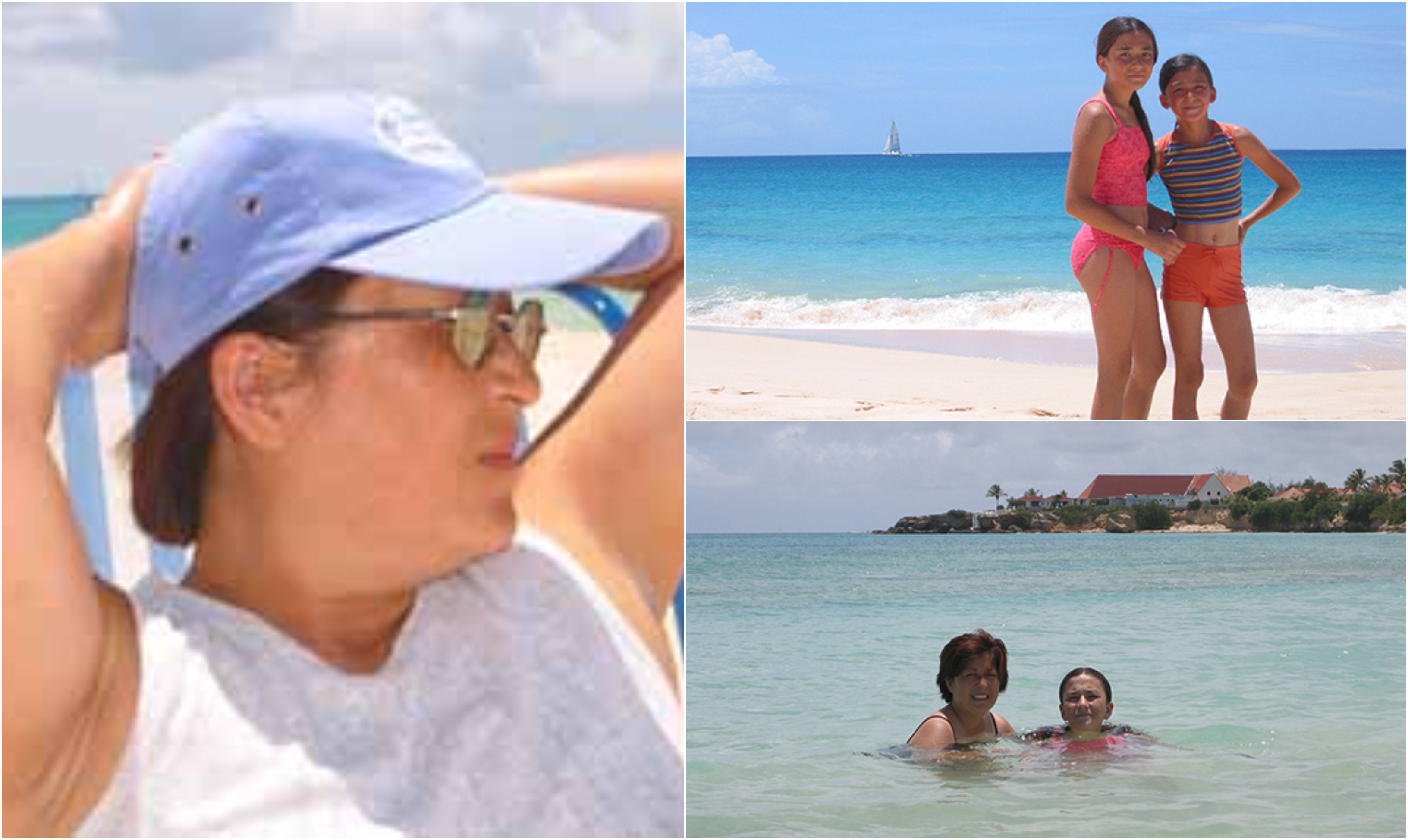 Of all of the 33 Anguilla beaches, these are our top 5.
More Beautiful Anguilla Beaches
Anguilla Beach Chairs
Speaking of Anguilla beaches, who rents chairs on them? Who includes beach chairs with lunch? Refer to our beach chair guide on your next day at the beach.
Anguilla Cays
Did you know that many of Anguilla's most beautiful beaches aren't on Anguilla? Anguilla's offshore cays are home to some of the most breathtaking stretches of sand in the entire Caribbean!
The Western Tip & Anguillita
One of Anguilla's most magical secret beaches on the island's far west end.
Kristin's Anguilla Beaches Beach Walks...
Kristin Bourne reports on each of her long beach walks, providing an in-depth look at Anguilla's most pristine beaches!
Other Hidden Gems & Popular Favorite Anguilla Beaches
Anguilla's Unknown Waters
The island is known for their beautiful beaches. But other stunning bodies of water are calm, breath taking, and ideal spots for bird watching.
Our Favorite Beaches Worldwide
Of course our family loves Anguilla beaches, but what about the rest of the world's beaches? Here are our top ten, complete with photos, outside of Anguilla. Click here to read about our favorite beaches around the world.
That about covers our favorite Anguilla beaches...
What's Your Favorite Anguilla Beach?
When all is said and done, Anguilla is about its beaches. Each is flawless, perfect in its own way, each with its own character that causes each of us to have a favorite. What's yours?
Your Favorite Anguilla Beaches
Click on the links below to read about other visitors' favorite Anguilla beaches.