<![endif]-->
Favorite Anguilla Beaches
33 magnificent Anguilla beaches.
"Choose one."
Certainly there can be no harder task than to name the single best from so many perfect, yet different, beaches.
For example, come fly with us over magnificent yet little-known and rarely-visited Long Bay...
How can you pick just one special favorite from Anguilla's 33 beaches? Let me cheat a bit and pick three, each for a different reason...
Infinite Blue Waters of Meads Bay

1) Best Big Beach... Shoal Bay East
This is a 2-mile strand of perfect white sand. It has been named the world's best beach (not just the Caribbean's) by many top tourist magazines and authorities. Here's a photo of my dad, little sister and me taken on our first visit to Shoal Bay East in 2002...
We still love walking that beach.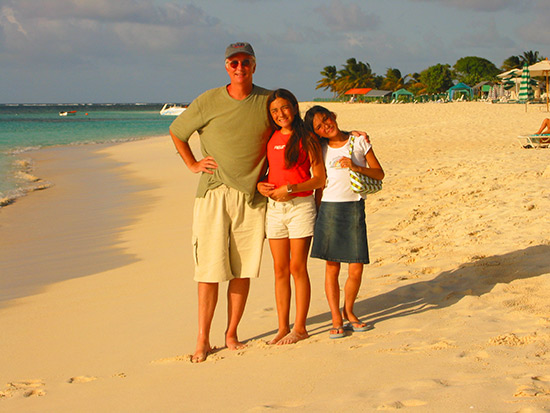 The sand is so powdery and stretches a mile, comes to a point with some fantastic reefs, and then goes another mile.
Several good beach bars (I think that's why my dad first fell in love with Anguilla!), not to mention terrific, open-air restaurants right on the beach.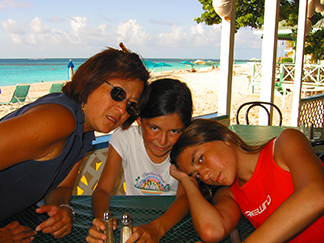 Here you see Yuki (my younger sister), my mom and me at the Madeariman Restaurant back on our first visit to Shoal Bay East...
The food was great, and is still excellent today. You won't find a place that's more on the beach.
Have their grilled snapper sandwich!
My sister and mother both swear by the ribs, too.
This beach is also known for its outstanding snorkeling!
And you probably do not know what it is most UNknown for! Click here to visit the virtually deserted end of the biggest and best of all Anguilla Beaches.
For more Shoal Bay East, "fly over" the sea and sand with the video below!
2) "Funkiest" Beach... Sandy Ground.
I put "funkiest" in quotes because that's what my dad calls it. I just think it's a cool place.
People from around the world dock their boats here when they visit.
And as you can see...
There are a heck of a lot of boats and people crowding this coolest of Anguilla beaches.
As a matter of fact, it's one big gigantic party!
Actually, it really is a big party...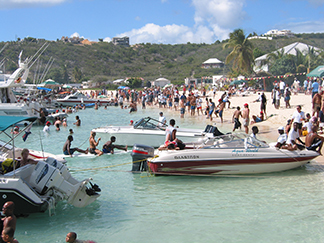 It's Anguilla's biggest party... bigger even than Christmas!!
It's Anguilla Carnival's August Monday boat races, which you can read more about by clicking this link.
Usually, Sandy Ground is a lot slower with a few foreign sailors docked and the occasional huge container ship.
If you like to dance, drink and party, don't miss Johnno's by day and Pumphouse by night.
3) My Personal Favorite... Barnes Bay.
Even though this is where we lived for a month back in 2002, I didn't pick it because I'm biased...
Of all the Anguilla beaches, it used to be that you would hardly ever see anybody here.
Barnes Bay was truly a secluded beach. The beach is more populated now since Viceroy Anguilla resort (today Four Seasons Anguilla) first opened in 2009. The property straddles both Barnes Bay and meads Bay.
Back in 2002, our villa was between two luxury villas that cost over $3,000 per night! Now, with Four Seasons, there are many more high-end accommodation options on Barnes Bay.
Still, there are three great little snorkeling areas!
The beach is a wonderful fine powder, no rocks or coarse shells as some of the others have. And, as you can see, it's simply beautiful...
Most of all though, I really feel comfortable on this beach.
Maybe I am a little biased after all.
But you can't really blame me, with great memories like the ones below...
My mom, really relaxed.
Anguilla beaches do that to you!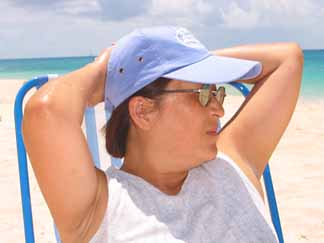 My sister and I swam
and played here every day
but don't like to stop to pose for photos!...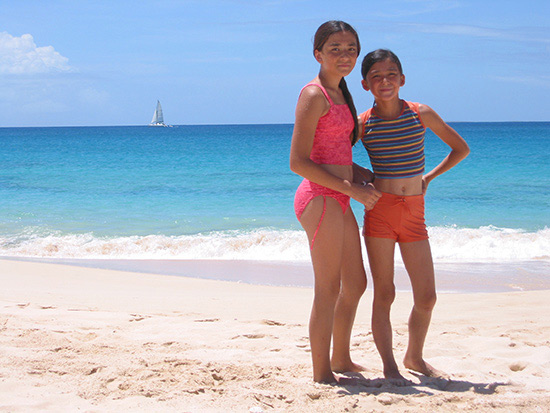 We even got mom into
the water of my personal favorite!

Of all of the 33 Anguilla beaches, these are my top 3. If you pushed me to name only one, I'd have to say Barnes Bay... but then again, I am biased.
Memories count, after all.
More Beautiful Anguilla Beaches
Kristin's Anguilla Beaches Beach Walks...
Kristin Bourne reports on each of her long beach walks, providing an in-depth look at Anguilla's most pristine beaches!
Other Hidden Gems & Popular Favorite Anguilla Beaches
Anguilla's Unknown Waters
The island is known for their beautiful beaches. But other stunning bodies of water are calm, breath taking, and ideal spots for bird watching.
Our Favorite Beaches Worldwide
Of course our family loves Anguilla beaches, but what about the rest of the world's beaches? Here are our top ten, complete with photos, outside of Anguilla. Click here to read about our favorite beaches around the world.
That about covers our favorite Anguilla beaches...
What's Your Favorite Anguilla Beach?
When all is said and done, Anguilla is about its beaches. Each is flawless, perfect in its own way, each with its own character that causes each of us to have a favorite. What's yours?
Your Favorite Anguilla Beaches
Click on the links below to read about other visitors' favorite Anguilla beaches.