Unknown Anguilla Land and Beach
One afternoon, on the way back to our hotel after lunch, my Dad suddenly announces...
"Short detour folks, to UNKNOWN ANGUILLA LAND."
Which of course raises the question how he knew about unknown "Anguilla land"...
Before we had left Montreal for Anguilla that year, my Dad had heard about a perfect little unknown beach with easy snorkeling opportunities... a perfect spot for beginners (which we are).
Secluded snorkeling, a hidden beach... could we pass this up? Never.
So, when he made this announcement, I knew that he was being sneaky - it wouldn't be just a short stop. No way.
We parked our car at the end of a dirt road, wisely electing (at my Mom's insistent "Don't try it") not to climb a huge hump (instructions a bit further below). From there, we followed on foot a sandy road right to more sand - the beach.
I had to hand it to my Dad. This Anguilla land had it all... secluded beach and a spectacular walk.
But the breakers looked quite large. I had my doubts about "easy snorkeling." Those waves looked pretty hard to tackle.
My Dad laughed... "No not there, silly."
Beyond those crashing waves lay a calm pool of shallow water. It was protected from those monster ones, even during a hard, blowing wind and rough seas, by a barrier of rocks and coral.
But plunging straight into those warm waters, let's take a look around...
To The West

To The East

Continuing westward is more of the beach and shallow snorkeling waters (more on those people you see in a bit). Looking east, we couldn't see around that bend, so, naturally, that meant we "had to go take a look, girls."
Unfortunately, we didn't plan for a hike along rocky cliff side and over that sharp coral rock, some twenty feet up. We did it in flip flops. Difficult indeed, but worth the effort. Let me show you what we found, all the more sensational on a day of rough seas...
A Little Nervous...

It's A Long Way Down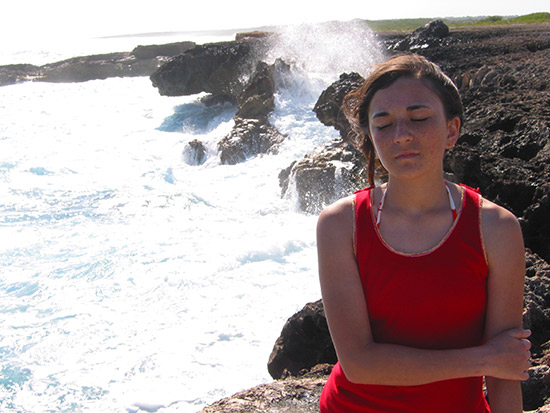 Crash! Up And Onto the Cliffs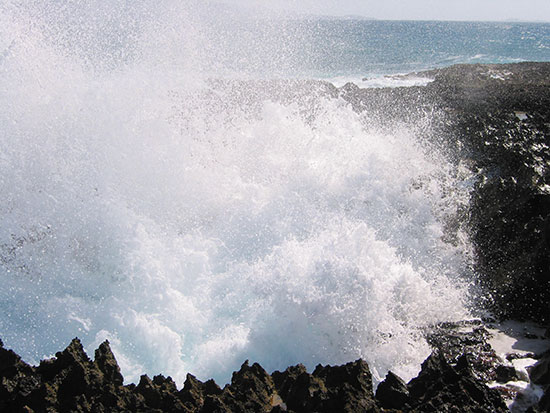 ...And It Fades Away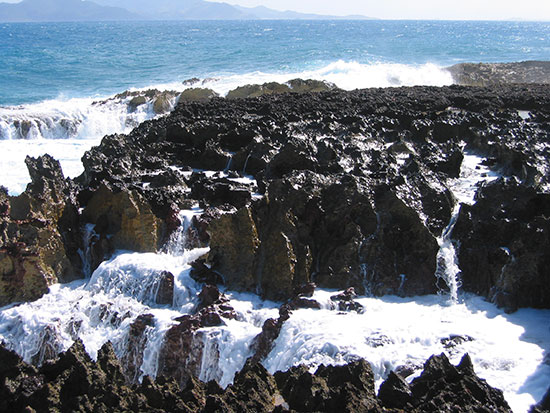 Among the waves we spotted a sea turtle -- you'll have to take my word for it, because he dove before my Dad could get the photo. We also found a dead eel washed all the way up onto the cliffs.
After a long hike, carefully stepping over the jagged cliff-rock, we were pretty hot. Nothing like a nice dip into a calm, nature-made, saltwater swimming pool.
This perfect little piece of Anguilla land and bay is call Dropsey Bay (some people call it "Jobsie Bay").
While my sister and I played in the water, my Dad explored the reefs. He said it was easy and excellent snorkeling.
The picture-perfect had only two other people on it.
Very pleasant, they seemed surprised to see anyone else on "their beach."
We chatted with them. From Iowa, they've been coming to Dropsey (they didn't even know it had a name!) for "ages." And, they said, this was the first time they'd ever seen anyone else.
Ditto for us. It was our first time we'd ever seen anyone else on this beach. Ha! Ha! Of course, it was our first time, period, on this Anguilla beach.
They said, "It's a gem-of-a-spot. But please don't send too many visitors!" So please don't tell them I told you about it!
If you'd like to go...
Head towards Long Pond Bay. You'll come to a liquor outlet near the road down to Long Pond Bay.
Turn down that road. You'll drive through sea grape bushes. Keep Long Pond to your right, and Long Pond Bay (the sea) to your left).
The road runs along the edge of Long Pond (the pond always to your right). When it turns left, away from the pond, you come by a very tough-to-pass ledge. Good place to park and walk to the beach!
Enjoy. And if you meet a couple from Iowa, don't tell them Nori sent you. ;-)