Anguilla Beaches Walk...
Island Harbour's Fishing Village & Beach
By: Kristin Bourne
There is so much more than meets the sleepy eye in the beautiful and unique Island Harbour...
Island Harbour view (and Scilly Cay!) from the east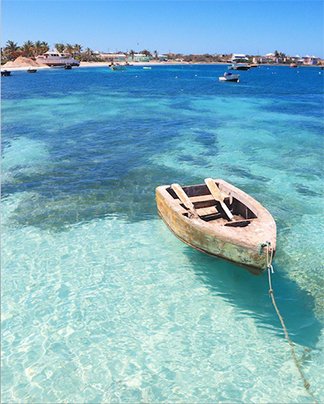 Island Harbour is one of Anguilla's fishing villages. It is a quiet beauty and is home to generation upon generation of Anguillian fishing families.
Island Harbour is exactly what you would imagine a small fishing village to be.
Sandy Ground, another well-known fishing village and Island Harbour's flashier cousin, has a little more to offer tourists. At Sandy Ground, there are plenty of restaurants and of course, it is the spot for nightlife in Anguilla.
Island Harbour is quieter, and almost completely dedicated to fishing.
Fishing boats of Island Harbour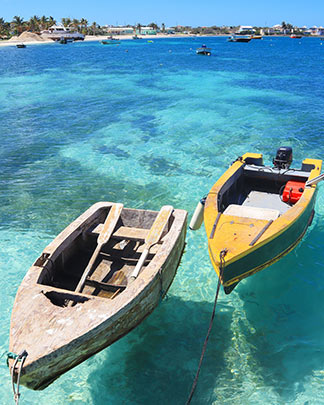 But, Island Harbour has its attractions too and it has been growing in popularity in recent years...
First, the sheer beauty of Island Harbour is worth the trip "out East" if you are staying in the western end of Anguilla.
Second, Island Harbour has very authentic restaurants worth sampling as well!
Third, Island Harbour has charming, hard-working people. If you chose to spend part of your day strolling the beach area and getting to know some locals, you are likely to not be disappointed.
For some, there is peace to be found, sitting and watching the fisherman come and go.
Island Harbour's Northeastern location
Getting to Island Harbour...
Island Harbour is on the northeastern side of Anguilla.
If you are traveling from the west, note that Island Harbour is one of the last pockets of civilization.
View of peaceful Island Harbour

In other words, it is the door to the far eastern end of Anguilla which is a more barren, rockier terrain, spotted with a few homes here and there.
The eastern end provides plenty of hiking and exploration. You can read about Nori's Windward Point hike, here. And Nori and Louise's Scrub Island adventure here.
Special Tip: If you plan to hike the eastern end, stop in Island Harbour first and load up on some drinks and pastries :-) Island Harbour is home to some of the best pastries on the island... Le Bon Pain!
Le Bon Pain is not on Island Harbour's beach. It is East of the beach, towards Shoal Bay.
They are open most weekday mornings (except Tuesdays and Wednesdays, depending on if it's the off season or high season). Yvonne (the owner) makes the best croissants and "pain beurre" (baguette lathered in a creamy butter). It is a destination for many locals and tourists and is consistently good.
Order of pastries from the french bakery!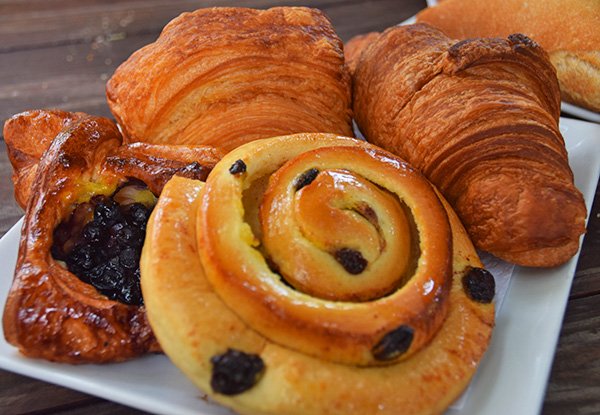 In addition to Le Bon Pain, Artisan makes the best pizza on the island. It is not on the beach. It is just near Le Bon Pain. Like Le Bon Pain, it is a must visit. The flavor is out of this world!
An Artisan pizza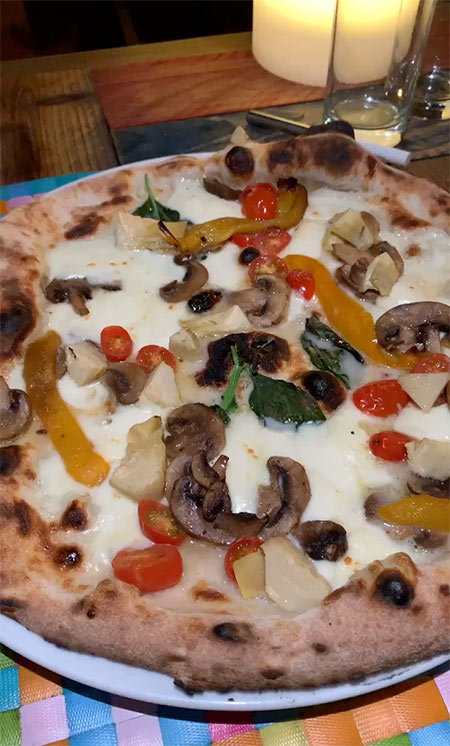 Now that we are in Island Harbour, let's park and begin our walk!
Park on the eastern side of the wharf, on the sea side. Since the beach isn't too long, let's start our walk at the wharf.
The Heart of Island Harbour
Right next to the wharf is one of the best deals for seafood in all of Anguilla, Falcon Nest.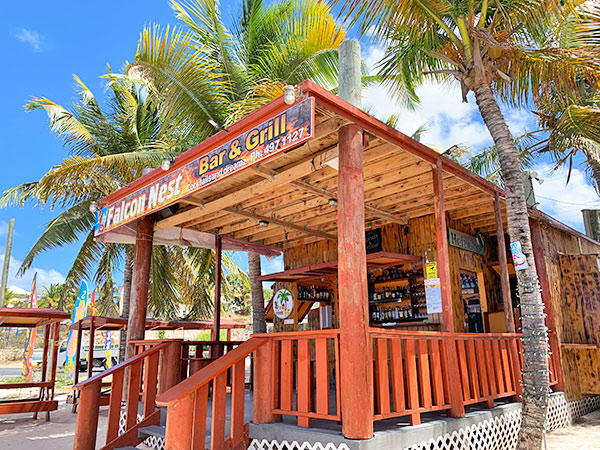 So close to where fishermen haul in local catches, it is no surprise to find such outstanding fresh fish at Falcon Nest. Mahi, snapper, lobster is available at a reasonable price.
Speaking of seafood, Festival del Mar is an annual Anguilla event. It is held Easter weekend and it takes over Island Harbour. The sleepy fishing village wakes up and celebrates every aspect of their beloved sea.
Spectators watch and wait as the fishing contest fish are weighed in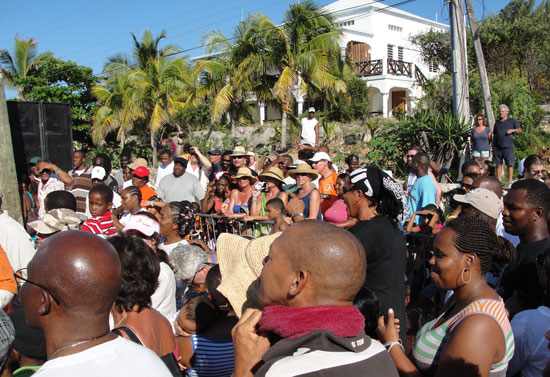 Festival del Mar tent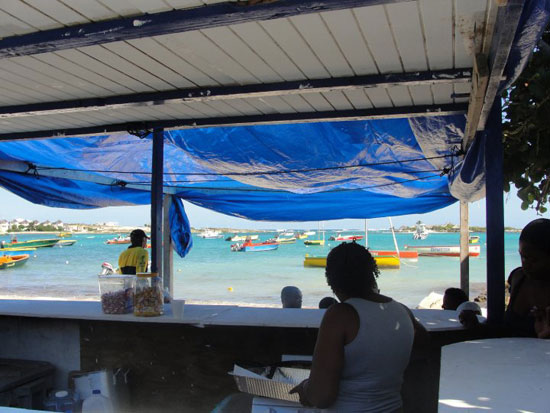 Festival del Mar soldier crab race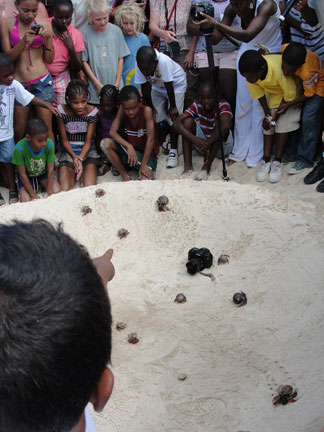 Tents are set.
Vendors are in place.
Starting late morning you can feast on johnny cakes, fried jacks, and bush tea.
An excellent, festive way to take in Anguillian culture...
Over the weekend there are boatraces, fishing competitions, solider crab races for the kids, plenty of fresh seafood, and honest good times.
Many people are coming and going from the wharf. Island Harbour is like Grand Central for this one weekend celebrating the sea. More on Anguilla's Festival del Mar.
Down from the main area of the beach and you will find...
Arawak Beach Club
Arawak Beach Club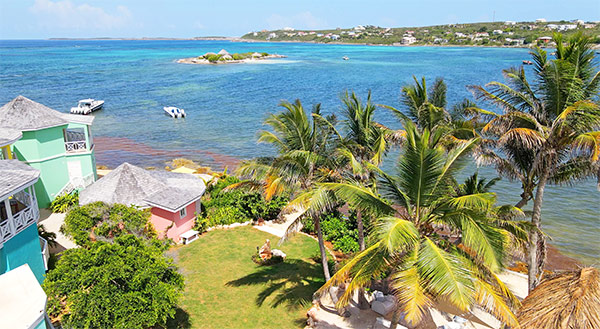 The western end of Island Harbour is lined with the pretty little cottages of the Arawak Beach Club.
I recently met a first time visitor to Anguilla who is a kite surfer, and visiting from Hawaii.
He was staying at The Arawak and had nothing but good things to say. I wasn't surprised to hear that he had fallen in love only after Day 2 (after he had seen that Anguilla has great conditions for wind and kite surfing! ;-)
The view from The Arawak is wide open and spectacular and the breeze is nice too.
The hotel gazes out to none other than...
Scilly Cay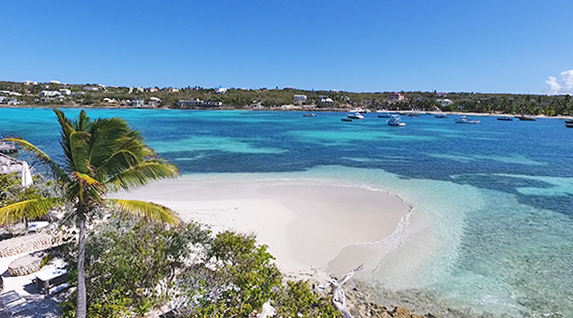 What is Scilly Cay? It is an electricity-free restaurant offering the freshest, yummiest food, owned and run by a local family... the Wallaces.
The Wallaces are extreme in their genuine hospitality and lovely to be around. Many high-profile celebs love their company, too!
Interested in going over there for lunch? Walk to the end of the Island Harbour wharf and wave your arms. A little boat will be along shortly to scoop you up and tote you over to the idyllic little isle.
Me, my grandmother, and mom
on our way to Scilly Cay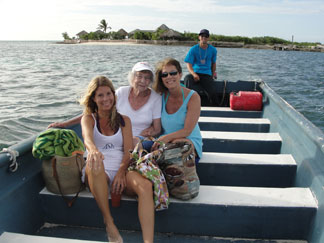 Scilly Cay is open on Wednesdays and Sundays for lunch. It's not a cheap adventure but it still is a very good value.
Why? You can spend most of your day there, so you are paying not only for amazing fresh food but for your entertainment for the day, as well.
They greet you with a rum punch (a favorite rum punch of many), you place your order, and relax and enjoy.
You can bask in the sun, take a dip in the sea, dance to the music, or snooze on a lounger in the shade.
Arriving at Scilly Cay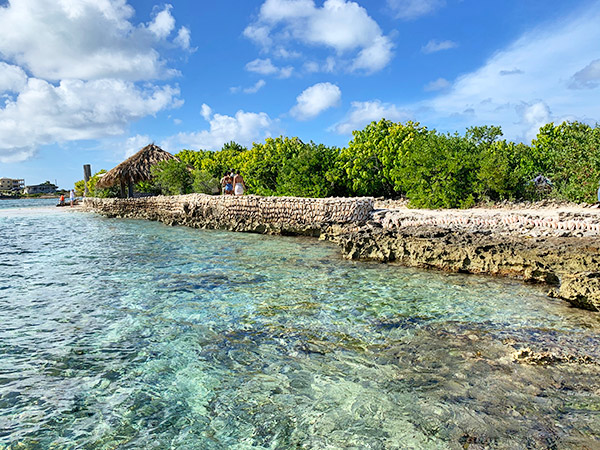 Mouth-watering fresh local crayfish and
chicken combo lunch at Scilly Cay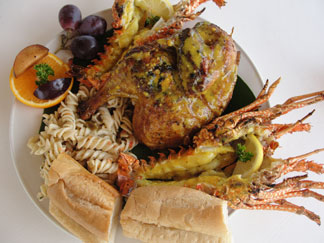 Having crayfish, lobster, or snapper?
You should know that the good people of Scilly Cay have literally just brought in your lunch from the sea, unless you order the chicken.
The Island Harbour fishermen hand deliver their catch to Scilly Cay and you can watch it being grilled.
They also serve chicken and you can order combinations of all of the offerings. The sides are almost as good as the main course.
The presentation is remarkable and the taste of the food holds my vote for some of my favorite on the island.
Tip: Go around noon and hang out until around 4pm. Bring some cards or dominoes, a hat, sunscreen, a towel, and snorkel gear if you have it.
It is a lovely day and a spot very unique to Anguilla.
The wonderful Scilly Cay people return you via boat to the wharf and you can call it a good day or venture on...
Let's venture on since there is still more to Island Harbour!
Eastern End of Island Harbour: Lime Keel House & Hibernia
Just a few more yards up the road from the wharf, heading east is the newer restaurant called Lime Keel House. It is a charming West Indian cottage owned and operated by the Lloyd family. Open with live music on the weekend, it has the most fun vibe in town come Friday night.
Lime Keel House of Island Harbour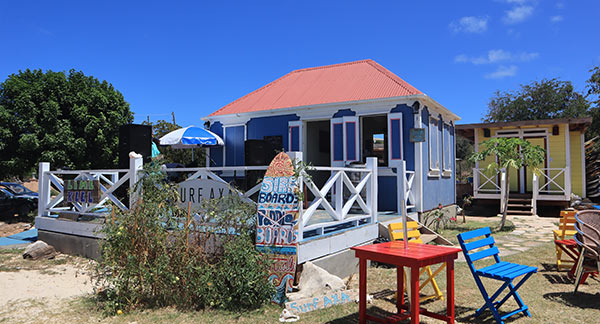 Across from Lime Keel House is the long-standing and beautiful restaurant called Hibernia. It's a higher end establishment and worth investigating.
Much beyond Hibernia and we are moving out of the Island Harbour area.
Ah yes... Island Harbour. I don't think the vibe and the character of Island Harbour could be duplicated anywhere in the world.
It is historic, unique, and home to hard-working and fun-loving people and some of the most authentic dining spots in all of Anguilla.
Whether you lounge quietly on the sand (on a non-Festival del Mar day ;- ) or take in a meal at Le Bon Pain, Artisan or Lime Keel House, you will experience a unique flavor of Anguilla, and what makes this Anguilla beach and harbour so sweet.
A gorgeous Island Harbour sunset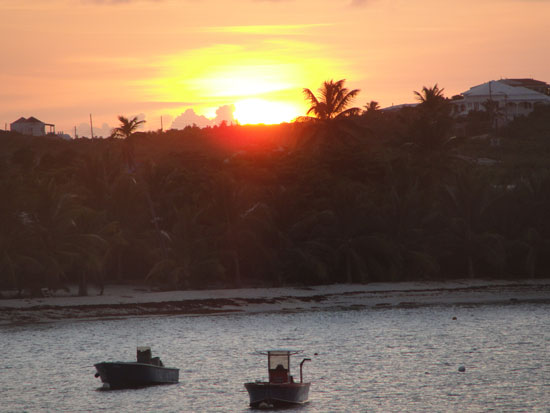 Experience More Anguilla Beaches Walks...