Anguilla Restaurants...
Putting On the Ritz at
Hibernia Restaurant & Gallery
Hibernia At A Glance
Perched on the ridge road overlooking Island Harbour's tranquil waters, Hibernia is home to the most artistic cuisine on the island.
In a quaint, Caribbean-style house, the restaurant's owners, husband and wife Mary-Pat and Raoul, have crafted a Caribbean-French-Asian menu and dining experience.
A special spot for people who appreciate good food and wine, and rare Caribbean rums too, Hibernia is one of the most refined and elegant Anguilla restaurants.
More on Hibernia, below...
Found all the way out on the east end, looking out over Island Harbour Anguilla, rests one of the quaintest, yet ritziest, Anguilla restaurants, Hibernia.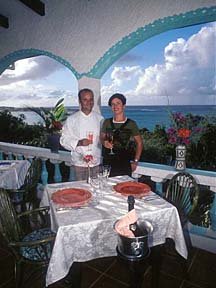 The restaurant is run by Raoul Rodriguez (chef and husband) and Mary Pat O'Hanlon (hostess and wife).
They specialize in French and Asian ("Indochinese") dishes containing mostly seafood. Beef, chicken and duck are also on the menu.
Many of the recipes for these dishes are found by the two during their travels to (usually) Asia in the low tourist season in Anguilla.
However, they collect more than just unique recipes. Fine china and artwork are also passions, and it all comes together beautifully in their 5 Star (we would say even 6 star!) Anguilla restaurant.
The most recent addition to the restaurant has been an art gallery to house their finds from Asia and Eastern Europe. It is in the same building as their restaurant, which is a sweet West Indian style house.
Our First Meal at Hibernia
We first ate at Hibernia during our March 2003 trip. An anguilla-beaches.com visitor, had written to rave about their rum & raisin ice cream! We couldn't pass it up!
So, on our last night of that vacation (we try to save the last night for something special) we had made arrived for dinner promptly at our reserved time (which is a good idea - the small restaurant fills up fast!).
It was a warm night (as Anguilla evenings usually are), made comfortable by a gentle trade wind passing through.
The restaurant was lit up elegantly with candles and smiling faces. Even my little sister looked elegant!
We were seated by the kind hostess Mary Pat O'Hanlon and took a look at the menu...
The soup & starters menu varied from Asian mushrooms soup to Thai style crab & fish cakes to Pate of Foie Gras. Their main courses ranged equally widely, going from Thai casserole with crayfish to chicken breast and squid to grilled black angus beef tenderloin. And the desserts followed suit, ranging from french cheeses, to ice cream and sorbet, to apple and ginger crumble.
It definitely was tricky to make up our mind. But, in the end I chose a selection of Caribbean fish (mahi mahi, kingfish, tuna) which was smoked on their premises, and served with ginger, horseradish cream cheese and toast. It was delicious!
Mary Pat O'Hanlon is a most gracious hostess, gentle and pleasant.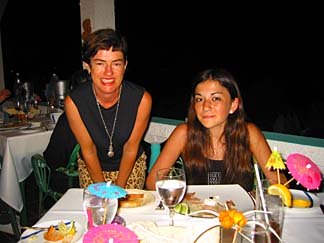 But when the crowning moment arrived for dessert... we couldn't eat another bite.
"Next time," my dad said to Mary... "We start with the rum and raisin ice cream."
The overall experience was definitely a joy, for the eye as well as the taste... and yummy! But there are a few things to keep in mind when planning for Hibernia...
#1) Make reservations - tables go fast!
#2) Be ready for a big bill. This is "5 Star Anguilla Restaurant" all the way.
#3) Don't make the same mistake we did - save room for dessert!
Repeat Visits to Hibernia
Hibernia is one of our favorite spots for an intimate and elegant meal, reminiscent of Anguilla's early, classic years. This is a truly luxurious restaurant a-la-classic Caribbean style, with French and Indonesian influence.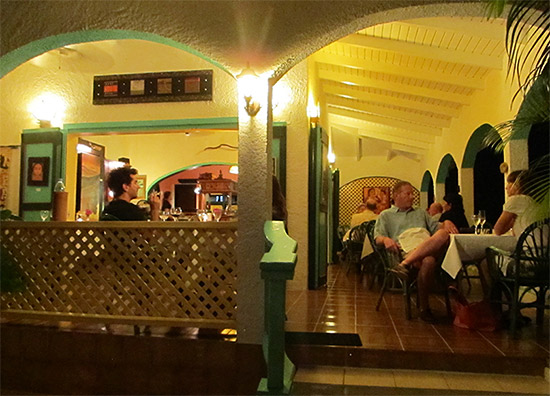 The setting is quaint and comfortable, complete with pressed table clothes and silverwear, plates and dishes collected from Mary Pat and Raoul's world travels. With all of the countries they've set foot on, I am thankful that Mary Pat and Raoul settled in Anguilla. :-)
The Ambiance
From an elegant yet exotic type of interior, to the gently lit exterior, the ambiance blends a high-end feel with a life of travel. Here, we always have the most special family moments and conversations.
Hibernia is the place for a more quiet and elegant meal.
Menu Favorites
Dad & The Smoked Fish

Over the years, the menu has changed.
Some items come, others go.
All of the classics remain.
We always tend to gravitate to our favorites... their freshly smoked Caribbean fish and the Tom Yam Pla.
The Caribbean fish is smoked daily in their kitchen, served with a frothy cream cheese and toast.
The Tom Yam Pla is a bowl of Caribbean fish served in a "Hot and Sour Thai broth". It is spicy, just the way my parents like it.
It comes with a side of steaming, jasmine rice.
Mom and Dad rarely deviate from their favorites.
Yuki and I, though, try to get a little more experimental.
One of our new top choices is the "Crayfish Saute, Legumes Poeles au Fromage Vegetal, Riz Parfume Au The De Ceylon; Sauce Saffran," which translates to "Crayfish sauteed out of the shell; vegetables & cashew cheese, rice steamed with Ceylon spice tea; saffron sauce."
This dish has become one of my favorites.
Each time, however, we never do seem to learn from our past mistakes. We never leave room for dessert! We finally did squeeze in dessert on a visit for lunch. Click here to read about Hibernia for lunch.
One of our favorite ways to end the meal?
Rare Rums
... with Hibernia's rarest of rums.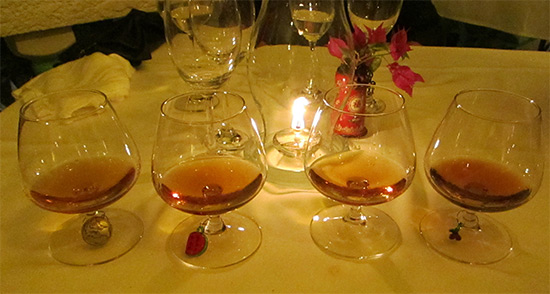 With Raoul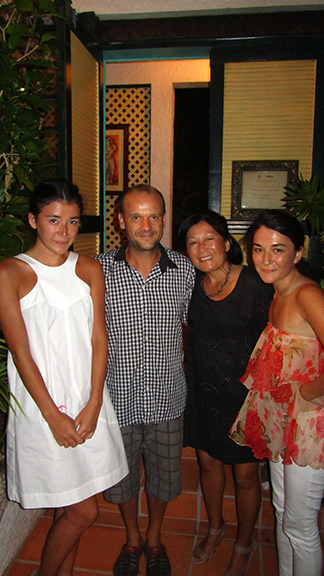 They have a rare list of rums from across the Caribbean.
A collection like this is hard to come by not just in Anguilla, but in the entire Caribbean.
From rare Trinidad rums to Anguilla's own original Pyrate rum (some rums bottled almost 100 years ago!), Mary Pat has a sophisticated knowledge of rums and can make excellent recommendations based on your knowledge, or just general interest.
Hibernia's aged rum collection and extensive wine cellar (more on Hibernia's wine here), set the restaurant apart.
Key to the good wine, food and ambiance is Mary Pat and Raoul themselves.
Together, creating a sublime dining experience.
At Hibernia you can count on excellent, five-star service and understated elegance and charm.
With Mary Pat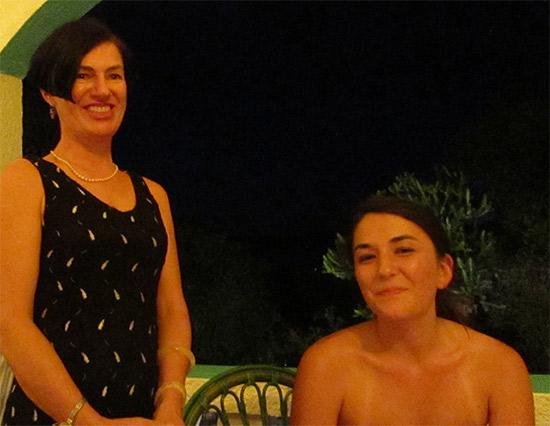 One of the most charming parts of all comes at the end of the meal. Mary Pat brings the bill in the most special way...
A Handwritten Bill on Parchment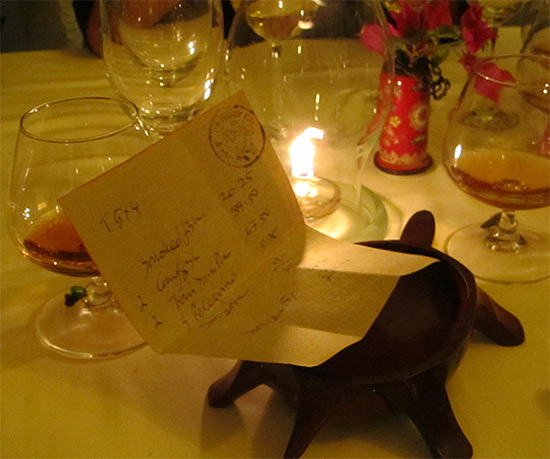 Touches like these, the aged rums, the handwritten bill, the silver bowls holding the scented rice, the bamboo-style silver wear, the elephant butter dish... they define Hibernia.
Art at Hibernia
Lastly, we always enjoy taking a peak at the art.
From their trips around the world, from mystic Asian countries like Laos and Indonesia, to Japan to even Eastern European and South America, they've collected a unique set of objects of d'art.
Some pieces are displayed in their restaurant, on the walls.
Most are in their art gallery that's just right of the restaurant's entrance. From jewelry to sculptures to paintings, they have many unique and original pieces, carvings, tribal art.
For the artist, the foodie, the chef, everyone who enjoys fine food, wine and art... this is the restaurant for you.
Directions, Hours & Contact
Directions: East of Island Harbour, overlooking the bay. See the map for exact location.
Hours: Dinner Tuesday, Wednesday, Thursday, Friday & Saturday. Lunch Tuesday and Friday.
Tel: 264-497-4290
Menu: Click here