Anguilla Restaurant, Hibernia For Lunch...
An Elegant Afternoon of Endless Views,
Rare Wines & Cuisine For The "Epicurious"
Set in the quiet, out-of-the-way, off-the-beaten-path east end of Anguilla, overlooking Island Harbour, you will find one of Anguilla's finest five star restaurants...
Hibernia Restaurant & Art Gallery

Ever since Anguilla emerged on the tourism scene in the 1980's, it's been known as a luxury destination. The island has always been home to some of the most high-end hotels, like Malliouhana and Cap Juluca. Anguilla has a reputation for having the best restaurants in the Caribbean, too.
Hibernia is one of the original restaurants that put Anguilla on the haute-cuisine map.
Hibernia has long been one of our favorite spots for dinner. How would lunch at Hibernia compare?
Inside Hibernia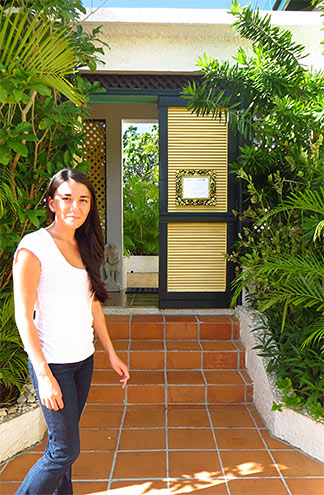 Hibernia is set in classic Caribbean style building that also has an exotic Asian feel.
The daylight beautifully displays their colorful exterior shutterd and Asian art pieces in the garden.
On that note, Hibernia is not just a restaurant.
As the name says, it is also an art gallery.
Owned and run by Mary Pat and her husband Raoul, they have curated a collection of unique works from their yearly 3 month travels through Asia.
The entrance is lined with palms and plants, and art from far-off destinations adorn the inside of the restaurant.
Inside, natural light brightens the intimate space, gentle breezes blowing through.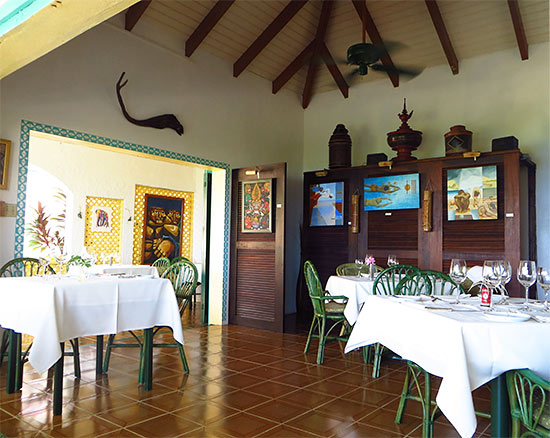 Visually, the setting is impressive. Lunch allows you to enjoy the vistas that disappear with nightfall.
Mary Pat greeted us in her thoughtful, accommodating and unobtrusive manner, and showed us to a table out on the restaurant's patio.
The Views & Ambiance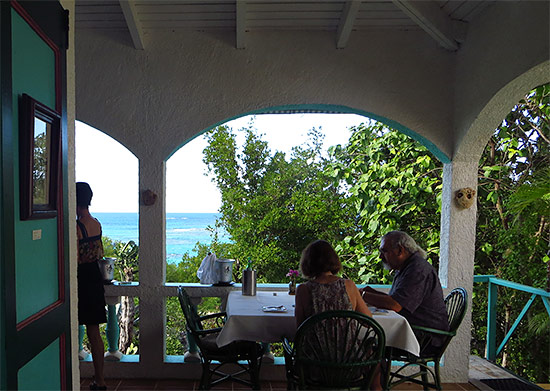 Perched on the ridge that runs along rocky shorefront to the east of Island Harbour, the view is one of a kind. You can see the tranquil, calm, inviting waters of Island Harbour, and the crashing waves that break on a shallow reef in the distance. That reef is what keeps the bay so calm.
With such perfect waves, I had to ask Mary Pat about surfing potential. "I've never seen any surfers out there, but plenty of crayfish fisherman in their boats," Mary Pat replied. Too bad!
I could look at those waves all the day.
The View From Our Table

The landscape of green-blue-blue puts your mind at ease. Paired with such an elegant and refined atmosphere, world music playing lightly, guests chatting quietly, and Mary Pat's elegant way... it's a unique ambiance in Anguilla.
The Menu & Food
We started with sparkling water and a dry white wine. Mary Pat noted that it was one of the Malliouhana's wines.
Malliouhana hotel closed in 2008. They had the most extensive wine collection on the island. Hibernia acquired most of it, including some of the rarest and most expensive bottles in the world. Mary Pat asked if I would like to see their wine cellar. I eagerly followed her.
Hibernia's Wines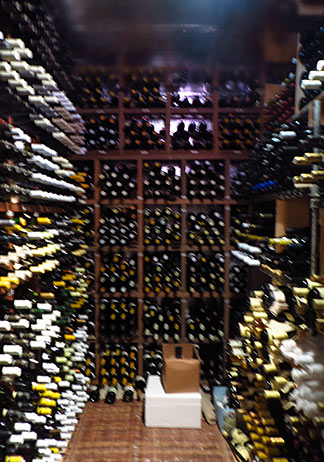 Row upon row, bottle upon bottle of wine is set in their cool cellar.
Mary Pat has always taken great pride in Hibernia's wine collection, and beams even brighter when talking about their collection now.
Any wine connaisseur would be overjoyed by the the bottles that Mary Pat and Raoul can offer you.
Malliouhana had a wide variety of young wines, old wines, and extremely rare wines.
"Some are from wineries that only produced a very small number of bottles," Mary Pat explained.
From champagne, to sweet wines, to whites, to roses, to reds, from California to France to Italy, they have something for every aficionado.
From a red wine produced in South Africa, "Journeyman 2005 Boekenhoutskl" that goes for $125, to a "Clos de Vougeot Grand Cru 2000 Dom. Dubois" for $219, to a "Richebourg Grand Cru 1997 Dom. de la Romanee Conti" for $1,100...
1900 D'Oliveiras Madeira Moscatel Reserva &
Richebourg Grand Cru 1997 Dom. de la Romanee Conti


Whether you have the refined taste of a sommelier, or just someone who appreciate goods wine, know that your palate will be more than satisfied. Mary Pat and Raoul have a sophisticated expertise in wine and food.
Paired with the perfect meal, the meal is delightful...
Hibernia's Cuisine
With a light and refreshing glass of wine, we enjoyed the calm atmosphere. Mary Pat brought daily made brown bread and butter. The little touches at Hibernia make it a wonderful experience. The bread is served on an Asian serving plate, the butter dish is a piece found from their travels, the bread knives were also crafted in Asia.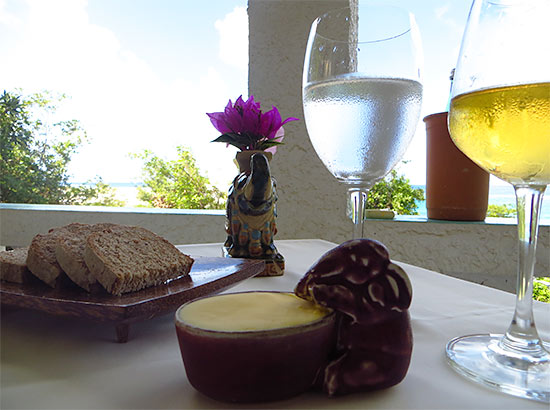 Their menu is the same for dinner and lunch. They can reduce portions for you, if you wish. I looked over the menu 3 times. I'm embarrassed to admit that though tempted I was by other items, I came back to what I know, love and can never pass up...
The plate of smoked Caribbean fish, which is on the starter menu. Mahi-Mahi, Kingfish, Tuna, Mackarel, Wahoo (depending on what's available) is all freshly smoked in their kitchen. These fresh pieces of daily smoked fish are served with a ginger and horseradish cream cheese and homemade bread. Smokey and zesty with lemon, it is an unparalleled dish.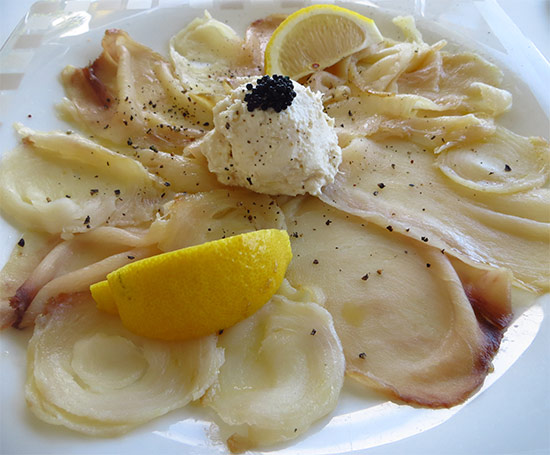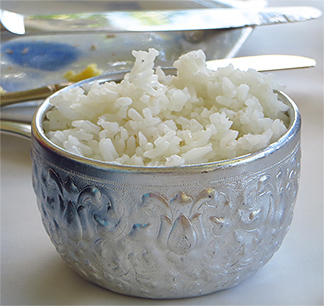 Next time, if I can break away from the Caribbean smoked fish, I might try their plate of Japanese Hors d'Oeuvres, which includes tuna and lobster sashimi.
My Mom went with her favorite dish, the Tom Yam Pla.
The broth and fish were heavenly with cilantro adding to the delicate flavors.
It is served with fragrant rice, with a Jasmine flavor, presented in a silver rice bowl.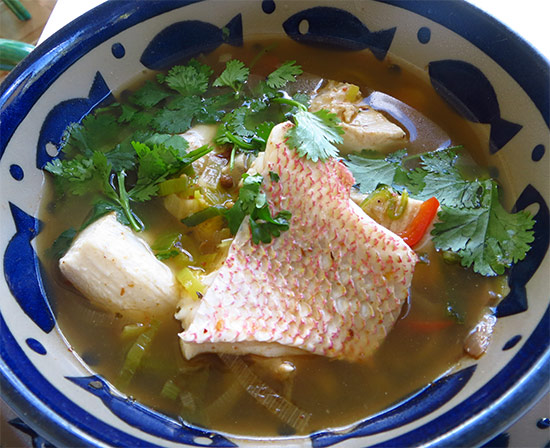 There is certainly a type of artistry that takes place, not only in creating the food, but in its presentation too. From the way the food is arranged, to the plates it's served on, it pleases the eye.
Tom Yom Pla Serving Dish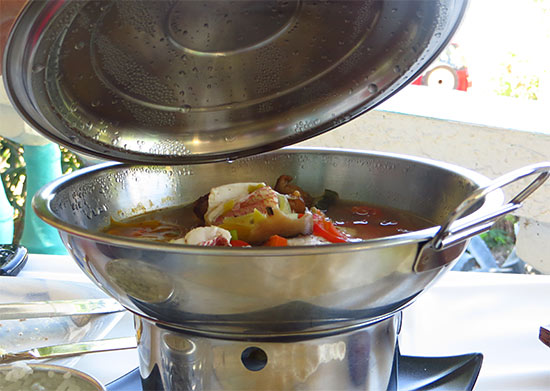 Desserts
We did not scale back the portions and found them to be just the right size.
For what we lacked by not ordering starters, we made up for in our desserts. We had heard many, many rave reviews for their rum raisin ice cream, but had always been too full to sample it. After a substantial meal of wine, bread, starters and entrees, dessert usually proves too much of a challenge with us.
This time we were going for it... but what exactly? It all sounded so good.
A lavender and coconut ice cream meringue cake, a warm chocolate brownie served with fresh mint ice cream, an apple and ginger crumble with ginger and caramel ice cream... this is certainly the spot for true foodies.
The Rum Raisin Ice Cream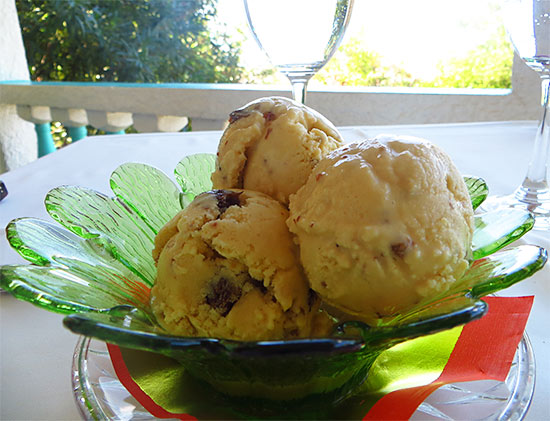 My heart was calling for the chocolate brownie, but I knew I would regret not trying the famous rum raisin ice cream. Made with aged rum, it is a rich and powerful ice cream, deeply flavorful.
There is really is no restaurant like Hibernia. It stands out from the rest, offering a truly unique experience. Lunch is particularly special, with a softer, quieter ambiance, and those views. From innovative cuisine, to extensive wines, to impeccable service, views and a refined, serene setting... lunch at Hibernia is about sitting backing and letting every sense simply enjoy.