High Seas, Hidden Beaches
& Enchanting Sea Caves...

THIS

. Is. Scrub Island!

By: Louise Fayet

Guarded by treacherous waters and home to dramatic landscapes, Scrub Island is a magical island that is little-known to visitors and rarely-visited even by locals.

Diving into the Sea Caves at
Mysterious Scrub Island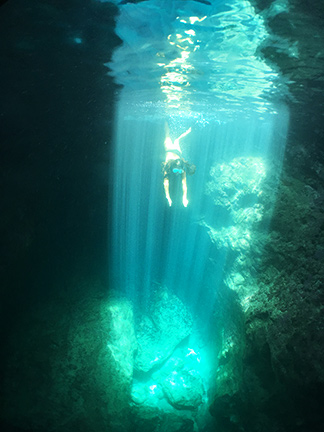 Anyone who knows Scrub generally knows it for its mysterious stories.
The island's half-finished and abandoned hotel, notorious Deadman's Bay, the plane crash site.
You can read more on exploring in-land Scrub Island here.
What we didn't know was that the waters that surround Scrub are just as, if not more, fascinating and diverse.
It is home to giant blow holes, the roughest waters in Anguilla, shipwrecks and enchanting sea caves.
Together, Nori, Kirmani and I decided to jump into the unknown and see a completely different side of Anguilla - Scrub Island from the sea.
For a video peek at Scrub Island, check out our Scrub Island video below. It was filmed a couple of years after this page was written. It covers all of the amazing Scrub Island sights, including infamous Deadman's Bay.
Meet Nature Boy!
If you want to really see Scrub Island, there is only one man to call... Nature Boy.
Meet Nature Boy!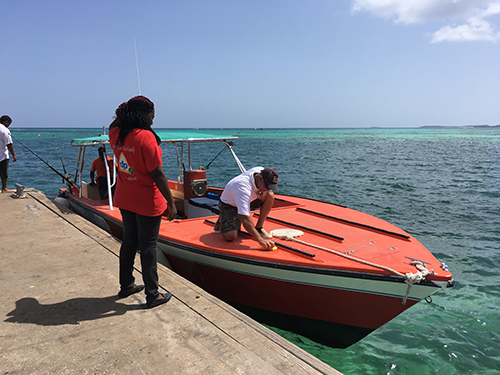 Hailing from Island Harbour, Nature Boy is a true blue man of the sea. He is not just a tour guide. He is also a commercial fisherman with years of experience fishing for big catches on the high seas north of Anguilla.
He knows Anguilla's waters like the back of his hand, and he knows Scrub Island even better. You are in safe hands with Nature Boy.
We met up with Nature Boy at Island Harbour, hopped into his fishing boat and we were on our way. (NOTE: Nature Boy has a cooler with beer, water and soft drinks - but be sure to bring your own snorkeling gear, towels and any specific drinks/eats.)
The East End of Anguilla By Sea
From Island Harbour's cliffs...
Kirmani Smiles As We Pick Up Speed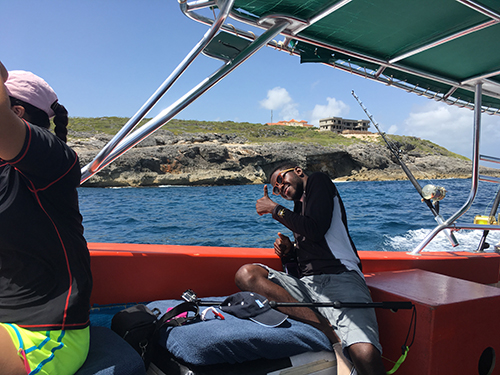 To the depths of Captain's Bay...
A Quick Pause at Captain's Bay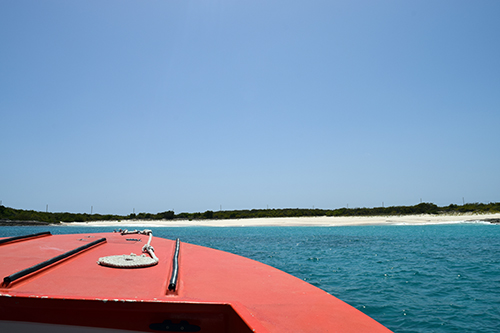 To the raw and powerful Windward Point where a few fishermen were casting their lines early that morning...
Fishing at Windward Point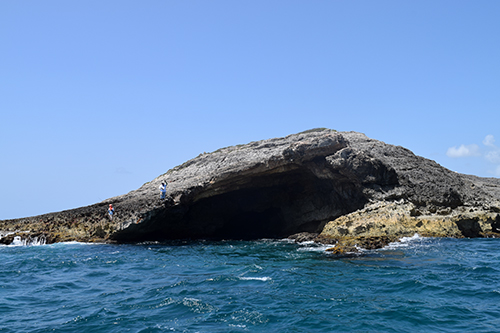 Approaching Scrub Island & Little Scrub
And then, Anguilla's mainland came to an end and Scrub was on the immediate horizon.
Approaching Scrub Island's Main Beach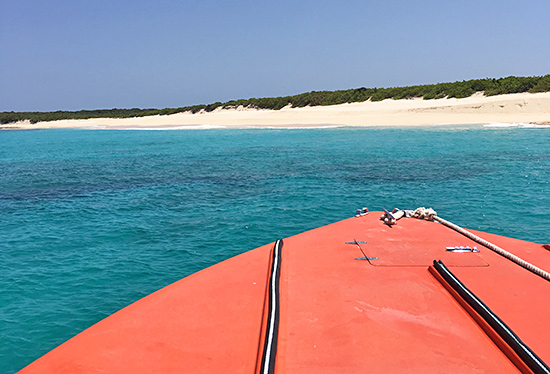 Edging closer to the coast, Nature Boy took us along the shore of Scrub's untouched, big beach. Calm as a pond that day, it is known for its powerful and pristine waves in winter months.
Soon we were drifting towards Little Scrub, a tiny cay off of Scrub Island's mainland.
Little Scrub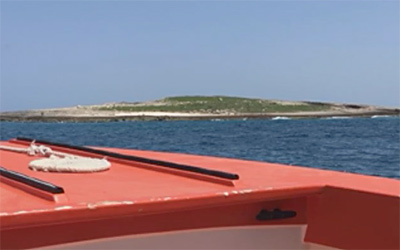 We motored past adventurous fishermen. Nature Boy explained that fishermen often come to Little Scrub because the drop off is quite deep (100 feet) and you can get big catches close to the shoreline. As we rounded the north side of Little Scrub, the landscape changed dramatically...
Dramatic Cliffs & Boobie Birds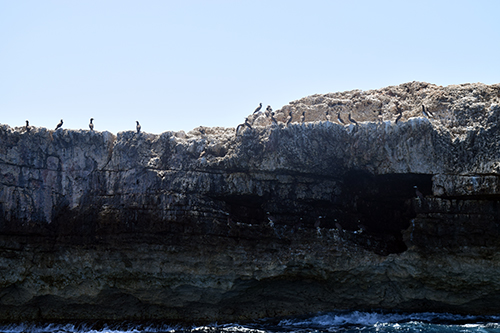 The water turns dark blue, the breeze picks up, and here - the cliffs are high. It's hard to believe that this is Anguilla.
Billowing Blow Holes
Hidden amongst these cliffs are giant blow holes. They take your breath away.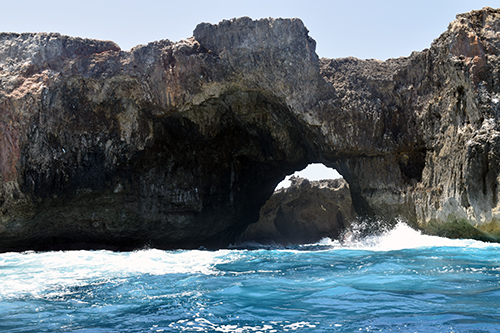 ... literally!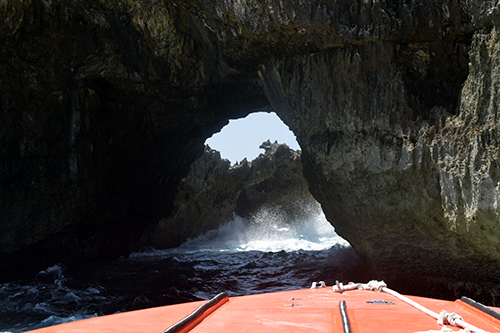 Nature Boy paused here and edged ever so carefully closer and closer inside the blow hole. Here's what happened next...
As the ocean waves dipped below sea level, the boat went with them, calm at first. But then, we surged upwards as an unexpected set of big waves rolled through, pounding inside the blow hole. An awesome experience that left all of us dazzled... and completely scared! As for Nature Boy? Unfazed and 100% amused!
On To Deadman's Bay
We passed the end of Little Scrub and were on our way to Scrub Island's Deadman's Bay. It is one of the most dangerous beaches to access by water in Anguilla. And, this particular part of ocean has claimed many boats. Nature Boy explained, "these are the roughest waters in Anguilla."
Where Deadman's Bay Got Its Name ;-)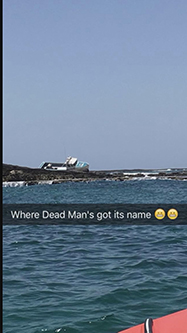 I believe him, too. For, it was a perfectly placid, still-water day on the eastern side of Scrub and on mainland Anguilla, but here, on the north side of Scrub? We hit some rough water. I can only imagine the size of the waves on rough days.
Deadman's Bay in the Distance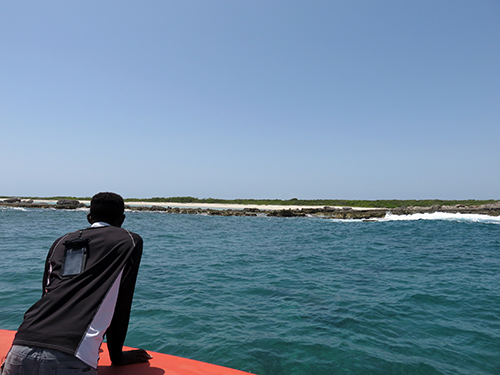 We stopped at Deadman's for a moment. Nature Boy can take you onto the beach, but the conditions need to be right and he needs to bring a very small boat. "The beach is surrounded by reef and there's only a small channel, maybe 5' wide. To get there, I need my smaller boat (about 15' long)," Nature Boy explained.
Coral Reefs of Deadman's Bay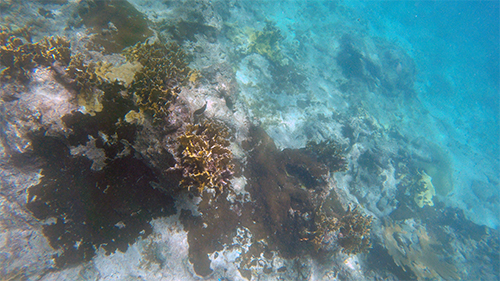 The challenges don't end there, however. Deadman's Bay often sees waves in the 15-20' size, so timing your entrance and exit to the beach is everything. "You have about a 7 second window," Nature Boy smiled. I wouldn't trust anyone else to take me there safely!
More of the Underwater World of Deadman's...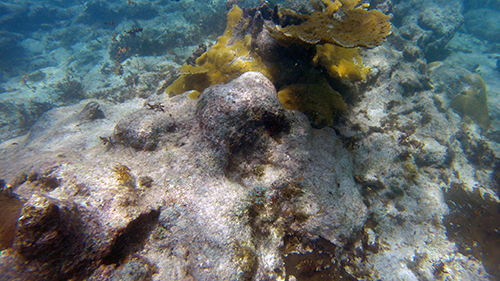 We didn't visit Deadman's Bay on this trip (our boat was too big!), but the view from the beach, with its rolling green hills, is breathtaking. And, just beyond the bay and beach itself, there is a calm "pond." Here, the water is still and shallow, and the landscape is breathtaking with long stretches of sand.
It is protected by an army of fire coral and feels more like a lagoon. It is also a shark nursery. (For a look inside Deadman's Bay, see our video above - shot a couple years after this trip/after this webpage was written.)
The Pond at Deadman's Bay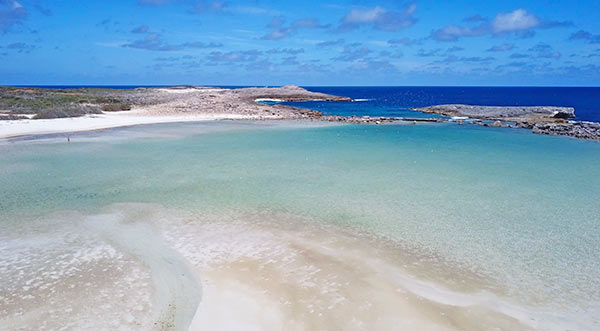 As Nori and Kirmani marveled at the beauty of the beach from the boat, I jumped in with Kirmani's GoPro to get the view from below (see photos above).
There's a Japanese Ship Somewhere Under Here...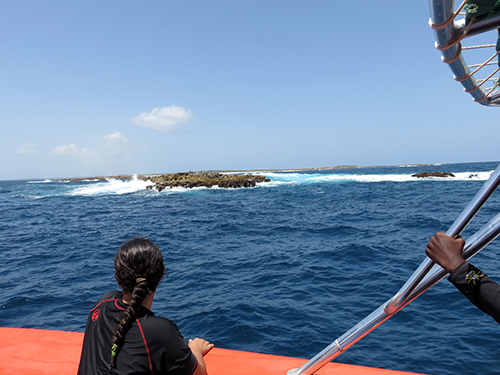 We sailed on while Nature Boy schooled us on the shipwrecks the island has claimed. Perhaps the scariest was the story of a Japanese fishing boat that struck sea rocks (photo above) in the dead of night. Anguillian fishermen came to their rescue, housing the fishermen and nursing them back to health as the ship sank. The boat remains there to this day!
The Secret Beauty of Scrub Island... Its Sea Caves
The full tour completed, we were back to the south side of Scrub Island. It was time to begin the main attraction of our tour... the underwater sea cave.
The Cave's Entrance

We anchored about 30 metres away from the sea caves. With our adrenaline pumping, we jumped in - fins first - and started to make our way to the entrance of the cave...
Jump In!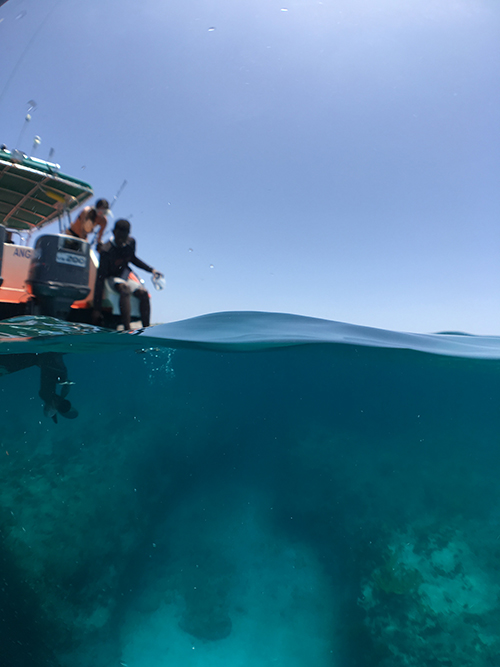 Tip: Bring fins! There is a bit of a current and the fins help fight that current.
Nervous at first, the crystal clear waters decorated with an array of reefs and fish replaced any fear we had.
Nature Boy Effortlessly Free Dives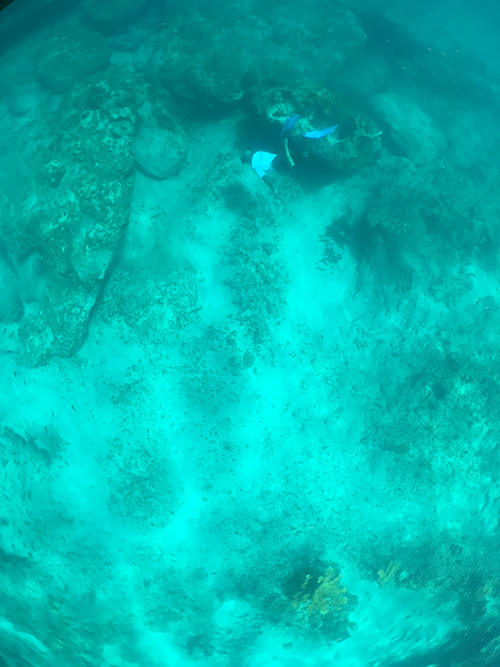 Nature Boy kept us entertained with his free diving skills.
Approaching the Entrance

Passing between two boulders, we entered the mouth of the cave.
It's generally an easy entry, but do not enter when waves are rushing into the cave as you might get knocked onto the cave walls. If you have any hesitation, ask Nature Boy and he'll swim with you, guiding you and timing your entrance and exit.
Once inside? It is dark! But, your eyes quickly adjust to the dark light and then, as you round the cave's corner and enter into the main room...
Bright light from above pierces through the sea below.
Beautiful Sun-Rays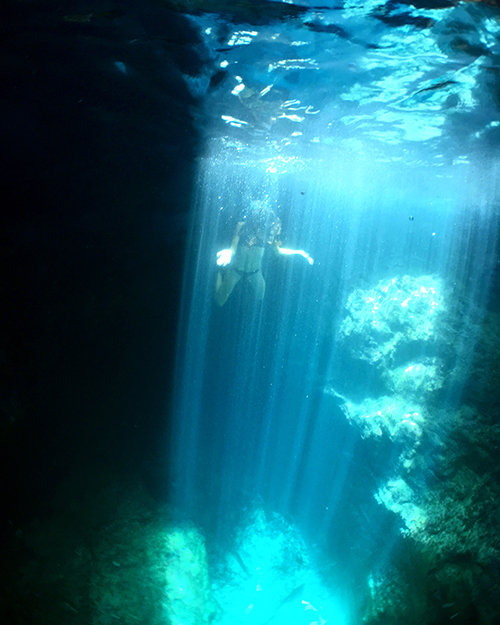 A skylight lights up the water in shimmering shades of blue and dazzles the slick limestone walls with dancing rainbow reflections.
The Cave's Skylight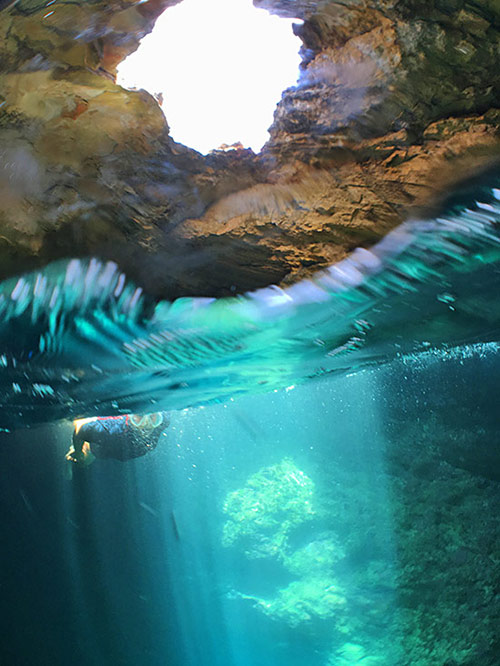 Gorgeous Vertical Rays of Light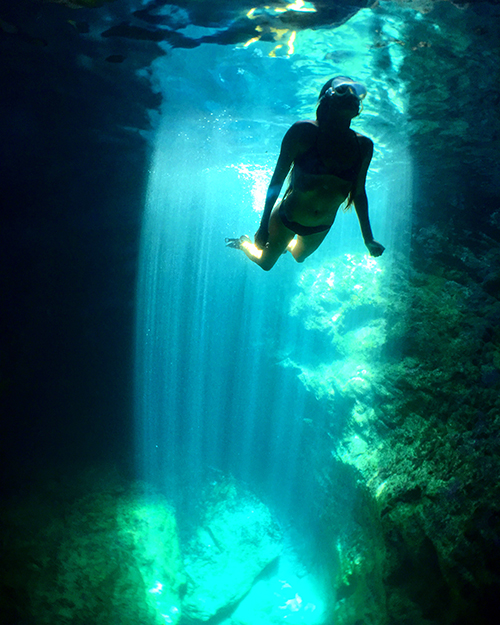 Nature Boy Swimming to the Light's End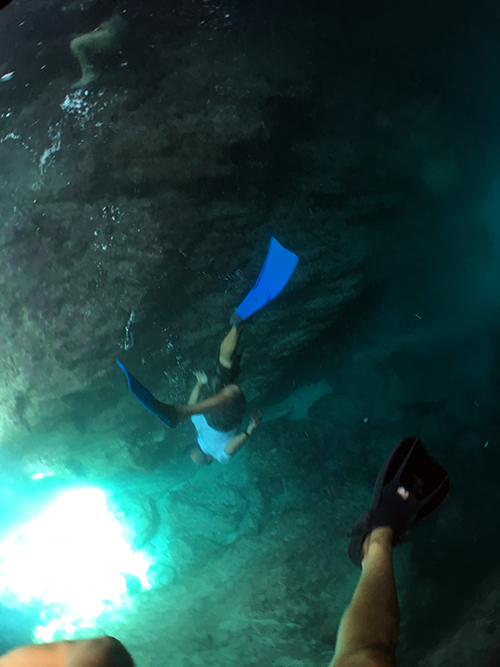 Deeper inside the cave, waves occasionally rush in and splash onto an incline that leads to a rock landing inside the cave. Nature Boy helps you time it so you can swim up onto that landing. From there you step up and emerge to...
A Whole Different View of Scrub Island!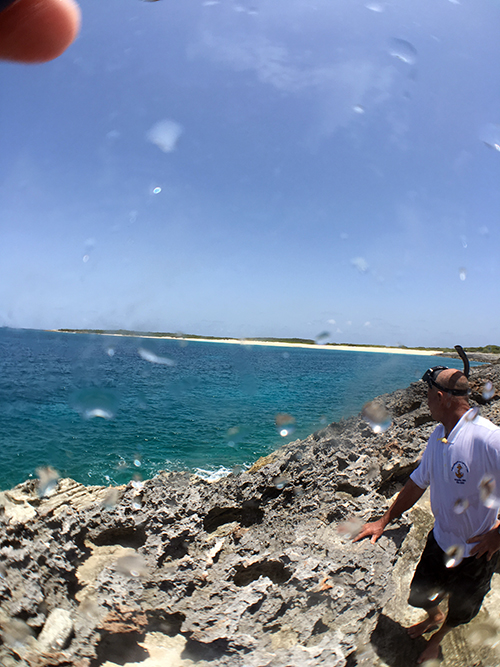 Here's a video clip of Nori inside the cave (below). She is re-entering from the landing described above.
We spent what felt like an hour inside the cave. Swimming, diving, spinning... in total awe of this secret beauty. Time stood still inside the cave, and if we had gills, we'd probably stay there forever.
... and ever...

... and ever.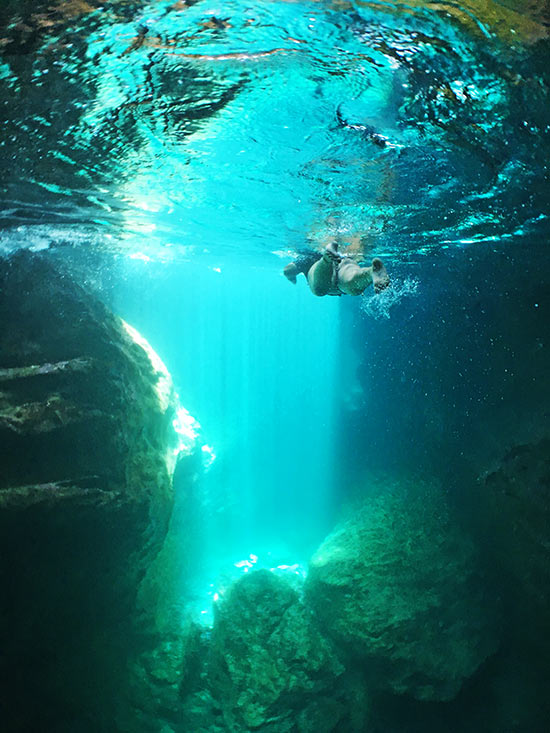 Skin wrinkled from a long soak in the sea cave, it was back to the boat and on to one last stop, complete with cold beers and Nature Boy's music setting the adventure-seeking vibe. Scrub Island's picture perfect bay...
One of the Best Beaches of Anguilla - and It Isn't Even on Anguilla!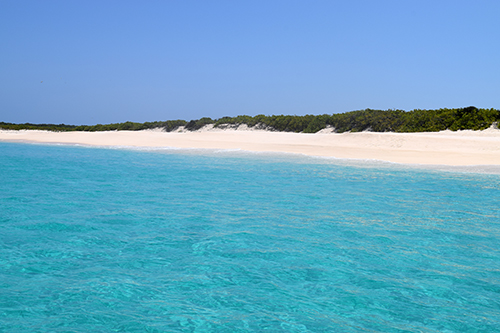 Thank You, Nature Boy!
Born and raised in Island Harbour, Nature Boy is a seasoned fisherman and an excellent tour guide.
Nature Boy and His Fishing Boat, Summer Wind

Nature Boy uses his innate connection with Anguilla's oceans and his 3+ decades of experience to navigate and lead his guests. All smiles and with pure passion and expert knowledge, he delivers an unforgettable experience. An experience of a lifetime. One that should be on every Anguilla lover's bucket-list.
Nori, Nature Boy and Kirmani!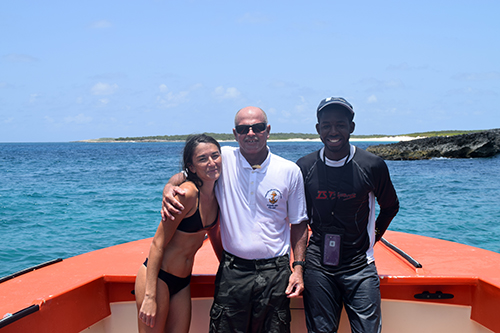 He even put on a show for us on our way back to the mainland, casting all four of his fishing lines!
Reeling in The Catch of The Day!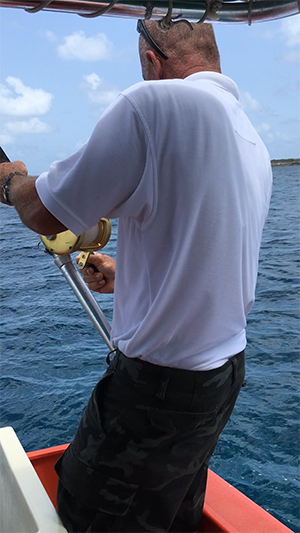 As we passed Captain's Bay, one of the lines began to bob, an indicator that something big and exciting was at the end of the line. None of us anticipated that it would be a 4 foot long Barracuda!
Fresh Catch!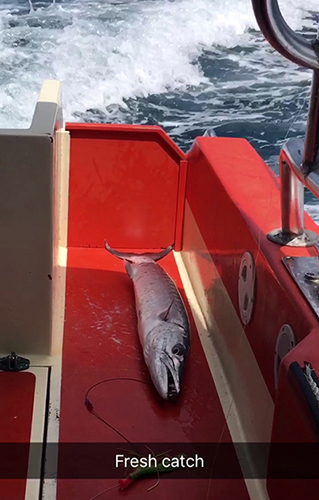 Talk about an exciting end to a day we will never forget!
For a full recap of our Scrub Island adventure, take a look at our Snapchat story...
For more Anguilla Beaches adventures, follow us on Snapchat. Username = AnguillaBeaches
Tours, Prices & Contact
Nature Boy can tailor your trip anyway you would like. Generally, half day tours are about $600 USD. Nature Boy is also available for Sight Seeing, Deep Sea Fishing and Snorkeling Tours as well as Fish Sales .
Tel: 264-729-5587
Email: natureboyai@hotmail.com
Official Website: Click here