This One was Tougher
But These Anguilla Photos Capture the Magic
of Windward Point
While living in the breath taking British colony of Anguilla, we experienced many magical moments, all the more magical when you can capture Anguilla photos! An "ultra" magical moment started when my Dad announced we would be climbing up the rocky hill at Windward Point!
This all started a few minutes after we had eaten at our favorite restaurant, Palm Grove! When we heard that a hike lay in our future, my mom, sister and I protested. The only place we like to "hike" is down Fifth Avenue!
But, my Dad insisted on getting some great Anguilla photos from the peak! So, naturally, off we went.
My Dad carefully drove along the sand roads, making sure not to get stuck. He was so excited! We were excited, too... to get the heck out of there!
After much bumping along, and sliding on the sand, the car finally came to a halt just by the roaring beach at Windward Point. My Mom, sister and I reluctantly got out of the car.
The don't call it "Windward" for nothing, as you can see...
On Windward Beach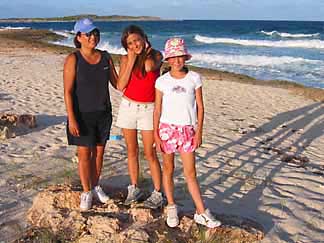 My mom worried that the tide would come rushing in and cover the car, or that it would get too dark to find our way back. But once my Dad smells some great Anguilla photos nearby...
We walked along the sandy beach, and then carefully picked our way over sharp rocks beyond that. A bit further on, as we approached the hill, Scrub Island and its deserted beach appeared across the channel...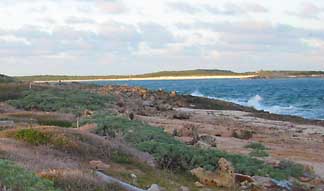 And then I started thinking about that hill. How was I going to do this??? The only thing I wanted to do was turn around, go back to the car, and go home!
But, it was too late for that now, my Dad was already starting to climb.
We looked up and saw death before our eyes!
Are those vultures?

Nope... not vultures! Pelicans and large gulls.
Anyway, we followed after Dad, slowly and carefully.
We walked and climbed and jumped.The rocky desert of a hill was also covered with a forest of melocactus (also called Turk's Cap), which would make going up the hill that much trickier!
Closeup MeloCactus Anguilla Photo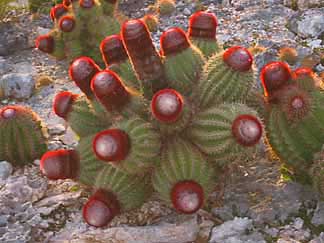 To my surprise, the hike was actually easier than I had anticipated. What was even more surprising and more rewarding? The views from the top! We could see everything... the ocean, Scrub Island, houses in the distance, the hills, and the sun setting slowly over the sea.. 360 degrees of view, and of course of Anguilla photos!
After all the work and complaining, this was definitely worth it! My dad took some beautiful Anguilla photos and I must admit I'm glad to have them now, and to share them with you. Best of all, though, we gained memories that will last forever.
I must say, we do look a little proud of our accomplishment of reaching the top, the setting sun on our faces...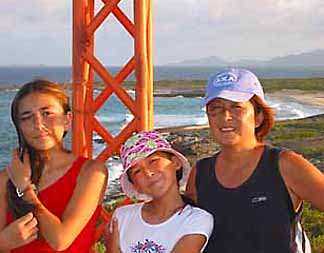 P.S.We made it back to the car before it got dark, but my Mom was still upset because the tide had washed the car away....
Just kidding!