The King of Anguilla Nightlife...
Elvis' Beach Bar on Sandy Ground
Update 2019: Elvis' is now serving tasty Mexican food, including nachos, burritos and tacos. It's a solid pick for a casual toes-in-the-sand dinner or long, lazy lunch. More on Elvis' Restaurant here.
Elvis' At A Glance
By: Kristin Bourne
A popular, toes-in-the-sand beach bar on Sandy Ground, Elvis' is a watering hole popular with locals and travelers. Elvis caters to needs of all kinds... all night partying, afternoon cocktails, sunset drinks, and informal bites (bar food). I hear their wings are some of the best on the island!
More on Elvis', below...
Did you know that Anguilla has its own King? His name is also Elvis, and he has one of the coolest beach bars I know.
Welcome to Elvis'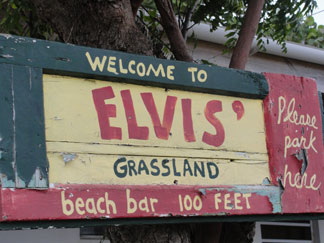 Elvis' Beach Bar sits right on the sand in Sandy Ground in Anguilla and is manned by Elvis himself and his business partner, Brett.
Elvis is one of the very first people I met when I first came to Anguilla.
Way back then, before Elvis' Beach Bar, he was working at The Anguilla Great House by day and Bankie Banx's Dune Preserve at night.
Elvis was a highlight of my trip.
He sang for us.
He shared great stories about Anguilla.
Elvis with one of his fans, Paris Hilton.
Just one of the many celebs that hang out at Elvis'!


Photo Courstey of Elvis
He told us his daily schedule, which starts with an early morning beach walk from Rendezvous Bay to Maundays Bay and back.
He has incredible positive energy and is one of the nicest people I've met. His work ethic is impeccable and he enjoys a key part of what he does...
Meeting people from all over the world.
Elvis is a busy guy but he's never too busy to pose for a picture with his new and repeat visitors.
As you can see in the photo above, he even had his arm twisted to have his picture made with Paris Hilton when she visited Anguilla and went out to Elvis'! ;-)
Elvis' Beach Bar
Today, Elvis' is a destination spot for many visitors coming to Anguilla.
This is a breezy, cool, relaxed place where tourists and locals unwind, and a popular spot for Anguilla nightlife.
Brett and Elvis behind the bar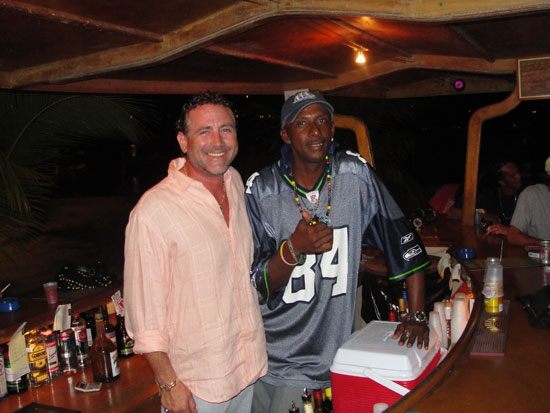 Elvis' has been written about time and time again in many Caribbean and Travel magazines.
For good reason!
The vibe at Elvis' is exactly what nearly all people Caribbean-bound seek...
Sand between your toes, the sea lapping nearby, music, sun and stars, and of course good, cool, refreshing drinks.
The bar at Elvis' is actually a wooden boat! Benches sit around the classic boat, right in the soft sand of Sandy Ground.
Things just starting to kick up, post-sunset
Anguilla nightlife begins!

Aside from bar-seating, there are tables in the sand, near the palm trees on the beach, complete with umbrellas.
If you spend the day at Elvis, you can walk right down to the sea and cool off.
There is also a covered area near the kitchen that has seating and tables, which serves as a great escape if a small shower is passing over.
There is one last special seating option at Elvis'... The roof-top deck, offering endless views of Sandy Ground. Sunset views are perfect from Elvis' Beach Bar.
For a lazy afternoon or sunset drink, Elvis' is a go to spot. And, becomes one of the spots once the sun goes down!
Anguilla nightlife here is open and breezy... You can dance and mingle under the stars without a care in the world.
Elvis' serves a variety of beverages, and bar food. The menu ranges from snacks like chips and salsa, fries, and wings to a fish sandwich and cheeseburgers.
Special Events at Elvis'
From time to time you can catch live music at Elvis'. He tends to have live music on Friday nights and Sunday afternoon/evening. Often there is a DJ on hand. Either way there is always music flowing through the air.
Another fun event occurs when there is a full moon. They host a Lunasea Party under the full moon light, complete with bonfire and DJ.
Looking toward the big screen from the
covered tables area (it's white in this picture)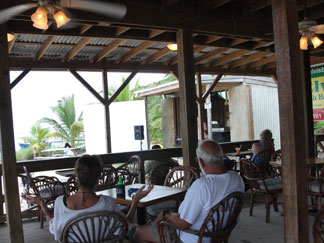 What I'm looking forward to most? Super Bowl at Elvis'. They have a huge outdoor TV screen which is often showing NBA games, NFL games, etc.
You'll note that Elvis is a big sports fan, hence all the jerseys he wears!
The Super Bowl party is ideal.
I breathe a sigh of reliefing, thankful to be enjoying the game outside in the tropical air, right next to the sea, worlds away from freezing USA. ;-)
Elvis' Is a Must-Visit
Check out that view from the roof deck at Elvis!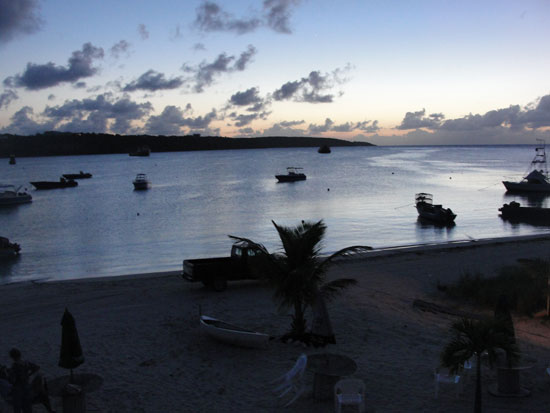 Picture-perfect boats bobbing in a cerulean sea, palm trees, silky sand, music in the tropical air, breeze in your hair, cold cocktail in your hand, and a sweet bartender... that is Elvis'.
When the sun goes down? It becomes a go-to spot for Anguilla nightlife! Especially, on Thursday nights.
Elvis' is a must (at least once!) while you are in Anguilla.
Directions, Hours & Contact
Directions: Located at the far Northern end of Sandy Ground beach.
Elvis
Good for nights out, sunset drinks and casual afternoons on the beach.
Hours: Open for lunch, dinner and into the night.
Tel.: 264-498-0101.