Paris Hilton on Anguilla:
My First Anguilla Celebrity Encounter
We have been traveling to Anguilla since 2002.
We would visit in the high season and the low season.
But, no matter the time of year, we never saw a single celeb on Anguilla. Such disappointment!
However, that all changed May 2009.
Winter 2008/Spring 2009 was a slow celeb season. Robert De Niro, Uma Thurman and all the regulars were absent. Even the number of newcomers was "nil". If anyone did come to Anguilla, no one talked about it.
But for one week in May 2009, excitement spread like wild fire. All of the restaurateurs, hotel staff, tourists and locals were gossiping. Word 'round Anguilla was Paris Hilton had landed!
Paris Hilton on Anguilla
(Island Harbor In The Background)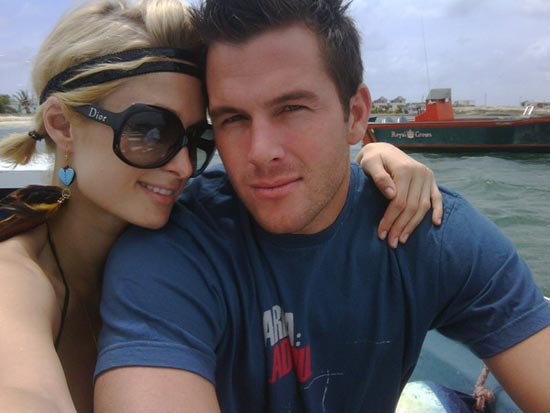 (Photo From: Paris' Twitter)
We knew the buzz was true once Yuki started checking Paris' personal Twitter account. Her tweets were about being in paradise, enjoying white sand beaches, how relieved she was to not be found by the paparazzi... But she made a great effort to not reveal her whereabouts. All she said was that she was on a "Secret Island".
Hm... Where else could she be? St. Barts + Paris Hilton ≠ Paparazzi-free vacation!
All signs pointed to Anguilla, particularly as she added holiday pictures to her online photo collection...
Notice The Beach Towel?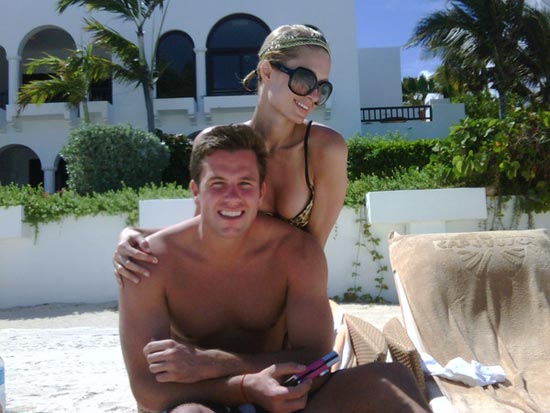 (Photo From: Paris' Twitter)
It looked like Paris Hilton was definitely in Anguilla, staying at the very luxurious Cap Juluca. My curiosity was piqued, but I wasn't riled up. Would she be lodged between bodyguards? Would she be sweet or cold? Would we even catch a glimpse of her?
It was just another Thursday night. Yuki and I were spending time with friends at Ferry Boat Inn, having a couple of drinks, waiting to head over to Pumphouse (it's Thursday tradition in Anguilla!).
As we casually chatted aimlessly, my sister got a phone call. Suddenly, in a heated conversation, she left the bar to talk in a quiet environment. It sounded serious!
She soon rushed back to whisk me outside, "Dad needs to tell you something!"
"Nori, you will never guess who we were eating with down at Trattoria tonight."
"Maybe not, who?"
"Paris Hilton! We are coming to pick you up at Ferry Boat now. She's already on her way down to Pumphouse."
What a thoughtful Dad! He hurried over to scoop us up and bring us down to Sandy Ground. As he drove (quickly) he told us all about the evening...
She seemed to be a lovely girl. She let the owner of Trattoria, Alan, take a few photos with her. His camera failed not one, not two, but three times! Apparently, she didn't even flinch, but offered to take a photo of them on her or her boyfriend's camera and send it to Alan later. Can you imagine?
My friend even got an autograph!
Still, I was skeptical. My parents might have dined with her, but would we really see her dancing, drinking, just letting go?
To My Surprise... Yes!
(Phone Camera Evidence)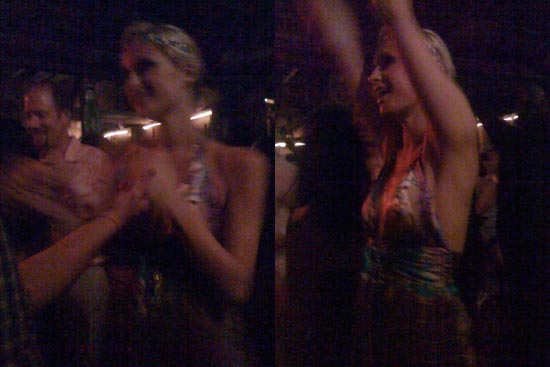 We saw her sitting in the corner of the bar, cozy at a table, with her boyfriend and a few other friends. No 6'5", 250 lbs bodyguards here!
Trying to remain inconspicuous, we went by the bar and ordered a couple rum punches. We were sipping our drinks when we turned around and saw Paris and her boyfriend dancing, smiling and singing no more than a foot behind us. She even stepped on Yuki's toes! Swooooooon.
Paris Hilton was in Anguilla!
I never spoke to her, but Pumphouse's owner Laurie Gumbs got a photo with her, and she agreed to take one with Peter Parles' (Straw Hat) son, too. She seemed to be a real sweetheart, completely in love with Anguilla.
Stars come here for the same reason we all do: to get away. Anguilla is one of the only spots where celebrities can come without their bodyguards and feel at ease, so relaxed and unbothered. There aren't hoards of paparazzi hunting them down with zoom lenses, or crowds of people cornering them on beaches, in bars and restaurants.
Paris Hilton finally did reveal her vacation destination on her Twitter account. She only wrote wonderful words about Anguilla and Cap Juluca. In a way, it's easy for a celebrity to pay the kindest compliments on a public website, but far rarer to have an island of people using only the sweetest words to describe her, too.
Safe trip home, Paris Hilton!