One of My Personal Favorite
West End Anguilla Restaurants
Trattoria Tramonto At A Glance
A laidback, high-end beach bar overlooking the Caribbean sea and St. Martin, Trattoria Tramonto delivers a serene dining experience.
More on Trattoria, below...
Discovering this West End Anguilla restaurant was a lot like finding true love.
You search far and wide...
Each time hoping that this time you chose "the one"...
You've been close, yet not close enough...
But then, you try something new... And from the onset, you know that this one is for life.
Maybe I liken food a little too closely to love, but that was the feeling that struck me deep inside my stomach when my Dad brought us to...
The Ambience
Trattoria Tramonto

Upon entering the open walkway, the owner, Alan Piazzi, greeted us warmly. Allan is a fun guy, with the sweetest family! We chatted a bit about local news, which celebrity had been by the restaurant lately, and then... we got to the menu.
As you may have guessed Allan is Italian, and Trattoria Tramonto is an Italian restaurant with the most mouth-watering Italian items on the menu. They serve comforting classics like penne arrabiata and penne pesto to more exotic creations such as lobster filled ravioli and wild striped sea bass.
Instantly, I knew what I was ordering... My favorite restaurant in New York is DaSilvano. It has a similar ambiance and vibe as Trattoria Tramonto. The owners are fun, interesting characters... the restaurants are upscale, but subtle, understated, and unpretentious... and the food? The food will blow your mind!


At DaSilvano in 2006
It's a good thing that Allan is in West End Anguilla, and Silvano is in Manhattan. I doubt the City would be big enough for the two of them, and forget this Caribbean island! But, back to the story...
My favorite meal at DaSilvano is his Tagliatelle alla Bolognese... home-made egg noodles with a "meat based ragu". The egg noodles are made just right, and the sauce is to die for. Not watery, not heavy. Perfection!
So, when I saw the same item on the menu at Trattoria Tramonto, I had to order it. My mouth was watering in anticipation! My Dad laughed and told me to go with the lobster ravioli in a tasty cream sauce. But I would not budge!
We placed our order with our kind waitress, and while waiting, we sipped on Chianti, and sampled the bread basket. Never will you find a bread basket as enticing and exciting as the ones at Trattoria Tramonto. They feature a wide array of yummy treats. From foccacia, to other Italian breads I've never tried... They're all there, and they are all delicious.
As we enjoyed the breads, I observed... Trattoria Tramonto has a wonderful atmosphere. It has the feel of a casual-upscale beach bar, with fixtures and decor that you might find on the coast in Connecticut. It's a white-washed wooden structure, with clever blue accents. Truly, a charming spot in West End Anguilla, right on Shoal Bay West's sandy shores, facing St. Martin's pretty night lights.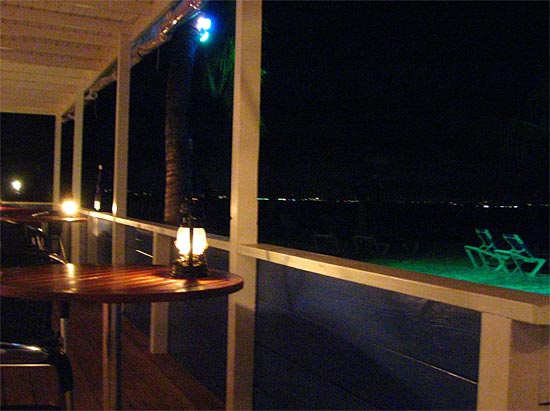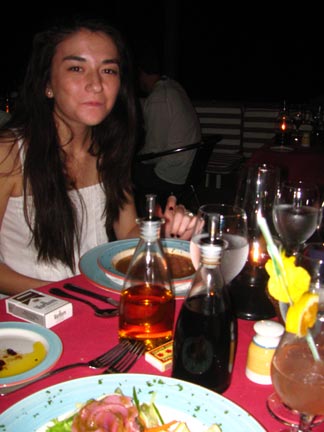 My Mom and I started with their soup of the day.
It was zesty and tasty! Next time though, I'll follow my sister's lead.
She ordered the mixed salad with parmesan...
Normally, I don't really go ga-ga over salads, but this one is delicious!
The vegetables are so fresh, with much variety...
Their taste enhanced by the parmesan cheese!
Trattoria Tramonto's other appetizers include intriguing items like Italian Parma ham and melon... Sauteed shrimp with saffron and porcini mushroom sauce...
There are many more appetizers to try!
In between courses, Allan came by to check up on us and chat.
I had to ask him about his celebrity visitors! "Everyone" seems to come here... Robert DeNiro, Conan O'Brien, Bill Clinton, Uma Thurman... They're all regulars!
It's no wonder why Trattoria Tramonto attracts all of these big names. On top of everything, the service is impeccable... the timing perfect.
Our main course followed quickly, without feeling rushed. And so, my question was about to be answered... Will this be as good as DaSilvano?
Even better! My Mom, Yuki and I all polished our plates, and reached the same verdict. Funny enough, when my Dad shared this fact with Allan at a later date, he said that Silvano comes down from time to time. He refers to Allan as the "DaSilvano of the South"! (Maybe DaSilvano is the Trattoria of the north?)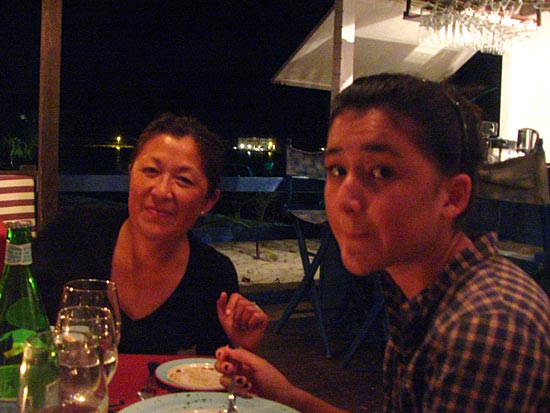 Trattoria Tramonto's "Tagliatella della Nonna Maria" beats anything else!
... My Dad's lobster ravioli sure did look scrumptious though.
I wanted to try some of the delicious Italian desserts, but I couldn't risk my stomach exploding! Next time I'll try to not fill up on the bread basket...
But as with love, it is difficult to control yourself... to avoid losing your mind, and acting on impulses. Maybe I'm crazy comparing Trattoria Tramonto in West End Anguilla to falling into the arms of your soul mate...
But, finding a restaurant that agrees with you on every level is rare and hard to come by. And when you find it? You want to hold on tight! Trattoria Tramonto is by far, one of my personal favorite Anguilla restaurants.
Directions, Hours & Contact
Directions: Trattoria Tramonto is located in the west end, on Shoal Bay West. If you're coming from the east, keep driving past Viceroy, Picante and Mango's. Follow that main road as long as you can. You will go around a salt pond. Keep going. Soon that paved road will turn to packed sand. You will see Trattoria to your right.
Trattoria Tramonto
Good for serene, beach-side Italian dining.
Hours: Trattoria Tramonto is open for lunch and dinner. They're closed on Mondays.
Tel: 264-497-8819