Anguilla Beaches Walk...
Shoal Bay West
By: Kristin Bourne
Step on to any of Anguilla's many beaches and you won't be disappointed.
If you are planning your Anguilla beach visits and have certain ones you want to make sure to spend time on, there's one set that needs extra special attention... the Shoal Bay beaches.
Yes, there are two - Shoal Bay East and Shoal Bay West with Shoal Bay East being the one more commonly stripped down to just "Shoal Bay" when referenced.
Equally lovely but the lesser known of the Shoal Bays, this beach walk takes us to Shoal Bay West. (Note: If you want to visit, make sure you specify the "West" to your taxi driver if you aren't doing the driving yourself.)
The turquoise beauty, Shoal Bay West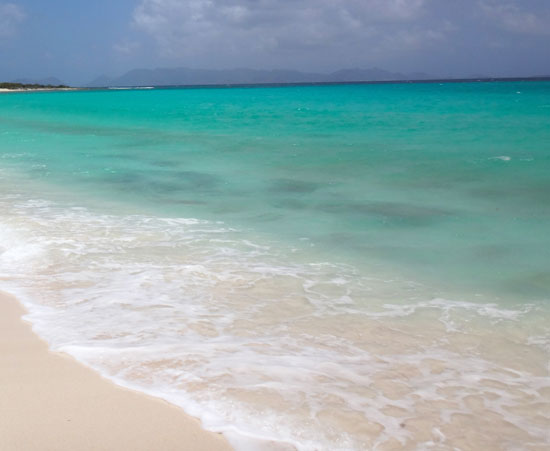 Getting to Shoal Bay West
Getting to Shoal Bay West is simple. Drive west on Anguilla's main road until you run out of road!
The main road curves near West End Bay Apartments and then ends at Shoal Bay West which lies on the southern shore of Anguilla and, as the other southern side beaches, claims a majestic view of St. Martin.
West End Salt Pond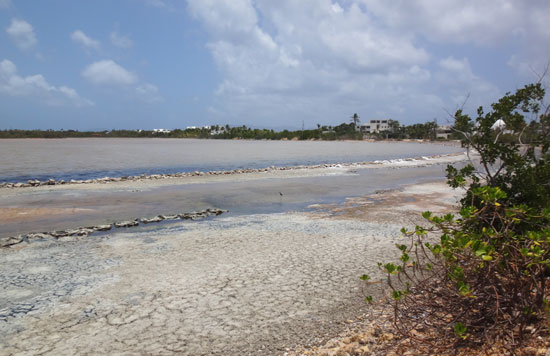 Easy public access to Shoal Bay West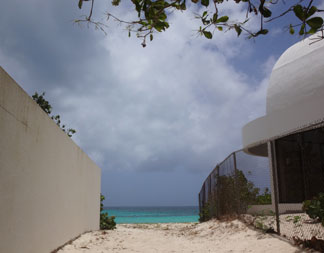 Instead of walking from one end to the other, we'll start from the easy public parking which is located on the salt pond side of the road just after you pass the entrance to Covecastles (before the road ends and before you reach Trattoria and Blue Waters).
Kick your shoes off, cross the road and walk up the sandy path to the open and gorgeous view of Shoal Bay West - you'll be near the center of the bay.
Take in the scenery!
Looking Out to Sea & Looking East
Look out at the sea and you'll see what some call "Blowing Rock." Just a small spit of volcanic-type rock, it's a great area for snorkeling and diving.
Look a little to the left and on clear days you'll see the neighboring islands of Saba and even closer, St. Martin.
Private villa on Shoal Bay West
& Chuck Norris' former home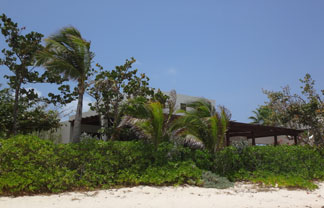 Fix your gaze back on the beach and start walking to the left.
First you'll immediately pass one of the island's most luxurious private villas that blends into its natural surroundings.
It was once home to Chuck Norris.
From there, you can see the whole eastern stretch of Shoal Bay West and everything located on its eastern half (Covecastles is now behind you).
Looking ahead toward Trattoria Tramonto, Blue Waters Beach Apts. and Altamer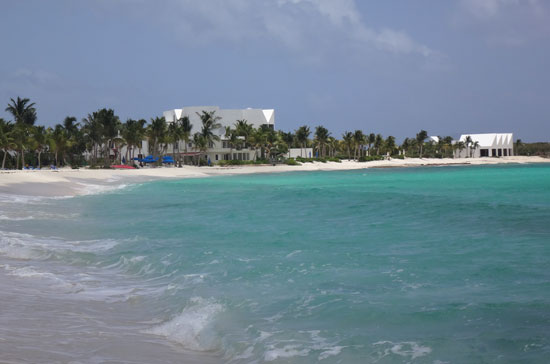 Shoal Bay West's East Side
Trattoria Tramonto Italian Restaurant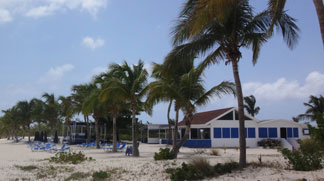 A bit further down the beach you'll approach a pretty and popular restaurant directly on the white sand, Trattoria Tramonto.
Open for lunch and dinner, I've spent many relaxing hours on their beach loungers, only leaving them to swim in the sea and sit in the restaurant indulging on their delicious Italian menu offerings with a chilled glass of wine.
Treat yourself to some time at the family owned and friendly Trattoria Tramonto!
Just beyond the restaurant, also directly on the beach are the moderate efficiencies called Blue Waters Beach Apartments. It's a fantastic place to stay if you're looking for clean accommodations with a kitchen, on the beach and with tremendous views.
Blue Waters Beach Apartments on the beach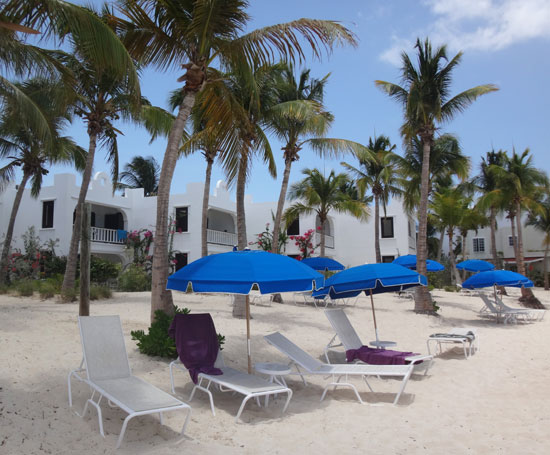 As you walk by Blue Waters' loungers and beach umbrellas you'll come across a little patch of rocks and shells. Raking through them in search of treasures is always fun. Considering how much a beach can change with weather and time, the volume of shells varies but it seems there's always something special to be found here.
Looking back toward Trattoria Tramonto from Blue Waters Beach Apartments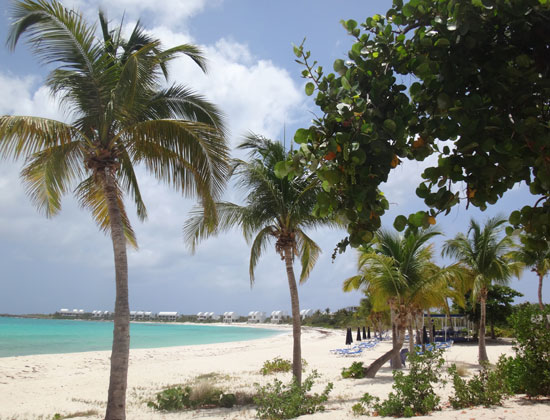 Beyond the small rocky area you can see Altamer Resort peeking out, one of the two higher end accommodations on Shoal Bay West.
Altamer on the far eastern end of Shoal Bay West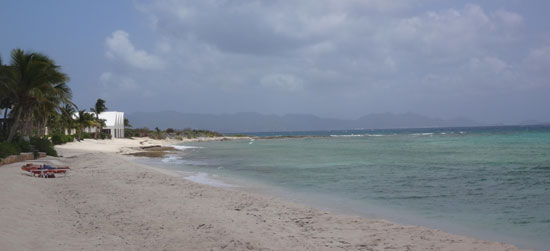 It is located on the more southeastern cap and point where Shoal Bay West ends and Cap Juluca's Maunday's Bay begins.
As you pivot to turn and walk back in the direction you came from, you can see the whole length of Shoal Bay West. While it's not the largest bay on Anguilla, it is sweeping and vast when you look from one end to the other.
Heading West
Walking towards Covecastles is a visual treat if you like their unique and more modern type architecture and clean white appearance with dark wood accents. The villas that make up Covecastles are the only structures on the western side of the beach.
Covecastles


As you walk the length of the bay, you'll notice it's mostly sandy with a few rocky patches here and there. (The ends of the bay are the rockier areas and the bay is mostly calm enough that even those rocky parts don't post much danger.)
As weather and erosion play in, sometimes weekly to daily, the rocky patches in the middle of the beach take turns being covered with sand. Some days you see them, other days you could never guess they lie below the sand.
Looking east down Shoal Bay West from Covecastles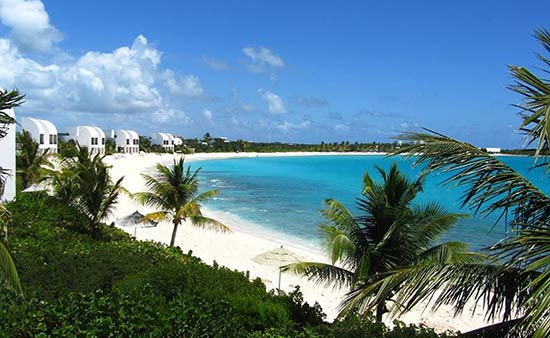 The slope of the beach is generally gradual and depending on the ocean, can be more or less steep. Usually, though, Shoal Bay West is easy to enter and thus is a great bay for swimming.
Looking west at Covecastles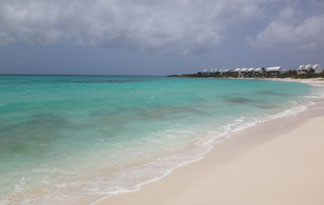 Another bonus for those in seek of solitude? Shoal Bay West does not see a lot of boat traffic. Further out you may see boats passing around the western end of Anguilla in order to reach its northern side, but rarely do they stop off at Shoal Bay West.
It's beautiful. It's quiet. It's walkable and swimmable. It's close to the multitude of West End businesses and is complete with a terrific Italian eatery if you can't tear yourself away from this small yet beautiful beach.
(It's not uncommon to stay on Shoal Bay West, fall in love and never leave to visit any other beaches - even on repeat trips back to Anguilla!)
One last important aspect of Anguilla's Shoal Bay West beach...
As with plenty of other Anguilla beaches at sunset, a nice time to slow down and take in the mark of a day's end, Shoal Bay West is an especially ideal spot to see the sun set... after all, it's sunset and it's Shoal Bay West.
Shoal Bay West just after sunset