Belmond Cap Juluca...
Anguilla's Crown Jewel
Since 1988, the name Cap Juluca Anguilla has inspired dreams of the remote Caribbean island. Without hesitation, Cap Juluca Anguilla was referred to as the "#1" of all Anguilla luxury resorts and hotels, and often even the Caribbean.
The well heeled traveled to Anguilla for the resort alone. Cap Juluca became a destination.
For decades it reigned as the premier hotel. However, in the early 2000s luke warm reviews of the resort surfaced, claiming it was slipping, losing its prestige and extravagant (yet ever enigmatic) edge. In 2008, the resort embarked on a $22 million renovation. And then in 2017, the iconic luxury brand, Belmond took over Cap Juluca.
Today, Anguilla's Crown Jewel resort is back and better than ever thanks to Belmond.
Word of restoration sparked curiosity within me and Louise. We heard wonderful things about the complete overhaul of this Anguilla luxury resort. It was time to see Anguilla's polished "Crown Jewel" in person. For a video tour of Belmond Cap Juluca, see the video above. For more detail on Belmond Cap Juluca, keep reading below.
Let's Step Inside Belmond Cap Juluca
We met our kind and knowledgeable host, Ivan in the resort's lobby...
Moroccan design and architecture has long defined Cap Juluca. Belmond has taken that inspiration to new heights with an elegant chandelier, immaculate moldings and billowing white drapes. Sophisticated art pieces and orchids and palms bring a tropical essence to the lofty room.
The lobby area features a guest lounge and two libraries. These spaces are steeped in old-world sophistication. Rich dark-wood moldings, door frames and shelves are offset by muted couches and arm chairs.
The Guest Lounge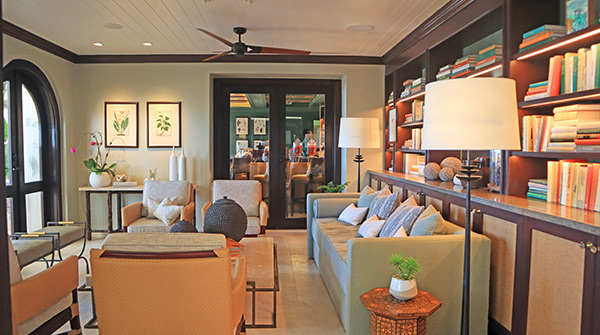 The rooms are adorned with carefully selected touches that reflect the spirit of Belmond. Record players, mosaic wood side tables and antique maps of the Caribbean are just a few of the special touches in the guest lounge and libraries. Every piece works together, evoking an atmosphere fit for a soul well-traveled.
Across from the first library is "Zemi," Belmond Cap Juluca's boutique. The shop carries a selection of beachwear and various accessories including exotic jewelry and clutches. If you are in need of Anguilla-ready apparel, they have a small yet tasteful selection.
Back to the enchanting chandelier in the main area of the lobby.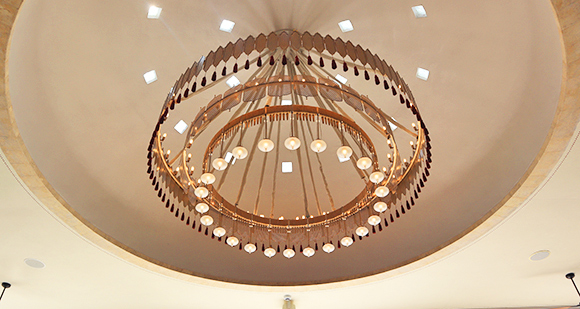 To your left is the new guest reception. A private, relaxed environment for checking in. To your right?...
Maunday's Club
Maunday's Club is one of Belmond Cap Juluca's most inspired re-imaginations.
Inside Maunday's Club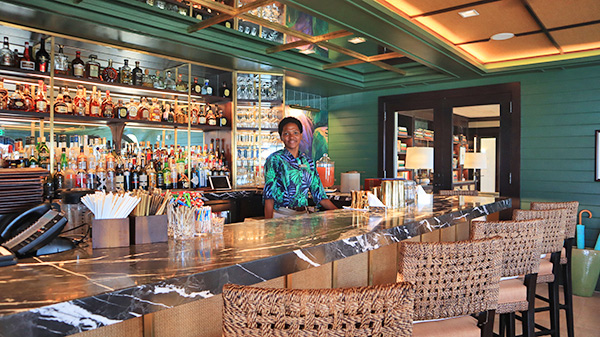 It is the luxury hotel's bar, lounge and pool area. Step inside and you are transported to a bygone era, a world reminiscent of the days of Ernest Hemingway. Most romantic, the space is defined by its soft lighting, green wood paneled walls and black marble bar.
Prepare to be blown away as you step outside. The terrace holds an emerald-tiled pool that dazzles the eye.
Maunday's Club Terrace & Emerald Pool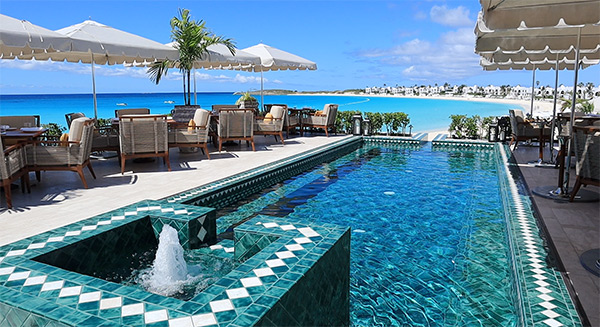 The Maunday's Club pool is complete with fountain and waterfall that tiers down into Belmond Cap Juluca's main pool area for hotel guests. A deep blue hue, the pool is surrounded by plush lounge chaises and day bed cabanas.
Every aspect of this Anguilla resort takes a feeling of exclusivity and luxury to a new level.
Main Pool Area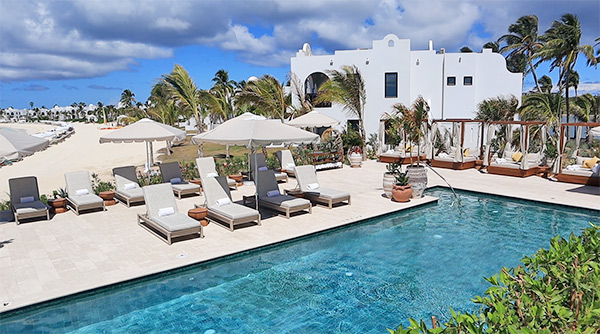 Back up in Maunday's Club, lunch is served until 3pm. Come 5pm, Maunday's Club is Anguilla's only Peruvian restaurant, serving exquisite tapas and champagne at sunset. No matter the time of day, the backdrop takes your breath away. One never tires from gazing at the turquoise waters of Maunday's Bay.
More on Maunday's Club here.
Maunday's Club Terrace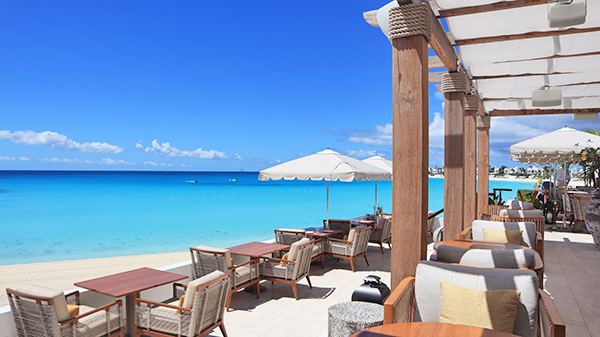 Dining at Belmond Cap Juluca
Back in "the day", Cap Juluca was well known for its two main restaurants, Kemia and Pimms. Set on the eastern end of the property, in their own building right on the sea, their location is iconic. Here, too, Belmond Cap Juluca shines, elevating these restaurants to new heights.
First, Cip's by Cipriani offers casual Italian cuisine on the sea. 
Cip's by Cipriani

A multi-tiered restaurant with a grand terrace that stretches over Maunday's Bay, this is true waterfront dining. The space is open for breakfast, lunch and dinner. Inside, a bar area with intricate green-and-white tiled ceiling captures the imagination.
The Bar at Cip's by Cipriani

Next door to Cip's by Cipriani is the highly acclaimed dinner restaurant, Pimms.
Dinner is served in one of the most romantic settings, right at the water's edge. It is the resort's signature restaurant and one of the most magical dining locations in the entire Caribbean. The view of Maunday's Bay from Pimms is particularly pretty at night when Cap Juluca's Moorish villas are glowing, dotting the beach.
Pimms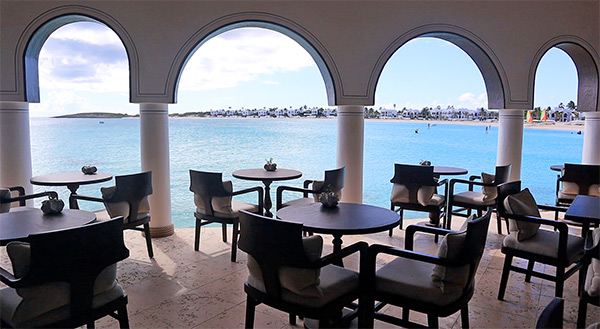 Executive Chef Andy Gaskin (rated one of the top 100 chefs in the world in 2018) works with Anguilla's award-winning Chef Dean Samuel, creating Anguillian-European fusion cuisine.
Last but not least, and located on the opposite end of the beach from Pimms, is the newest addition to Belmond's family of restaurants...
The Cap Shack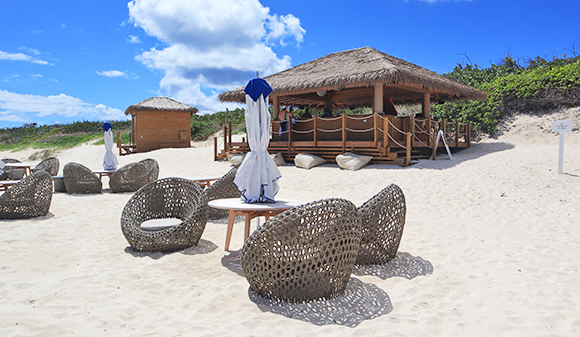 A true "Toes in the Sand" experience, Cap Shack brings luxury to the beach with sumptuous lunch eats, cool cocktails and luxurious loungers right on the sand.
Lunch For Two With Maunday's Blue!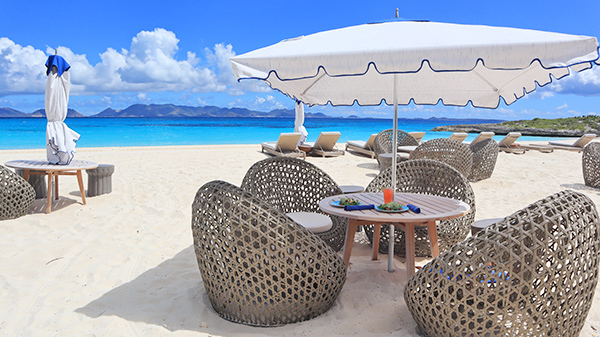 More on Cap Shack here.
The Beach, Tennis & Spa
Speaking of dining on the beach, Cap Juluca has one of the best beach settings in all of the Caribbean.
No matter how many millions were poured into Belmond Cap Juluca, nothing can match the natural beauty of Maunday's Bay. Here, the sea seems to shine an extra special shade of turquoise. Cap Juluca Anguilla graces Maunday's Bay, complementing it wonderfully, its subtle architecture slipping right in with the lush foliage.
Belmond Cap Juluca offers a number of ways to enjoy Maunday's Bay, including...
SUP
Hobie Cat sailing
Kayaking
Snorkeling
Tubing
Waterskiing
Our favorite way to enjoy these calm waves is to simply float on them. See the video above for 50 minutes of relaxing on Maunday's Bay :-)
When it comes to activities, Belmond Cap Juluca's offerings don't end at the beach. The resort also offers...
Tennis (with Anguilla's most sought after tennis instructor - Shawn)
Basketball
Fitness (with cardio machines, bikes and weights)
Yoga & Pilates
Spa
Set among the villas in the center of the property you will find Belmond Cap Juluca's subdued spa and fitness center.
Spa Pool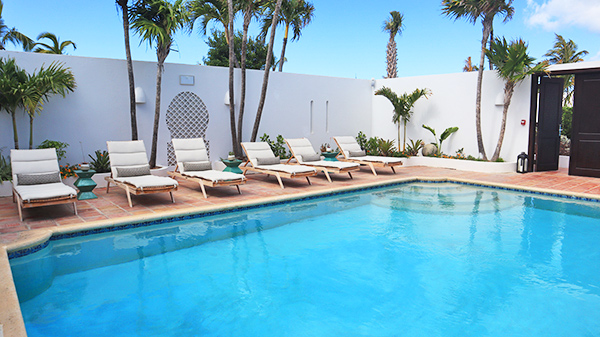 Succulents and foliage create a soothing atmosphere outside. Inside, its arched windows to the sea are mesmerizing. Treatments are world class, incorporating real Anguilla sea salt.
Inside The Spa at Belmond Cap Juluca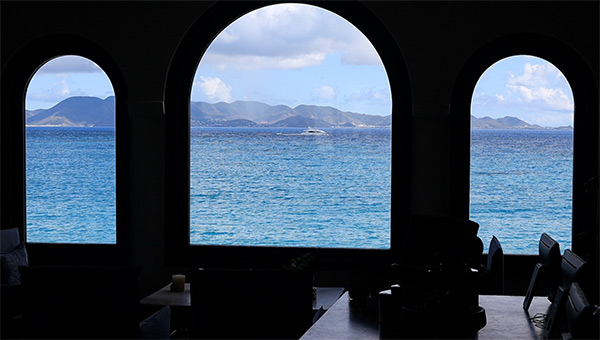 The Rooms, Suites & Villas
After a full day of beach, activities and world-class dining? It is to your plush hotel room suite!
Tip: On your way to/from your hotel room suite, be sure to ask for at least one ride in the Belmond Buggy. Completely retrofitted and outfitted with air conditioning and leather interior, this is one plush bug! A most fitting way to travel in-style within the Belmond property :-)
The Belmond Buggy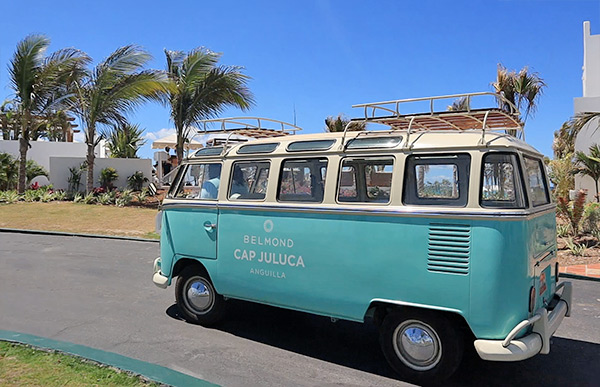 Now on to Belmond Cap Juluca's rooms and suites...
Accommodations range from well-appointed beachfront rooms (of ~790 square feet), to suites (of ~1,500 square feet), to suites with pool (of ~2,500 square feet), to full villas (of ~5,500 square feet) all with 55" Smart TVs and Bluetooth speakers.
Hotel Room & Suite Building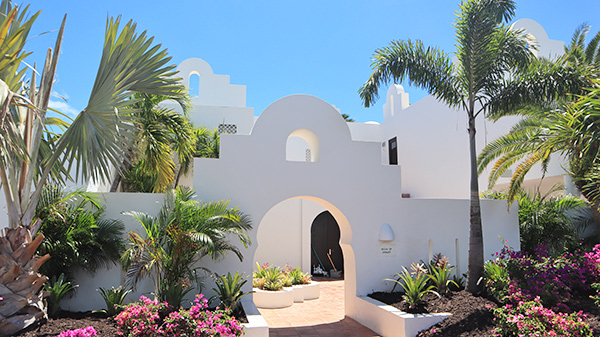 Belmond Cap Juluca's suites and villas are housed in the hotel's iconic Moorish-style buildings that line Maunday's Bay. All accommodations gaze out to Maunday's blue.
Belmond Cap Juluca Deluxe King Room View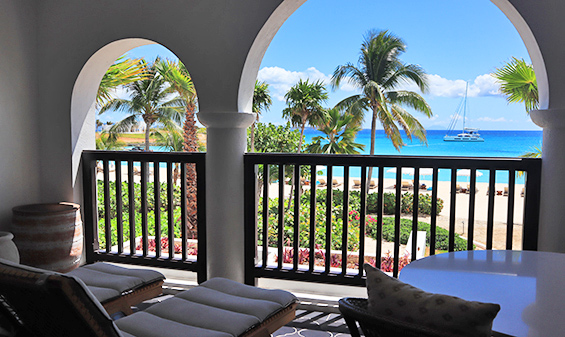 Tip: For an extra dose of blue book a Premium King Room. In addition to a private balcony, most of the Premium King Rooms have a roof top terrace complete with sun loungers. The views are nothing short of majestic.
Premium King Room Rooftop Panoramas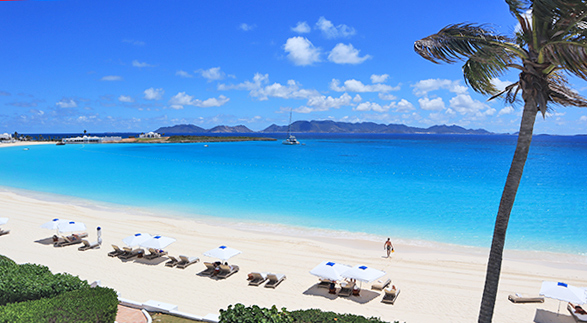 Inside, kick off your shoes. All tiles at Belmond Cap Juluca have been hand-made. Soft and smooth to the touch, they are most sumptuous under foot. From the tiles under foot, to the lighting overhead, each detail has been accounted for.
Premium King Room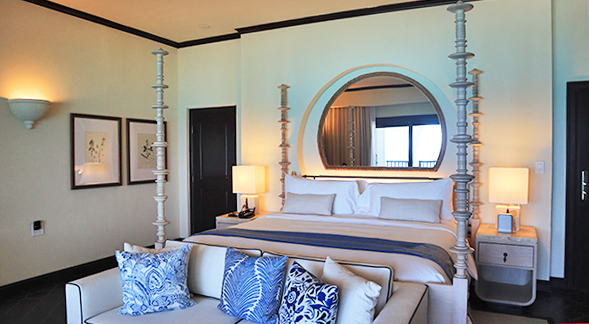 Instead of "Do Not Disturb" signs, Belmond Cap Juluca employs artful tassels. Hang the green tassel to have your room made up, hang the red tassel for privacy.
Instead of the usual mini bar, Belmond Cap Juluca boasts a full bar area tucked into a posh cabinet. The bar area lights up, beautifully displaying a variety of liquors, eye-catching glassware, modern hot water kettle and espresso cups.
Full Bar Area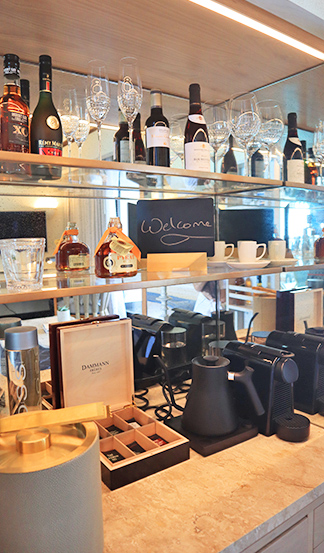 When it comes to the ensuites? Moorish style arches lead to an oasis of calm. Moroccan tile backsplashes and bronze sinks steal the show. In terms of usability, the bathrooms in the Deluxe King Rooms wow with track lighting that automatically turns on as you move through the room.
Moroccan-Style Ensuite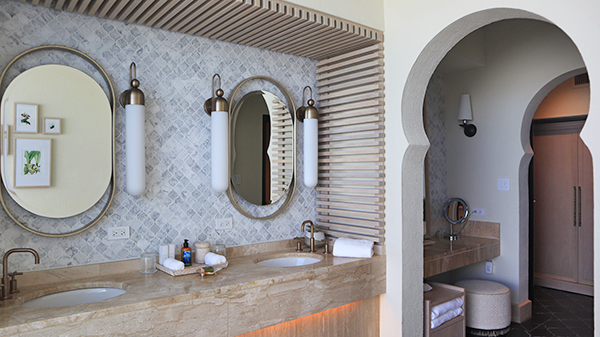 The Deluxe King Room ensuites are oversized with vanity, deep sink tub, walk-in shower, posh closet space and most feature an outdoor solarium.
Ensuite Solarium & Sink Tub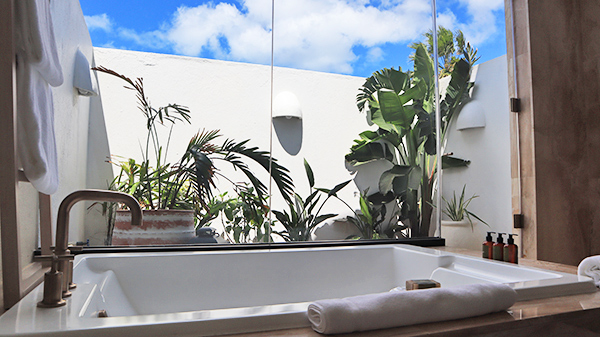 The experience does not end there.
A Special Note on Service: Cap Juluca has always been one of Anguilla's leading hotels in regards to service. Under Belmond's helm? They have taken it notches higher. Your stay at Cap Juluca includes 24 hour butler service. With 1 staff member for every 2 guests, service is highly personalized with a deep attention to detail. This addition is a significant detail.
Last Stop: Events Pavilion
Last but not least, one of the most magical settings at Cap Juluca...
The Events Pavilion
(bottom right of photo below)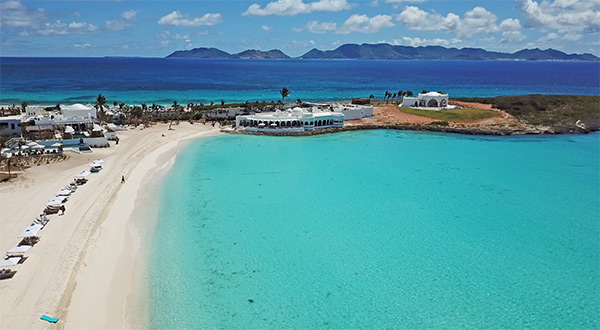 Cap Juluca is home to many Anguilla weddings and Anguilla honeymoons! While many wed on the beach, the resort features a stand alone "wedding pavilion" on a beautiful, green bluff (bottom right of photo above). Anguilla weddings are magical events... one at Cap Juluca must truly be a special experience!
And so ends our Belmond Cap Juluca tour!
A huge thank you to Ivan for showing us the in's and out's of the re-imagined Belmond Cap Juluca.
The property remains a competitive, luxurious hotel, providing special amenities, impressive attention to detail, and an exotic atmosphere. Belmond Cap Juluca is once again a cut above any Anguilla resort, and will easily rank as #1 in luxury across Anguilla and the Caribbean in the coming months and years.
Barefoot Luxury at Belmond Cap Juluca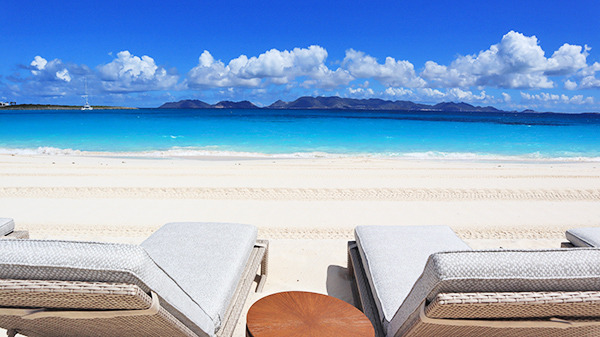 More Information on Belmond Cap Juluca
Belmond Cap Juluca Dining
Cap Juluca Archives
A primer on this Anguilla resort
2016 Cap Juluca Tour Video (see below)