Anguilla Hotels: The Guide...
Maunday's Bay
The map below shows Maunday's Bay.
It may not have the grandeur of the likes of Rendezvous Bay and Shoal Bay, but what Maunday's Bay lacks in size, it makes up for in simple perfection.
Maunday's Bay's smooth shores the most idyllic, small crescent beach. Its white-sand shores and azure waters always seem to sparkle. With spectacular St. Martin in the distance, it is no wonder why this beach is loved and frequented by many travelers and locals alike.
Maunday's is truly a postcard-perfect Caribbean beach.
Belmond Cap Juluca
Size: Large
Location: Right on sandy beach, occupies most of Maunday's Bay.
Description: In its heyday (90s), Cap Juluca was known as one of the best resorts in the Caribbean, and certainly one of the most beautiful hotels in Anguilla.
This luxury resort offers a variety of rooms, from standard rooms to suites to private pool villas. Each room is on the beach and has either a patio (if you're on the ground floor) or a private balcony. The benefit of a room with a balcony is the expansive views of St. Martin and Maunday's Bay. Choose the bottom floor if walking right out onto the beach is appealing!
Tip: The rooms located closer to the middle of Cap Juluca is the nicest part of the beach. The rooms further to the West (the villa suites) are spectacular, but the beach becomes slightly rockier towards that end.
From the lobby, to the restaurants, to the rooms and villas, all have a Moorish design and style.
The resort has four restaurants (Pimms, Cip's, Cap Shack and Maunday's Club) and plenty of water sports (SUP, kayaking, sailing). Additionally, there are tennis courts on site and an impressive infinity edge pool.
But really, who needs a pool when Maunday's Bay is just steps from your bed?
Belmond Cap Juluca is the only resort on Maunday's Bay. Although all beaches are private in Anguilla, this beach virtually feels like it is all to Cap Juluca.
Service is all-star.
Rates start at $600 per night in the off-season and range up to $2,000+ in the high-season.
Click for our review of Belmond Cap Juluca.
Price: $$$$$ — Return to Hotels By Price
---
ARCHIVES:

Hotels That Are No More
Sheriva Boutique Villa Hotel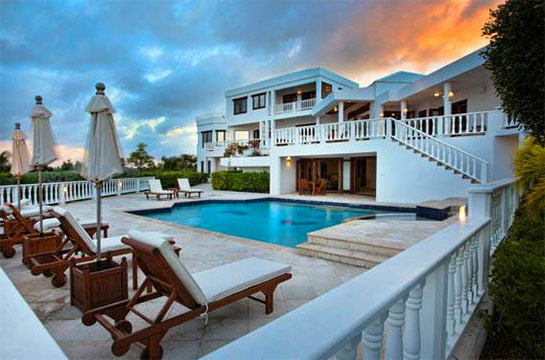 Size: Medium
Location: Maunday Bay's salt pond.
Description: From intimate honeymoons, to large multi-generation family retreats, Sheriva Boutique Villa Hotel meets many travelers' needs.
Unlike traditional hotels, Sheriva Boutique Villa Hotel is set up to deliver an extremely private and tranquil vacation. The space is made up of a series of "villa suites." There is a 1 bedroom pool suite, 2 bedroom pool suite and 3 bedroom pool suite. Each suite's bedrooms are masters and have sea views. The rooms are large, clean, luxurious and well-appointed, without feeling sterile or overly modern. Many guests go on and on about the comfortable bathrooms, too!
Aside from their pool suites, Sheriva Boutique Villa Hotel has two large villas on site, too. There is "Mystique," a six bedroom villa at 21,000 square feet, and "Ifinity" and "Harmony." Infinity and Harmony are often rented together to make an eight bedroom villa at 14,000 square feet each.
Infinity and Harmony have two pools, an entertainment room (5' flatscreen TV) and dining areas. The terraces have beautiful views of St. Martin.
Mystique is one of the island's most luxurious villas, and most spacious villas, too.
The finishings and furnishings are all five-star.
As you would expect, this Boutique Villa Hotel has five-star service.
Despite the fact that Sheriva is not on the beach, there are golf carts available to take you down to Maunday's Bay whenever you please. There, you will find beach chairs and umbrellas already set up for you. Guests can sign at restaurants and bars at Belmond Cap Juluca, too.
Click for a review of Sheriva Boutique Villa Hotel.
Price: $$$$$ — Return to Hotels By Price