Cap Juluca:
A Tale of Two Restaurants
Kemia has closed. Today, it operates as Cap Juluca's Spice restaurant. More on Spice at Cap Juluca.
Cap Juluca is widely regarded as one of the Caribbean's finest resorts. Five star in every way imaginable.
So I was intrigued when Mr. Rowan Martin Jr. made a surprising report from "Your Anguilla Travel Stories" page.
He claimed that the cheese pizza at Kemia, a restaurant at Cap Juluca, was "the best I ever had."
Pizza?
At Cap Juluca?
This I had to see... and taste!
And so began the Cap Juluca restaurant "shell game."
Off to Kemia we went, in search of a pizza that dared to challenge our favorite.
Would Mr. Martin's pizza live up to the challenge of our pizza-experienced taste buds?
Welcome to Kemia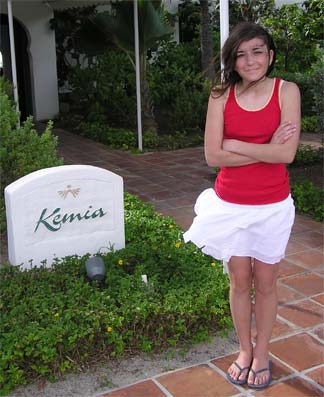 Once inside Kemia (or so we thought), we quickly opened our menus and scanned for pizza!
No pizza!
I closed my menu, wondering if Mr. Martin was pulling our family's leg.
But wait! The cover of the menu said... "Pimms." Not Kemia.
But we had clearly entered Kemia.
Puzzled, we asked the waiter. He explained that Kemia and Pimms share the same building, but have different dining areas. For lunch, only one kitchen or the other is open -- and "today it's Pimms."
But Pimms was using Kemia's dining area that day because the seas were so rough, that the waves were splashing all over Pimms.
So we decided to "eat Pimms at Kemia." After all, it's not every day you can do that!
The restaurant is built right out over the water. It provides sweeping views of Maunday's Bay and Cap Juluca.
Not the least bit discouraged, we gave the Pimms menu a second chance. Fish and club sandwiches coming right up!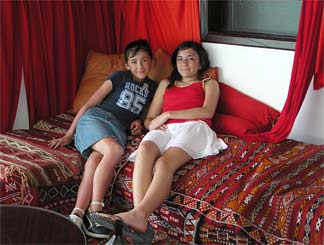 We placed our orders, and then explored the restaurant.
In the far corner, we discovered a colorful, Indian-inspired resting spot. We felt quite exotic, lounging for this photo!
Beautiful gold, orange, and red fabrics covered comfy couches and cushions, while red drapes hung from above.
We headed over to water's edge to get a better view of the sweep of the bay and Cap Juluca...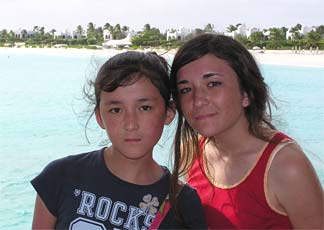 Staring out at a beautiful view of clear, turquoise water, reflecting the light skies, the beach dotted with Cap Juluca's charming white villas, pretty much spells...
A-n-g-u-i-l-l-a.
And then... the waiter arrived with the food!
My parents loved their tuna and swordfish. They made me wish I had not played it safe with a club sandwich.
All in all, a fine lunch at Kemia... errr, Pimms.
But we weren't about to abandon our quest for pizza.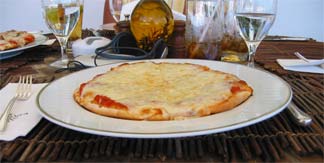 A few days later, on a "Kemia day" (Ha!), we were back. And Mr. Martin was right. The pizza was excellent.
I had it plain, just cheese and tomato sauce. My Dad had it with tons of toppings. They weren't on the menu, but if you ask (and my Dad asks), they'll put just about anything on top!
And then... the moment of truth. Kemia or Arawak?
The winner, and still champion of pizzas on Anguilla...
And there you have it... our accidental "Tale of Two Restaurants" at Cap Juluca.