The Lounge & Restaurant
Everyone Should Be Talking About...
Cap Juluca's Spice
Update 2018: Cap Juluca's Spice has become Cip's by Cipriani.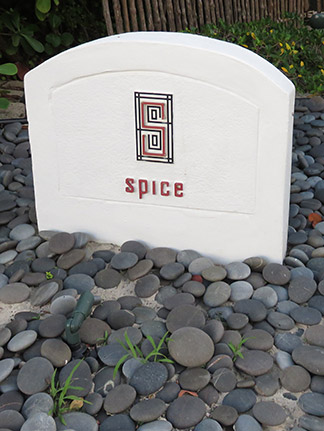 In early 2016, Cap Juluca welcomed Chef Juan Bochenski who introduced three new menus to the luxurious property.
The announcement made headline news across Anguilla and throughout the Caribbean.
Known as the region's gem, Cap Juluca long had a reputation for its excellent fine dining.
The news was a promise that Cap Juluca's cuisine would once again be five-star.
Bizarrely enough, after the initial announcement, there was no "local buzz" on the new dining experiences.
Friends hadn't tried it, reviews on TripAdvisor were sparse, no "food pics" on Instagram. "What gives?" I thought.
It was time to take matters into our own hands (or mouths!) and put our tastebuds to work...
Inside Cap Juluca's Spice
Through Moorish-style arched doorways, setting foot inside Spice is like entering a Moroccan dream. Peaceful, serene and timelessly-classy, it is an other-worldly escape.
Spice's Lounge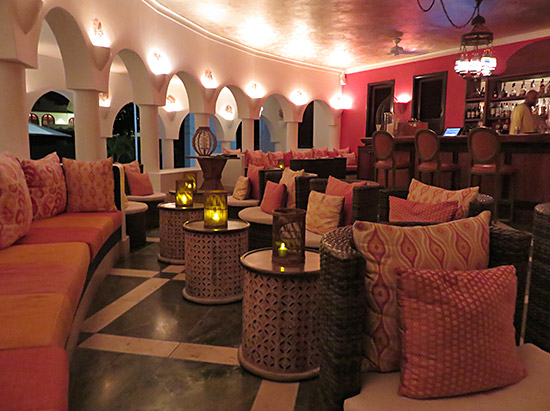 Spice has forever been Cap Juluca's relatively casual dinner restaurant, one part lounge and one part restaurant.
In a laid-back mood, my sister and I tucked into a comfortable corner on the plush couches that line the lounge.
Cocktails & A Latin-Inspired Menu
Spice's bartender, Francisco, a genuine man with a gentle and affable nature, welcomed us.
The Raspberry Mojito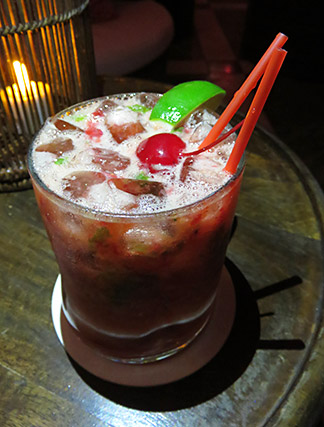 First order of business? A Cap Juluca cocktail.
The Raspberry Mojito caught my sister's eye.
Refreshing, the presentation was particularly pretty.
Flecks of fresh mint and raspberry float on top, teasing tastebuds.
It is all garnished with a cherry and a slice of lime.
The cocktail tastes as good as it looks.
At $12, it is fair to say that Spice is one of the more reasonably-priced five-star resort restaurants in Anguilla.
Prepared with careful attention to detail, Francisco impressed yet again when we noticed the coasters. Can you spot the minute, yet telling detail in the photo below?
(HINT: It has everything to do with "Cap Juluca.")
(ANSWER: The coaster's "Cap Juluca" emblem faces towards you. A mark of dedication to presentation.)
This acute attention to detail quickly became a trend. Spice's service is amongst the most refined in Anguilla. Well-timed, professional yet friendly, never invasive yet somehow aptly (and quietly) anticipating your next request... the staff understands five-star service and takes true care and proud ownership of each guest's dining experience.
First Bite of Spice
Chef Juan Bochenski hails from Argentina. His South American influence can be seen throughout the menu. It is split into three sections, "Plates to Share," "Small Plates" and "Platos."
The menu ranges from the "simple" and well-executed, including dishes of chips and guacamole, tacos and quesadillas, to the more interesting and creative, including ceviches and full plates of "pollo al ajillo" and "snapper chermoula."
Black Bean Nachos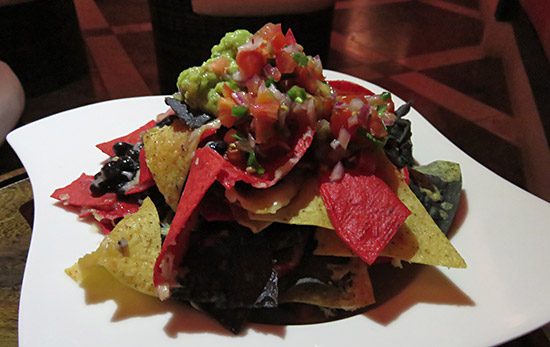 We started with the "Black Bean Nachos." Tortilla chips are layered and baked with jalapeño, black beans and asadero cheese before being topped with guacamole and pico de gallo. A generous portion, it makes for a robust snack.
The Cubanitos

Next up? The Cubanitos.
Here, Cuban sandwich meets slider. A fluffy and lightly toasted bun encases pork belly, melted asadero cheese and BBQ achiote mayonnaise. The key to success? The thick slice of pork belly is wrapped in "Layout Hormel" bacon, a smoked and cured bacon that is also made from pork belly.
The combination creates a rich mix of smokey, savory flavors, gently offset by the gherkin on top. It was love at first bite.
I must confess, I am addicted to Chef Juan's Cubanitos. So addicted in fact, I had to return less than one week later for another bite...
True Seaside Dining at Spice
This time, the ocean was calling our name.
Spice's Oceanfront Terrace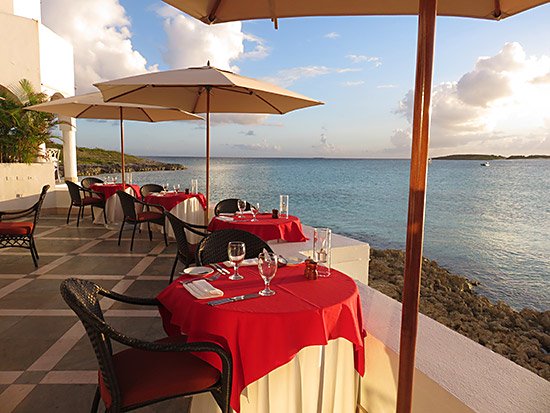 If it is seaside dining you seek, you cannot get closer to the Caribbean Sea than this. Touching the water, the waves gently lap below, setting a soothing tone for the evening.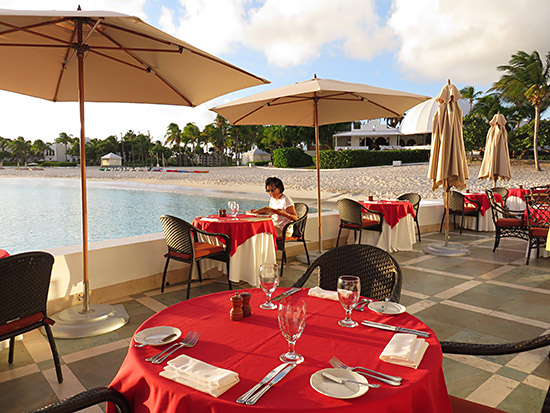 With a view to the open sea and the beach, it is one of the most romantic dining locations in Anguilla.
Sunset Cocktails
The evening began on a familiar note...
Sunset Cocktails

Tip: Francisco's gin & tonic is perhaps Anguilla's best (and certainly its strongest)!
Bread Basket

As we sipped, our kind waitress Nicola brought warm, house-made rolls (white, whole wheat and pepper-laced) and artisan breadsticks (sesame and paprika-spiced).
"No rush to order," she smiled, "take your time."
Personable, Nicola is a Cap Juluca veteran.
She began her career at the resort in the 90's.
With decades of experience under her belt, you are in good hands with Nicola.
My Mom and I continued to sip and munch, all while taking in the most magical vanilla skies over Maunday's Bay.
Surreal Vanilla Skies Over Maunday's Bay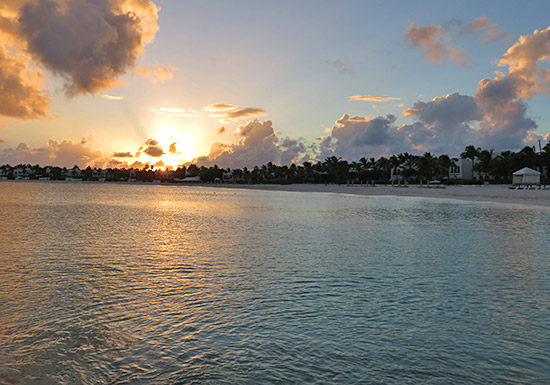 The Main Attraction
Sun down and the filling effect of the rolls quickly wearing off, we ventured into the menu.
The Lobster Ceviche

Sizable chunks of fresh lobster are mixed with a mango-orange salsa. The artful creation is set on an avocado mousse and served with tortilla chips. Fruity and light, the touch of radish brings a sharp taste to the dish. It is Latin cuisine at its best.
Plate polished, the star of the show awaited us...
Mas Cubanitos, Por Favor!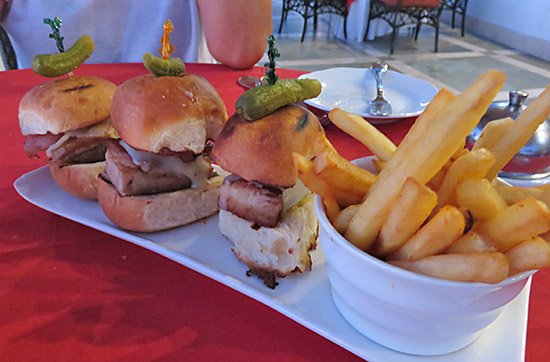 As divine as the first time, I cannot recommend the Cubanitos highly enough. Even as a pre-dinner snack with a sunset drink, the Cubanitos alone are worth a visit to Cap Juluca. (NOTE: Parts of Spice's menu (including the Cubanitos) are also available at Cap Juluca's Maunday's Club pre-sunset.)
A Stellar Team Sets A High Bar
Spice's cocktails, cuisine and ambiance set a high bar. Nicola and Francisco push that bar many rungs higher.
Nicola & Francisco

With exceptional service, and competitive prices, Spice is one restaurant that should be on the tips of everyone's tongues. It is a dining experience that is well-worth raving over.
Thank you, Nicola and Francisco. See you again... very soon ;-)
Location, Contact & Hours
Directions: Set on the far east end of Maunday's Bay.
Hours: Nightly for tapas/dinner.
Tel:: 264-497-6666