Cip's By Cipriani...
Venetian-Inspired Elegance on Maunday's Bay
By: Louise Fayet
If it is seaside dining you seek, you cannot get closer to the Caribbean Sea than Cip's. Touching the water of Maunday's Bay, the lapping waves set a soothing tone for the evening to come.
Welcome To Cip's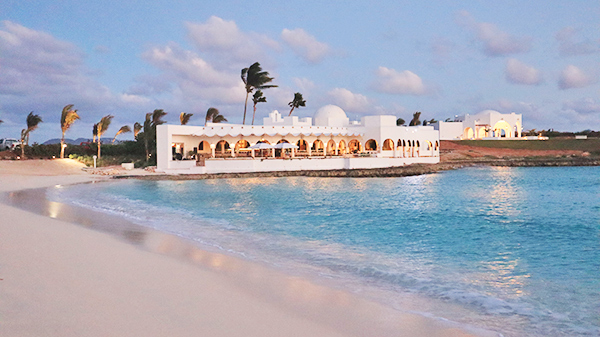 Cip's by Cipriani is Cap Juluca's nod to the Belmond's Italian sister property, Belmond Hotel Cipriani. As in Venice, at Cip's the ocean surrounds you, Italian eats delight, and elegance and charm are in every detail.
Step Inside Cip's
Through Moorish-style arched doorways, setting foot inside Cip's is like entering a Moroccan and tropical dream.
Moorish-Style Entrance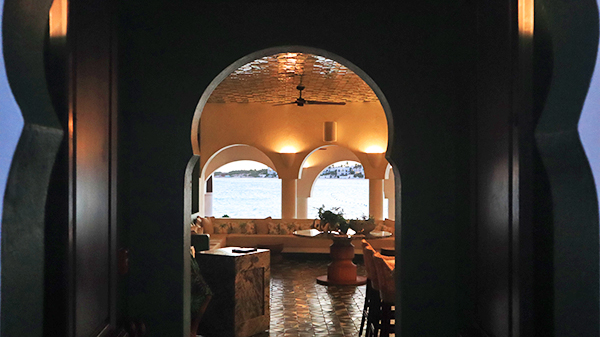 Green and white triangular tiles line the floor and ceiling. The bar is painted green while dangling lights in thatched shades illuminate the marble counter tops. Adopting its dining concept from Cap Juluca's former Spice restaurant, Cip's is a relatively casual dinner restaurant, one part lounge and one part restaurant.
Bar At Cip's

Inside the bar area, the room is lined with tropical bench-type seating for lounging. Rich emerald green and white is the color scheme of choice, bringing a distinct air of Venetian flair.
Outside, the restaurant's dining areas tier down to the sea. Sit closest to the water to be fully under the night stars.
Elegant Dining Area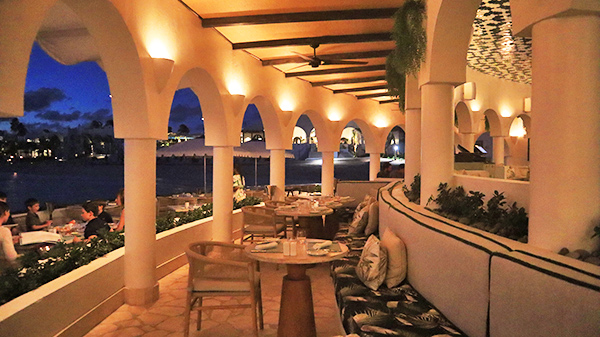 The waterfront terrace also offers a refreshing sea breeze and breathtaking views of the water that reflect the lights of Cap Juluca.
How About This For a Dinner View?

Meet Chef Johnny Clero
Chef Johnny Clero is a familiar face in Anguilla.
Chef Johnny Clero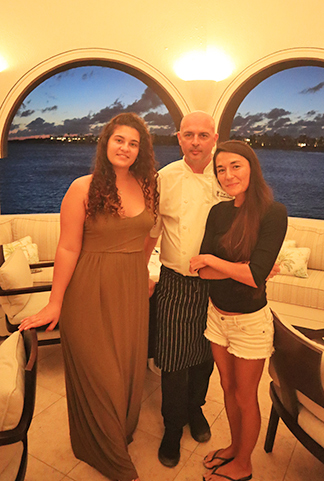 He began his career at La Duchesse Anne, a Michelin-starred restaurant. A high-profile post, it kickstarted Chef's exciting professional journey as a private chef traveling the world, sharing and refining his skills. That journey eventually led him to Anguilla.
Chef Johnny arrived in Anguilla in 2002. He built a name for himself as the Executive Chef at Malliouhana and then Altamer.

Photo: Johnny Clero
In 2009, he headed up Cap Juluca as Executive Chef. Today, he has returned to the shores of Anguilla and Maunday's Bay. Chef Johnny is back at beautiful Cap Juluca!
Italian & Caribbean Cuisine
Nights at Cip's begin with a serving of warm bread and whipped butter. The bread sticks are particularly delightful, made very similarly to Johnny cakes. To fully indulge, enjoy them with a dab of butter.
Bread & Butter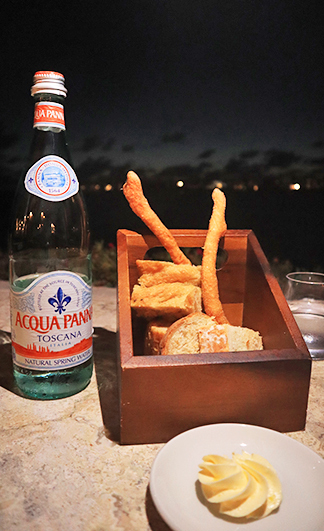 The menu begins with classic Italian "antipasti" of buffalo mozzarella and beef carpaccio, in addition to…
Crispy Chickpeas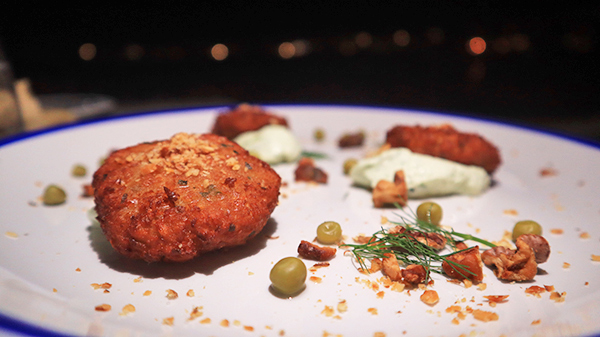 The Crispy Chickpea starter is one of our favorites. Three aromatic chickpea patties are molded into a perfect palm size. Fried until golden brown and crispy, each chickpea patty is served atop a spinach yogurt dip. The plate is finished with pickled peas, fresh amaranth salad and roasted walnuts. The combination of the spinach yogurt and chickpea patty is genius. Light, healthy and the flavors blend effortlessly.
Another choice on the starters selection…
Octopus Salad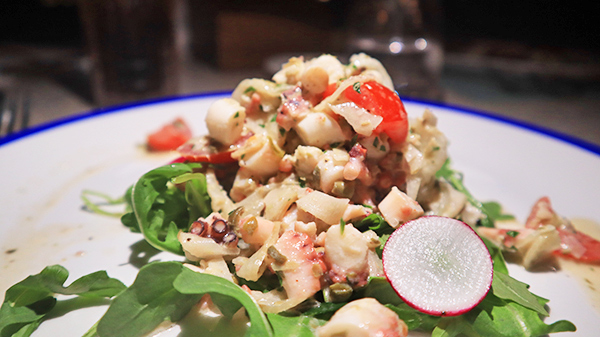 Diced pieces of octopus, fennel and onion are tossed in a parmigiano dressing. The creamy octopus mixture is complemented by a tomato, white bean and arugula salad. Most tangy, the dressing shines!
The menu then flows into the "Vegetables and Salads" where options for vegetarians are plentiful. The marvelous "Pasta" selection follows the "Vegetables and Salads." Options include spaghetti bolognese, a pumpkin, bok choy lasagna and...
Maccheroni Saltati Alla Busara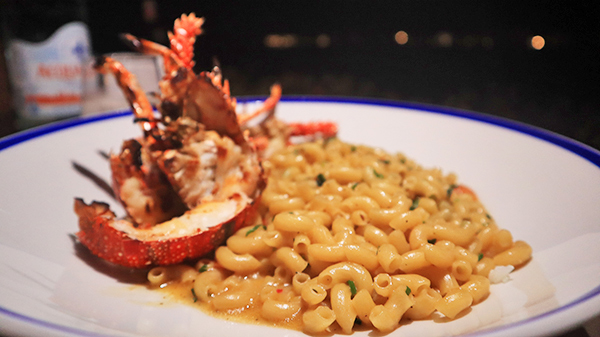 An incredibly large serving of macaroni pasta is cooked in a crayfish broth with minced herbs. Actual halves of crayfish tails are laid to rest on top. The crayfish falls right out of its shell.
Don't underestimate this pasta dish! Seriously filling, it is packed with rich seafood flavor.
Moving on, next is the menu's "Main Courses" and "From The Grill" options of breaded veal, roast chicken, dry aged prime ribeye, lamb, New York Strip and...
Selection of Fresh Fish & Shellfish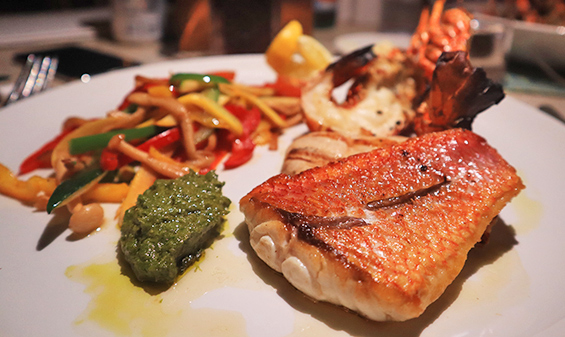 Recommended by our waitress, this dish does not disappoint!
Chef selects the finest cuts of fresh Caribbean fish. The plate includes fillets of grilled Mahi-Mahi, pan-seared snapper and grilled crayfish. No detail is overlooked when making this dish. The snapper's skin is crisped to perfection while still keeping its rosy-red color. Inside? The fish melts in your mouth.
Chef serves the seafood with Mediterranean vegetables and a dip of salsa verde to tie it all together.
Sweet Endings At Cip's
Our #1 rule for dining in Anguilla? Always save room for dessert :-)
Cip's menu offers lime panna cotta, meringue with vanilla ice-cream, a selection of gelato and my favorite from Cip's...
Tiramisu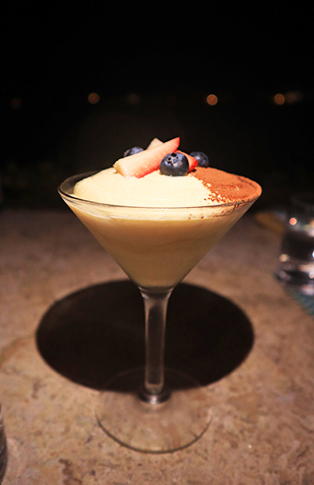 Served in a cocktail glass and made with walnut-almond biscuits, I swear this tiramisu will never let you down. It is topped with a dusting of chocolate powder and diced strawberries and blueberries. Chilled and not too sweet, this is my idea of the perfect dessert.
Nori went with the caprese chocolate and almond cake with a scoop of mango ice cream.
Caprese Chocolate & Almond Cake with Mango Ice Cream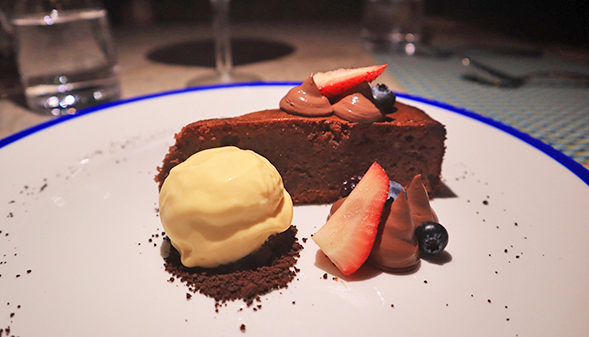 A generous slice of richly dense chocolate and almond cake is garnished with chocolate mousse, strawberries and blueberries. This semi-sweet slice of cake is served with a scoop of tropical mango ice-cream. A curious combination, the mango brings an extra touch of "sweet" to the more semi-sweet slice of cake.
Almost too full to move, Cip's left us completely satisfied!
The chickpea starter, fish selection and tiramisu dessert were truly divine dishes. When it comes to ambiance? Credit must be given to Belmond! Cip's timeless setting at Cap Juluca delivers on its promise of casual Venetian elegance, Anguilla-style.
Cip's is open for breakfast daily 7-10am, dinner Sunday to Wednesday 6:30-9:30pm. For reservations, call: 264-497-6666
Menu: Breakfast, Mains, Desserts, Vegetarian, Drinks