Beach BBQ Under The Stars...
at Belmond Cap Juluca
Update: The beach BBQ has temporarily been discontinued.
By: Louise Fayet
As the sun sets and the sky fades to pink, Maunday's Bay comes alive every Thursday at Belmond Cap Juluca's Beach BBQ.
Welcome To Belmond's Beach BBQ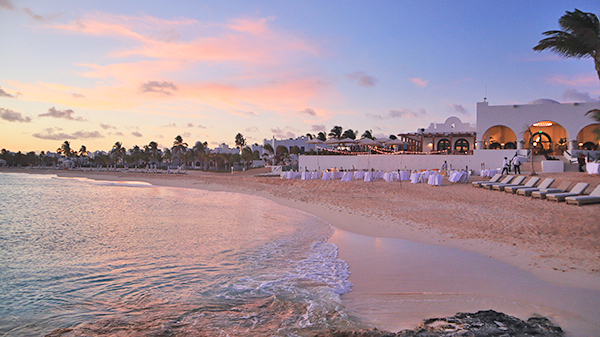 Right at the foot of Maunday's Club, where the hotel's steps meet the sand, string lights twinkle and tiki torch flames dance in the night sky. The aroma of sizzling crayfish and fried Johnny cakes fill the air, setting the scene for a gourmet feast to come!
Where To Begin?
The BBQ begins with a full table of drinks. Belmond serves up a wide variety of champagnes, wines, sodas, mixed drinks and fruit punch for the kids. Either order your drink at the drink table, or request your beverage of choice from your waitress. The Belmond Beach BBQ is complete with excellent table-side service!
Drink Table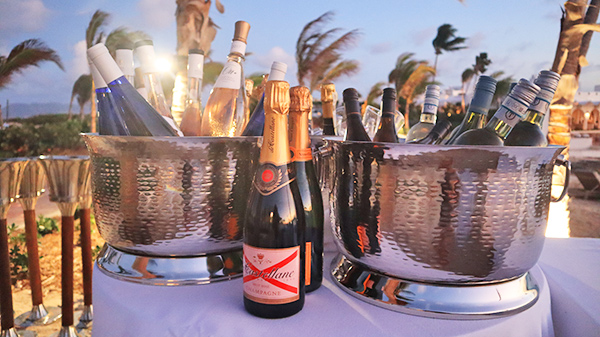 Right next to the drink table, the BBQ cuisine begins.
First? A refined selection of healthy and creative side dishes including German-style coleslaw, ratatouille, quinoa salad...
Quinoa Salad

And the salad that is often hailed as one of the BBQ's best...
Mango Shrimp Salad

The mango and shrimp make for an interesting combination. Most vibrant, it is rich in a refreshing, tropical flavor.
Moving on, it would not be a Caribbean beach BBQ without Johnny cakes!
Fresh Fried Johnny Cakes

There is something so exciting about seeing row upon row of shiny, puffy, fluffy, golden Johnny cakes. These Anguilla classics are essential to any BBQ meal.
When it comes to potatoes, Belmond serves them up two ways. The first? Another BBQ classic...
Potato Salad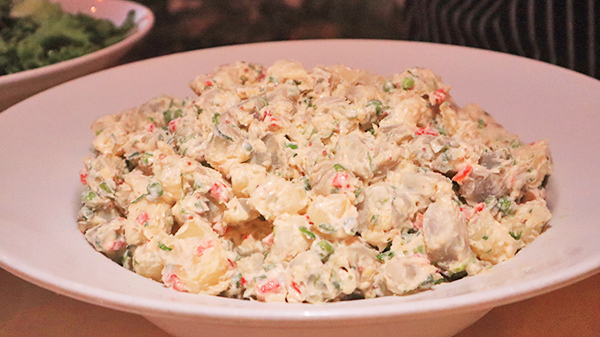 Soft boiled potato chunks are mixed with diced veggies. Not too heavy and not overly creamy, Belmond's potato salad strikes a fine balance between "tasty" and "healthy."
If you prefer your potatoes sautéed, Belmond's are divine.
Sautéed Potatoes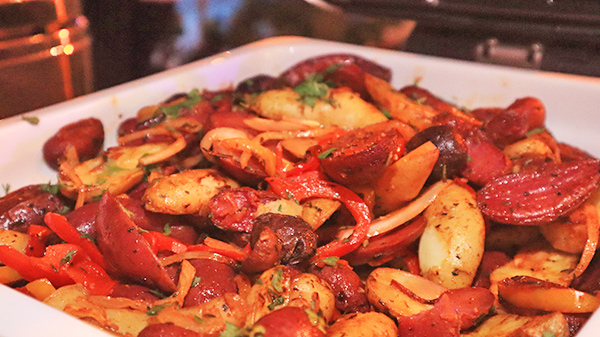 Colorful fingerling potatoes are sautéed with sliced onions and peppers and dusted with parsley.
Magnificent Main Dishes
Starting off the main dishes is the fresh and locally caught swordfish.
Swordfish

Huge chunks of grilled swordfish are marinated in a pool of butter sauce. The sauce is laced with sliced yellow and red peppers and flakes of minced parsley. This was a personal favorite. I fell in love with the moist fish! Incredibly flavorful, the fish just breaks apart in your mouth.
Next?
Whole Roasted Pig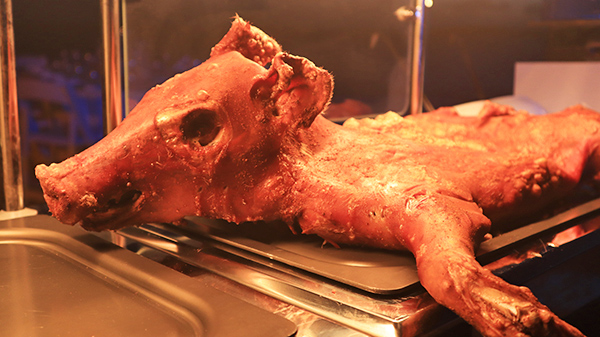 The whole roasted pig nearly steals the show on presentation alone! For Nori, however, it was the beef that won her heart.
Roast Beef

Sliced before your eyes, the roast beef is some of the best we have had yet. The meat is cooked at varying temperatures to please different palates. The slices we had were cooked to medium-rare perfection. The technique is incredibly successful. Tip: Bathe it in the accompanying red wine sauce for the full flavor!
The Main Event: The BBQ!
On the most elegant grill we have ever seen, Chef covers the flat-top surface with crayfish and pork chops.
Setting The Pork Chops on The Grill

Grilled on the spot, they are hot and sizzling. These sumptuous crayfish tails pair perfectly with the accompanying lemon cream sauce.
Freshly Caught & Grilled Crayfish

Tip: Be sure to soak up all of the sauce and crayfish juices with your remaining Johnny cake!
Cream Sauce For Crayfish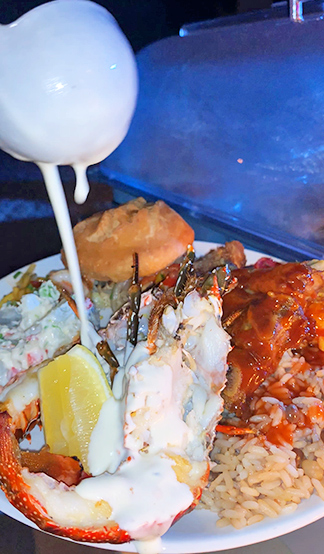 With food this good, it is hard to not fill your plate edge to edge!
Full Plates!

After many repeat visits to the roast beef, crayfish and Johnny cake tables?...
Whimsical Desserts
Perched upon wooden crates, Belmond dedicates an entire table to please your sweet tooth.
Chocolate & Fruit Mousse

Fruit-filled mini mousse cups are topped with mango jam, sliced strawberries and blueberries. They are surrounded by mini cheesecakes, rich chocolate cakes and...
Fruit Tarts

These mini fruit tarts make for a light, sweet end. Perfect pastry is filled with a creamy custard. Fresh strawberries, blueberries, grapes, blackberries and even mango and pineapple are popped on top.
Cheesecakes, Chocolate Cakes & Mousse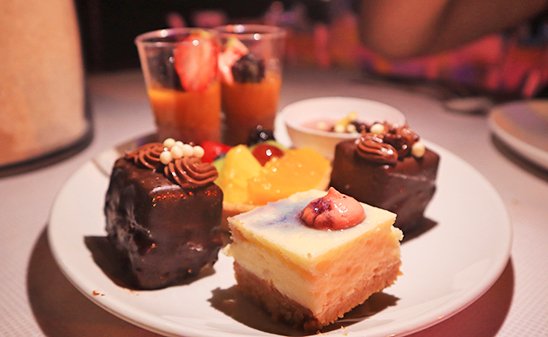 It was the cheesecakes and chocolate cakes that had us returning for many final sweet bites!
The Cherry on Top: Live Music By Darvin Mussington
The Caribbean BBQ night doesn't end at the beautiful beach set up and the five-star cuisine. The evening also features entertainment by a very friendly and famous face, Mr. Darvin Mussington and his string band.
As you take in the dazzling string lights, tiki torches and resort lights that line the beach, Darvin makes his way around the beach, serenading you. It is a five-star scene!
Rounding it all out, the Belmond team is constantly on the floor ensuring your drink is topped and every need is met.
Sweet smiling service, Darvin and his String Band, the endless gourmet food and perfectly mixed cocktails... it all makes for an unforgettable night under the stars!
Belmond's Beach BBQ is $95 (drinks not included). Save 10% when you use your Anguilla Card. Reservations required.
Directions, Hours & Contact
Tel: 264-497-6666
Hours: Every Thursday at 7pm
Directions: On Maunday's Bay at Belmond Cap Juluca