Maunday's Club...
Peruvian Tapas & Champagne Sunsets
Maunday's Club has forever been a sunset destination in Anguilla. As the sun sets in the background, Maunday's Bay sparkles in the foreground. Delightful cocktails and light bites are served to your plush seat by the sea. It is a recipe for sunset perfection.
Since Belmond re-opened Cap Juluca in December 2018, the question has been, "Can you improve on perfection?" Belmond answers with a resounding yes.
Maunday's Club & Its Emerald Pool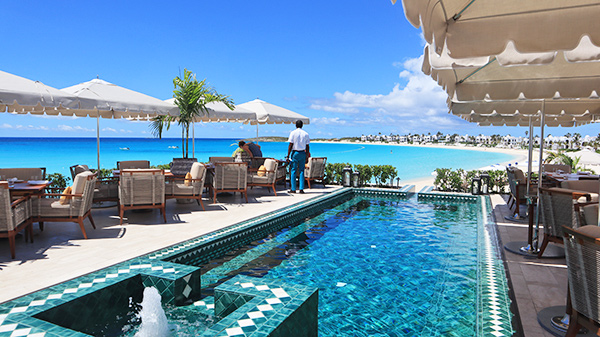 A Grand Setting
Step inside Maunday's Club and you are whisked into an old fashioned dream.
Maunday's Club Bar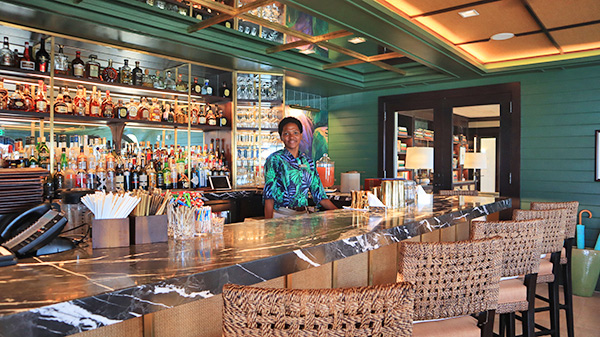 Belmond excels in blending vintage charm with modern luxury. Maunday's Club's bar is a definitive example. Dressed in deep greens, with a black marble bar and strips and touches of gold throughout, it is both romantic and sophisticated.
The theme continues outside with the most enchanting addition to the entire Belmond property, Maunday's Club's emerald pool.
Maunday's Club Terrace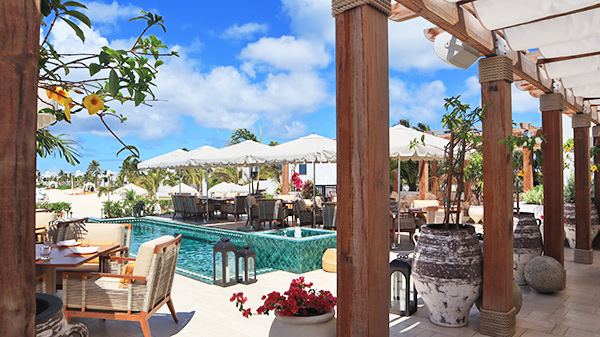 Emerald green sparkles under the Anguilla sun, beckoning you to slip inside. Its fountain bubbles at one end. At its opposite side, its waterfall runs down into an infinity edge pool below. Each tile twinkles like a gem stone.
The emerald pool is a most inspired touch that evokes the most exotic and upscale dreams. So striking, this could be a setting in a James Bond film. It is jaw-dropping.
The Emerald Pool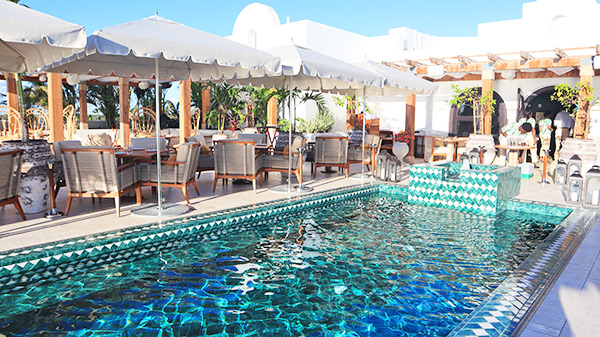 Elegant seating surrounds and fans out from the pool. Additional seating wraps around the bar area.
Touches of ceramic pots and a variety of succulents, bougainvillea, palms, intricate wooden chairs and Maunday's Bay itself all round out the other-worldly feel.
Wrap Around Terrace Seating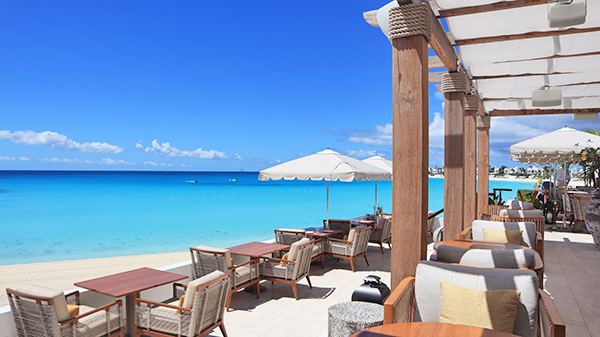 Meet Chef Cesar Landeo
At Belmond Cap Juluca, Executive Chef Andy Gaskin leads the charge. Rated one of the top 100 chefs in the world in 2018, his reputation precedes him. He is a man with an eye for excellence. For Maunday's Club, he hand-selected the chef for the job, Chef Cesar Landeo.
Chef Cesar Landeo

Hailing from Peru, Chef Cesar Landeo has been with the Belmond family for over 12 years. His craft has taken him throughout his home country. From the peaks and valleys of Arequipa and Cusco, to the bustling capital of Lima, Chef brings a world of Peruvian culture to Maunday's Club.
The only Peruvian restaurant on the island come sunset hour, Chef creates the ultimate tapas experience.
Peruvian Tapas
To best begin your evening, match your cocktail to your beach.
Nothin' Special Cocktails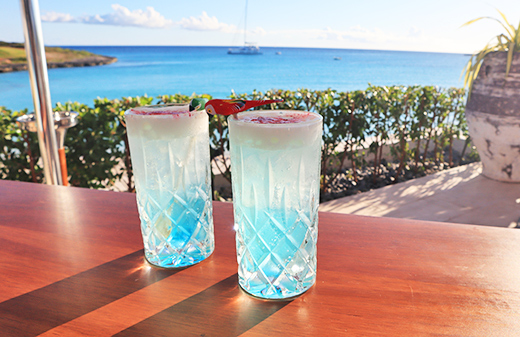 Almost too pretty to drink, bartender Jessica whips up a mean Nothin' Special cocktail. Vodka and ginger beer is topped with hibiscus flower and Belmond Cap Juluca's iconic wooden parrot drink stirrers. Served in a tall detailed glass, it is far from nothin' special.
Crisp cocktail in-hand, prepare to dive into the world of fine Peruvian dining.
It all begins at the heart of Peruvian cuisine with the Mahi Mahi Ceviche.
Mahi Mahi Ceviche

The country's national dish, Chef Cesar adapts classic techniques to what is locally available in Anguilla. Prepared with buttery-soft, sumptuous slices of mahi mahi, the fish is tossed in lime juice and topped with slices of red onion and cilantro. Roasted corn nuts is tradition in classically prepared ceviche, and brings a welcomed crunch to the dish.
Next? You cannot mention Peruvian cuisine without mentioning "Nikkei."
Nikey Tuna Tartar

Japanese cuisine has taken Peru by storm. The combination has resulted in the hyper-popular culinary trend, Nikkei. Chef combines Japanese techniques with Peruvian ingredients in his Nikey Tuna Tartar dish. Cubes of fresh tuna are bathed in a sesame aioli and served atop crispy, thin bread. A winning combination, flawlessly executed.
Creativity shines in Chef's next dish, Crispy Shrimp.
Crispy Shrimp With Andean Cereals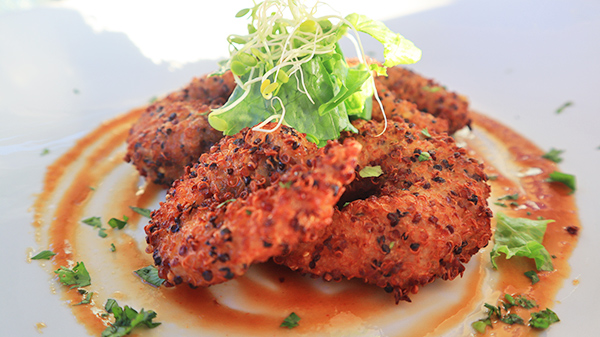 Sizable shrimps are dipped in a batter of quinoa and kiwicha, both sourced from the highlands of Peru. The crisp coating is the most interesting to have ever touched our palates. Multi-layered in texture, each bite is filled with curiosity. The grape and rocoto sauce provides a sweet yet spicy touch.
Another playful Peruvian dish is Chef's Beef Spring Rolls.
Beef Spring Rolls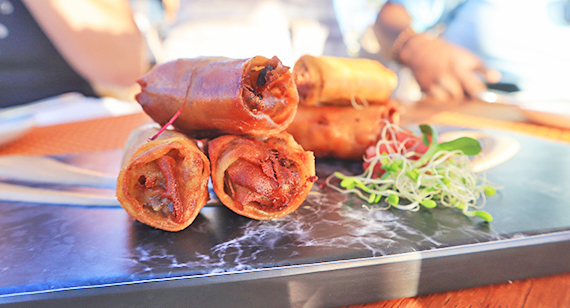 These rolls pay homage to the Lomo Saltado, a traditional stir-fry dish in Peru. Asian and South American flavors collide inside Chef's Lomo Saltado spring rolls. Hints of soy sauce and tomato come through with each bite of beef, wrapped tightly in a crunchy spring roll shell. Chef pairs these with a rocoto sauce and tomato salsa.
Finally, no tapas menu is complete without chicken wings!
Chicken Wings Nikey Style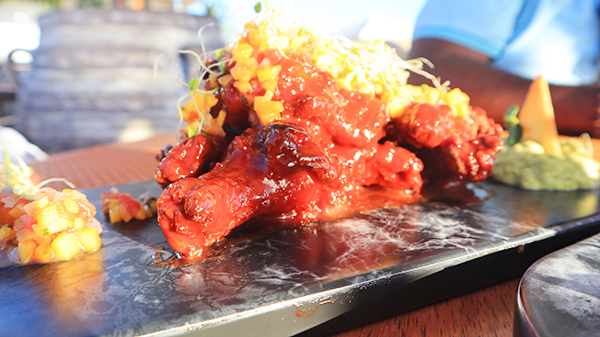 Jumbo chicken wings are lathered in a tangy Peruvian chili rocoto sauce. Be warned: Rocoto is a building heat and these wings have a generous coating! When your mouth reaches maximum temperatures, cool off with the dish's side of homemade guacamole and mango salsa. The dips are served with airy tortilla crisps.
Champagne Sunsets
If the homemade guacamole does not cut the rocoto? We highly recommend the tiramisu.
The Tiramisu

Pillowy and creamy, each bite is heavenly, coffee goodness! Topped with blueberries and blackberries, it pairs oh-so-well with an extra-special sunset tradition at Maunday's Club.
Sunset Sabrage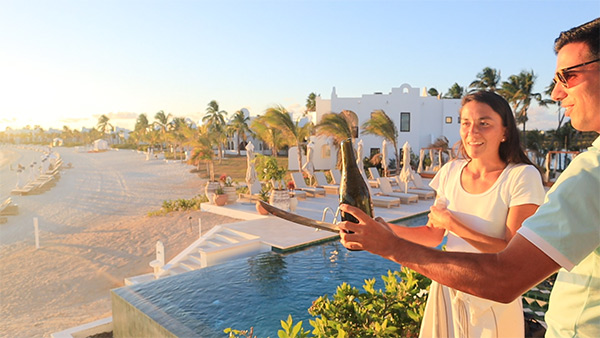 Sunset hour is champagne hour at Maunday's Club. It is celebrated Belmond-style with Sabrage. Alexandre teaches you the ways of Sabrage with an antique sword and a chilled bottle of champagne. This may be the most memorable way to end a day in Anguilla.
From indulgent cocktails and eats, to a sumptuous setting and a most striking way to celebrate the day, Belmond's Maunday's Club is its most impressive incarnation yet. Cheers to champagne sunsets at Maunday's Club at Belmond Cap Juluca!
Champagne Sunsets at Maunday's Club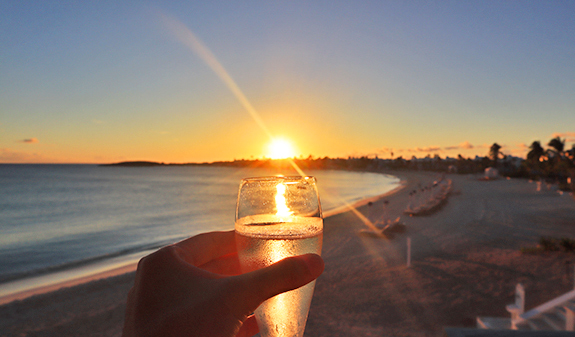 Directions, Hours & Contact
Tel: 264-497-6666
Hours: Bar daily: 9am-11pm. Lunch daily: 11am-5pm. Dinner nightly: 6:30-9:30pm. NOTE: Peruvian tapas are available in the evening only.
Directions: At Belmond Cap Juluca