Maunday's Club...
Peruvian Cuisine & Champagne Sunsets
Maunday's Club has forever been a favorite for its elegance and its blue views. As the sun illuminates the beach's powdery-fine sands, Maunday's Bay's blue water sparkles in the distance. Delightful cocktails and tasty bites are served to your plush seat by the sea. It is a recipe for perfection.
Since Belmond re-opened Cap Juluca in December 2018, the question has been, "Can you improve on perfection?" Belmond answers with a resounding yes.
Maunday's Club & Its Emerald Pool

A Grand Setting
Step inside Maunday's Club and you are whisked into an old fashioned dream.
Maunday's Club Bar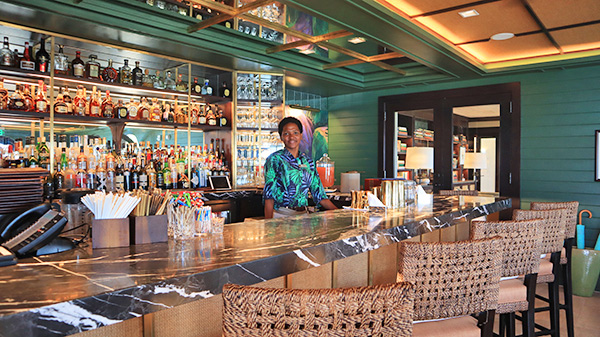 Belmond excels in blending vintage charm with modern luxury. Maunday's Club's bar is a definitive example. Dressed in deep greens, with a black marble bar and strips and touches of gold throughout, it is both romantic and sophisticated.
The theme continues outside with the most enchanting addition to the entire Belmond property, Maunday's Club's emerald pool.
Maunday's Club Terrace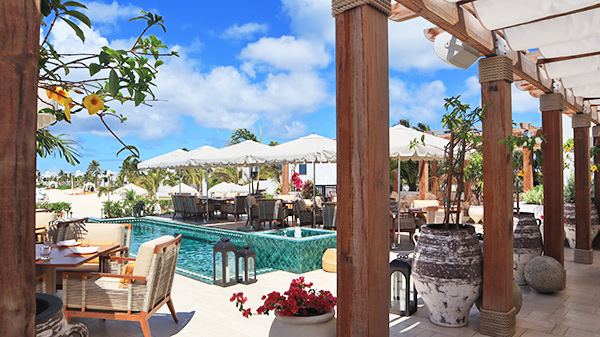 Emerald green sparkles under the Anguilla sun, beckoning you to slip inside. Its fountain bubbles at one end. At its opposite side, its waterfall runs down into an infinity edge pool below. Each tile twinkles like a gem stone.
The emerald pool is a most inspired touch that evokes the most exotic and upscale dreams. So striking, this could be a setting in a James Bond film. It is jaw-dropping.
The Emerald Pool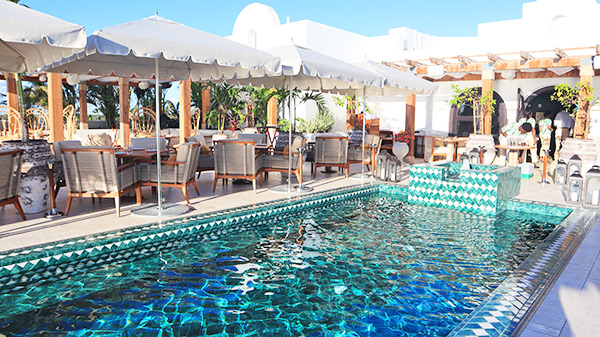 Elegant seating surrounds and fans out from the pool. Additional seating wraps around the bar area.
Touches of ceramic pots and a variety of succulents, bougainvillea, palms, intricate wooden chairs and Maunday's Bay itself all round out the other-worldly feel.
Wrap Around Terrace Seating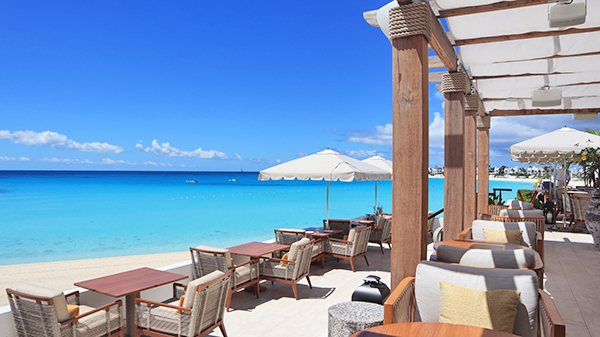 Meet Chef Cesar Landeo
Boasting one of the most popular types of cuisine in the world, Maunday's Club is rich in Peruvian flavor.
Chef Cesar Landeo

Hailing from Peru, Chef Cesar Landeo has been with the Belmond family for over 12 years. His craft has taken him throughout his home country. From the peaks and valleys of Arequipa and Cusco, to the bustling capital of Lima, Chef brings a world of Peruvian culture to Maunday's Club.
The only Peruvian restaurant on the island, let's see what Chef Cesar has in store.
Maunday's Club For Lunch
Mid-day on Maunday's Bay calls for a refreshing cocktail.
Mid-Day Reprieve From The Sun

For a drink as blue-tiful as the sea, go with the Maunday's Mule. A mix of Blue Curacao, lime juice, vodka and ginger beer, the citrus ginger foam is an extra-refreshing touch. Another favorite? The Paradise Passion, a "must" for gin lovers. Gin is mixed with elderflower, club soda, lime juice and hibiscus syrup.
Finally, for fans of Cosmos, Maunday's does theirs with a tropical twist. This cosmo is made of mango purée, passion fruit, vodka, lime juice, cointreau and coconut rum.
Maunday's Mule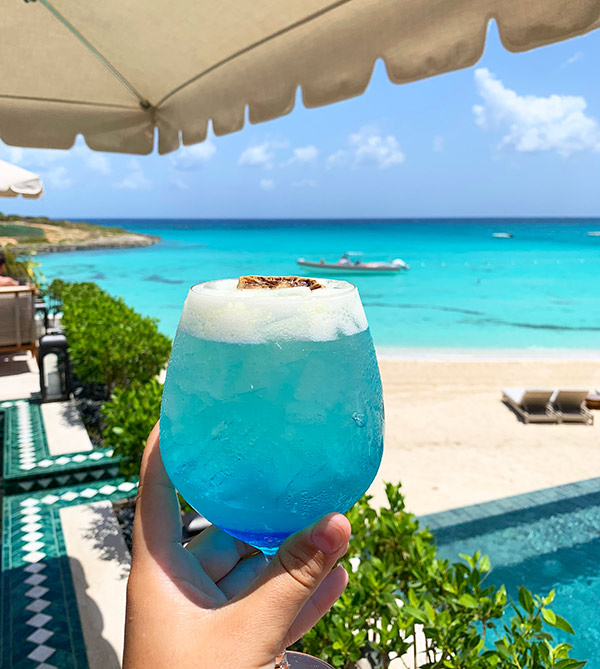 Cocktails pair perfectly with Chef's Arequipa Hummus.
Arequipa Hummus

Chef makes this hummus all his own by adding fresh Peruvian flavors of onions, tomato, coriander and lime juice. The whole chickpeas and walnuts bring a satisfying "bite" to this dish. The plate is served with colorful tortilla chips, making it a perfect plate "to share."
Other appetizers include gazpacho and a variety of salads, including a "classic"...
Crayfish Barclay Salad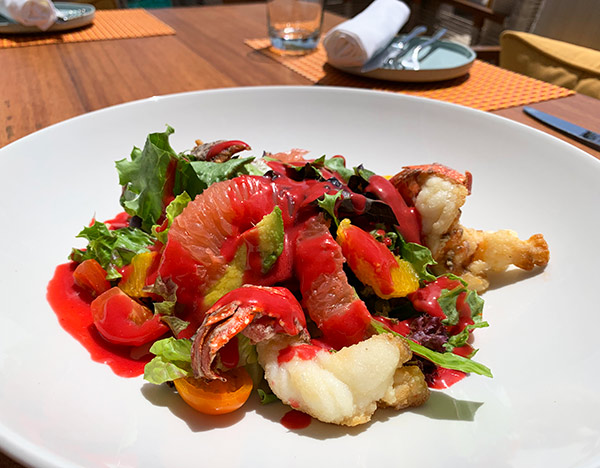 A nod to Cap Juluca's former restaurant, Barclays, this salad features a sizable portion of pan-fried crayfish served in-shell. It is served atop a bed of lettuce, tomato and avocado, all finished with a raspberry dressing. If light and bright with a touch of sweet is to your liking, the crayfish salad more than delivers.
Rounding out Maunday's Club's starters are a selection of small seafood plates. Our favorite?...
Scallops & Shrimp Causa

A classic Peruvian dish, Chef's is a light and deconstructed version of the classic Causa. Shrimp and scallops are served between potato and boiled egg. Chef brings fresh flavors to the dish by adding avocado, black olives and cherry tomatoes. The final, grand touch? Tobiko caviar. A winning, and most indulgent combination!
Moving on to entrees, Maunday's lunch menu features a variety of classic wraps (vegan wrap, lobster, chicken and pineapple) and sandwiches and tacos (mahi taco, club sandwich, steak sandwich and the "CJ" Burger). Chef has also added two special Peruvian dishes to his line up. First up?
Grilled Octopus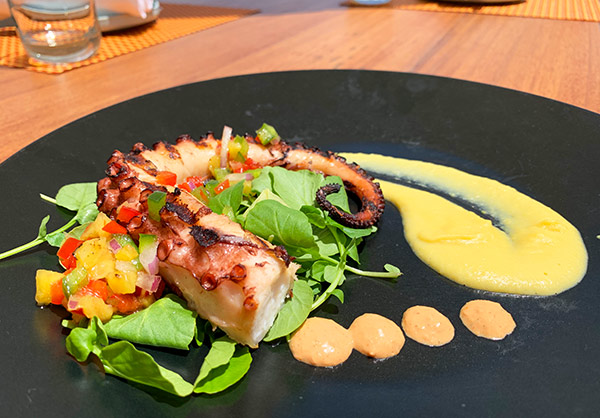 A long octopus tentacle is grilled to absolute perfection. There is no building on the perfection of simply grilled octopus! Chef, however, finds a way by bringing in tropical flavors. The dish is rounded out by a pineapple salad, creamy corn and uchucuta sauce. Made of Andean green herb and chile, it adds just enough zest to the dish.
Lastly, and perhaps most impressively is Chef's...
Beef Anticucho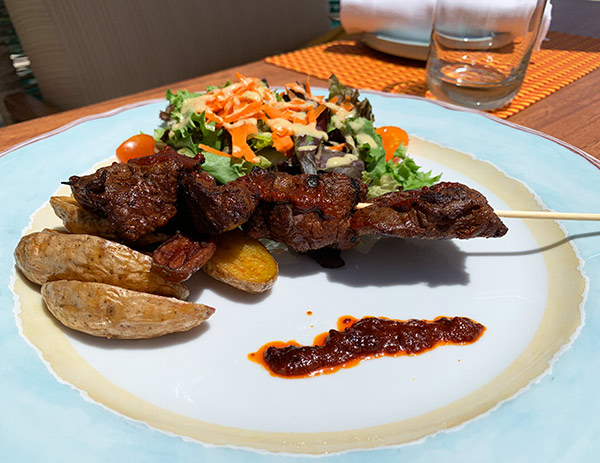 This beef is oh-so-smokey and tender. As they do in Peru, Chef serves his Beef Anticucho on a skewer. It is served with Peruvian native potatoes and a panca chili sauce. Light and fresh in flavor, the sauce lightens this robust main.
Finally, Belmond knows how to please every sweet tooth. Maunday's Club's dessert menu includes crème brûlée, "lemon delicious", fresh fruit and...
Coconut Custard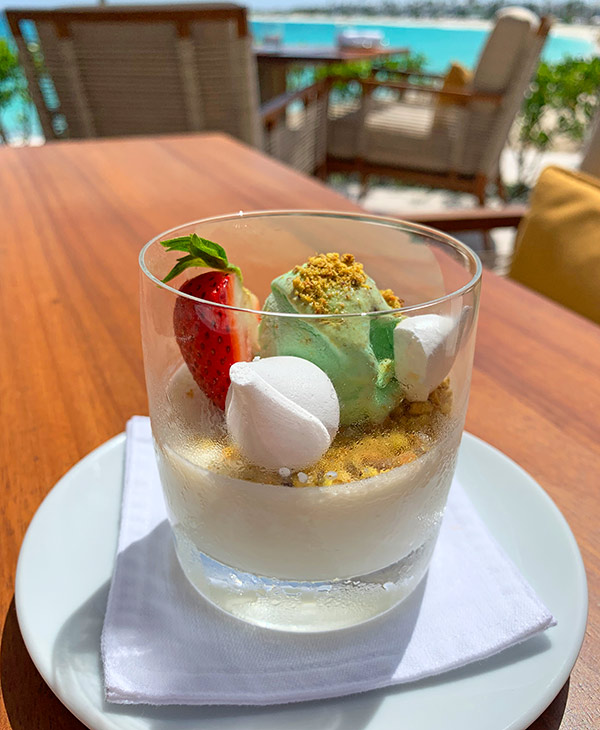 Coconut custard is topped with pistachio ice cream and garnished with dried meringue and a roasted pistachio crumble. A light way to end the day!
For chocolate lovers? Maunday's Club has us covered.
Chocolate Bar & Guanabana

A rich dark chocolate bar is layered with guanabana, also known as soursop. The combination of the rich dark chocolate and the sour of the soursop ignites every tastebud on your tongue. The scoop of chocolate ice cream is a welcomed treat on a warm day.
From scallops topped with caviar, to an array of classic Peruvian dishes with tropical twists, and decadent desserts, it is safe to say that Maunday's Club offers one of the most exciting lunch menus in Anguilla.
Chef does not end there. Come sunset hour? Chef creates the ultimate tapas experience at Belmond's Maunday's Club.
Peruvian Tapas
To best begin your evening, match your cocktail to your beach.
Nothin' Special Cocktails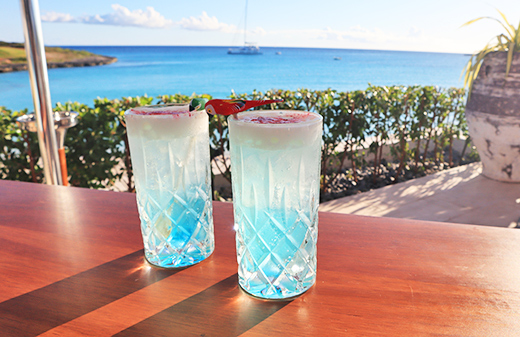 Almost too pretty to drink, bartender Jessica whips up a mean Nothin' Special cocktail. Vodka and ginger beer is topped with hibiscus flower and Belmond Cap Juluca's iconic wooden parrot drink stirrers. Served in a tall detailed glass, it is far from nothin' special.
Crisp cocktail in-hand, prepare to dive into the world of fine Peruvian dining.
It all begins at the heart of Peruvian cuisine with the Mahi Mahi Ceviche.
Mahi Mahi Ceviche

The country's national dish, Chef Cesar adapts classic techniques to what is locally available in Anguilla. Prepared with buttery-soft, sumptuous slices of mahi mahi, the fish is tossed in lime juice and topped with slices of red onion and cilantro. Roasted corn nuts is tradition in classically prepared ceviche, and brings a welcomed crunch to the dish.
Next? You cannot mention Peruvian cuisine without mentioning "Nikkei."
Nikey Tuna Tartar

Japanese cuisine has taken Peru by storm. The combination has resulted in the hyper-popular culinary trend, Nikkei. Chef combines Japanese techniques with Peruvian ingredients in his Nikey Tuna Tartar dish. Cubes of fresh tuna are bathed in a sesame aioli and served atop crispy, thin bread. A winning combination, flawlessly executed.
Creativity shines in Chef's next dish, Crispy Shrimp.
Crispy Shrimp With Andean Cereals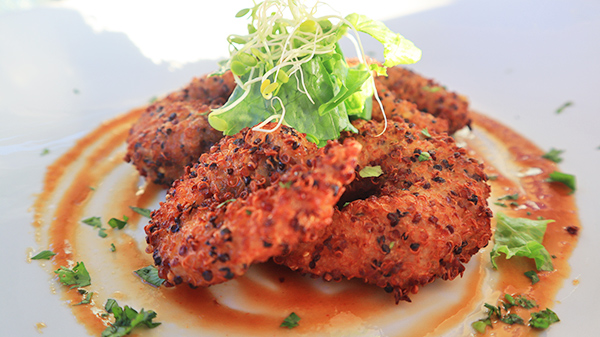 Sizable shrimps are dipped in a batter of quinoa and kiwicha, both sourced from the highlands of Peru. The crisp coating is the most interesting to have ever touched our palates. Multi-layered in texture, each bite is filled with curiosity. The grape and rocoto sauce provides a sweet yet spicy touch.
Another playful Peruvian dish is Chef's Beef Spring Rolls.
Beef Spring Rolls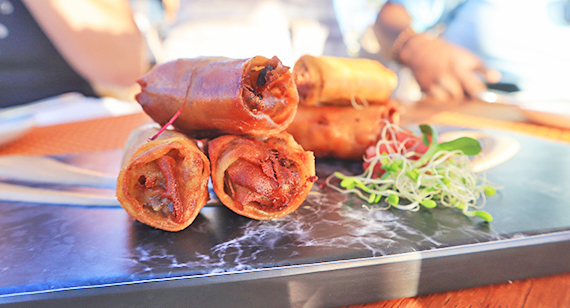 These rolls pay homage to the Lomo Saltado, a traditional stir-fry dish in Peru. Asian and South American flavors collide inside Chef's Lomo Saltado spring rolls. Hints of soy sauce and tomato come through with each bite of beef, wrapped tightly in a crunchy spring roll shell. Chef pairs these with a rocoto sauce and tomato salsa.
Finally, no tapas menu is complete without chicken wings!
Chicken Wings Nikey Style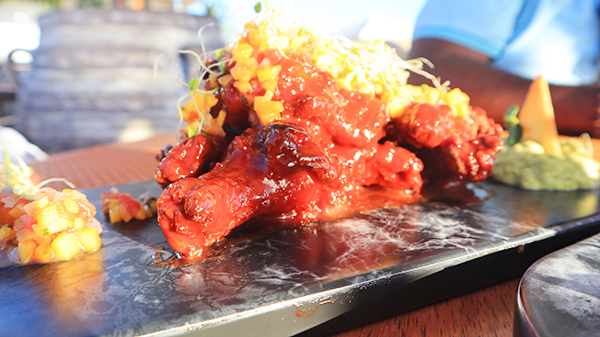 Jumbo chicken wings are lathered in a tangy Peruvian chili rocoto sauce. Be warned: Rocoto is a building heat and these wings have a generous coating! When your mouth reaches maximum temperatures, cool off with the dish's side of homemade guacamole and mango salsa. The dips are served with airy tortilla crisps.
Champagne Sunsets
If the homemade guacamole does not cut the rocoto? We highly recommend the tiramisu.
The Tiramisu

Pillowy and creamy, each bite is heavenly, coffee goodness! Topped with blueberries and blackberries, it pairs oh-so-well with an extra-special sunset tradition at Maunday's Club.
Sunset Sabrage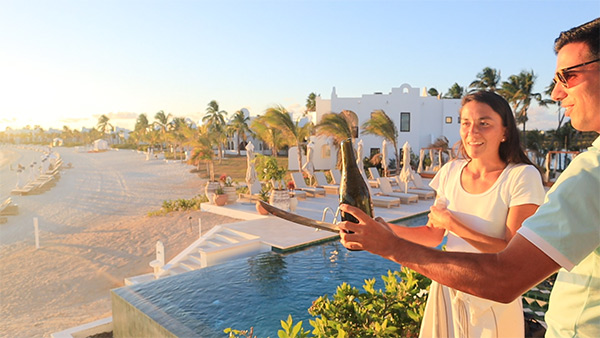 Sunset hour is champagne hour at Maunday's Club. It is celebrated Belmond-style with Sabrage. Alexandre teaches you the ways of Sabrage with an antique sword and a chilled bottle of champagne. This may be the most memorable way to end a day in Anguilla.
Champagne Sunsets at Maunday's Club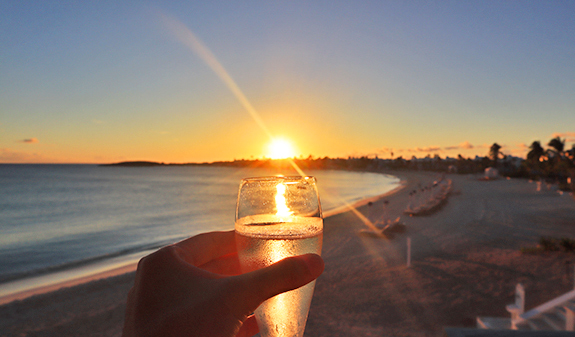 Night Time Tapas
At night, the warm lights set a wonderful romantic scene...
First things first? Refreshing cocktails.
El Sancho & Soya Thymes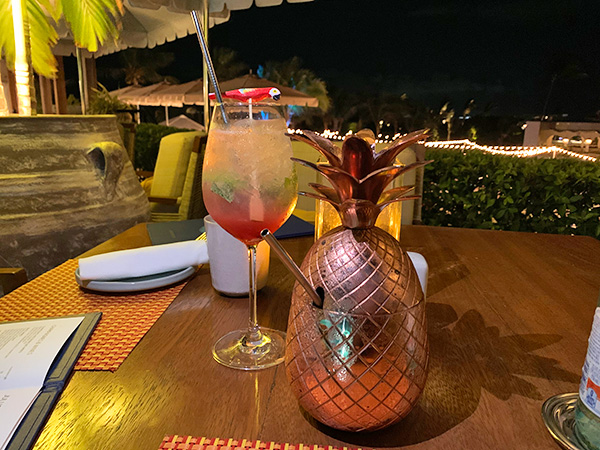 First up? El Sancho cocktail with gin, lime juice, simple syrup, berries and sparkling wine. And then there's the Soya Thymes. An award winning drink, this cocktail is made with rum, thyme syrup, Amaretto and pineapple juice
Onto the tapas...
Beef Sliders

Each mini burger has a different topping: Cheese, fried egg and bacon. Inside the fluffy buns? A different Peruvian sauce, Huancaina, Rocoto and Ocopa. These sliders are great for sharing!
Next from the Tapas section of the menu, the Lobster Gyozas...
These tasty dumplings are prepared with sesame oil, ginger, peppers, Ponzu sauce and Rocoto. Five half moon Japanese dumplings are filled with shredded lobster.
Contender for our favorite tapas on the menu?
The Corn Panquitas!

Three soft corn cakes are made of grilled cream corn, Feta cheese and Huancaina sauce. We fell in love with this dish! Not only is it very pleasing to the eye but it is also packed with flavor. The cakes are topped with a savory salsa that pairs perfectly with the queso fresco-like sauce.
From the "Main" section of the menu you can find options of Grilled Lobster or Crayfish, Peruvian Pesto Spaghetti and Beef Stew...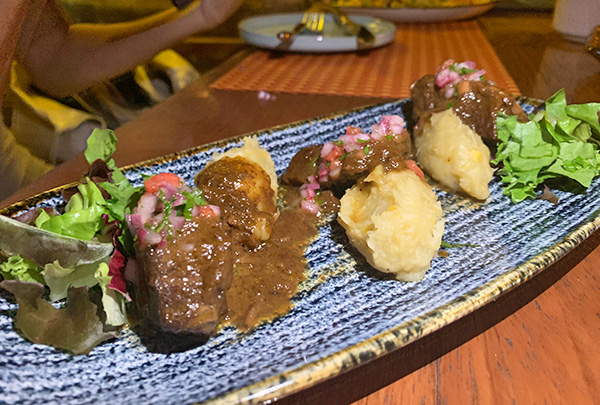 Cooked for 14 hours, this beef is super tender and melts in your mouth! Served with Mangu, it is a traditional Dominican dish made of mashed boiled plantains. Garnished with Chalaquita salsa, the flavors in this dish are a match made in heaven.
On to the "To Share" options. Choices include octopus, Nikey hot wings, Nikey tuna tartar (scroll up to see more on those dishes!), shrimp and scallop causa or fried calamari...
Fried Calamari with Creole Dip

Always a great dish to share, Chef serves this fried calamari with a creole-cilantro dip and yuca fries.
Also from the "To Share" section, the Potatoes in Huancaina sauce.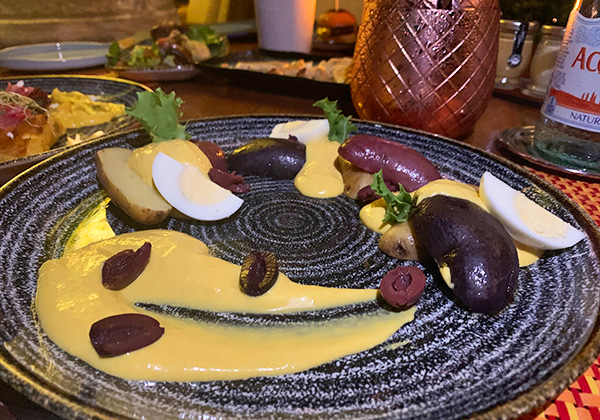 Boiled egg, olives and potatoes from Peru are served in a Huancaina sauce.
Finally, Belmond knows how to please every sweet tooth. Maunday's Club's dessert menu includes fresh fruit, "Chocolate Bar & Guanabana," crème brûlée and "Lemon Delicious."
Purple Corn Pudding Crème Brûlée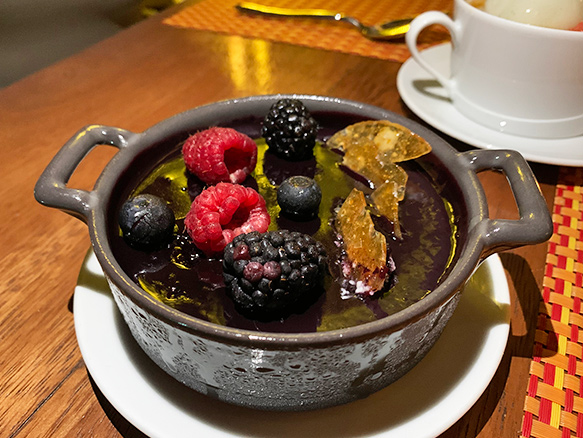 Not your traditional crispy-top crème brûlée, this pudding is made with a purple corn, oats crumble and fresh forest berries. The "Lemon Delicious" is topped with mint sorbet, pisco flavors and citrus segments.
From indulgent cocktails and eats, to a sumptuous setting and a most striking way to celebrate the day, Belmond's Maunday's Club is its most impressive incarnation yet. Cheers to champagne sunsets and magical nights at Maunday's Club at Belmond Cap Juluca!
Directions, Hours & Contact
Tel: 264-497-6666
Hours: Bar daily: 9am-11pm. Lunch daily: 11am-5pm. Dinner nightly: 6:30-9:30pm.
Directions: At Belmond Cap Juluca