Anguilla Guides... Snow in Anguilla?
What's Wrong With This Picture?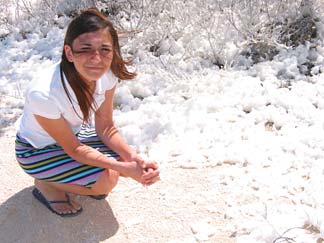 Have you ever read, in any of the Anguilla guides, about all the snow they get in Anguilla? Well, they do.
Just look at that photo of me. No, I promise you this Anguilla photo is "the real thing"... not doctored in any way.
Maybe you're wondering why I'm in summer attire?
Good question! I'll tell you as I explain how you too can "walk in the snow in Anguilla." (But don't bother bringing your cross-country skis.)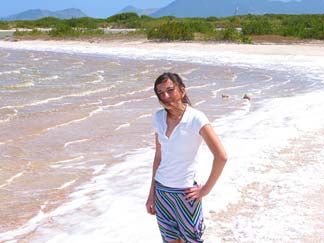 Here's how to get to this beach that is usually covered in snow. Since no one seems to have named it, I gave it the name "Snow Beach."
Take the main road. As you reach Cap Juluca, turn towards it. You'll come to a little overpass as you reach the salt ponds. On windy days, you'll actually see little "snow tumbleweeds" rolling across your way.
Um yes, rolling in. Not falling down. Because, well, it isn't really snow.
Those are actually fluffy salt balls that have condensed off the salt ponds!
Park the car and walk out to the salt pond beach. Depending on the time of year, there can be quite a bit of "snowy salt" on the beach, looking much like "snow in Anguilla."
Even though it's not real snow, the salt balls and beach are pretty surreal. You have to admit that you don't see that everyday. Try and find that one in the Anguilla guides.
Who says you can't have a "White Christmas" in Anguilla?