Pimms at Belmond Cap Juluca...
A Dining "Must Do" For Lovers
Solitude, tranquility and romance. Anguilla delivers all three with its beaches, its luxurious hotels and of course, its restaurants. On an island known for its atmospheric fine-dining, "What is the most romantic Anguilla restaurant?" is a difficult question to answer. Any list, however, would be incomplete without Belmond Cap Juluca's Pimms.
Intimate Seaside Dining

Pimms is Belmond Cap Juluca's fine-dining dinner restaurant. Though part of one of the Caribbean's most coveted hotels, Pimms has a reputation all its own. Its intimate seaside setting and National Culinary Team executive chef make it a "must" for couples seeking a romantic setting.
Intimate Seaside Dining
Pimms sits on an exclusive peninsula that extends from the resort's beach, Maunday's Bay. Protruding into the Caribbean Sea, it boasts a vivid view of some of Anguilla's clearest, most turquoise waters.
Situated on the west side of the island, the restaurant is also sheltered from Anguilla's easterly tradewinds. The only sound you hear is the lapping of the waves as they break along the rocky shoreline.
Pimms' Main Dining Room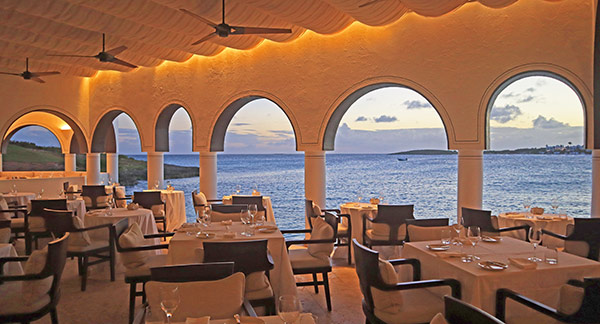 Inside, Moorish white arches elegantly contrast against the blue Caribbean Sea. Cream seat cushions sit atop posh, dark wood seats. White table cloths drape over the tables, further accentuating the restaurant's sophisticated feel.
Larger dining tables make up the middle of the restaurant, with private dining rooms set behind, overlooking the main room. Tables for two line the restaurant's edge.
As you move closer and closer to the water's edge...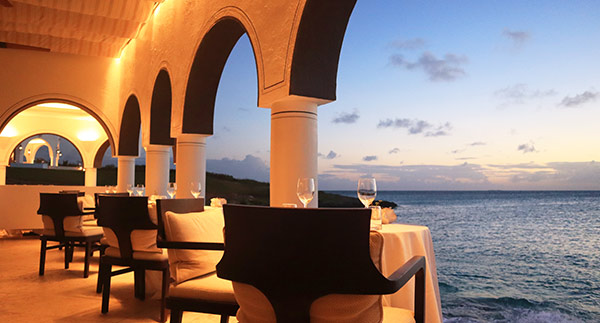 Royal Caribbean blue overwhelms you...
How close are you to the water? This close...
"Dining for two" at Pimms means dining just a foot from blue.
TIP: At certain times of the year, when seas are rough, that blue comes right into the restaurant. Be sure to make a reservation in advance and check with Pimms' concierge about weather conditions. Request the table closest to the sea, even if your table needs to be relocated due to waves, if you are seeking romance.
Pimms answers the call for intimate oceanfront dining.
Meet Chef Dean Samuels
Pimms' Chef Dean Samuels is a famous name in Anguilla. He is one of Anguilla's chefs whose team has repeatedly won gold at the prestigious culinary competition in Miami, Taste of the Caribbean.
Chef Dean Samuels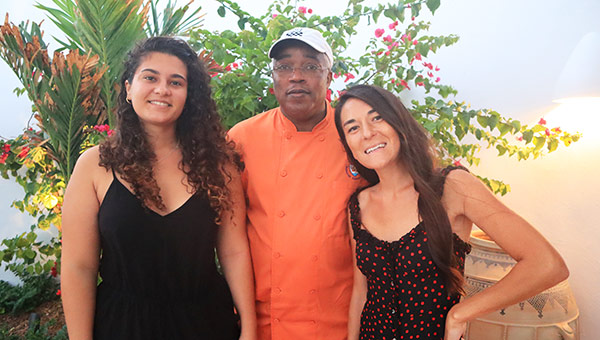 A kind, gentle man with a calm affect and a humble personality, he won't be the first to tell you that he is one of Anguilla's top chefs. And he likely won't reveal that, in recent years, he has continued to passionately lead Anguilla's National Culinary Team as "team manager" to win many more awards.
Chef Dean doesn't need to boast. His cuisine says it all. Chef's creations can be found right here at Pimms, which has been his home for many years. After chatting with Chef Dean, our appetites were whetted.
The Pimms Ritual
Evenings at Pimms begin with the Pimms Ritual.
Welcome to Pimms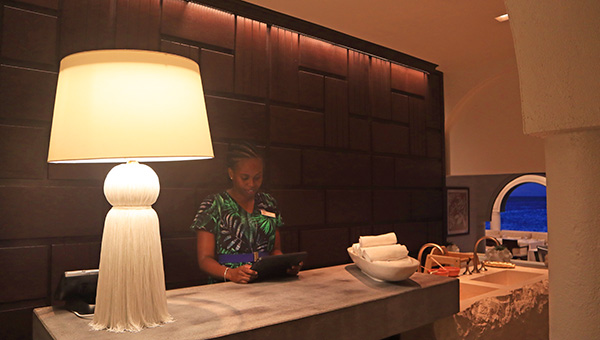 Tucked at the front entrance rests Pimms' impressive limestone sink. Made of Anguilla stone, it is eye-catching. Here, your kind hostess leads you on a cleansing ritual.
Limestone Sink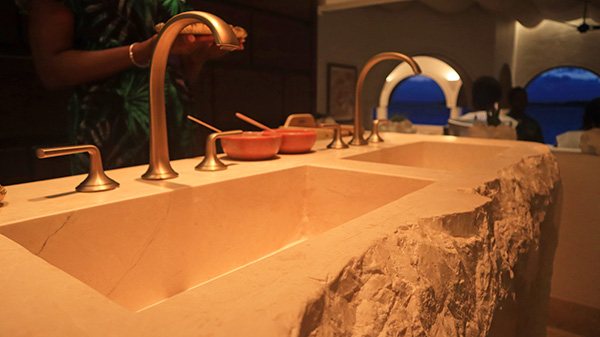 Coconut milk in one hand, sea salt in the other hand and then you lather and rinse. With now buttery-smooth soft hands, we were ready to dine.
The Pimms Ritual

Pimms By Night
Evening Cocktails at Pimms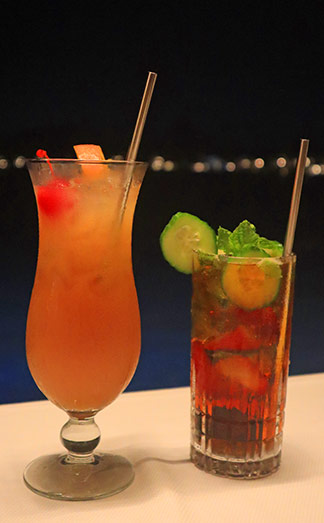 Come nightfall, Pimms' atmosphere is in full "breathtaking" effect.
Something out of a swaying palm tree dream, my Mom always comments on how the setting brings back fond memories of a restaurant she and my Dad would dine at in Fiji, right on the water's edge. "... but it was not this luxurious," my Mom always laughs.
There is a certain finesse to Pimms.
Perhaps it is the delicate plants that adorn each table.
Or perhaps it is the pressed table linens.
Or the strong, white pillars that line the restaurant's edge.
Or the lights dancing upon the sea and in the distance, along the beach.
Pimms exudes a most magical upscale feel.
Pimms With Maunday's Lights in the Background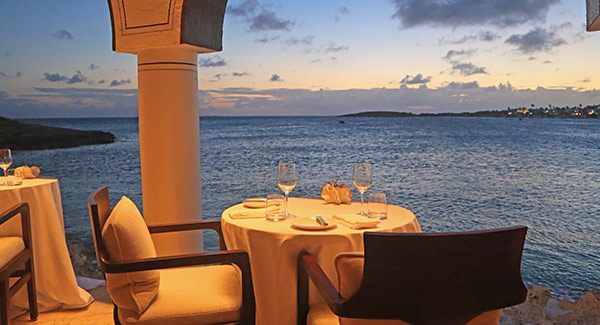 Our attentive waitress brought us our drinks, a rum punch and Pimms' signature drink, the Pimms Cup. A mix of ginger ale, Pimms rum and cucumber, the Pimms Cup is a refreshing start to dinner. NOTE: Pimms has won the Wine Specter award on several occasions and boasts a cellar with over 3,000 bottles. If you and your significant other are wine aficionados, Pimms will delight.
Chef Dean's Menu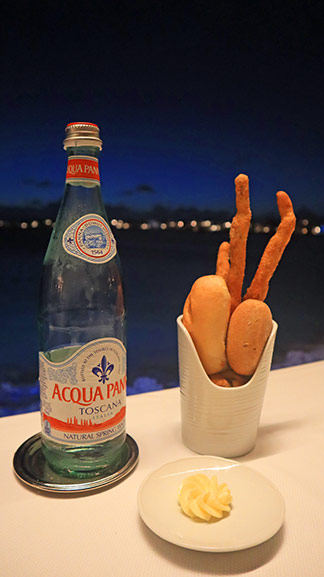 The tables by the water have an almost cavernous effect. With the domed arches overhead, the sound of the waves amplify against the walls around you. You are completely surrounded by the soothing sounds of the sea.
An assortment of fresh-baked rolls and breadsticks are brought to your table as you peruse the menu.
These are not your average breadsticks.
Johnny cake-like in flavor and texture, they are hand-rolled Johnny cake breadsticks!
Breadsticks so good, we polished these off in record time and ordered one more basket.
Then? On to the menu.
The menu features contemporary creations such as squid with toasted walnuts and ribeye with blue cheese rice, as well as classic Pimms dishes, like the Heirloom beet salad and spice-rubbed line-caught tuna.
We placed our orders and took in the peaceful ambiance.
In good time, our appetizers arrived. First? A Pimms favorite, the salmon appetizer.
Poached Salmon Appetizer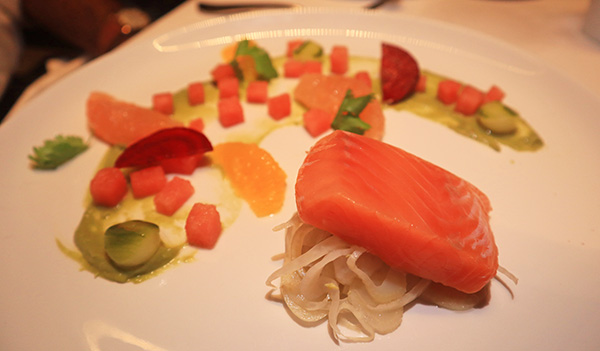 Poached salmon is served atop a bed of fennel. The plate is artfully adorned with a streak of avocado mousse topped with cucumber, orange and grapefruit. Melt-in-your-mouth salmon, this is a "gold plate" worthy dish. Chef Dean, your salmon is outstanding!
Seared Scallops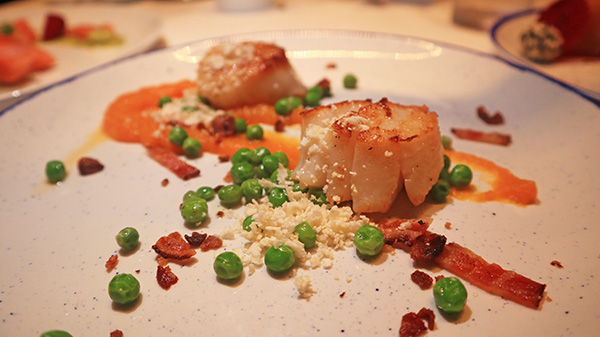 A contemporary dish, bacon is the seared scallops' perfect complement! Pumpkin purée, cauliflower and peas round out the flavors. The peas pair especially well with the bacon and scallops.
The Heirloom Salad

Next, the Heirloom beet salad. For each slice of roasted beet, take a bite of creamy goat cheese. There is no better match! A light dish, the flavors are spot-on. Playful sesame seed-coated balls of goat cheese accompany this salad.
Another Pimms "classic" that has been loved for years is the famous Lobster Bisque.
Lobster Bisque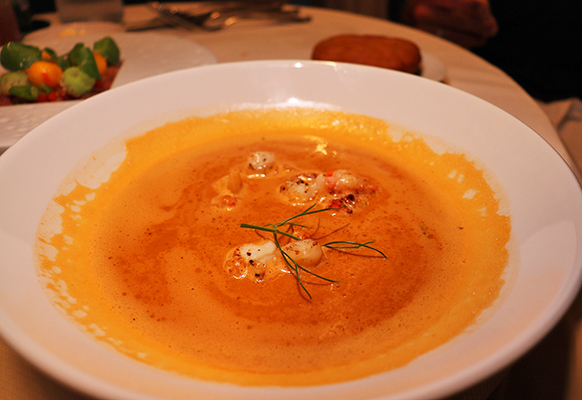 Made with ink and a chive cream, this bisque is hands down the best bisque I have ever had. Garnished with fresh chunks of lobster, the addictively-good soup also comes with a piping hot seaweed Johnny cake.
In addition to the regular menu, Chef has nightly specials. These specials always delight. One of our favorites is the refreshing Tuna Tartare.
Tuna Tartare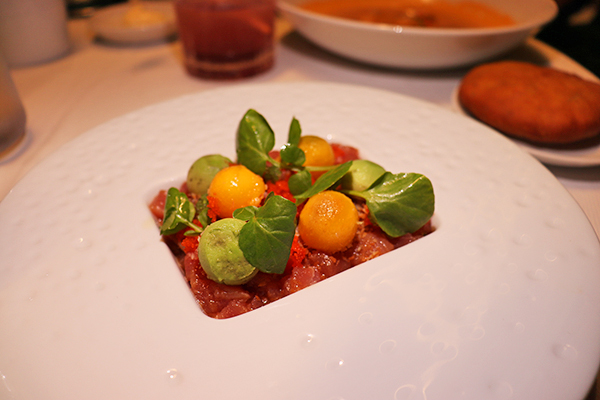 Elegant cubes of fresh tuna are mixed with king crab and toasted coconut. The dish is topped with spheres of mango and avocado. A word of warning: this special also features Togarashi, a Japanese spice that adds a bit of a bite to the tartare.
Moving on to entrées.
9 Spice-Rubbed Line-Caught Tuna & "Dirty Rice"

This is perhaps the most famous dish on the menu, a Chef Dean classic. A sizable tuna steak is rubbed with 9 spice and served with "dirty rice." Brown rice doused in a creamy soy sauce, it is served with a side of wok vegetables. If you like Asian flavors, Chef's tuna is quite the catch!
Another classic?
Lobster & Basil Butter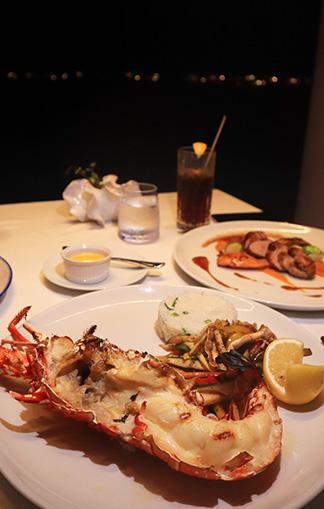 Lobster is simply grilled and served with basmati rice and a vegetable mix. The extra-special topping? Warm basil butter. Drizzle it over your lobster for the full luscious, Anguilla lobster effect.
Then there is Chef's duck breast with foie gras.
Duck with Foie Gras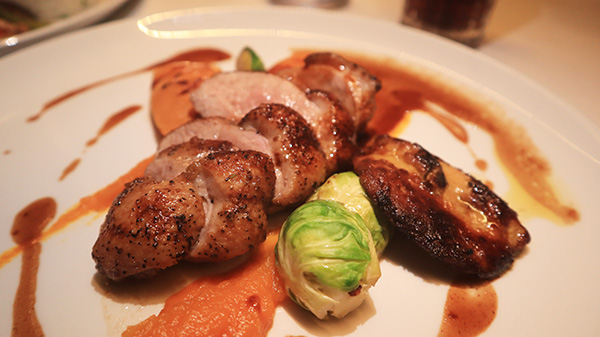 A decadent dish, roasted duck breast is served with a slice of foie gras on a bed of pumpkin cream. With a gentle sauce made of quince, the natural flavors of duck and foie gras shine.
Another favorite when it comes to "Chef Specials" is the grouper.
Grouper With Roasted Tomatoes, Olives & Capers

A large, super tender fillet of grouper basks in a tomato, black olive and caper sauce. This dish tempts you to order exclusively from Chef's special nightly menu ;-)
Next, the lobster special.
Lobster in Seaweed Butter Sauce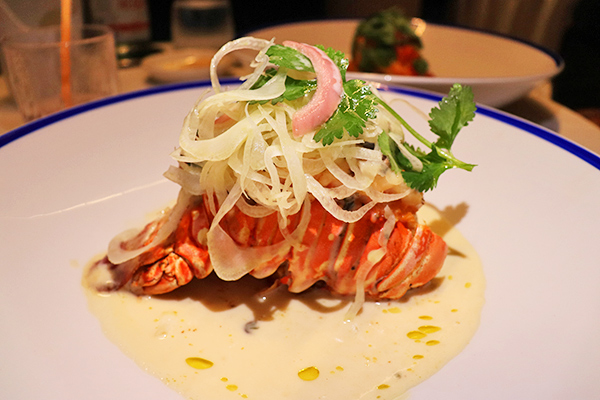 A whole lobster tail is dressed with fennel, onion and parsley leaves. It sits in a pool of seaweed butter sauce. This dish comes with a side of Jasmine rice, which pairs perfectly with the buttery sauce. No detail is overlooked in preparing this satisfying dish.
"Dessert?" Our accommodating waitress asked as we leaned back from our dinner plates. It seemed like an impossible task following such rich dishes. However, the chocolate dessert and "Pimms Classic" said otherwise.
Chocolate Dessert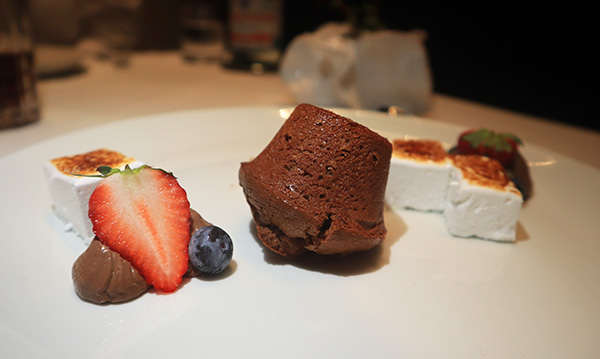 First, a semi-sweet chocolate muffin served warm with a scoop of Pyrat rum raisin ice cream and browned marshmallow.
The "Pimms Classic" Dessert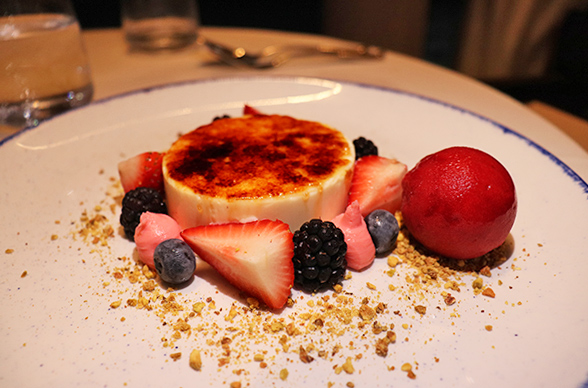 Lastly, a serving of vanilla crème brûlée with a scoop of iced raspberry sorbet and sprinkled with pistachio crumbs. A divine end to a memorable evening.
We sat in a state of sweet repose, sipping espresso and soaking up the atmosphere. The extra-special cherry on top? The spotted eagle ray dancing just feet from our table in the illuminated water below. No where else can you see that!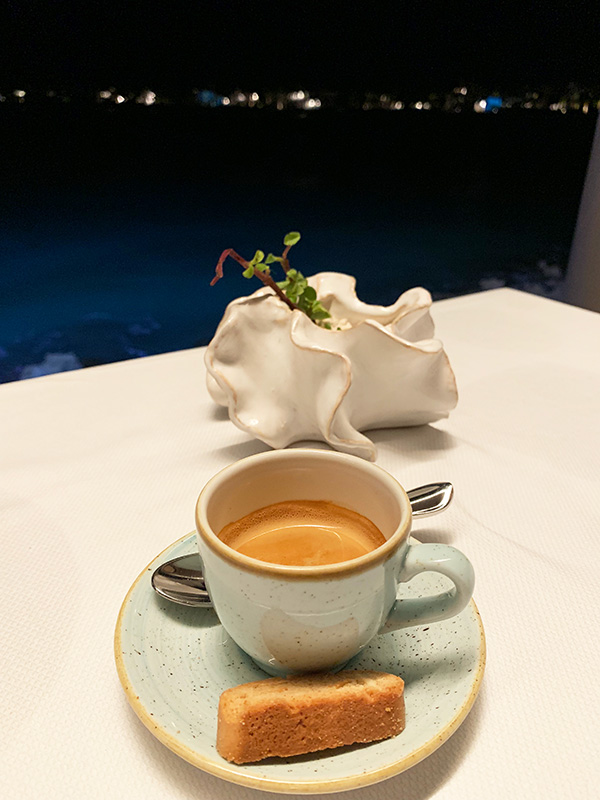 Evenings at Pimms are magical.
Pimms is open for dinner nightly. For reservations, call: 264-497-6666