Pimms at Cap Juluca...
A Dining "Must Do" For Lovers
Update 2018: Pimms has re-opened with a brand new chef and menu. Full review coming soon.
Solitude, tranquility and romance. Anguilla delivers all three with its beaches, its luxurious hotels and of course, its restaurants. On an island known for its atmospheric fine-dining, "What is the most romantic Anguilla restaurant?" is a difficult question to answer. Any list, however, would be incomplete without Cap Juluca's Pimms.
Intimate Seaside Dining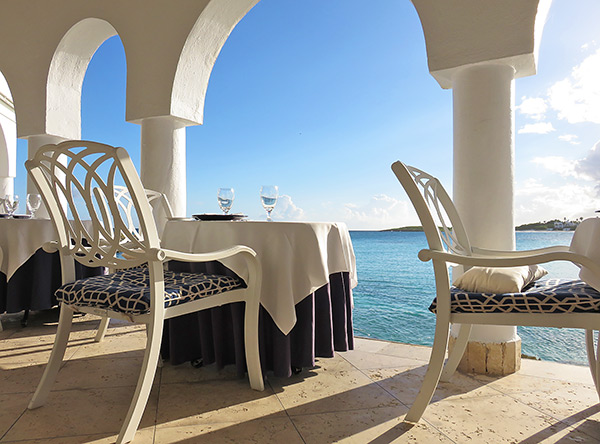 Pimms is Cap Juluca's fine-dining dinner restaurant. Though part of one of the Caribbean's most coveted hotels, Pimms has a reputation all its own. Its intimate seaside setting and National Culinary Team executive chef make it a "must" for couples seeking a romantic setting.
Intimate Seaside Dining
Pimms sits on an exclusive peninsula that extends from the resort's beach, Maunday's Bay. Protruding into the Caribbean Sea, it boasts a vivid view of some of Anguilla's clearest, most turquoise waters.
Situated on the west side of the island, the restaurant is also sheltered from Anguilla's easterly tradewinds. The only sound you hear is the lapping of the waves as they break along the rocky shoreline.
Pimms' Main Dining Room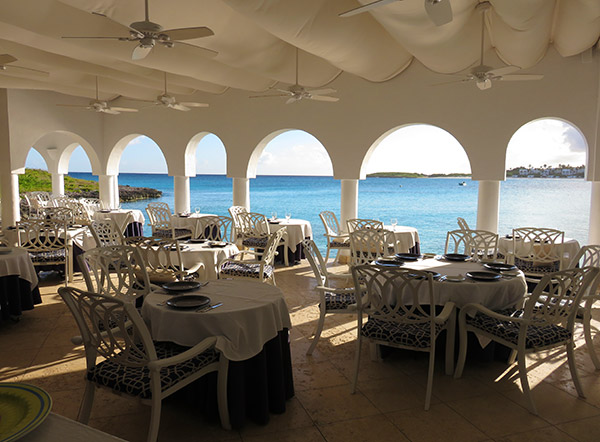 Inside, Moorish white arches elegantly contrast against the blue Caribbean Sea. Royal blue seat cushions sit atop the white, wrought iron seats. Blue and white table cloths drape over the round tables, further accentuating the pleasing color scheme.
Larger dining tables make up the middle of the restaurant, with private dining rooms set behind, overlooking the main room. Tables for two line the restaurant's edge.
As you move closer...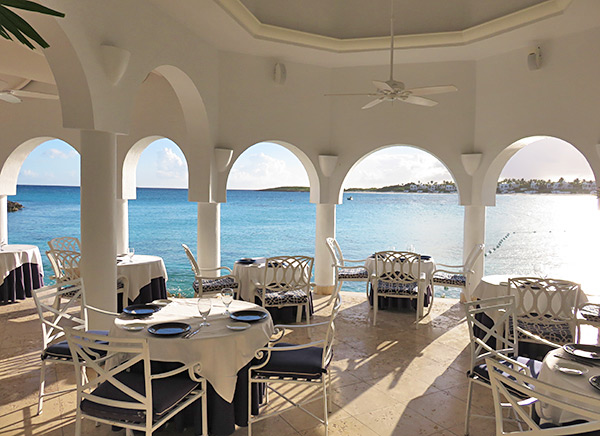 And closer to the water's edge...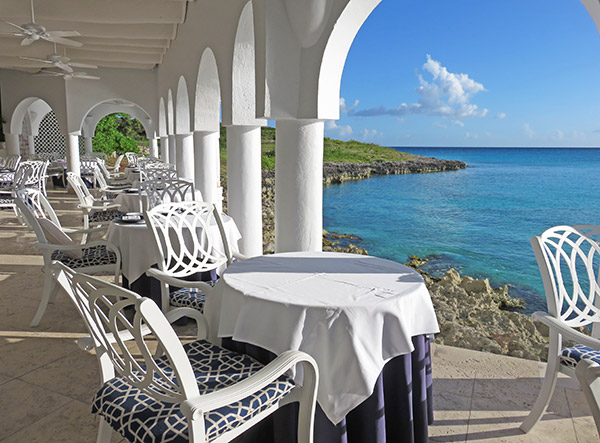 Beautiful blue overwhelms you...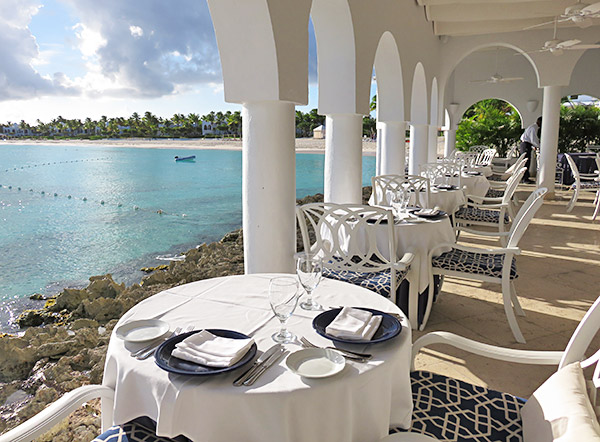 How close are you to the water? This close...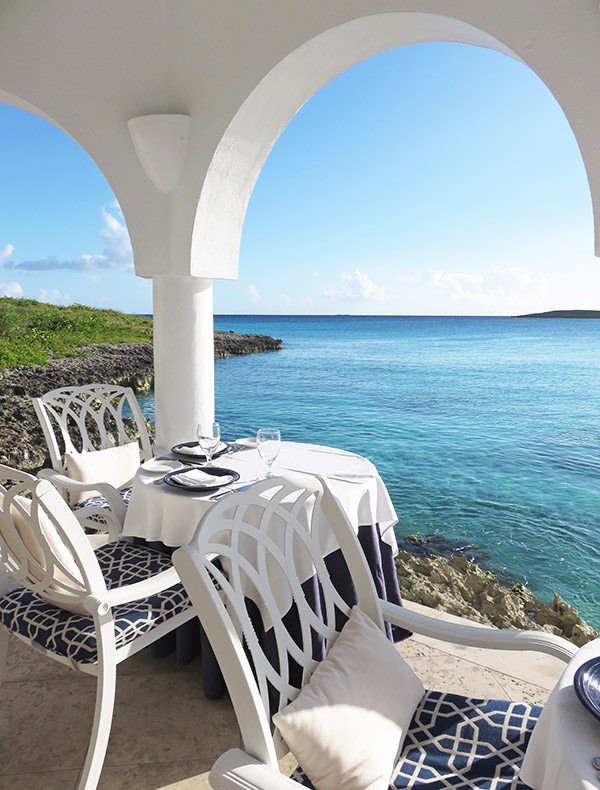 "Dining for two" at Pimms means dining just a foot from blue.
TIP: At certain times of the year, when seas are rough, that blue comes right into the restaurant. Be sure to make a reservation in advance and check with Pimms' concierge about weather conditions. Request the table closest to the sea, even if your table needs to be relocated due to waves, if you are seeking romance.
Pimms answers the call for intimate oceanfront dining.
Meet Executive Chef Dean Samuels
Pimms' Executive Chef Dean Samuels is a famous name in Anguilla. He is one of Anguilla's chefs whose team has repeatedly won gold at the prestigious culinary competition in Miami, Taste of the Caribbean.
Executive Chef Dean Samuels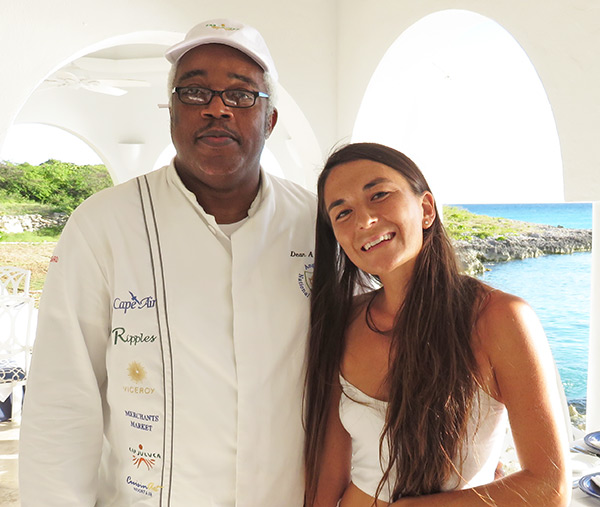 A kind, gentle man with a calm affect and a humble personality, he won't be the first to tell you that he is one of Anguilla's top chefs. And he likely won't reveal that, in recent years, he has continued to passionately lead Anguilla's National Culinary Team as "team manager" to win many more awards.
Chef Dean doesn't need to boast. His cuisine says it all. Chef's creations can be found right here at Pimms, which has been his home for many years. After chatting with Chef Dean, our appetites were whetted.
Pimms By Night
Pimms By Night

Come nightfall, Pimms' atmosphere is in full "breathtaking" effect.
Something out of a swaying palm tree dream, my Mom commented on how the setting brought back fond memories of a restaurant she and my Dad would dine at in Fiji, right on the water's edge. "... but not this luxurious," my Mom laughed.
There is a certain finesse to Pimms.
Perhaps it is the delicate lanterns that adorn each table. Or perhaps it is the pressed table linens. Or the strong, white pillars that line the restaurant's edge. Or the lights dancing upon the sea and in the distance, along the beach.
Pimms exudes a most magical upscale feel.
Pimms With Maunday's Lights in the Background

Our attentive waitress brought us our drinks, two glasses of wine. NOTE: Pimms has won the Wine Specter award on several occasions and boasts a cellar with over 3,000 bottles. If you and your significant other are wine aficionados, Pimms will delight.
Chef Dean's Menu
An assortment of fresh-baked rolls and breadsticks are brought to your table as you peruse the menu.
To start, citrus-cured king salmon, ahi tuna tartare, jumbo asparagus with Serrano ham, and a number of salads including a crayfish Caesar, watermelon & feta and Heirloom beets with goat cheese mouse.
We placed our orders and took in the peaceful ambiance.
The tables by the sea have an almost cavernous effect. With the domed arches overhead, the sound of the waves amplify against the walls around you. You are completely surrounded by the soothing sounds of the sea.
Before we could get started with appetizers, Chef Dean graciously sent out a special dish...
Tuna & Salmon Amuse Bouche

Fritter-esque, fresh chunks of tuna are placed in a gentle batter, lightly fried, topped with cayenne and placed atop dainty slices of cucumber. The pillowy fritter coating gives way to the melt-in-your-mouth tuna. Thick pieces of fresh salmon with avocado mousse on the side provides a light, fresh contrast to the tuna fritters.
Perhaps the most "gold plate" worthy amuse bouche we have sampled to date! Chef Dean, please put this on your regular menu :-)
A promise of great things to come, appetizers followed.
Watermelon & Goat Cheese Salad

Creamy, soft, smooth goat cheese is mixed with fresh chunks of watermelon, citrus fruits and a fresh salad of greens. It is a light way to ease into the main course.
For dinner, I stuck with another appetizer (they were all calling my name!).
Chef Dean's Tuna Tartare

Chef Dean does not skimp on portion size! A sizable stack of tuna is layered atop avocado mousse. The tuna is dusted with crispy shallots and wild rice and served with a side of ponzu dressing.
For entrées, Chef shines with classics including Anguillian Lobster & Crayfish ravioli (rumored to be the best dish on the menu), mahi mahi with plantain mash, big eye snapper Asian style, grilled sea bass with foam cream sauce, Anguillian paella and...
9 Spice Rubbed Line Caught Tuna & "Dirty Rice"

Sizable pieces of tuna are rubbed with 9 spice and served with "dirty rice." Brown rice doused in a creamy soy sauce, the rice is the tuna's perfect complement. A dish perfectly suited to my Mom's tastes.
"Dessert?" Our accommodating waitress asked as we leaned back. With such generous portions and the amuse bouche, it would have been an impossible task. We sat in a state of sweet repose, enjoying every ounce of the memorable atmosphere. The sweet cherry on top? Watching the tarpon dance in the lights below.
Pimms is open for dinner nightly. Closed Wednesday. For reservations, call: 264-497-6666