The Best Anguilla Bar for Nightlife
Update 2018: Pumphouse is currently closed. Updates to come.
Pumphouse Bar At A Glance
Pumphouse is a fun, funky spot for dancing, drinks and cheap beer! Thursday night is the night for partying and nightlife at Pumphouse.
Update 2017: For the most up to date article on Pumphouse, click here.
More on Pumphouse, below...
Who would have thought, back in 2002, when I was only 14 years old, just getting started on Anguilla-Beaches.com, that someday I would start recommending Anguilla bars and Anguilla nightlife?
I've never been much of a club-goer, so I never saw it coming!
On a recent trip down to the Caribbean, I had my first real taste of authentic Anguilla bars and nightlife.
Earlier in the evening, my Dad, his faithful building crew (Toby, Calvin, Curtis, Jaysin and Mike), Mike's son Tomy and I enjoyed a delightful, truly Caribbean, meal together at Christobelle's Canteen in Blowing Point.
The night didn't end with goat stew and rice and peas though!
Next stop?...
The Pumphouse

Have you ever wondered where all of the people on Anguilla go at night?
I always imagined that most people do what our family does in the evening... a meal... a walk... a drive...
Then I went to The Pumphouse. On a weekday. A wave of realization washed over me.
Maybe some people do what we do when the sun sets over the western tip, but many more go to The Pumphouse.
Locals and tourists, ex-pats and travelers just passing through, older children and spirited grandparents all congregate here.
People from all walks of life, of different backgrounds and destinations... everyone is at The Pumphouse.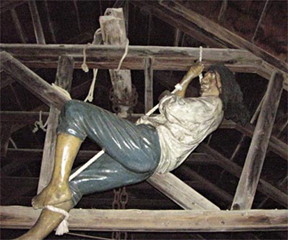 This Anguilla bar has a wonderful, warm atmosphere.
The Pumphouse's decor is similar to Bankie Banx's Dune Preserve. It embraces that ramshackled, just swept-together look, yet it is noticeably more refined.
They serve up some tasty, basic meals. You can read more about Pumphouse for dinner here.
The main attraction is the reggae music, the people flooding the dance floor... everyone is warm, smiling, filling you with that nothing-can-go-wrong-here feel.
My Dad, (Mr. I Don't Dance), even got into The Pumphouse mood, and danced a little...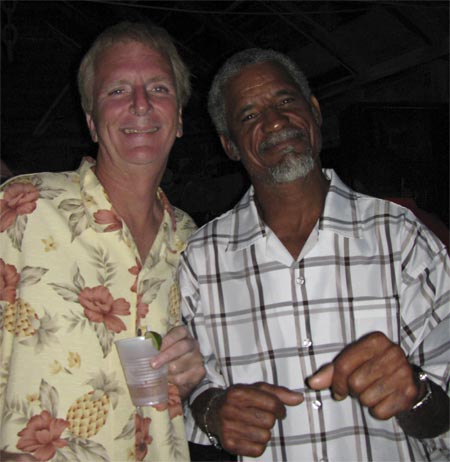 I on the other hand, remained the daughter of Mr. I Don't Dance, and passed on the dancing. That doesn't mean that Calvin didn't try to get me to dance with him (and in retrospect, I should have overcome my overwhelming fear of dancing to dance with Calvin who is extraordinary on the dance floor!).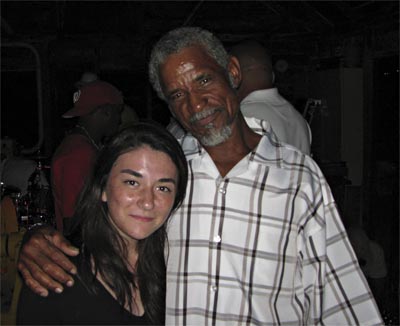 Instead, I grabbed my drink, and took a step outside, across the street, onto Sandy Ground. The contrast between being inside this Anguilla bar to being just two seconds away, on the beach is staggering. Sandy Ground beach quiets right down. It's so serene once the sun goes down and the stars come out.
And when that peace and quiet goes on for a little too long? Just head back inside to the Pumphouse.
I'm no Anguilla nightlife expert, but I can point out Anguilla bars that deliver delightful memories and experiences. The Pumphouse sure is the perfect place for a night out on Anguilla.
Thursday Nights
If you want to visit on a hopping night, a night when the bar can be jam-packed with tourists and locals, swing by on Thursdays around 11pm.
Pumphouse really comes alive, with hundreds of people dropping by to socialize, dance and listen to the tunes. The old Pumphouse tradition on Thursday nights is to eventually take a short walk down the road to Elvis', another bar, right on the beach. This bar usually has a DJ and a projector and screen showing sports. More on Elvis' here.
Between the hot and crowded Pumphouse and the open-air Elvis', Thursday nights on Sandy Ground are always a good time.