Christobelle's Caribbean Cuisine Canteen
Update 2018: Christobelle's Canteen is closed.
Christobelle's Canteen At A Glance
An authentic Anguillian restaurant, you will find true home-style Anguillian cooking at Christobelle's Canteen.
More on Christobelle's Canteen, below...
Anguilla restaurants come in all shapes and sizes, serving a wide array of meals. From seafood to pizzas to roti, Anguilla certainly meets everyone's dining needs!
Throughout our family's Anguilla eating experiences though, we never once did sample any authentic Caribbean cuisine.
Sure we tried (and loved!) local BBQ and casual diners like Nico's, but are chicken and ribs really the only staples of Caribbean cuisine?
I don't think so!
My Dad and I were introduced to true Caribbean eating by his wonderful building crew (Toby, Calvin, Curtis, Jaysin and Mike), on a recent trip to the island. We all wanted to enjoy a dinner together, they recommended Christobelle's Canteen...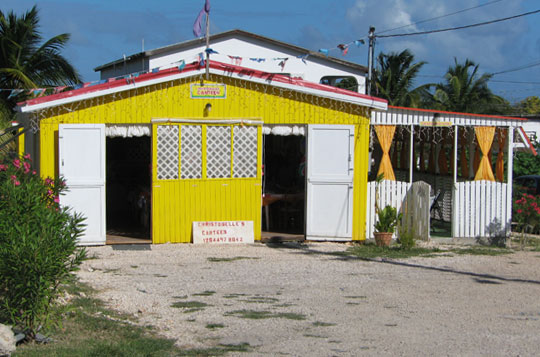 The Setting
This charming local spot is in the heart of Blowing Point village, right next to the gas station!
The meal began with drinks, followed by a warm Caribbean soup filled with tender pieces of doughy bread, soaked with the tasty spices and flavors of the mouth-watering soup!
A kind, gracious waiter took our orders, and created a warm, welcoming atmosphere.
As we waited for our main meals, we chatted, laughed, and I began to understand the meaning of Caribbean cuisine.
Sure it was the soup, the spices, and the stew to come, but it was the entire experience that truly defined it.
From the heart-dotted table cloths that lined the tables, to the Caribbean flags posted on the restaurant's crocheted walls, to the Anguillian grandmothers cooking up a storm in the open kitchen, to the warm-hearted conversation at our very own table... This is what Caribbean dining is all about!

The Food
The main course really enhanced the hot, Caribbean night! The choice was goat, whelk, chicken or beef stew, with peas and rice, and a Caribbean-style mashed potato.
I went with the whelk stew. I just had to try it, due to our history with whelks! The meal was delicious. The peas and rice were perfect, the Caribbean-style mashed potato was different, but equally good. Its texture was unlike anything I had tried before. The potato was much more elastic than traditional American mashed potatoes, inside a slightly tougher potato-shell.
The next question was, "Dessert?" But if delicious is the first word to describe Caribbean cuisine, the second word is filling! It's a meal that stays with you for a while.
Instead of more sitting and eating, we all decided to say good-bye to Christobelle's Canteen and head down to the Pump House for a little less munching and a little more movement!
Directions, Hours & Contact
Directions: Next door to the gas station in Blowing Point, on the main road.
Christobelle's Canteen
Good for Anguillian cuisine.
Hours: Lunch and dinner.
Tel: 264-498-0171