Bankie Banx's Dune Preserve Beach Bar
Bankie Banx's The Dune At A Glance
A trip to Anguilla isn't complete without a trip to Bankie Banx's Dune Preserve. The laid-back wooden beach bar sprawls across the beautiful white sand of Rendezvous Bay, gazing out to St. Martin in the distance. Peppered with fun trinkets and treasures from the Caribbean Sea and all over the world, The Dune Preserve serves up excellent drinks and entertains with exceptional funky reggae tunes.
It's no wonder CNN has voted it the #1 beach bar in the world!
"The Dune" is also home to Bankie Banx's famous Moonsplash festival. Don't miss their nights of live music.
More on Bankie Banx's The Dune, below...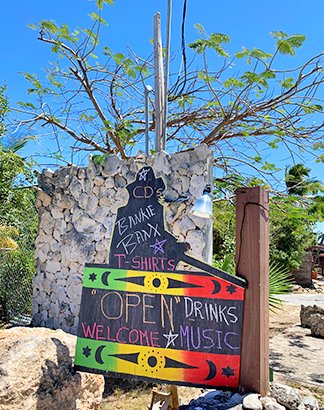 For years people have associated Anguilla's famous reggae artist, Bankie Banx, with his sea-side spot, The Dune Preserve.
Like the many pieces of drift wood that adorn the insides of The Dune, Bankie's Bar also appears to have seemingly washed ashore some time in the past century.
Refitted with hanging boats and loosely constructed with other pieces of wood, this rickety beach bar and its rustic charm is really a staple and a cultural landmark of western Anguilla.
Loved by locals and travellers alike, this quintessential Anguilla beach bar has also been a driving force for Anguilla's musical culture with Bankie's annual music festival, Moonsplash.
It's even been rated #1 beach bar in the world! It's not hard to see why... there's no place like "The Dune!"
See the video below for an exclusive look INSIDE The Dune and Bankie's villa with the legend himself, Mr. Bankie Banx.
Inside The Dune
Set at the edge of Rendezvous Bay, overlooking the Caribbean Sea and St. Martin, the location is perfect.
The Dune Preserve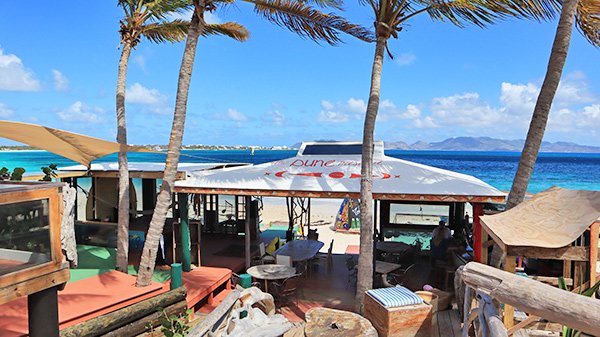 Made of a collection of driftwood, wood planks, shells and other findings from the sea, The Dune is one of a kind. It is complete with tables, chairs and lounging areas, as well as one of the coolest bars of all time (more on that below).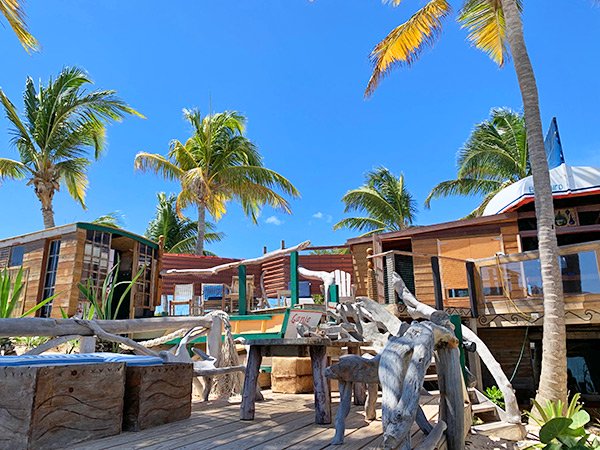 For larger groups dining, there are secluded perches at either of The Dune. These perches have that ever-cool Bankie Banx style, and are open-air looking out to the sea.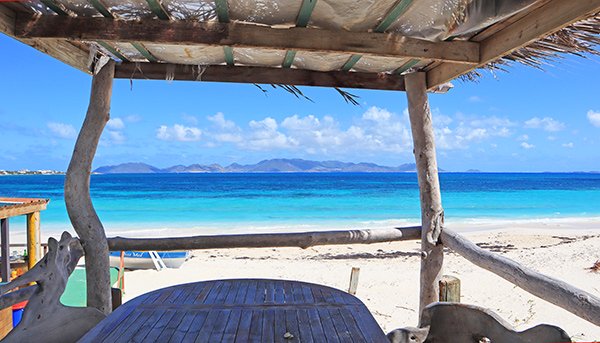 It is a funky-cool natural setting, made of findings from the sea. Bankie Banx is a true pioneer and his Dune Preserve is a hallmark when it comes to Anguilla beach bars. Open for drinks and live music, Bankie's genious creation is the core of many timeless moments shared by locals and travellers alike.
Drop in for a drink and it's not uncommon that you will have a chance to hang with the legend himself...
Louise Standing with the Legend Bankie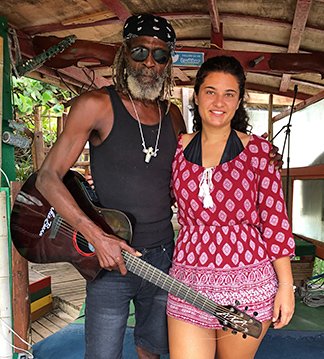 Be sure to explore every nook and cranny of The Dune, climb up the historic wooden stairs and walk around the iconic beach bar.
Something catches your eye everywhere you turn. You will even glimpse portraits of Bankie in his golden years along with photos of the Banks clan.
Photo of Bankie Banx at The Dune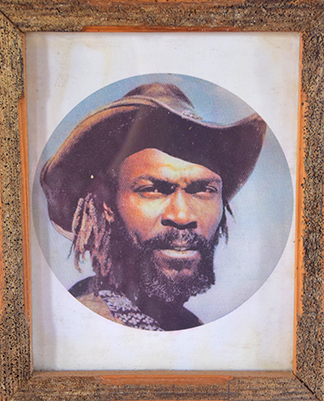 Next? It's off to the bar to chat up the bartender and decide on a drink, with a little help from Bankie.
The Dune Bar
By: Louise Fayet
An iconic bar, made from the "It Ain't Easy" wood boat, Bankie's boat bar is a must-visit.
To The Bar For Drinks!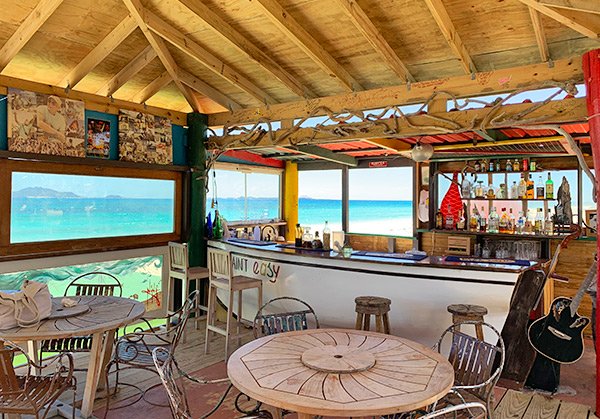 Bankie's bar charmingly boasts his line of unique homemade rums and with his effortless persuasions, he will convince you to try the peculiar centipede rum.
Variety of Homemade Rum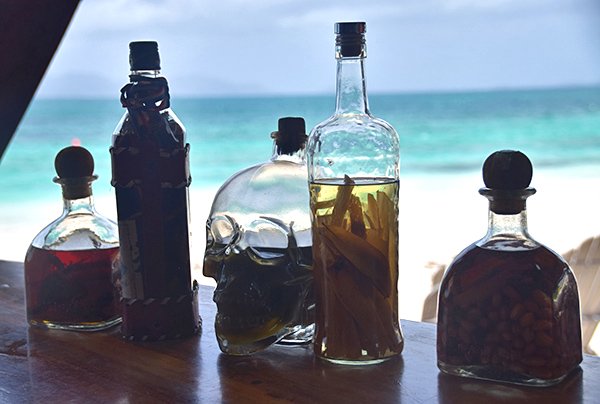 Hesitant at first, it is a quick 1-2 down the hatch and of course with no surprise, Bankie is right... it's really, really good! Another favorite of ours is the "Tree of Life", but beware - it's very strong!
Before I forget to mention it - how about this view from the bar?...
Rendezvous Blue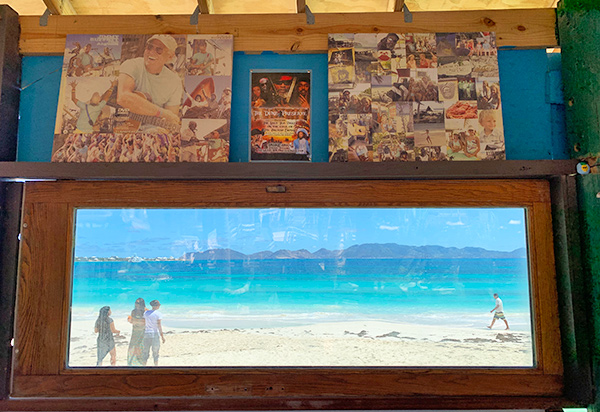 You can usually find Bankie opposite the bar, just next to the stage. This is where Bankie and others perform live music during the week.
Bankie's Stage & Hang Out Spot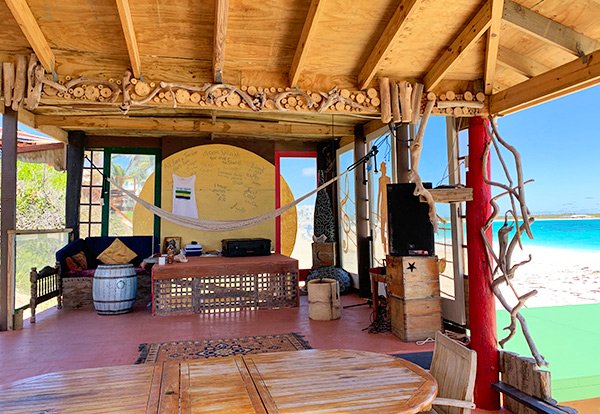 The Dune doesn't end at drinks and live music!...
Rum Punch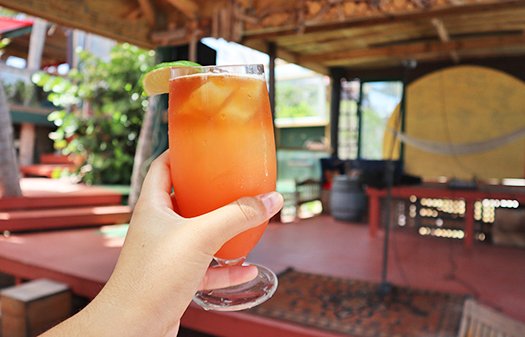 Lunch at The Dune
From time to time Bankie offers a buffet and an afternoon of "Sunday School" where he performs live.
Note: Lunch is served on occasion only. Call ahead to see if Bankie is doing lunch. If and when lunch is served, you are in for a real treat!...
You can smell the mouthwatering food a mile away! Thankfully, too, the buffet is set up along the walk way for easy access for seconds :-)
Tip: Arrive early to secure a seat closest to the sea. The view of Rendezvous and St. Martin from The Dune is simply breathtaking. With lofty reggae music playing, just exhale and enjoy!
Calm, Cool and Collected at the Dune Preserve

What's for lunch?
Lunch Is Served!

First up, the classic "Ribs & Chicken Combo."
Ribs & Chicken Combo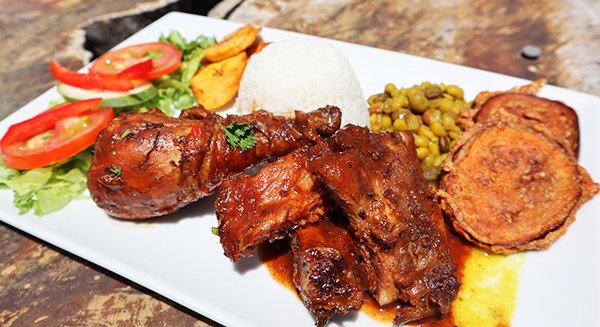 Juicy, meaty and satisfying, the ribs are grilled and lathered in a sweet sauce. If you're not into ribs and chicken, Bankie offers up a tasty main of stewed fish (photo below). Simple and delectable!
Stewed Fish Plate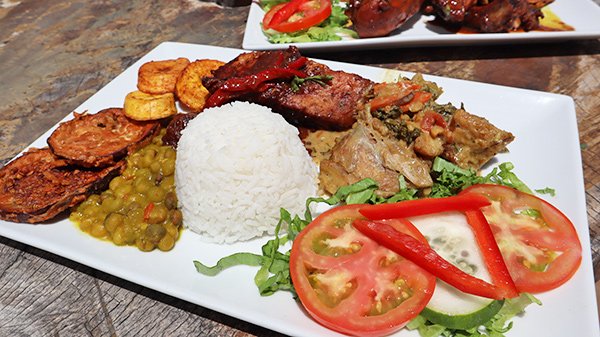 I recommend packing your plate with all of the sides - rice, eggplant, plantain and some of the tastiest lentils we've ever had. The colorful garden salad is also oh-so refreshing and removes any guilt about maintining that Anguilla-ready bikini body ;-)
After lunch? It's back down to spend the rest of the afternoon with Bankie and his crew, listening to great music, jumping into Rendezvous' waves and taking in the easy-cool vibe that categorically defines The Dune.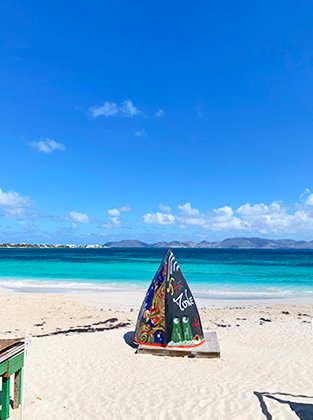 Anguilla BBQ, a one of a kind beach bar that has that funky Bankie Banx feel, sitting upon the golden sand, with friendly service... Bankie Banx's original, classic Dune Preserve will always be an island favorite!
Nightlife At The Dune
By: Nori Evoy
Last but not least? Come night fall, The Dune Preserve is especially magical.
Dimly lit inside, the lights of St. Martin shine in the distance and the stars sparkle overhead.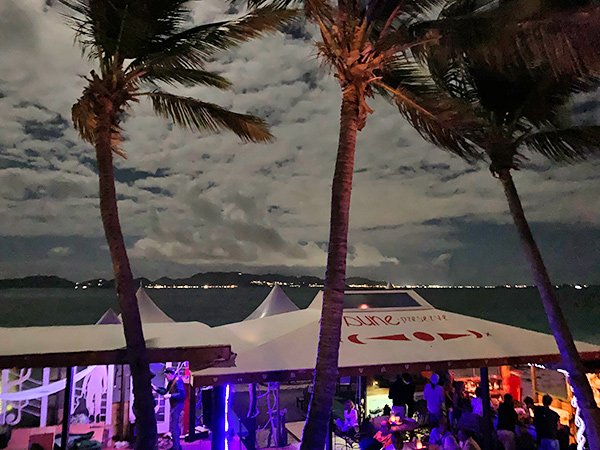 Open to the sky (not all parts of The Dune are covered and sheltered), the moon illuminates it all, at times casting an eerie light on the fast-moving, billowing clouds.
And, just beyond the edge of the Dune Preserve, waves lap at the sand.
Bankie's ever-cool setting is enhanced by talented artists who take the stage regularly (click here for most up to date schedule of Anguilla events).
St. Martin In The Distance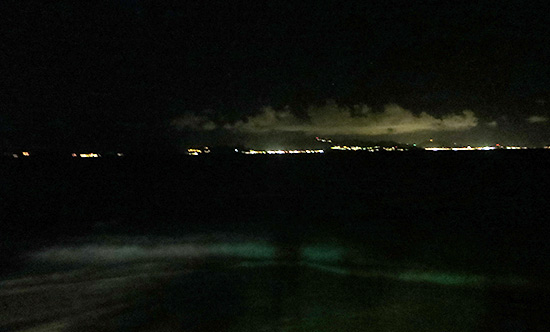 Bankie Banx himself performs on Wednesday nights (starting at 9:45pm). Bankie Banx's son, Omari Banks is known to take to the stage, too. Talented and with a high profile region-wide, he always draws a crowd!
The Dune occasionally holds nights that are, by contrast, more low-key. Unlike anything you've likely experienced in Anguilla, they can be closer to something out of a Jack Kerouac novel - in the 1950's in a cool cafe in The Village in New York City.
Here's a little taste of these types of sessions...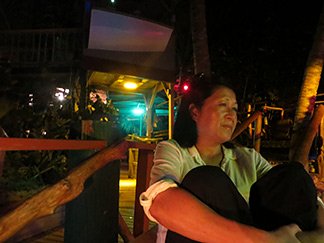 Comfortable seating, a cool breeze blowing, the sound of the ocean in the distance...
Add poetry and piano and you have a recipe for an interesting evening of introspection and reflection.
There's nothing else quite like it in Anguilla when these impromptu pop up.
With Ginette Benjamin At The Dune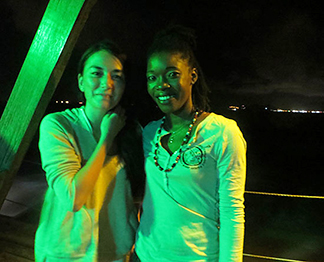 Brilliant moments of improvisation complete the experience.
Bankie Banx himself was hanging around The Dune on the night we visited, talking with guests and taking in the entertainment.
The whole audience, naturally, smiled when he got up on stage.
With Bankie Banx At The Dune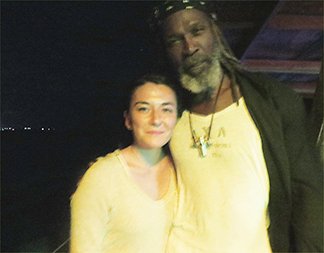 From time to time, Bankie will perform some spoken word as well, now and then with piano accenting his words.
This night, he played a harmonica solo, a cover of Waiting In Vain, and, what was especially exciting for my Mom, a performance of her favorite song of his, "Just Cool."
Totally unexpected, we were delighted.
We caught up with Bankie at the end of the night and thanked him for such a unique evening.
"This is what I like, this is the music I like," he said cooly.
It's the music, setting and overall vibe that I like, too. There's something about it, about the music of such emotion played under a light night sky and beside the dark ocean, that stays with you long after the evening fades.
To see Bankie's performance of "Just Cool," watch the video below...
Directions, Hours & Contact
Directions: Head towards the "old" entrance to Aurora (ie. don't enter through the golf course) that is across the street from Hughes Medical Center. When you reach Aurora, keep going straight and then hang a left. You will see Bankie's down by the sea.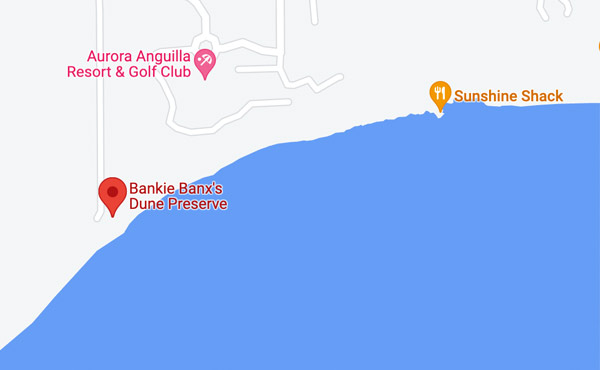 Hours: Daily for drinks. Night entertainment Wednesday, Friday, Saturday starting at 9pm. See Anguilla Events for live music schedule.
Tel: 264-729-4215
ARCHIVES:

Past Articles on Bankie Banx & The Dune