Another Bite at Bankie Banx's
on Anguilla's Rendezvous Bay
Update: Since this article was written, the menu has changed at The Dune. For the most up to date article, more on Bankie Banx's Dune here.
It was just another snoozy Sunday on Anguilla when our tummy's started grumbling...
With no intention of cooking up a tasty lunch, the question was, who will feed our hungry stomachs?
My Mom suggested one of her personal favorite spots, Bankie Banx's beach bar on Anguilla's Rendezvous Bay!
Feeling relaxed and casual, Bankie fit our moods...
I was curious to go by Anguilla's Rendezvous Bay to see Bankie's spot after October's Hurricane Omar. My Mom and Dad told me that Bankie Banx's beach bar was hit badly. So, in we went...
His vibrant cafe is more of an obscure jungleland now, with more washed up beach remnants weaved throughout this multi-leveled creation than before the hurricane!
They're busier too.
Luckily, we didn't have to wait for a table. They have expanded the rickety restaurant, complete with benches made of catamaran hulls and wooden dinghy oars! Even with the extra seating you may want to make reservations.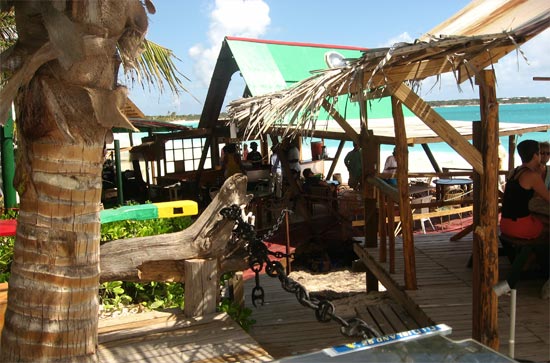 I enjoyed Bankie's jerk chicken caesar salad. Despite all of the years of traveling to the Caribbean I had never tried anything with jerk seasoning.
By the end of the dish, I felt as if my mouth was filled with baby flames (I'm a wimp when it comes to spicy food!), but I now understand my Dad's fascination with it.
I recommend the jerk chicken caesar salad, but if you come with a bit of an appetite, the best item on the menu just might be the fish burger.
It's my Mom's "usual".
I couldn't sneak one bite with her hawk eyes on the watch for other threatening hunters, but it sure looked delicious...
Bankie deep fries it in a thin batter, serving it with fried plantains, all of the usual tasty toppings, atop a fresh, fluffy, sesame seed bun.
Next time, I'm not playing predator and prey with my Mom.
I'll order my own!
If Bankie Banx ever was struggling after Hurricane Omar, he's certainly making up for it now! Nothing has suffered... from the physical shell (or fragments of shells in this case!), to the food, to the service... It's still a great place to spend a lazy afternoon!
It's more like that windstorm was a windfall for Bankie Banx! ;-)