A Simple and Serene Anguilla Resort...
Anguilla Great House Beach Resort
Update 2018: Anguilla Great House is undergoing renovations. Updates to come.
Anguilla Great House At A Glance
Anguilla Great House was reviewed by Nori Evoy.
Nori's Rating: 4 out of 5

Modest West Indian-style units right on one of Anguilla's best beaches, Rendezvous Bay, the Anguilla Great House boasts one of the best locations on the island. With a good restaurant, a small swimming pool and comfortable, though outdated rooms, the price is reasonable.
The best walking beach in the whole entire Caribbean is Rendezvous Bay. It is two and half miles of soft, gently sloping sand perfect for a stroll, complete with shimmering sapphire-like seas!
Rendezvous Bay has character and history. It homes the first Anguilla resort, Rendezvous Bay Hotel.
It is also a beach of contrasts. You will find the very luxurious CuisinArt Resort here, along with the funkiest spot on the island, Dune Preserve.
In the midst of all this beauty, history and diversity, lies an oft-overlooked resort...
Anguilla Great House Beach Resort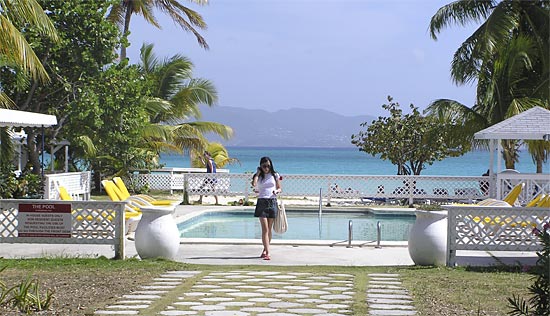 My sister, my Dad and our family friend, Doug dropped into this relaxed Anguilla resort, for a delightful lunch one afternoon.
Before devouring a scrumptious meal, they took a look around the hotel...
Anguilla Great House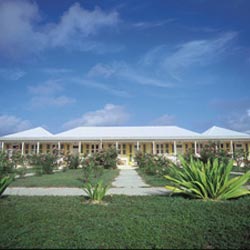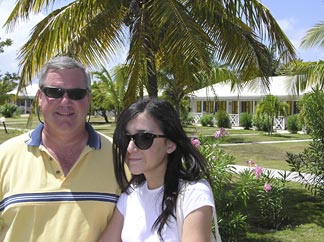 This Anguilla resort has cozy, cute rooms, perhaps the most classic Caribbean style on the island.
Well manicured lawns and gardens, palm trees lining walking ways, the Great House Beach Resort is...
Sweet.
Classic.
Serene!
Oh! And the views from the rooms?
Wow!

And, of course, the south shore always yields great views of St. Martin...
The Rooms...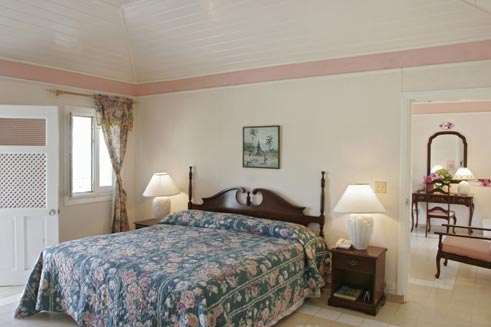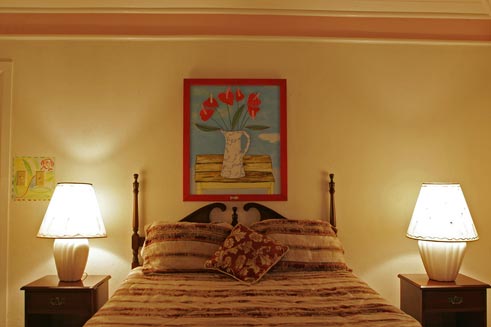 After a little adventure, Yuki, my Dad and Doug went back to the restaurant for their lunch. Several drinks and dishes later, my sister had heard enough of my Dad's yammering to Doug, and was ready for the beach!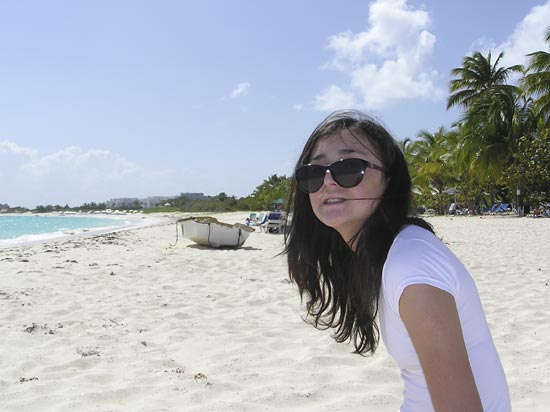 One look at that soft sand... those swaying palm trees... and the clear blue sky and sea, makes you swoon, doesn't it?
No way could my sister resist a swim!
Rendezvous Bay is, without a doubt, one of Anguilla's best beaches for both walking and swimming!
My family and I usually stay in Anguilla villas. But this generally means that we don't get to walk right out of the back door onto sandy beach.
Most Anguilla villas are built on rocky shores. Doug has been lucky enough to find an Anguilla villa right on sandy beach, but those are far and few between.
It would be nice to run from "home" right to the beach!
Great House Beach Resort may just be our ticket to such a dream, on Rendezvous Bay. Or maybe Rendezvous Bay Beach Hotel?
Or if we can convince my Dad to "break the bank," the luxurious CuisinArt Resort would be top choice.
Who knows? Maybe we'll do both. Dad and Yuki leave for Anguilla week earlier than Mom and me. Maybe they can report back on the Great House to me while we all stay the second week at CuisinArt! Ha! Ha!
Contact Anguilla Great House Beach Resort