A Simple and Serene Anguilla Resort...
Anguilla Great House Beach Resort
One of the best walking beaches in the whole entire Caribbean? Rendezvous Bay. It is two and half miles of soft, gently sloping sand perfect for a stroll, complete with shimmering sapphire-like seas!
Rendezvous Bay has character and history. It is, after all, home to the first Anguilla resort, Rendezvous Bay Hotel. It is also a beach of contrasts. You will find the very luxurious CuisinArt Resort here, along with the funkiest spot on the island, Dune Preserve. In the midst of all this beauty, history and diversity, lies an oft-overlooked resort...
Anguilla Great House Beach Resort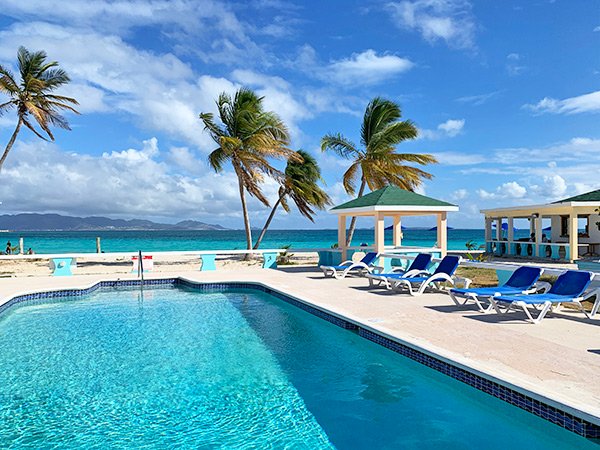 A relaxed Anguilla resort, Anguilla Great House is the "complete package." This charming property features a number of comfortable units just a few yards from the beach, an on-site restaurant and a sparkling pool.
Let's take a look around the hotel...
Inside Anguilla Great House
Anguilla Great House is rich in classic West Indian charm. Gingerbread style buildings fan out on a grassy beachfront lawn that opens to Rendezvous Bay.
Anguilla Great House

Well manicured gardens and pathways lined with native flowers and palms all create a distinct tropical feel.
Walkway With a View

The experience all begins in the hotel's comfortable and lofty lobby. The lobby opens to a walkway (photo above) that leads to the hotel's restaurant and bar, Coconuts, its pool, rooms and of course, the beach.
The Lobby

We are always mesmerized by Anguilla Great House's RendezVIEWS. One look at that soft sand... those swaying palm trees... the clear blue sky and sea... it makes you swoon, doesn't it?
RendezVIEWS from Anguilla Great House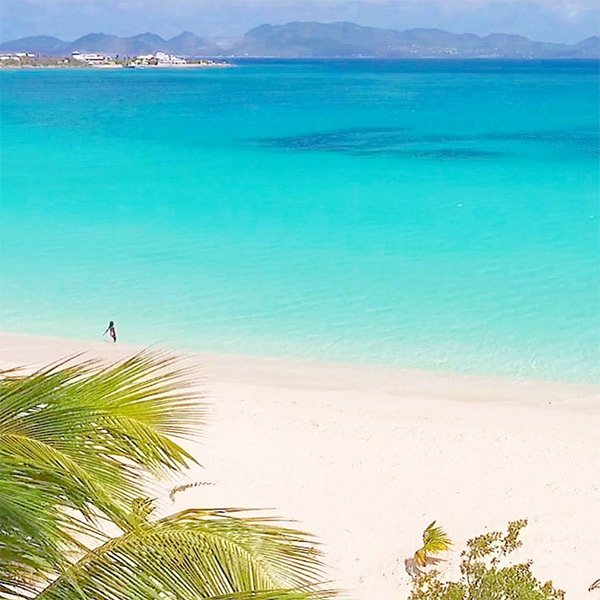 Anguilla Great House has a natural advantage over many hotels and Anguilla villas for location alone. It is a treat to run right out of your room onto sandy beach. Only a few hotels and Anguilla villas boast such proximity to the sand, and few are available at this price point.
The Rooms at Anguilla Great House
This Anguilla resort has cozy, cute rooms. They are perhaps the most "classic Caribbean" rooms on the island.
Patio on End Room at Anguilla Great House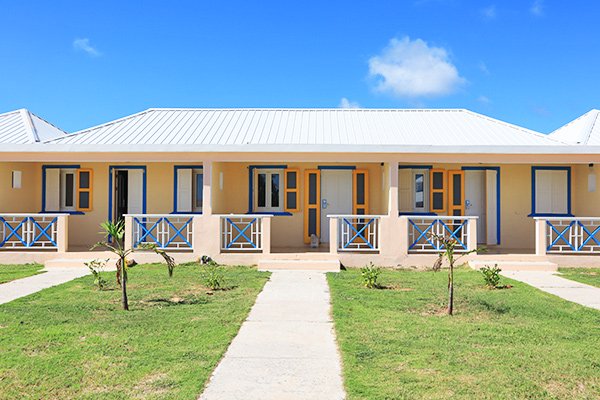 The hotel's West Indian buildings house one bedroom units complete with ensuite, large king bed, writing desk, flatscreen TV and outdoor patio.
The Rooms

Ensuite Shower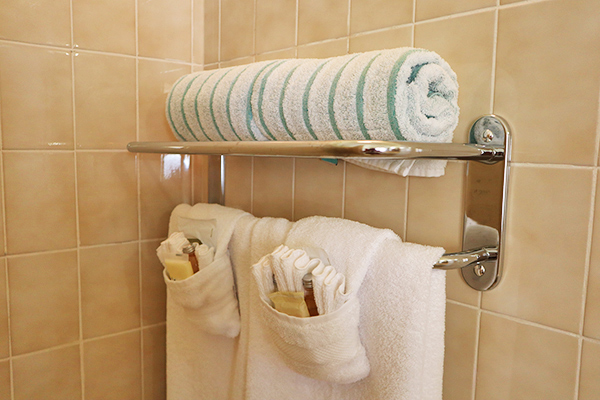 If you are traveling with your family, rooms can be joined together and king beds can be converted to two twins. Garden and ocean view rooms are both available.
Hotel room tip? Book an "end" room for vivid sea views. Anguilla's south shore always yields great views of St. Martin.
Patio on End Room at Anguilla Great House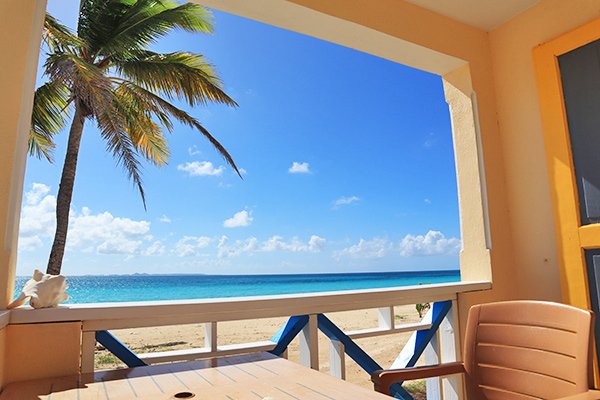 How sweet it is to awake to this view every day! Yes, Anguilla Great House Beach Resort is an affordable ticket to a beachfront Caribbean dream, on Rendezvous Bay.
With friendly service, a restaurant, a pool and an unbeatable location on the beach, Anguilla Great House ticks many boxes at an affordable price point. They are also an Anguilla Card Partner. Save 10% on your stay when you book with your Anguilla Card!
Anguilla Great House Summary
Anguilla Great House was reviewed by Nori Evoy.
Nori's Rating: 4 out of 5

Modest West Indian-style units right on one of Anguilla's best beaches, Rendezvous Bay, the Anguilla Great House boasts one of the best locations on the island. With a good restaurant, a sparkling swimming pool and comfortable rooms, the price is reasonable.
Contact Anguilla Great House Beach Resort