Anguilla Hotels: The Guide...
Rendezvous Bay
The red pin (below) is Rendezvous Bay.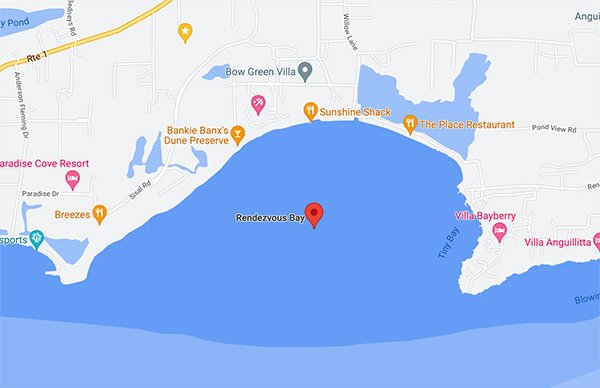 Rendezvous Bay
One of Anguilla's best big beaches, Rendezvous Bay is impressive.
Long, expansive and with St. Martin as a backdrop, it is a favorite to many. Its perfect, powdery white sand seems to stretch forever!
The Eastern end is my favorite end. Quiet and peaceful, this area is less trafficked than the Western end. Clear, still and gentle, the Eastern end soothes the South. Move further West and you will find more activity and motion, with the likes of Garvey's Sunshine Shack, Anguilla Great House, Aurora Anguilla and finally, Bankie Banx's Dune Preserve on the far Western tip.
Walk beyond the Dune Preserve and you will find a most special place for meditation, "Stonehenge."
Rendezvous Bay is a magical beach that hasn't been too overwhelmed by development.
Click for more on Rendezvous Bay.
Anguilla Great House Beach Resort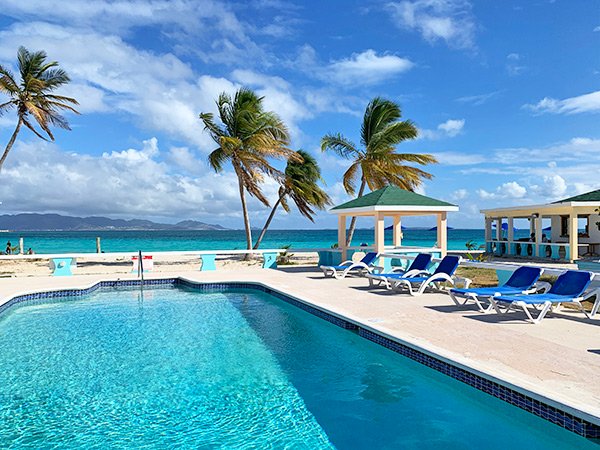 Size: Medium
Location: Middle of the beach.
Description: Anguilla Great House Beach Resort is a good budget option.
The property has a West Indian feel. The rooms are small cottages arranged in a semi-circle, next to each other, facing Rendezvous Bay and St. Martin.
The rooms are clean and comfortable. If you are traveling as a larger family, rooms can be connected. I suggest requesting a room on the "end" of the semi-circle. Here, the beach is at your feet.
There is a restaurant on site. Other tasty restaurants, like the Sunshine Shack, are not far down the beach.
And, the property is an Anguilla Card Partner! So, save 10% on your stay when you book with your Anguilla Card.
Click for more on Anguilla Great House Beach Resort.
Price: $$ — Return to Hotels By Price
Aurora Anguilla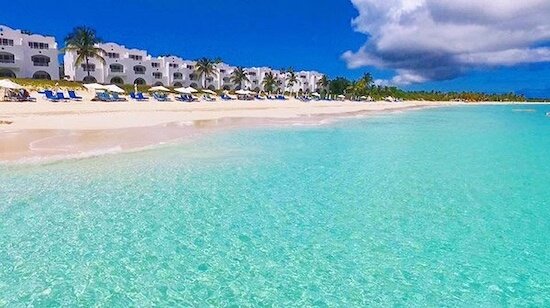 Size: Large
Location: Western end of the beach.
Description: Aurora Anguilla is one of the island's top luxury hotels.
Rooms vary from standard rooms to suites to large, ultra-luxurious penthouse units. All units are on the beach, except for the standard rooms. They are set further back in the main hotel lobby building.
Aurora's grounds are exquisite. Set right on Rendezvous Bay, complete with a large and inviting pool and aromatic gardens, walking through Aurora is always eye-pleasing.
In terms of amenities, Aurora Anguilla provides it all. The resort has its own Greg Norman, PGA-level golf course. A five-star luxury spa is on site too, providing soothing and therapeutic services.
Aurora Anguilla really does have it all.
Price: $$$$$ — Return to Hotels By Price
Rendezvous Bay Hotel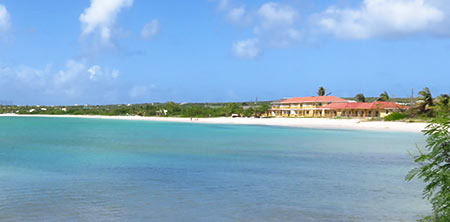 Size: Medium
Location: Eastern end of the beach.
Description: Rendezvous Bay Hotel offers sweet and simple beachfront hotel units. This hotel in Anguilla also has a tasty restaurant on location, The Place!
Price: $$ — Return to Hotels By Price
Royal Palms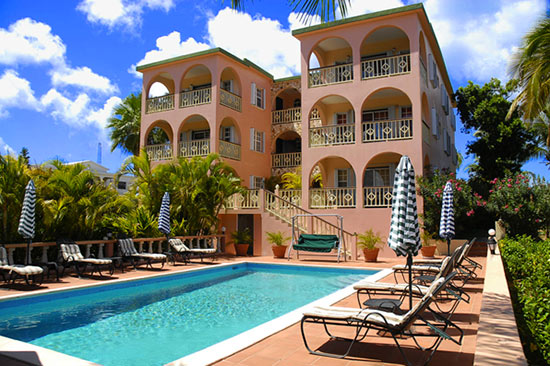 Photo Credit: Royal Palms
Size: Medium
Location: Inland.
Description: Royal Palms is located inland, near Rendezvous Bay.
This apartment-style complex has six units. They are spacious and nicely furnished. Top units have views of the Caribbean sea and St. Martin in the distance.
The apartments include two bedrooms, a bathroom, a complete kitchen, living room and of course, a balcony. Royal Palms is dedicated to making sure you have all of the comforts of home.
In terms of other amenities, there is a common pool area with chaises and BBQ equipment.
Price: $$$ — Return to Hotels By Price
Nature Gardens Vacation Apartments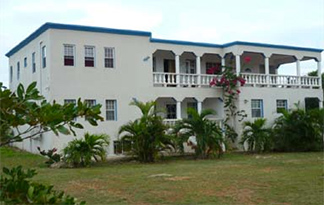 Photo Credit: Nature Garden Apartments
Size: Small
Location: Inland.
Description: Nature Garden Apartments are large and spacious, ideal for longer-term holidays (1 week+).
Units are comfortable, designed for living. Nature Garden Apartments offers one bedroom and two bedroom units. Each have internet, television, air conditioning, kitchen/cooking supplies and even has a washing machine. The rooms are bright and airy, and have large patios.
Rhon Connor, the property manager, lives on site and is very accommodating.
Price: $ — Return to Hotels By Price