<![endif]-->
Rendezvous Bay Anguilla Beaches...
Best One to Walk?
Rendezvous Bay beach is perhaps the best of all Anguilla beaches to walk. The bay is a perfect sweep of soft white sand. On the Caribbean sea side of Anguilla, Rendezvous Bay gives you a breath taking view of St. Martin. No matter where you look, though, while you walk, the eye always seems to be pleased.
The water is clear and that perfect turquoise we all love, sun bright and sand soft. But, there is one problem with this beach which you will see later on...
We started our walk at the Anguilla hotel CuisinArt Golf Resort & Spa. Park in their parking lot and look around. It is elegant, and right smack in the middle of the beach. We walked their gardens, admired their interesting style of villas, and the main lobby. They even have a hydroponics greenhouse.
After you finish exploring the main lobby, continue on through to the beach. Now, this is where we found the one problem!...
Which direction should we walk? Towards the East or towards the West? They both look so perfect! Oh well, flip a coin and let's start towards...
The East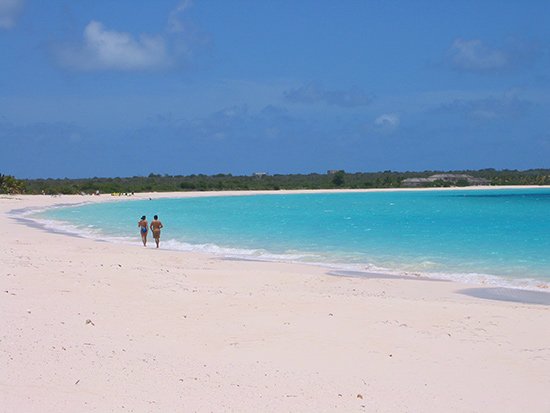 Before we set off on our walk, take a peek at the east side of Rendezvous Bay shot from the sky!...
Rendezvous Bay Hotel
The Eastern side of the beach is truly breathtaking, a perfect relaxing walk. And it also provides the best bit of history on any of the Anguilla beaches. One of the oldest hotels on Anguilla is located here, the Rendezvous Bay Hotel. This hotel has been owned by Jeremiah Gumbs since 1962.
Photo from Rendezvous Bay Hotel

As one of Anguilla's first hotels (and I think it was the first on an Anguilla beach) it's charming in a truly Anguillian way. My Dad explained to me that Mr. Gumbs was one of the revolutionaries who helped Anguilla obtain independent colony status in the late 1960's. You can stop in here if you like, to get a snack, or a meal (at their restaurant, The Place).
Update: Rendezvous Bay Hotel has re-opened as Rendezvous Bay Hotel.
In the mid-to-late early 2000s Jeremiah's offspring decidedly closed Rendezvous Bay Hotel. Hurricane Omar didn't do much to help the property following the hotel's closing. Since then (as of 2014), they have re-opened the beachfront part of the hotel. The rooms are back in quality condition, with those picture-perfect views.
The New Rendezvous Bay Hotel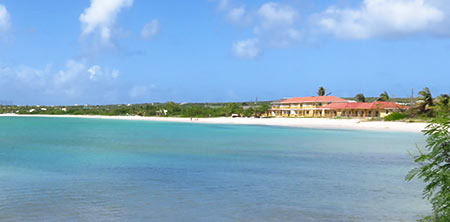 Their re-opening is great news as the beach is still as gorgeous as ever and former visitors to Rendezvous Bay Hotel adored it back in the day! Full review to come.
The Anguilla Great House
The other hotel on this side of the beach is The Anguilla Great House. Also an older hotel with character, it's warm and cozy. So, if you get hot and thirsty, you can see that there's no shortage of restaurants... or places for my dad to grab a rum punch on this side of the beach. Let's head back to the other side now...
The West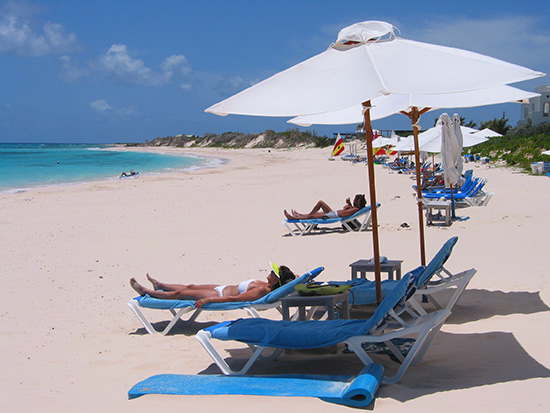 CuisinArt Golf Resort & Spa and Bankie Banx's Dune Preserve
This side is just as beautiful, but busier. The CuisinArt Golf Resort & Spa is gorgeous and right after that comes the Dune Preserve. There is not a cooler, weirder, funkier beach bar anywhere, let alone on any of the other Anguilla beaches!
Bankie Banx, The Dune Preserve

But it was frustrating, because we have only heard that the food is excellent. Maybe because it was August, it was always closed when we got there.
Even though we never got the chance to dine at this neatest of all of Anguilla beaches' bars, it's a "must do" for our next trip!
They serve ribs, chicken, lobster and more! But you don't go just for the mouth-watering food. You go for the music as well!
The owner is a famous reggae artist, and plays there some nights and weekends.
So.... which direction? Our family never had to make the tough decision. We just couldn't help it. Both sides are so special and inviting, that you can't miss either one! We didn't.
Here's another little clip of Rendezvous Bay, to make you feel right on the beach.