Extreme Anguilla Weather in October...
Hurricane Omar
Anguilla weather in October is characterized by heavy rainfall and...
It is one of the "high-risk" months of the hurricane season!
My family experienced this first hand in October 2008, when Hurricane Omar hit the island.
Sadly, I wasn't around to enjoy the tropical storm, howling winds, power outages and lack of water. I was studying in Montreal. What a trade off! ;-)
My Dad emailed the details of the storm after it hit on October 16th...
We have power!
Three days without electricity and running water in tropical heat is no picnic. We weren't badly hit though, don't worry, Nori. Where we are staying on the North shore was well-sheltered and protected from most of the storm.
Even so, look at Barnes Bay now...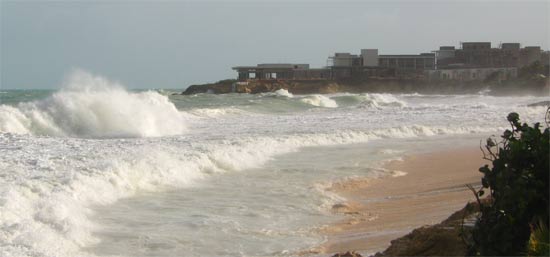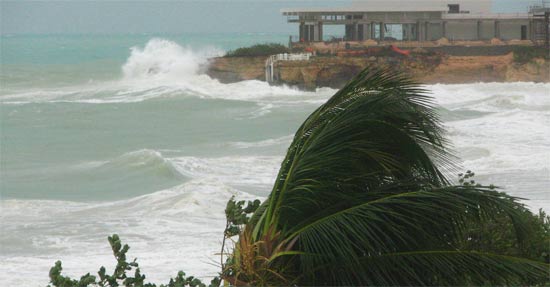 The hurricane's surge caused a lot of sand erosion, stripping it down to rock. Roughly 10 feet of sand is gone!
I learned a thing or two about hurricanes, let me tell you. There are three real types of damage...
Wind
Rain (floods)
Surge (when the wind pushes the ocean up, over and through)
Most of Hurricane Omar's damage was surge-related, causing a lot of destruction to the beaches. The wind and rain damage was mild (by hurricane standards). Hurricane Omar may have been classified by Anguilla weather experts as a Category 3, but the eye skimmed over Anguilla. It passed about 60 miles to the West of the island.
It was really the SouthWestern part of the island that was hit hard by surge...
Maunday's Bay, Cap Juluca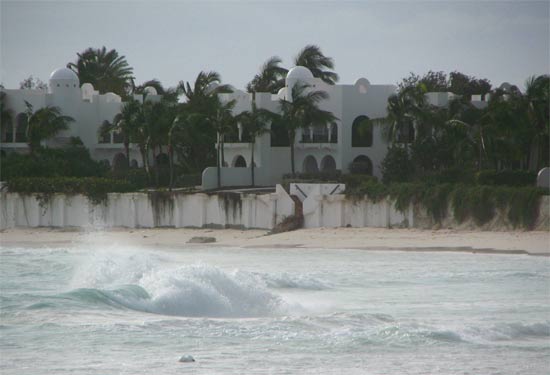 Shoal Bay West, Cove Castles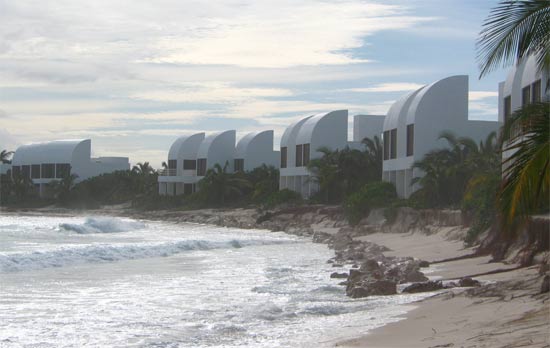 Rendezvous Bay, CuisinArt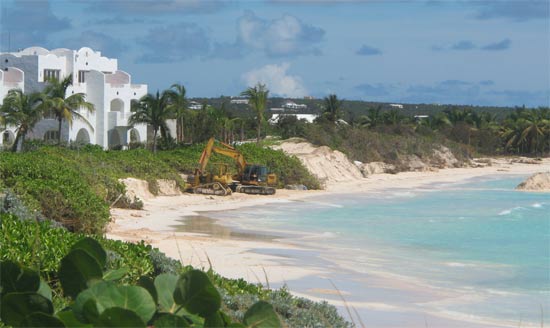 Can you believe it? Hurricane Omar hit them hard. We even spent an afternoon helping Alan Piazzi shovel Trattoria Tramonto in West End out from under two feet of sand throughout the interior and the kitchen.
The Dune was hit pretty bad, too. Bankie was still in good spirits though, "It's just nature, mon. The boat-bar washed ashore farther down the beach and we'll put all the pieces together in no time."
(Click here to see Bankie's renovations since this Anguilla weather storm.)
We weren't expecting a bad storm, so people didn't really board up or go into hurricane emergency mode. Sandy Ground seemed particularly safe, because it's naturally a quiet harbor. But they did get big surges. The storm came from the SouthWest (usually it comes from South-South-East). It was unusual and people weren't ready...
Sandy Ground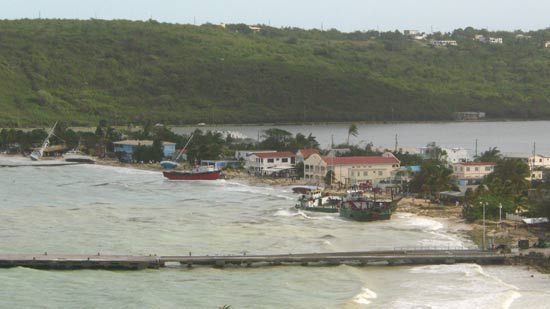 It's hard to believe with all of that damage parts of the island were left unscathed. Our home-in-progress is fine, don't worry about that either! The storm didn't reach us. At worst Long Pond overflowed and blocked access through one of the roads, but we were still able to get through.
All in all, there was about 6 hours of pure pounding, wind and noise. We slept through most of it, only waking up when the winds really started howling at 2 AM. The windows were vibrating and the doors were shaking, but nothing more than that.
Still, I was shocked to see how quickly the hurricane passed. The few days before the storm hit, the skies were grey and rainy. Omar finally hit around midnight and had passed by 8AM. By noon, the sun was shining.
The most exciting part of the storm?
The island had "no current" (as they say here), but that didn't stop everyone from coming together and working to get the island back in tip top shape. The power company was working around the clock, resorts were preparing for the coming tourist season, beach shacks were being nailed back together.
An amazing, focused, well-organized island, everyone worked so hard. A few more days and you won't even know we had a hurricane (of course, the major resorts have more work to do).
What an amazing effort!
It was an interesting experience, and although Hurricane Omar may have been a "mild" one, it was quite enough for me. I never thought I would say this, but you lucked out being in Montreal. ;-)