Anguilla Weather in October:
Rain, Rain, Rain
Although hurricane season begins June 1st, the "riskiest" time to be in Anguilla is during August, September and October (with the "peak of peaks" being the last weeks of August towards the end of September).
That is normally when hurricane warnings really loom.
My family had the pleasure of experiencing Hurricane Omar in October 2008...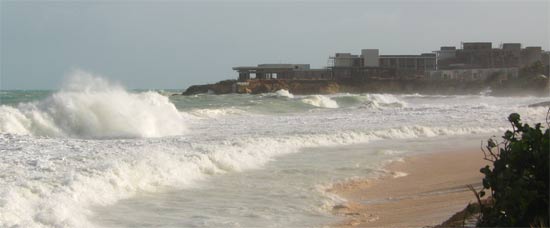 Barnes Bay, October
(I don't think Dad and I would take those waves on, hehe! ;-)
I wasn't there to share the pain of the hurricane with my family. Hurricane Omar didn't sound particularly dangerous, but very uncomfortable. Living in tropical weather without electricity and running water did not sound like fun.
If you're traveling to Anguilla in September and October take note of the hurricane warnings.
Unlike September, there is less heat and humidity, but it is the rainiest month of the year...
Average High in October: 87°F
Average Low in October: 77°F
Average Temp. in October: 82°F
Average Rain in October: 6"

Generally, though, it does not rain every day and the weather is clear and warm - unless a storm passes through.
Weather aside, October is one of the less exciting months in Anguilla, with most bars and restaurants still boarded up since hurricanes still have a chance of swooping in.
Typically, not many people travel to Anguilla in October. But, those who do are able to enjoy beaches all to themselves!
Anguilla travel tip: October is still a hot and sticky month. Leave any heavy clothing behind.
More on October Weather