Eating Fresh At
Anguilla CuisinArt Resort
Update 2023: Aurora Anguilla has re-built and reinstated the beloved hydroponic gardens. Update to come.
Not too long ago my family and I were basking in Anguilla's hot sun, swimming in Anguilla's crystal-clear turquoise seas and dining on some of the freshest foods in the Caribbean.
We were staying at Anguilla's CuisinArt Resort & Spa.
No matter where you go in Anguilla, you're guaranteed warm weather and the best beaches in the Caribbean.
And Anguilla does offer world-class restaurants, but, naturally, some are better than others. Some make the best pizzas, others specialize in crayfish and lobster.
Anguilla's CuisinArt Resort & Spa had a specialty too...
Fruits and Vegetables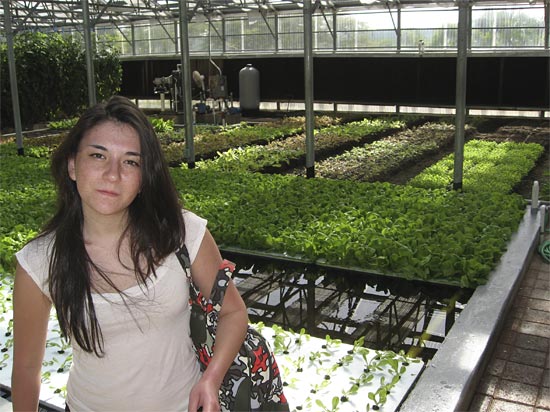 CuisinArt grows all of their fruits and vegetables in hydroponic farms and organic gardens, right on the resort grounds. So, your salad, your pizza toppings and your morning fruit are all grown fresh and organically seconds away from the kitchen.
The best part? Anguilla CuisinArt Resort & Spa, offers tours of the hydroponic farms, letting you in on the behind the scenes.
So we arranged to take a sneak peak inside these greenhouses and headed over to the hydroponic farm. The man who runs the entire operation met us and would soon be giving us a personal tour.
Meet Dr. Howard Resh

Dr. Howard Resh's interest in hydroponics goes back to the 1970s when he was a graduate student at the University of British Columbia in Canada. When he graduated, he taught at the university for three years, but left to pursue his interest in the commercial aspects of hydroponics.
He got involved in many international hydroponic projects in Canada, Saudi Arabia, Taiwan, Venezuala, United States, Tortola and Anguilla. He has designed outdoor and greenhouse hydroponic systems as well as developing new hydroponic concepts and systems.
That said, we were in good hands for the tour!
But my major question was, what really is hydroponics?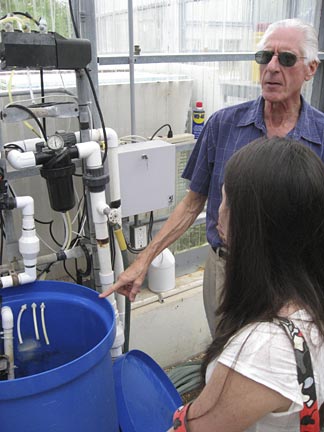 Hydroponics is a way of growing plants without soil. Instead, plants can grow in nutrient-rich liquid.
Plants grown hydroponically are usually healthier for you and taste better. Plus, you don't have to worry about messy soil and weeds.
Anguilla CuisinArt's hydroponic farms are inside a greenhouse. The greenhouse's temperature is strongly regulated, and kept as cool as possible since Anguilla is a hot, desert island... not ideal conditions for gardening.
There are many different hydroponic systems available, but all of them need pumps and water to get the processed, nutrient filled liquids to the rows of plants sitting in pods.
The greenhouse aroma hit our noses upon opening the door, the humidity surrounded us instantly, and the tour began.
Dr. Howard Resh led us through a jungle of lush plants, first demonstrating how the plants grow in water...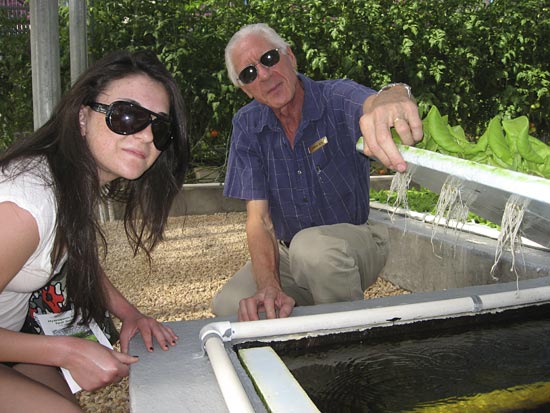 A plant is placed in a "pod", next to another plant in its "pod", next to another and another. All of these "pods" are on a tray, which is placed over a pool of nutrient-rich water. The plants' roots are immersed in this water, and, ta-da, grow!
Obviouly though, it's not that simple and different plants and conditions require different procedures.
Next up we took a look at some of the fruits and vegetables Dr. Howard Rush grows, and even sampled some too!
Red Peppers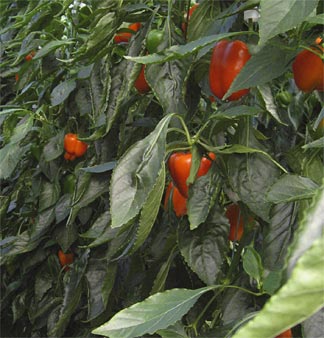 Way Up High...
Cucumbers

Tomatoes

Yum!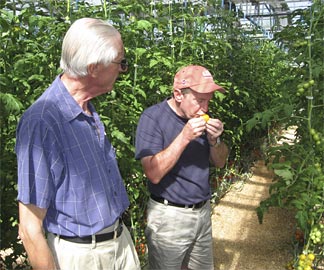 Now those are fresh vegetables!
We were on our way to look at the baby plants and see how the process begins, when I noticed cardboard padding along the sides of the greenhouse walls.
Water was slowly trickling down through the cardboard cracks and holes. What was this? Dr. Howard Resh explained with ease. It was a cooling system to prevent the greenhouse from overheating!
We got back on track and went over to the nursery.
Seedlings & Starting The Process

The plants' growth is documented and noted while they are in the trays until they get big enough to be relocated to the trays and pods we saw earlier.
The tour was just about over and we were getting ready to say our "thank yous" and "good-byes" when something strange caught my eye.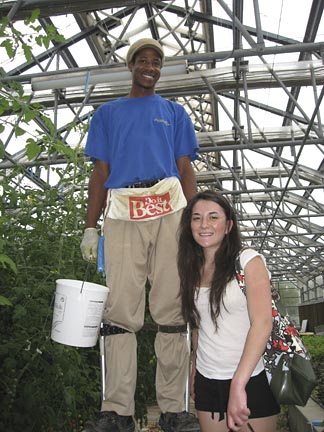 Yep, a man on a pair of refined stilts. And he certainly knew how to move around on them! Why the fancy footwear? It's the only way he can care for the plants that grow up to the tops of the greenhouse.
After that last, interesting discovery, it was time to say good-bye.
We thanked Dr. Howard Resh profusely for the in depth, personal tour.
Anguilla CuisinArt Resort & Spa's tour of the hydroponic farms is certainly not to be missed.
I'm not the only one who thinks so - Steven Tyler from Aerosmith took it too!