Garvey's Sunshine Shack...
A Popular, Sandy Anguilla Beach Bar
Right on Rendezvous Bay
Garvey's Sunshine Shack At A Glance
By: Kristin Bourne
Toes in the sand, gazing out to Rendezvous Bay and St. Martin in the distance, fresh BBQ on the grill, cool drink in hand...
Garvey's Sunshine Shack is the spot for all of that, and then some! Popular with visitors and locals alike, Garvey is known for his cocktails, good music and sunshine-y vibes.
More on Garvey's Sunshine Shack, below...
As the sun beats down on Rendezvous Bay beach, sunshine beams from Garvey and his Sunshine Shack, too!
The Sunshine Shack, locally referred to as "Garvey's", is co-owned and operated by a man who brightens everyone's day with his smile.
Garvey is welcoming and sweet-talking. He is chipper, he even sings while he works!
The man himself... Garvey serving up a couple of ribs plates for lunch.
Note: Those are dinner-size plates! (Garvey is not tiny ;-))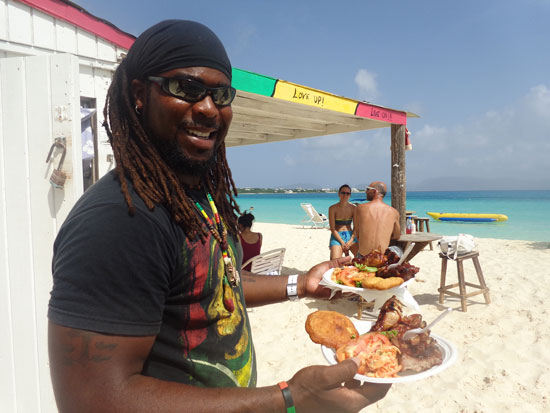 So, what exactly is the Sunshine Shack?
"Inside" The Sunshine Shack
Small, wooden, painted white, and decorated with local scenes and accented with reds, greens, and golds, the Sunshine Shack is a cute, humble watering hole.
Opened in 2008, it sits on the sugary sand of one of Anguilla's most glorious beaches, Rendezvous Bay. If you'd like, you can "take a walk" down Rendezvous Bay, here.
Rustic stools, chairs, and tables are under and surrounding the covered bar area. Beach chairs and umbrellas are available for rent if you want to spend the afternoon and lounge.
At the Sunshine Shack you can refresh yourself with ice cold beers and cocktails or refuel with lunch or dinner from the BBQ.
It is an ideal spot for an afternoon, loved and frequented by many visitors to Anguilla.
Garvey even offers lots of water sports, from banana boat, to water skiing to tubing. A boat picks you up right on the beach and takes you for a ride! Snorkeling is also available.
Ahhh... the view from the Sunshine Shack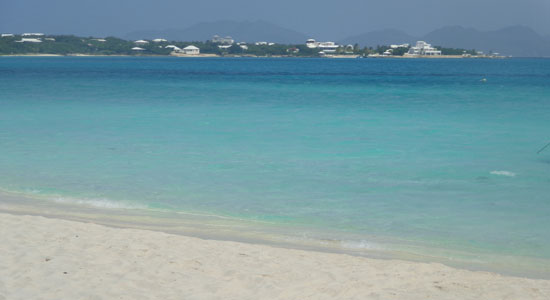 I have been to The Sunshine Shack several times. The very first time, my mom suggested we check it out since neither of us had ever been.
We were warmly greeted and sat and enjoyed two of the most delicious frozen drinks we've ever had!
We taste-tested each other's to see how they compared since both of us ooh'd when we tasted our own.
Both were perfect!
My mom loved the Banana Bailey's Colada (aka the BBC) and I loved the Island's Cream Dream.
Garvey ready to hand me my favorite... the Island's Cream Dream. YUM!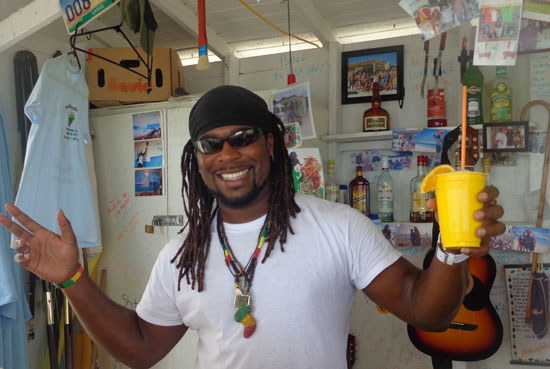 Garvey serenades :-)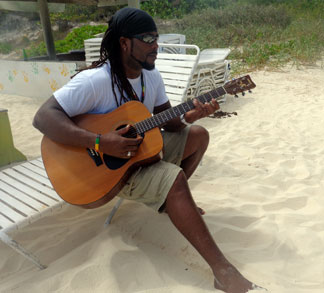 Soon after Garvey handed my mom and I our drinks, he grabbed his guitar and serenaded his guests.
The crowd at The Sunshine Shack varies...
Sometimes you'll find it has different groups of tourists from all over the world.
Locals frequent Garvey's spot, too. Elvis himself has been spotted at Garvey's on his day off.
No, not that Elvis... the Elvis from Elvis' Beach Bar on Sandy Ground. ;-)
I've met nice couples from Europe to the United States there. Other days it may just be you and Garvey. He makes everyone feel welcomed and at home.
Eating
Food prices vary depending on whether you're coming for dinner or lunch, and depending on what you order.
Fresh snapper lunch!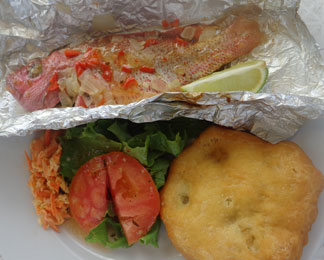 For example, a chicken entree at lunch is $11 US and broiled snapper at dinner can cost you $25 US.
All other lunch and dinner entrees fall somewhere in between.
The menu includes such items as BBQ ribs, BBQ chicken, and broiled snapper.
Sides include some nice local options like johnny cakes, cole slaw, and rice and beans.
I also noticed Garvey throw a side salad on a lunch plate.
Ribs and Chicken right off of the BBQ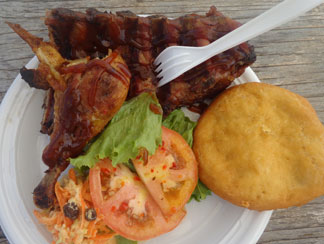 Watching Garvey prepare the food on the BBQ right there sure gets the stomach rumbling.
Drinking
Garvey's beers are $5 US and mixed drinks range from $3 to $10 US.
Water Sports
If you are looking for some action, here's a rough idea of the price of some activities: Banana boat rides and tubing runs about a US dollar per minute for a 20 minute ride, per person.
Skiing is by the hour and is a little more expensive, more like $150 US and up but it's for a full hour.
Looking out from the Sunshine Shack on a quiet day...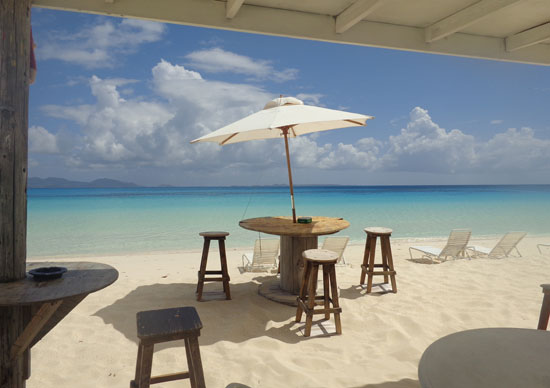 The Best Part About The Sunshine Shack?
Garvey's colorful bar,
decorated with personal pictures from visitors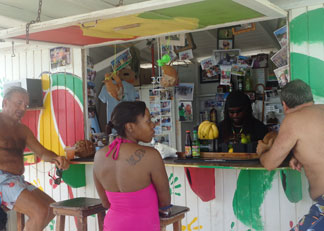 ... it can be anything you want it to be!
If you want to do nothing at all but relax and listen to music and the sound of the sea, you can.
If you want to be active and go skiing, you can.
If you want to split the difference and maybe just be slightly active with a game of dominoes or cornhole... it's there for you at the Sunshine Shack.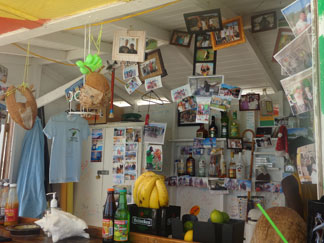 Another bonus?
Somewhat regularly, a spontaneous musical jam session ensues.
After all, Garvey is a musician and if any visitors feel inclined to pick up a guitar and jam... it's encouraged.
People come to the Sunshine Shack for many reasons.
What draws me in? The location. It's hard to top its spot, right in the soft sand of one of Anguilla's best big beaches!
More on The Sunshine Shack
Directions, Hours & Contact
Directions: The Sunshine Shack can be found almost exactly in between The Anguilla Great House and CuisinArt Golf Resort and Spa on Rendezvous Bay.
View of Sunshine Shack as you approach from The Anguilla Great House


If you are staying at either of those hotels, you can easily walk. Sunshine Shack is between Anguilla Great House and CuisinArt.
If you are driving from elsewhere on the island, drive as though you are going to The Anguilla Great House. Turn off the main road and follow the stretch of road that goes past the salt pond. Take the right at Anguilla Great House's sign and follow the road that goes past the hotel (do not turn left into Anguilla Great House). About 50 yards later you will see a white villa on the right and a left turn. Take that turn. You're at Garvey's!
Sunshine Shack
Good for laid-back beach afternoons of music, good food and cold drinks, all with your toes in the sand, overlooking St. Martin.
Hours: Daily for lunch and drinks. Closed Tuesday.
Tel: 264-476-0649