Come for the Beach & Stay in a Renewed Jewel...
Rendezvous Bay Hotel
Rendezvous Bay Hotel & Villas At A Glance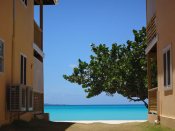 Oh, that Rendezvous blue!
When it comes to location, price, cleanliness and convenience, it is hard to beat Rendezvous Bay Hotel & Villas.
Spacious rooms on the beach, with units that come complete with a kitchenette, Rendezous Bay Hotel & Villas has long been a go-to choice for beach lovers looking for the conveniences of home right on Rendezvous Bay.
More on Rendezvous Bay Hotel & Villas, below...
By: Kristin Bourne
There are many great options for accommodations on the special island of Anguilla.
There is something for everyone…
From the economical, central and hospitable Lloyd's Bed and Breakfast to the moderate, full efficiency and beautifully located space at Carimar. Upwards to luxury accommodations you can opt for luxurious and private villas like Tequila Sunrise Villa or stay in a immaculate, high end resort complete with beach service like at CuisinArt Golf Resort & Spa and Cap Juluca.
The view from Rendezvous Bay Hotel in Anguilla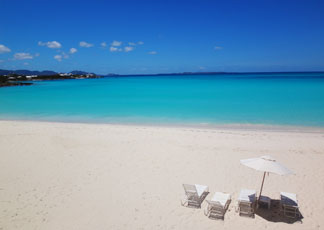 If you fall somewhere in the middle, don't mind serving yourself on the beach and are truly coming to Anguilla for the beach (which tends to be all yours in Anguilla) - the newly renovated Rendezvous Bay Hotel should be considered.
Upon arrival to Anguilla for my first time, I stayed in an upper, standard room at Rendezvous Bay Hotel.
Much has changed since then but one thing has not - the beach it sits on. Words can't express how incredible this stretch of beach is.
The Beach at Rendezvous Bay Hotel
I've traveled Anguilla from end to end, side to side, many times and there are so many incredible vistas and sheerly perfect beaches. The stretch of sand and the eastern end of Rendezvous Bay, where Rendezvous Bay Hotel sits is my personal favorite by a landslide.
Rendezvous Bay in Anguilla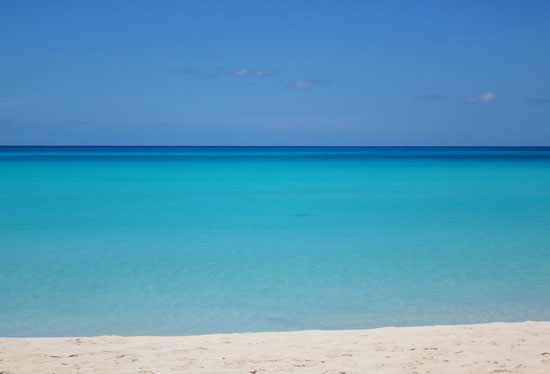 As people do, you can get attached to "first time" things and places. Everyone has their favorites for their own reasons. Here are just a few reasons why Rendezvous Bay Hotel's beach location is a standout:
the sand feels like cool, powdered sugar under your feet
the sea is almost always calm like a pool
the water is crystal clear and when the sun hits it just right, it glows fluorescent turquoise blue
it overlooks some open water as well as the majestic St. Martin mountains - best of both worlds
it's quiet
... and it feels like it's your beach
you can hear the sound of the gentle surf from your room
it rests on a strip of historic land between a lovely, bird sanctuary of a salt pond and the Caribbean Sea
it's close to the bay's end where you can walk along the rocks and look for shells
the other people on this end of the beach are typically low-maintenance types who appreciate this natural beauty
the sun rises to the left and lights the bay the morning up with lavenders and pinks, moving over the bay during the day (allowing for an even tan if you spend the day on the beach) and it sets to the right, and as the founder and local hero always said "it will heal your soul"
it's walkable to The Place, The Anguilla Great House, The Sunshine Shack, CuisinArt and last but not least, The famous Dune Preserve.
The Grounds
The beach speaks for itself, but what about the property?
It has evolved over the years. Rendezvous Bay Hotel was one of Anguilla's earliest tourist accommodations thanks to the foresight of the original owners, Jeremiah and Lydia Gumbs, and their love of that particular stretch of land and beach.
The beach villas open today are the newest buildings, built in the 80's and refurbished in 2014 and 2015.
Rendezvous Bay Hotel Beach Villas...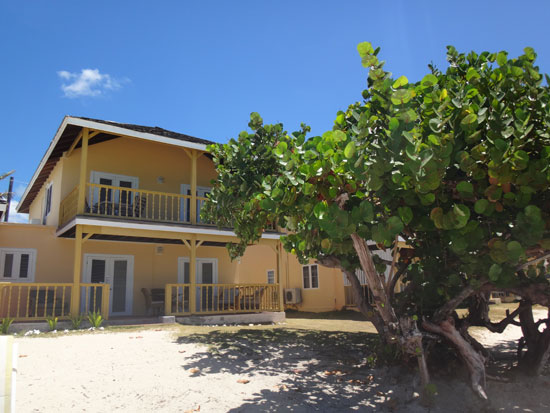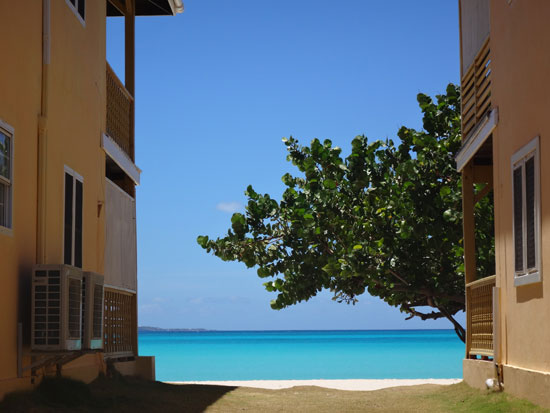 They sit on Rendezvous Bay, meaning, if you rent a lower level room, you walk off of your covered porch and directly on to the sand of Rendezvous Bay. I find this a priceless perk.
First level beach entry from porch

Equally priceless is the elevated view from the second level rooms. My first Rendezvous Bay Hotel stay was in a second level room.
Second level porch view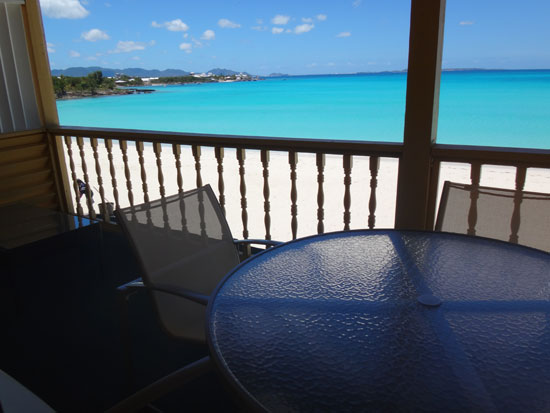 Both the lower and upper level rooms offer equal rewards. (Note: The second level rooms require climbing one flight of tiled stairs which are interior (covered) and well-lit.)
The refurbished beach villas are furnished with dark wooden furniture, a chic contrast to the former white wicker style.
The second level rooms reveal pitched roof ceilings and all rooms have ceiling fans and air conditioning units.
Second level king room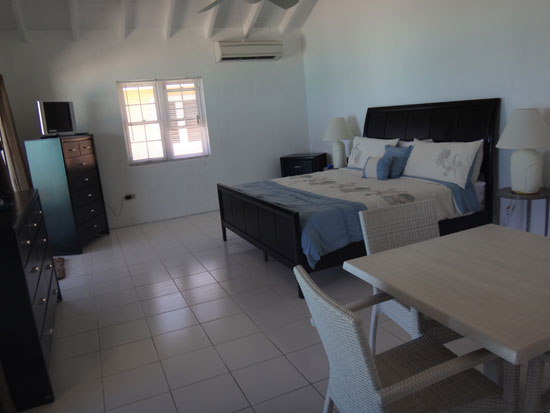 Second level 2 doubles room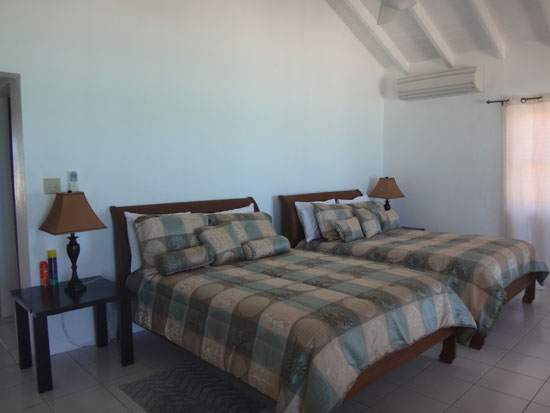 Each room has a bathroom with shower and separate vanity area and covered porches with plenty of seating and lounging options.
Bathroom and...

... separate vanity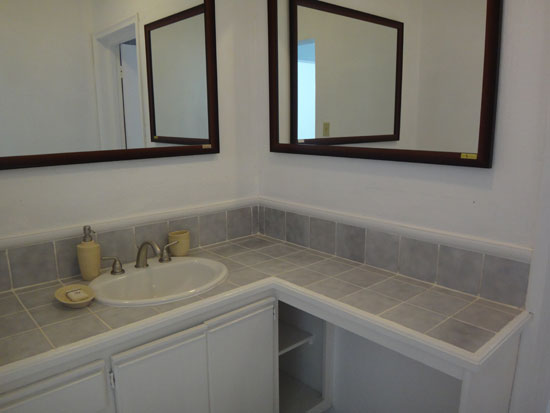 The Perks
Amenities include high speed internet, satellite TV, coffee/tea makers, refrigerators and bottled water, air conditioning, hairdryers, clock radios, and parking.
Rendezvous Bay Hotel touches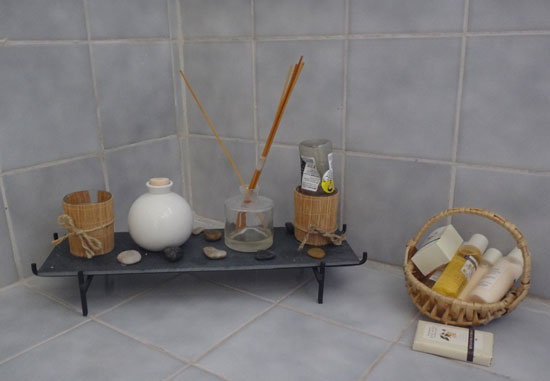 Regular room amenities
(appliances vary from room to room)

One of the Rendezvous Bay Hotel kitchen units
(they vary in look and design from room to room)

Concierge services are in place should you request the need for such things as spa service or limo/car service.
One other perk work mentioning… I spent a lot of time on the porch due to the view along with the fact it's completely sheltered, comfortable and spacious. While that is a nice option, going inside for a moment doesn't keep you from that amazing view! The rooms wisely have double doors. They open to a postcard view of Rendezvous Bay and beyond, not depriving you of that rewarding scene even for a second while inside.
Other Notable Details
Signs at The Place and Rendezvous Bay Hotel gate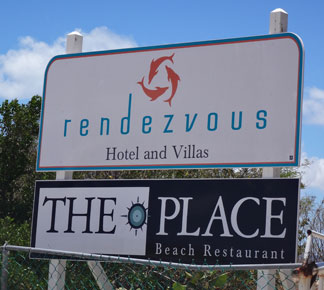 Rendezvous Bay Hotel's updated entrance is along the road that leads to The Anguilla Great House in South Hill.
The road is gated and leads only to Rendezvous Bay Hotel's official restaurant, The Place and to the Rendezvous Bay Hotel's beach villas.
The rest of the property is off limits to through traffic. This creates an even more quiet nook in the eastern end of Rendezvous Bay.
Guests are given a key to the gate which locks after The Place closes and helps keep out any cars that aren't guests of Rendezvous Bay Hotel.
This way to "The Place"

The Place

Nice, spacious rooms with incredible views. Direct beach access. Quiet, private and complete with breakfast on the beach. That's the renewed Rendezvous Bay Hotel!