Beach Villa Ella Anguilla Villas...
Our First Stay in Anguilla
Anguilla Villas are likely the best vacation bargain in the Caribbean. But not too many people know about them... or know how to get about finding the best villa for their needs, in the best spot, at the best price.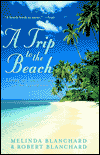 As I've mentioned elsewhere, we certainly never even heard of Anguilla before reading the Blanchards' book...
A Trip to the Beach.
One of those fantastic "getting out of the rat race" books. (Because, as my Dad says... "even if you win the 'rat race,' you're still a rat.")
Anyway, I'm off-track.
My Dad mentioned Anguilla to a friend of his, Mr. Doug Burdon. He told him that he had just read this great book, A Trip to the Beach, and was thinking of visiting Anguilla.
Mr. Burdon told him he had a house there! Dad, who had no idea where Anguilla even was until he read that book, thought he was joking!
Mr. Burdon wasn't planning on going down for a while and we were welcome to spend Spring Break 2002 (early March in Canada) at his new Anguilla villa!
"Villa?" Like in the movies? Wow!
I'm sure we would have stayed in a hotel, which are indeed luxurious. They are also very reliable. And when you're new to a place, the last thing you would need is a problem trying to rent Anguilla villas, right?
So we were lucky. We started off easy... on the right foot. If we were just starting now, and if I were reading this site (assuming it was written by someone else, of course), I'd simply contact Jackie Pascher and let her find me my perfect spot in the sun.
No, Mr. Burdon was not joking....
Let me show you our Anguillian "home away from home," starting from the outside and going in. First, here are two views of the ocean, from the villa porch...
Mom, Yuki and me in Barnes Bay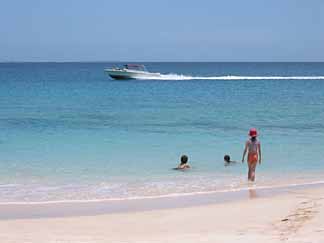 Mom watching the August boat races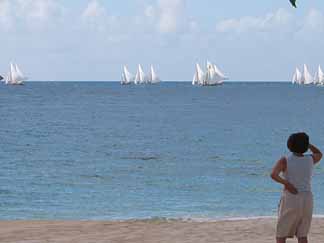 Next, here are two pics of the beach, looking to the right (east) and to the left (west)
Barnes Bay Beach to the East

Barnes Bay Beach to the West

OK, continuing the "Anguilla Villa Tour," here are two photographs of the house...
Yuki ("queen of Sheeba") in front of house
(Robert De Niro and Robin Williams
stayed in the Anguilla villas on either side later!)

Mom, Yuki and me in front of house

Continuing up and onto the porch, here's mom relaxing...
Mom at end of porch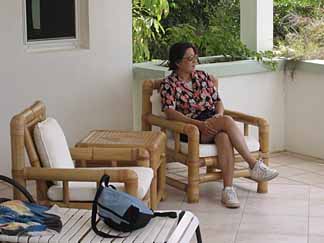 And now I'll take you inside. I'll let Dad's "Anguilla photos" do the talking...
Kitchen, and dining table

Mom, Yuki and me watching TV

Big bedroom, queen bed rumpled...
(Can you tell I was working on this
Web site when Dad took the photo?)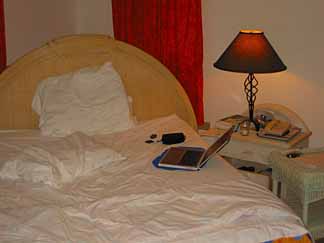 Second bedroom, twin beds

Third bedroom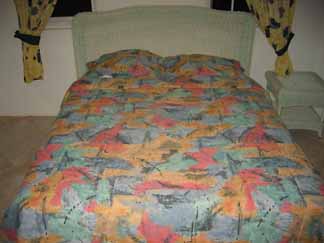 And that's it. That's where, why and how we stay in Anguilla villas... you simply can't ignore the value of Anguilla villas. And the experience is far more rewarding.