The Man Behind "THE" Beach Bar...
Elvis Fleming
By: Kristin Bourne
When I visited Anguilla for the first time in 2005, I travelled alone, stayed a week and only ventured away from Rendezvous Bay Hotel one day - a Wednesday.
I had planned to visit the popular Scilly Cay and The Dune Preserve ("The Dune") for live music. The nice couple I had met on my flight and I had discussed these as good options to reconnect mid-week. We were all fans of live music. Anguilla is a fantastic destination for live music too!
On Wednesday they picked me up in their rental car and we went to Scilly Cay for the afternoon. It was incredible, of course. I was also happy to catch a glimpse of some of the island from the car as we travelled from west to east and back.
That night, I called a taxi and picked my new acquaintances up from their hotel, CuisinArt, and we went to The Dune to see Bankie Banx and take in some live music.
Meeting Elvis Fleming
The timing of our visit was the last week of August. If you've been to Anguilla at different times of the year, you know that late August is a very quiet time on the island. Little did I know that time of the year would end up being my favorite - the off season. It also naturally exposes you more to locals in social settings.
Elvis and I at his beach bar, 2014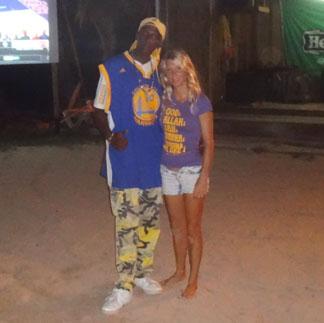 Since our timing was such, we were the only people to show up to The Dune that night of August 24th except for the man himself, Bankie, a close friend of his, one female hostess and our joy of the evening, a man named Elvis.
At that time, Elvis was helping manage Bankie's Dune Preserve. That night he served as our bartender, introduced us to Bankie, sold us a Bankie CD and he even served as an entertainer when got up on stage to sing for us.
He also absolutely made our night.
Fast forward 10+ years and Elvis is still a shining light, he's just way more well-known now. He's still the same outstanding soul that I met a decade earlier. I gather he's been that way his whole life.
Elvis' Strong Foundation
Elvis, nicknamed "Ella" back in high school, was born March 13, 1964. He's the second of five siblings and his biggest influence in his life was his grandmother, Albina (pronounced Al-By-Na) "Bina" Gumbs.
Elvis will tell you that she "loved him best" and was also his strictest disciplinarian. She lived a long life and not too long before she passed you could find her at Elvis' current business, a beach bar in Sandy Ground called Elvis' Beach Bar. She sat quietly and enjoyed the scene, especially in the late afternoon/early evening.
Elvis with his Granny, Albina "Bina" Gumbs

Her dear friend and another person that has always had a positive presence in Elvis' life is Ralph. Ralph, in his early 90's, still supports Elvis and can be seen around sunset time at a picnic table in the sand at Elvis' Beach Bar.
He also sits quietly with a Guinness and speaks respectfully if spoken too. Before Bina passed you'd see them together which was quite a stunning visual as an unequivocal support system for Elvis.
Elvis and Ralph
(taken December 6, 2014)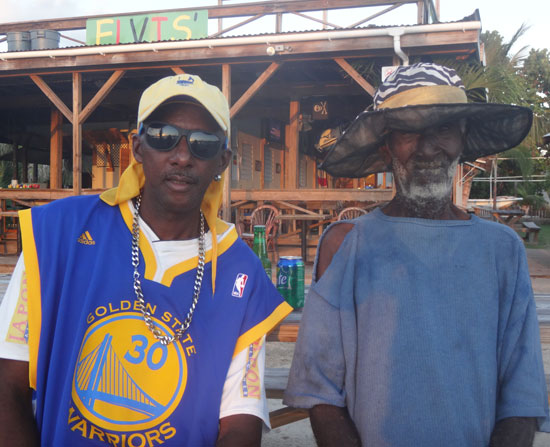 Elvis' youthful years growing up under Bina's care in South Hill, he says were the best days. You can hear it in his voice and see it in his eyes when he speaks of it…
Living back then, with no current (aka electricity) and "smoking the house" in the evening to get rid of mosquitoes, using hurricane lanterns for light, cooking a whole pig over coals or chopped wood, baking bread in a rock oven and relying on the neighbors as an extension of family for help are warm memories.
He said, back then, everyone was happy whether they had money or not.
He and his granny would start each day with bush tea (local bush leaves such as vervine aka "worry wine", soursop and basil mint). For eating, they'd cook a yard fowl with provisions right from their own garden for dinners. The yard fowl would be seasoned and then steamed in a pot with onion, garlic, peppers and a little brown sugar. Provisions would be added and the pot would cook over coals.
Elvis on his day off with his
puppy, "Priscilla" on Rendezvous Bay

That pure living is something Elvis attributes his good health and his energy to.
He is up late and up early and requires way less sleep than most people I know. You won't catch him with what he calls, "junk". He doesn't do drugs. He eats fruit and seafood mostly. Green vegetables are important to him and he drinks plenty of water. If he drinks alcohol he usally keeps it light with a beer or a shot of Bailey's. His food weakness is vanilla ice cream.
In the early morning you'll find him walking his dog. He also loves to go to the beach with Rendezvous Bay being his favorite.
Forget about sleep and caffeine. It's as if Elvis runs on healthy food and happiness.
His energetic ways were apparent early on. When Elvis was old enough to work for someone, he did.
Elvis' Career in Hospitality Begins
His first job was a bellman at the former Mariner's hotel in Sandy Ground. The remnants of that once high-end establishment are still standing on the southern end of Sandy Ground.
Elvis walked the hill (just below the flagship Irie Life shop in South Hill) every day to get to and from work.
He liked his job as bellman but soon was being trained as a bartender by a head of Mariner's - Oliver. Oliver must have noticed a natural talent that was waiting to be ignited…
Elvis created his famous rum punch there at Mariner's and it was so popular, he has made it the same way, wherever he's been, ever since.
His gift seems to run in the family, as his daughter Tamara is a good bartender too but she chose a path that would allow her to work in a lab at the hospital which Elvis seems to be proud of.
Elvis had learned at Mariner's that he loved serving people, interacting with them and making them happy.
He has been consistently working in the service industry and bartending since his first job at Mariner's. Over the years he's served customers at Malliouhana, Mango's Restaurant , Cap Juluca, The Anguilla Great House and The Dune Preserve - all in Anguilla.
This is one of Elvis' personal favorites...
taken during his days at The Anguilla Great House

Elvis during his service time in Florida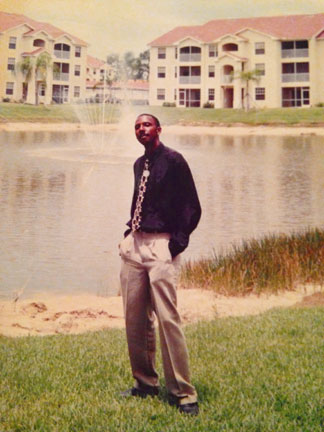 While he was at Mariner's he was sent for training at Masara at Katouche Bay, where he passed his skills test. For additional training he traveled to Antigua, Trinidad and Barbados.
Anguilla suffered the detrimental Hurricane Lenny in 1999 and afterward Elvis' Cap Juluca job was temporarily relocated to Naples, FL. He worked in Naples for about 6 months, until Cap Juluca recovered and completed finishing re-opening touches.
Elvis isn't only well-recieved in Anguilla though. Only after a couple of weeks to arriving to Naples and working as a bartender, he found himself on the cover of a local magazine! The clientele had found out quickly that they had a charismatic and talented bartender on their hands and word spread and led to a feature for the magazine.
After returning to Anguilla, he stayed on a bit longer at Cap Juluca and then went back to his favorite beach to work at The Anguilla Great House and The Dune once more.
Those were the last employers of the popular bartender until he decided to open his own bar,Elvis Beach Bar.
Oldie but goodie: Elvis on the mic at The Pumphouse

If I recall correctly, Elvis Beach Bar was an instant hit.
Elvis behind the bar at Elvis' Beach Bar

For those who hadn't already crossed the path of Elvis, he was in certain spotlight once his own bar opened.
Visiting his bar is a memorable experience and the setting is at Elvis' favorite terrain, the beach. The bar bears his name and of course, he backs it up with his service, his humbleness, hard work and hospitality.
Leading up to starting his own beach bar, at each place of employment prior, even if he hadn't been hired to be behind the bar that's the position that he ended up with strove to make himself the #1. He loved it behind the bar and his employers also loved him behind the bar because their guests did.
Now it's easier to find this sweet man, just go to Elvis' Beach Bar! He's there every day the bar is open and comes in just before sunset (at 5pm) most of the time.
Even though he puts in plenty of hours at Elvis' Beach Bar, Elvis still seems to be lots of places. Remember that energy I mentioned? He doesn't waste it. You'll find him at various spots around the island even when most of us might be choosing to rest.
Another interesting factor about Elvis is that he gets around easily and has never driven. While it's easier to do in Anguilla than some places, it is a preference of Elvis. Remember, he's no lazy man. He has many people stopping to offer him a ride and so he catches lifts and seems to get from point A to point B more smoothly than some.
He's also easy to spot… tall, dark and handsome firstly and secondly, he's almost always in some sort of sports jersey.
Elvis arrives to Sandy Ground in the early morning October 14, 2014
to assess the damage brought the prior evening by Hurricane Gonzalo

Elvis loves his sports team jerseys, hats and paraphernalia. He said he bought himself his first jersey and he's blessed that his clients have given him much of what he has accumulated over the years.
Elvis follows an Anguilla boatrace
from his home, 2012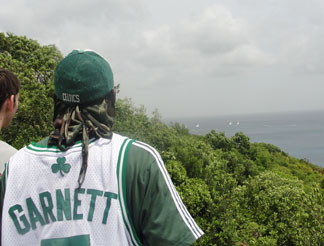 Knowing he's a Boston Celtics fan, I asked him if he wears any and all sports jerseys. He said, the Celtics are his favorite but he does wear almost any team and any sport with his favorite sports being basketball and cricket. That might make him one of the most easy going sports fans of all time.
Simple joys, the company of nice people and making others happy by giving them good service is what makes Elvis feel good.
He treats everyone the same and I think that's a spectacular quality. This may be why many celebrities to the island of Anguilla feel comfortable at Elvis' bar. He likes to make everyone feel special.
I asked Elvis how long he thinks he'll work. Without hesitation he said, "Another 10 years and then we'll see what happens". It's hard to imagine this ball of energy as a retiree, but we'll see what happens. Thanks Elvis!