Lunch, Steps From the Sand, at
Mango's Seaside Grill
Food, ambience, service, location are the four major criteria for ranking restaurants. As we've seen from dinner at Mango's Seaside Grill, Mango's ranks highly for all four. In the daylight of lunch, its perfect location is especially charming.
Mango's "Seaside Grill" sits right at the sea's edge, the restaurant's wooden deck just slightly elevated from the beach's sandy shores. You are quite literally "on the beach" with the elegance of not having to trudge through the sand to get to your table.
While it is a wonderful dinner setting, we had always thought that Mango's would be a sensational spot for lunch.
So, when my Mom saw Mango's lunch menu advertised, she quickly emailed me.
Lunch at Mango's immediately went to the top of my "Next Time in Anguilla" list!
On our next visit home, and on a cloudless Anguilla afternoon, we drove out to Barnes Bay...
Picture-Perfect Lunch Setting

Mango's serves lunch from 12-2pm every day of the week, except Tuesdays.
We arrived closer to 2pm, avoiding the lunch rush.
Beach chairs at the ready, Barnes Bay surf just a few yards from the deck, and a wide and varied menu... This was the setting I had been anticipating since receiving my Mom's email back in cold NYC!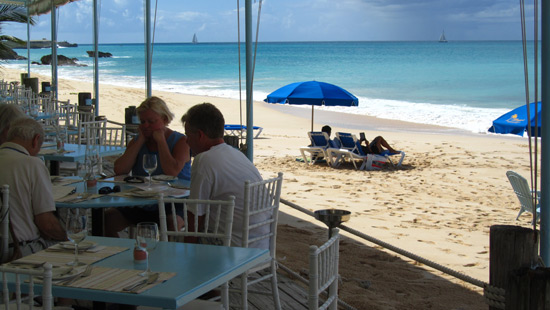 Our kind and attentive waiter (Mango's always gets service just right!) led us to the table of our choice, a seaside table in the western corner.
Mango's For Lunch
Barnes Bay is a special beach for our family. It was home to us on our first vacation to Anguilla, and we later lived there while we were building our Anguilla house.
It took us back, feeling like old times. And, as we always do at Mango's, we felt at ease, right at home.
Gazing out at Viceroy Anguilla, the view had changed slightly. Still, the setting was serene and peaceful...
The restaurant's owner, Dave Coburn, and long time head chef at Mango's, is almost always around for lunch, and personally checks in on each table.
His genuine warm and friendly personality shines through as he welcomes you. He and his wife have a pure passion for Anguilla, having lived on the island since the '80s. It is always a pleasure to see them.
With Dave in the Kitchen!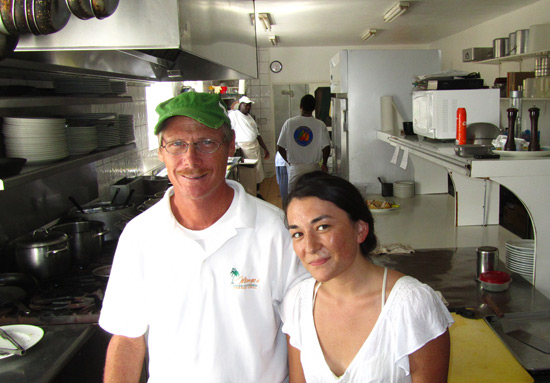 Mango's Lunch Menu
Mango's lunch menu offers something for everyone.
Soups: Black Bean soup, etc. ($12)
Sandwiches: roast turkey breast, herb-crusted roast beef, fish sandwich, etc. ($12-24)
Salads: warm Seafood salad, a Chef's salad, Caesar with chicken/snapper/shrimp, etc. ($14-30)
Pizzas: cheese trio (mozzarella, romano, monterey jack), rasta (onions, sweet peppers, mushrooms, sun-dried tomatoes, calamata olives, feta cheese), seafood (lobster, shrimp, snapper), etc. ($14-20)
Desserts: banana split, warm chocolate cake, apple tart, etc. ($10-15)
We scanned the menu while enjoying our cool drinks (Mango's serves one of my Dad's favorite rum punches!), and fresh-from-the-oven rolls.
The Lunch
The menu boasts real roast turkey and real roast beef sandwiches, my Mom and Dad's choices for the afternoon. Yuki and I opted for some lighter lunch fare, and went with the Chef's and Caesar salad with grilled shrimp.
Roast Turkey and Roast Beef Sandwiches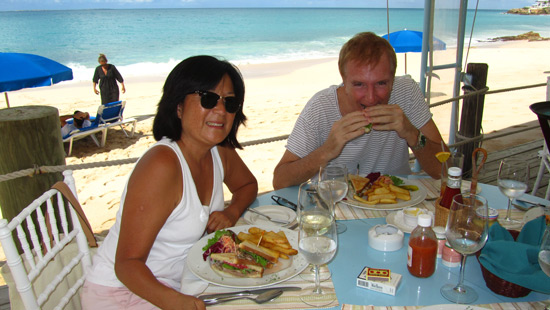 The sandwiches were served on your choice of Rye, 12 grain, Pumpernickel or Sougherdough Deli Style bread. They are also served with French Fries and Cole Slaw.
The roast turkey is seasoned to perfection, and the roast beef is herb-crusted, served with a peppercorn mayonnaise. I stole a bite of my Mom's roast beef sandwich and thick-cut steak fries. That is what I am getting next time!
Salads and Sandwiches at Mango's for Lunch

The Chef's salad came with large strips of turkey, ham and Swiss cheese, served on a fresh bed of salad. Yuki's Caesar was light and refreshing.
As we finished the last bites of our meals and sips of drinks, we didn't want lunch to end.
The afternoon had been quiet and laid-back, no one rushing you in or out. Not more than a few other couples on the beach.
Couldn't this peaceful afternoon continue?
And then we remembered... We can't miss Mango's dessert!
Warm Apple Tart for Dessert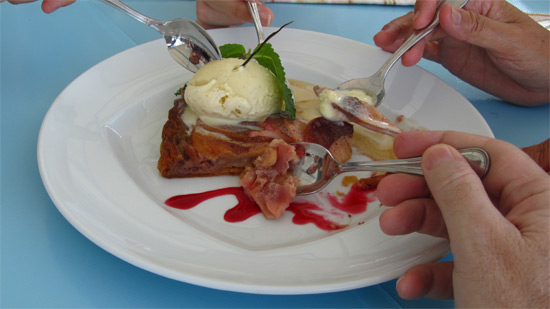 Served with homemade vanilla bean ice cream and apple caramel sauce, with four spoons it was gone in a hurry.
We lingered a while longer and enjoyed the sounds and sight of Barnes Bay, sparkling in the sun. It was an idyllic afternoon.
Perfectly situated on Barnes Bay, Mango's Seaside Grill is a wonderful lunch choice for a calm and private beach afternoon of tasty favorites and drinks, and good company with the waiters, bartender, and Dave himself.
And don't forget you can work off your after lunch sleepiness with a nice snooze on one of Mango's beach chairs!
All in all, a great spot for lunch-and-beach afternoon.
Mango's is open for lunch Wednesday-Saturday.