Mango's Seaside Grill,
Anguilla Restaurant At The
Sea's Edge on Barnes Bay...
A Dad's Favorite
Mango's At A Glance
Mango's is loved by many for the way it blends a casual, laidback beach vibe with a high-end feeling.
My favorite aspect to Mango's is certainly the setting. It is one of the best on the island. Right on a wooden deck on the beach, some nights you swear you could reach out and touch the lit-up waves.
More on Mango's, below...
Yuki and I used to go to school in New York City 8 months per year. The other 4 months we would spend at home with Mom and Dad in Anguilla, over Christmas and in the Summer. It took a while to realize that while we are our away, our parents don't stay home lamenting our absence. ;-)
They would adventure around Anguilla, discovering new spots in Anguilla, and re-discovering old favorites. One of those that was re-discovered?...
Mango's Seaside Grill, the ever-elegant Anguilla restaurant on Barnes Bay.
Little did I know, my Dad had been spending many an evening and night at Mango's with friends. It is now one of his personal favorite spots.
So, when my Dad's oldest friend from Canada took his first Anguilla vacation with his wife, there was one main spot my Dad wanted to introduce him to...
Dad and His Childhood Best Friend Savas
Sipping Rum Punches in Anguilla at Mango's

My Mom, Yuki and I have vague and hazy memories of eating at Mango's on the very first night of our first Anguilla vacation back in 2002. After 14 hours of traveling, we weren't the easiest of diners to please that evening.
We were excited to give Mango's another shot with my parents' oldest friends from home...
Ambience at Mango's
Upon entering Mango's, it became clear why this was a Dad's favorite.
The restaurant is dressed in calming whites and blues, with a tasteful mural on the far wall.
Cane chairs, and candle-lit tables create a soft and delicate atmosphere underneath the awning.
Enjoying the Atmosphere at Mango's

What really marks Mango's ambience is its true seaside setting.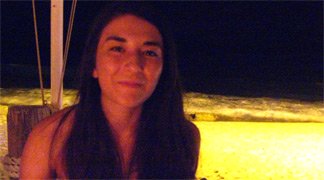 On a wooden deck on the sand, some nights, you can nearly reach out and touch the waves.
Lights illuminate the crashing waves on Barnes Bay. You are at the sea's edge.
Back when we lived on Barnes Bay (when we were building our Anguilla home) and would vacation on Barnes Bay, we would walk up to Mango's from the beach...
The restaurant feels sand-swept, without compromising a certain finesse and feeling of sophistication. Mango's is the perfect blend of high-end restaurant and laid-back "beach shack."
Insider Tip: Be sure to make reservations for a table on the edge of the deck. These are the best tables in the house.
Mango's also features live music on select nights.
My Mom Sneaking a Bite of Yuki's Mussels,
a Special at Mango's That Night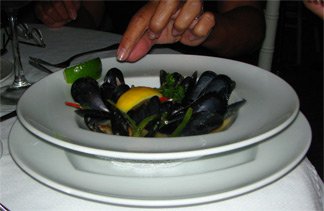 Mango's menu isn't a "fusion" of multiple cultures, featuring reductions and infusions.
Mango's menu is classic with many Anguillian favorites... Grilled whole snapper, Anguillian lobster.
Mixed in are more "creative" items such as chicken breast stuffed with monterey jack cheese, sun dried tomato and basil, and shrimp provencal.
Dad Enjoying The Tartar of the Day
Yellowfin Tuna Tartar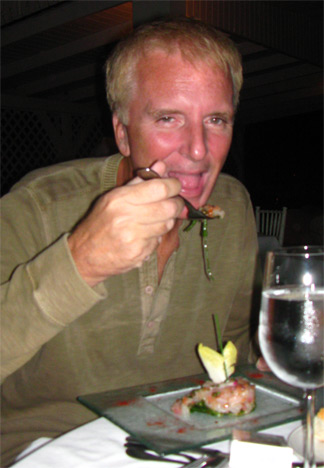 Most exciting can be their nightly specials.
Each night they have an appetizer "Tartar of the Day," depending on that day's catch.
My Dad is photographed to the left with his Yellowfin Tuna tartar.
A pretty arrangement, fresh and tasty.
Yuki tried their special of steamed mussels that night, which she exclaimed were as good as any steamed mussels she has had in France or New York.
Other menu favorites include...
Appetizers: Mango's conch chowder, famous Barnes Bay lobster cake.
Main Course: Brazero lobster, roast pork tenderloin.
Desserts: Mango's coconut cheese cake, Mango's banana split.
Dinner at Mango's Anguilla
Mango's is not a new face to Anguilla. The restaurant has long been a resident of Barnes Bay. It knows all of the ins-and-outs and intricacies involved in delivering a five-star experience.
Their experience is clear. The service was friendly and accommodating, the timing of the meal perfect for conversation and enjoying the sounds of the sea.
Within good time of bringing us drinks and melt-in-your-mouth bread and butter, then appetizers, the main courses arrived...
Dinner at Mango's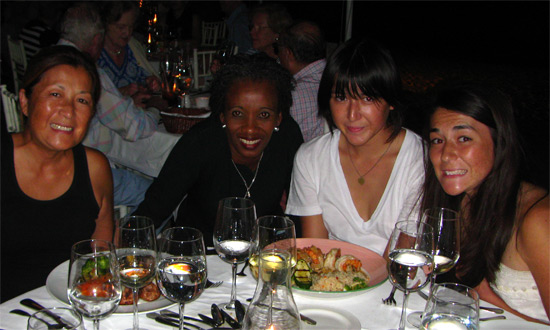 Cathy's stuffed chicken was tangy and flavorful, served with seasoned rice.
Yuki's shrimp provencal was another hit, also served with seasoned rice and grilled vegetables.
My Mom went with the pork.
My Dad tried the New York strip.
Each dish was cooked to perfection, and with high quality, fresh and locally found ingredients.
Mango's has a loyal following for dinner, and it's no wonder why.
The food pleases the palate in a comforting way.
One of the most anticipated parts of Mango's menu?
Dessert!
My Dad has quite the sweet tooth. Apparently, he never failed to order the "third course" at Mango's with his friends. His dessert of choice would have to be pretty special for him to order it time and time again...
The Banana Split!

Yes, Mango's has a banana split! You can't get that at any other Anguilla restaurant. With an Irish Coffee, it was a pleasant end to a perfect evening.
At the meal's close, Mango's is no longer just a Dad's favorite. And, it's not just a whole Evoy family favorite either. It was our family friends' favorite dining experience in Anguilla.
A well-executed, local and fresh menu, a relaxed yet refined beach feeling... Mango's makes you feel right at home at the sea's edge. This is what Anguilla dining is all about.
Directions, Hours & Contact
Directions: Mango's is located on Barnes Bay.
Mango's
Good for real beach-side dining (you can practically touch the waves) and romantic meals.
Hours: Mango's is open for dinner nightly. Closed Tuesday. Mango's opens for lunch Nov. 20. Open for lunch Wednesday-Saturday.
Tel: 264-497-6479