Four Seasons Anguilla...
A Fresh Look at Anguilla's Largest Luxury Resort
The moment has arrived. Four Seasons Anguilla is here.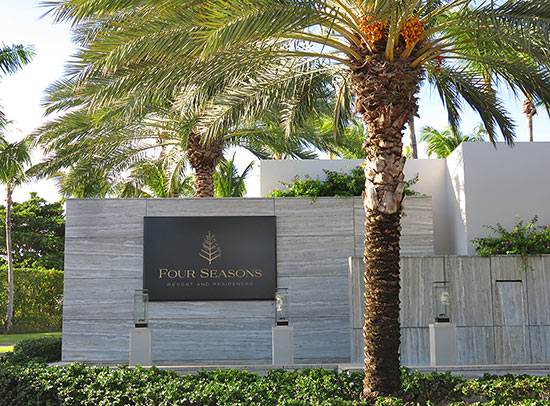 One of the world's largest and leading luxury hotel brands, Four Seasons officially opened its doors October 20th, 2016. It is the Caribbean's second Four Seasons hotel, and the first to open in 25 years. Four Seasons brings ultra-luxury at unprecedented standards and a marketing arm that spans across the brand's 100 other properties.
Four Seasons takes over management of the former Viceroy Anguilla property. Viceroy was the first international hotel brand to plant its flag in Anguilla. A hip boutique hotel chain, Viceroy Anguilla grew to be one of the hottest hotels in the Caribbean, revered for its hyper-chic, custom-designed Kelly Wearstler interiors.
The luxury resort enhanced Anguilla's reputation as the "Caribbean lifestyles of the rich and famous." It became the Anguilla-cool place to see and be seen. We will forever have a warm place in our hearts for the resort that started it all.
With its unmatched reputation for luxury hospitality, Four Seasons Anguilla will be taking "cool" to "school," pushing the property to a whole new level. Since assuming the mantle, Four Seasons has been hard at work to bring everything up to its sky-high standards...
They have poured over $10 million in renovations into the resort
Detailed, rigorous training of the staff is well underway
From food & beverage to landscaping, no detail has gone unexamined.
Let's see what has changed.
Welcome to Four Seasons Anguilla
Four Seasons' elegant touch is apparent from the moment you arrive. Light wood flanks the entrance, lending polished warmth to clean, stark white walls.
Welcome to Four Seasons Anguilla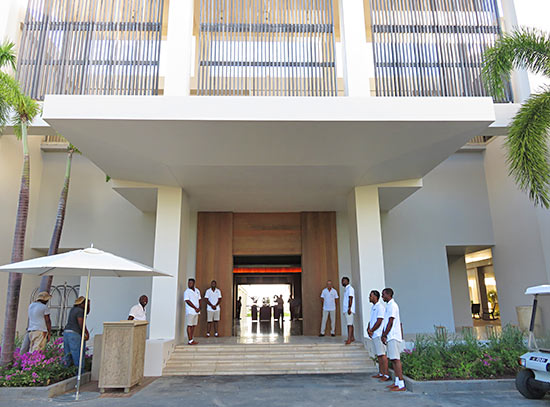 The entrance flows seamlessly through a now open hallway into the bright lobby. The lobby features the biggest physical changes.
Into the Resort's Lobby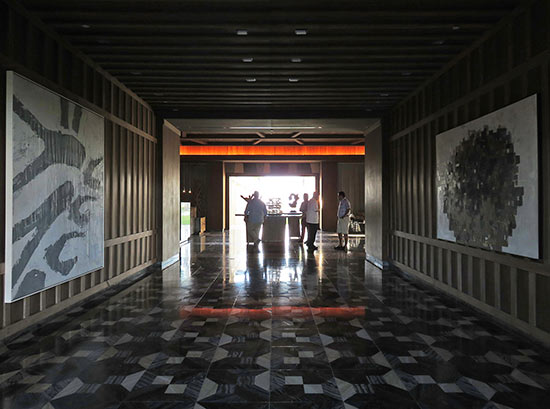 Crisp curtains cover previous marble walls providing a marked sense of sophistication. Dark leather couches have been swapped for ones of lighter tones.
The Lobby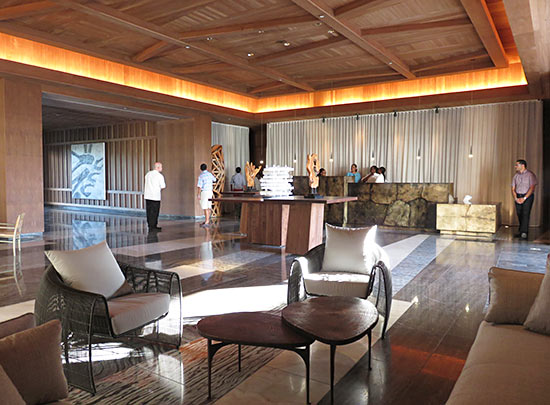 Perhaps most significant of all is the flawless lighting. Industry experts Bouyea & Associates overhauled the resort's lighting. A subtle detail that adds a world of refined difference.
Front Desk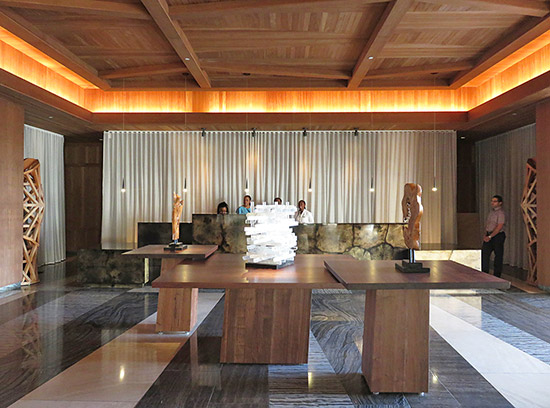 Aesthetics aside, a second change grips you from the moment you step inside the lobby. The staff's renewed excitement, passion and eagerness to assist does not go unnoticed. They have completed the Four Seasons legendary training under the helm of General Manager, Ilse Harley who has over 20 years of experience with Four Seasons.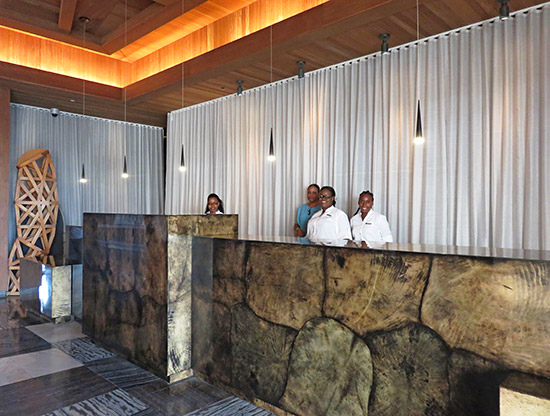 Initial impression? This is indeed beginning to feel like Four Seasons, Anguilla-style. Let us continue with the tour.
The Sunset Lounge
Next stop on the Four Seasons tour? A familiar sight with unfamiliar changes...
The Sunset Lounge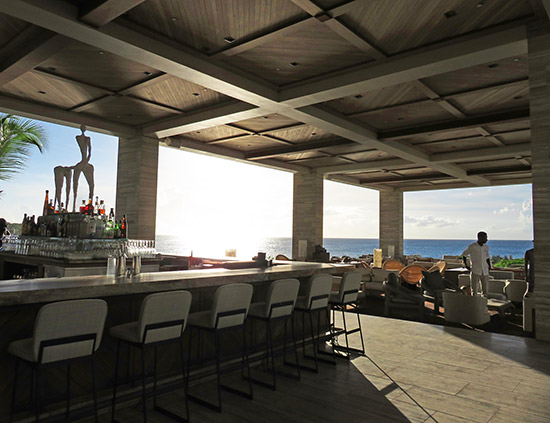 The modern architecture in contrast to the striking blue views of Barnes Bay has made Sunset Lounge a must-visit for every visitor to Anguilla. Four Seasons has kept Sunset Lounge in-line with what it was under Viceroy's management.
In general, the hotel has paid careful attention to retaining the aspects of Viceroy that folks loved dearly (for example, the iconic face chairs). The enhancements are subtle yet effective in reflecting Four Seasons' refined spirit.
The Bar at Sunset Lounge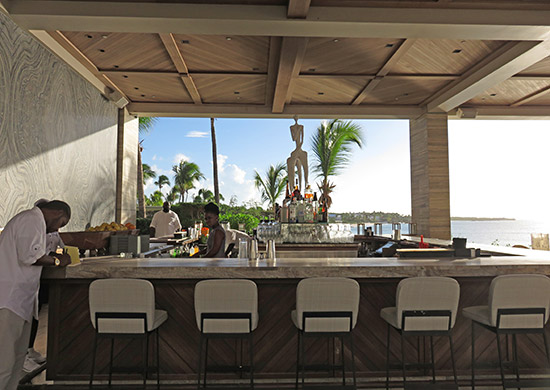 To bring the restaurants into Four Season's style, Gabellini Sheppard Associates have been re-designing the resort's restaurants.
They have optimized the use of space at Sunset Lounge. Seating has been re-organized with the addition of plush couches and rattan chaises.
Sunset Lounge Seating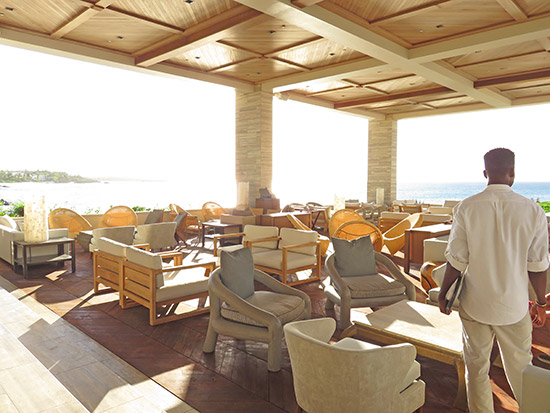 And a true stroke of genius...
The lounge has been expanded. The far western corner of Sunset Lounge now stretches out to the pool. With fresh water to one side and the sea to the other, this addition is the most intimate corner of the room. It is closest to the ocean with a commanding view of the entire lounge.
The Addition at Sunset Lounge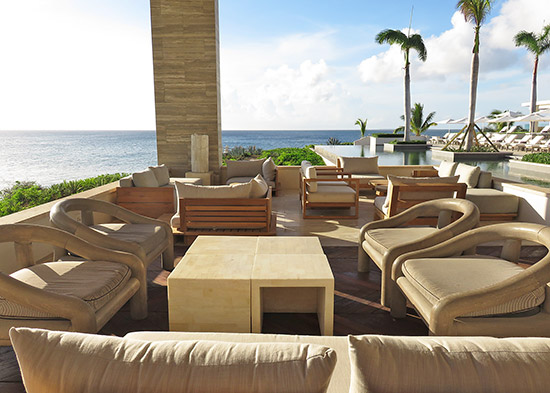 This is sure to be the "Sunset" seat.
What of the lounge experience itself? Much of it looks the same (and don't worry, sushi is still on the menu), yet Sunset Lounge now feels cleaner, polished, service snappier.
It is no surprise with Jan Valasek as Food & Beverage Director. Jan brings 16 years of Four Seasons experience to Anguilla, joining the team from a prestigious post at Four Seasons London.
His acute attention to detail can be seen in every aspect of the resort's dining, from music layout (Sunset Lounge now has a designated pool-side stage for DJs and live music), to service (warm, efficient and professional), to the cuisine itself.
At Sunset Lounge, Jan has also recruited a Four-Seasoned bartender to work with staff on pushing the experience higher. More on Sunset Lounge here.
Sunset Lounge Seating Addition in Background
DJ/Live Music Stage in Foreground (Right of Photo Below)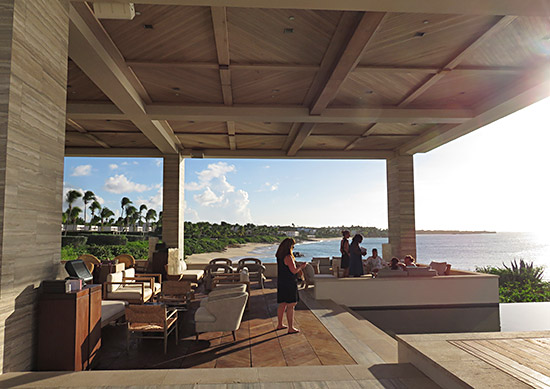 Sunset Lounge's pool is as immaculate as ever, with bright white lounge chairs and umbrellas. The fine lines are off set by swaying palms and the rustling of their green frawns. It is Caribbean luxury at its most elegant and refined.
Sunset Lounge's Infinity Edge Pool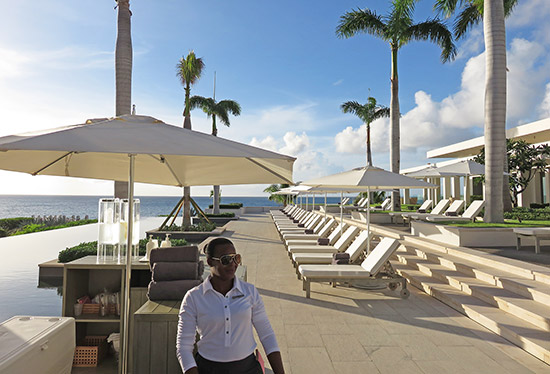 Across from and adjacent to Sunset Lounge, Four Seasons Anguilla's fine dining restaurant, Coba is currently under construction. When it opens, its focus will be fresh and innovative seafood creations (including a ceviche bar). More on Coba here.
Aleta
In the middle of the luxury resort's grounds lies Aleta restaurant and the hotel's largest pool. Aleta was previously known for its gourmet breakfasts.
Approaching Aleta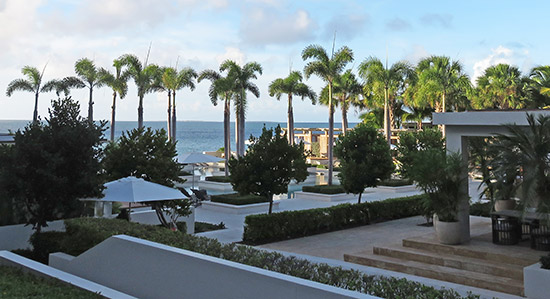 Today, Aleta remains open for breakfast. However, this will change in the coming months. The restaurant will be converted into a meeting space.
Aleta's Pool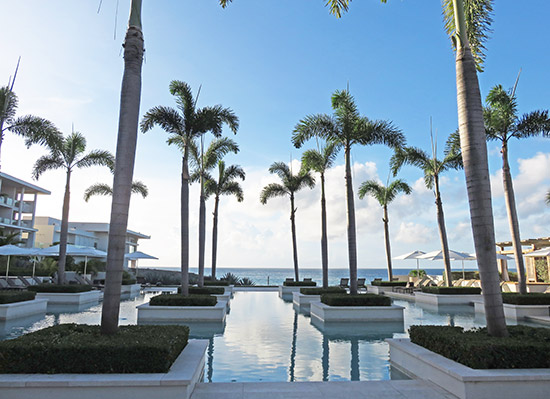 The pool and cabanas will stay, outfitted with new day beds. Photos to come as this is completed.
Pool Cabanas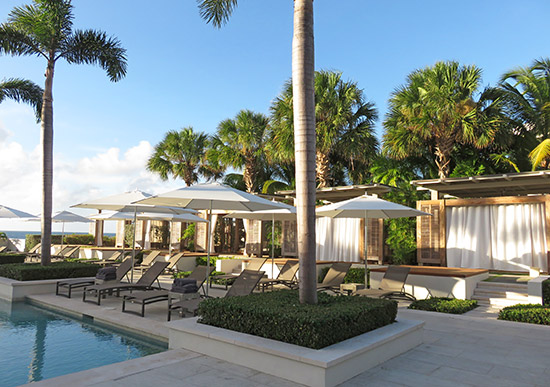 Moving further east, the last of the resort's three pools is set on magnificent Meads Bay and serviced by Bamboo Bar & Grill.
Bamboo Bar & Grill
Similar to Sunset Lounge, Bamboo Bar & Grill is another Four Seasons Anguilla "destination" for non-hotel guests. A casual beachfront restaurant, it is loved by all for its location just a few yards from the waves of Meads Bay.
The Pool at Bamboo Bar & Grill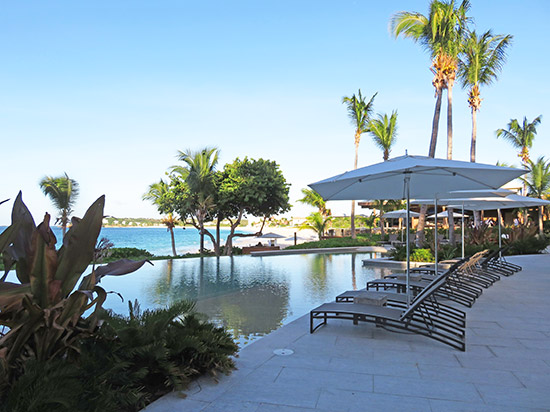 Mediterranean is the flavor of the day at Bamboo (think: gourmet lamb gyros). A cuisine choice perhaps inspired by those azure waters?
Bamboo Bar & Grill's Expanded Seating

Menu aside, the restaurant has been enhanced with new furniture and deck space. The restaurant has doubled in size and now stretches right over the sands of Meads Bay...
Watching Meads Bay's Waves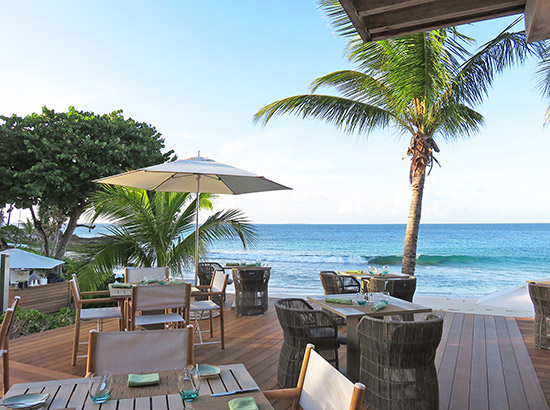 ... offering sweeping views down the coastline.
Sweeping Views of Meads Bay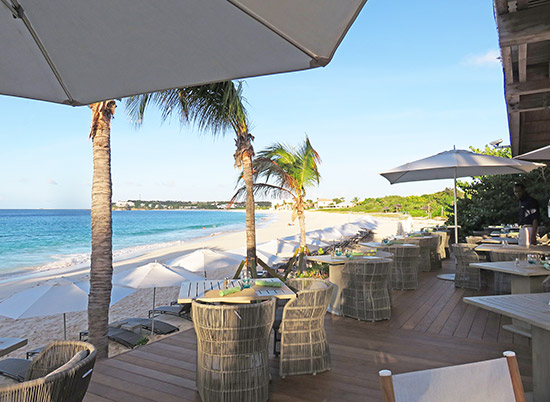 An inspired idea, this promises to be many guests' favorite place to relax, eat, drink and enjoy the sounds of the sea.
More Updates & Final Thoughts
There are many more changes to come. The gym is being expanded by fitness guru Harley Pasternak and will be open 24 hours. The Half Shell restaurant on Barnes Bay is under construction as well. It will be playing to its name, serving fresh bites "on the half shell" in addition to traditional beach eats.
Outside of the common areas, the villas and hotel rooms and suites will soon be outfitted with Four Seasons signature bedding, mattresses and bed frames. For more on the villas and hotel rooms as they remain now, click here.
Overall, the changes seem slight at first glance. However, as you walk the grounds and speak with staff, the Four Seasons experience soaks in. An elegant distinction emerges. You can feel the Four Seasons luxury travel machine shifting into gear.
The staff is beaming, the property is sparkling and it is a credit to the all-star Four Seasons team (and special task force) who have given this project their all. With industry expertise and proven track records, Four Seasons Anguilla is sure to be a top luxury hotel region-wide.
As the resort's changes roll out, this page will be updated. In the meantime, big cheers and congratulations to the Caribbean's second Four Seasons and Anguilla's first large-scale luxury resort brand, Four Seasons Anguilla.
Cheers!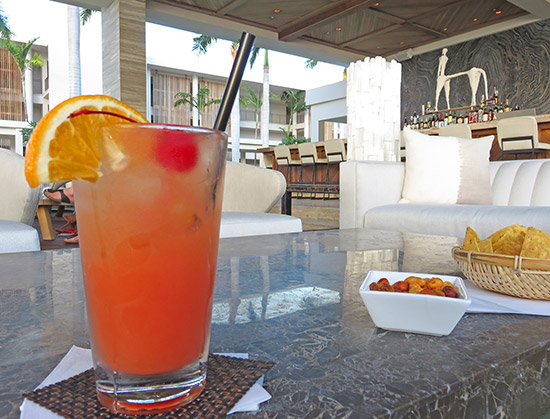 More on Four Seasons Anguilla
Cobà Four Seasons Anguilla's five-star haute-cuisine dinner restaurant.
Bamboo Bar & Grill On the sands of Meads Bay, Bamboo Bar & Grill is a favorite for leisurely lunches with a beautiful view of Meads Bay.
Sunset Lounge The aptly named Sunset Lounge offers a front row view of Anguilla's stunning sunsets with cool cocktails and Japanese cuisine on the menu.