Cobà...
Fine Dining, Four Seasons Style
Update 2020: Cobà is now SALT. More on SALT here.
Lit up on the tip of the high cliff that extends into the Atlantic Ocean in Anguilla's West End, Cobà's location is show-stopping. The restaurant boasts a sophisticated-chic interior and an exceptional locally-inspired menu to match. Four Seasons' signature restaurant is, no surprise, one of Anguilla's most grand.
Let's step inside...
Welcome to Cobà

Swanky Seaside Dining at Cobà
Elegance meets contemporary-cool inside Cobà's fine dining room. A vast space dressed in neutral tones, there are few dining rooms of this grandeur in Anguilla. Designed by the renowned Kelly Wearstler, the dining room is a work of art.
A crystal center piece greets you as you enter (photo above). To the right, a plush sitting area, complete with fireplace, awaits.
Sitting Area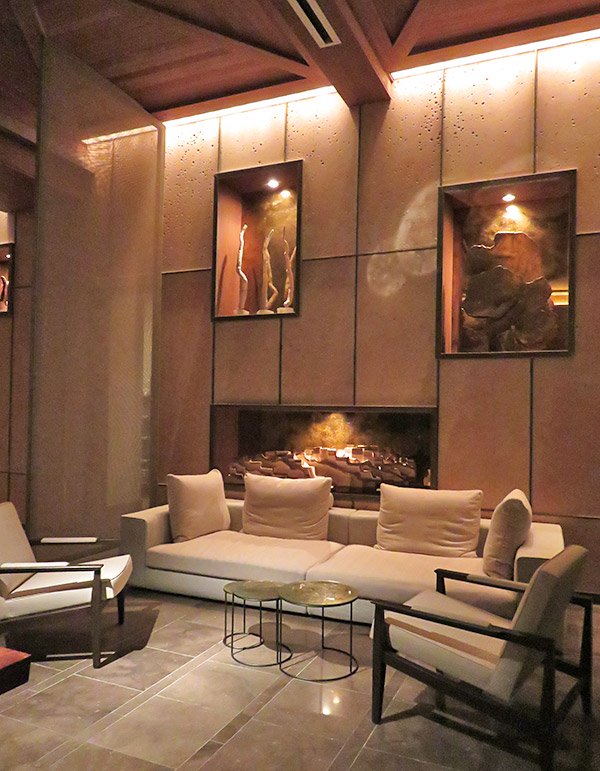 The furniture is the most striking change in Four Seasons' reincarnation of Cobà. Trendy but uncomfortable furniture has been replaced with cushiony and classic pieces of muted tones.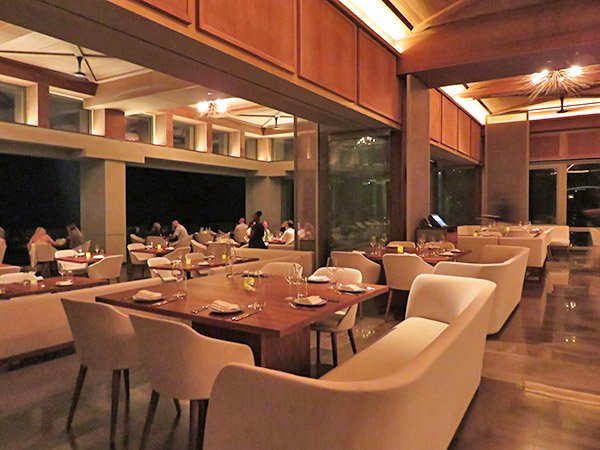 The layout has been re-arranged, resulting in more breathing room between tables. Screen partitions now add an intimate feeling to corner tables and bring an interesting feeling of warmth to a previously cavernous presence.
Screen Partitions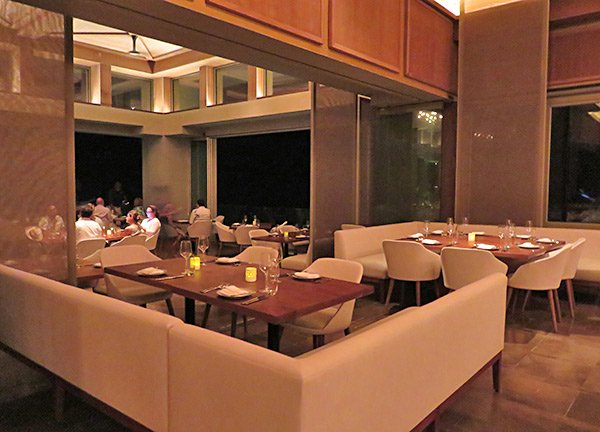 Subdued and sophisticated is the order of the day.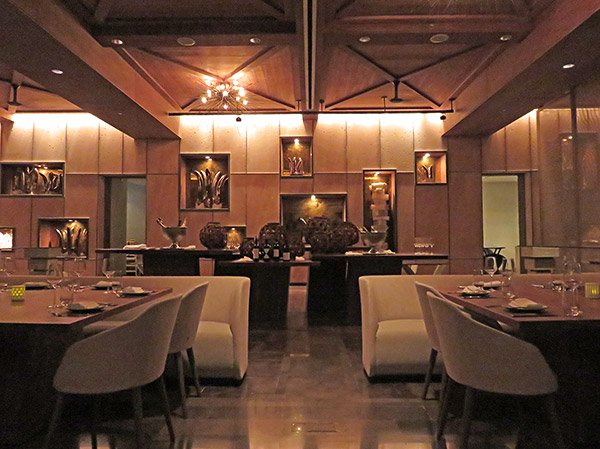 Cobà's dining room is made up of two levels. The first level features larger dining tables, comfortably spaced for bigger groups.
Large Dining Table at Cobà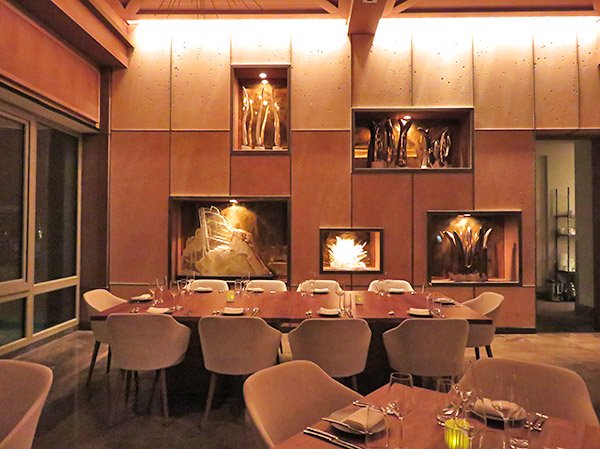 Wine Bar
The restaurant's first level also features the wine bar. It showcases a wide selection of champagnes, reds and whites available by the glass...
Laurent-Perrier, Veuve Clicquot, De Castellane Brut Rosé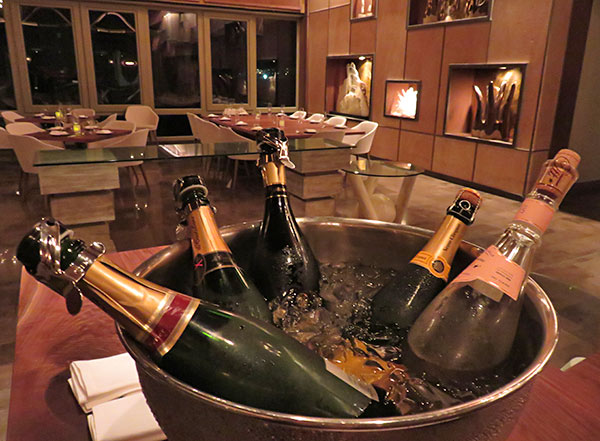 Down two steps is the main dining room.
Main Dining Room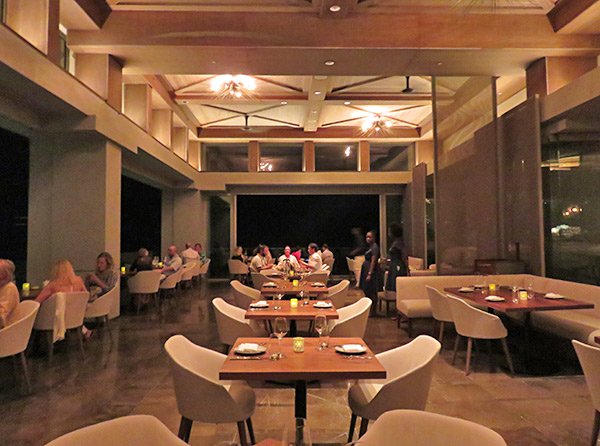 Open to the sea on two sides, a gentle ocean breeze now blows through the open-air restaurant. Perhaps inspired by the restaurant's location, right on the sea rocks, the sea urchin-inspired lights above catch the eye and bring a sharp modern touch to the decor. Cobà fans will be happy to see they survived the transition.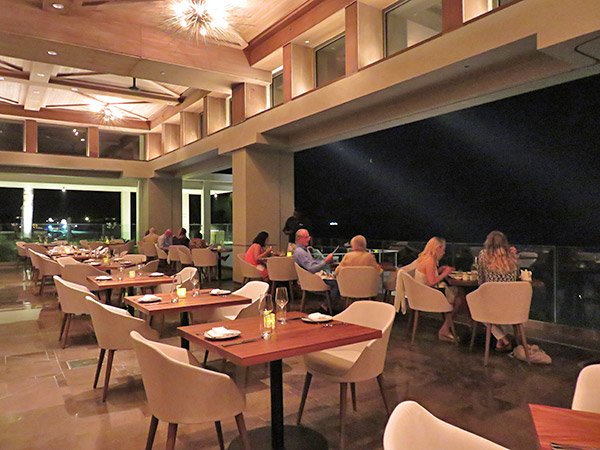 Tables for couples and groups make up the middle of the room. The "best view" seating goes to those dining in pairs. These tables line the restaurant's edges and boast a front-row view of the vast Atlantic ocean.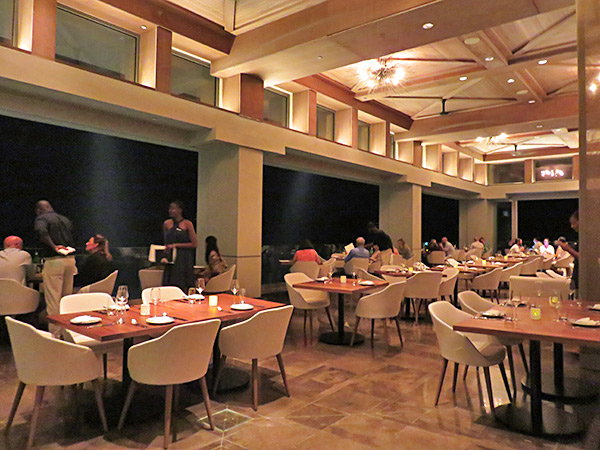 Open-Air Caribbean Dining
A welcomed change, Cobà is now completely open-air. The restaurant has gone through many transformations over the years. When it first opened in 2009, it was enclosed and air conditioned. Later, the windows that face due north were opened.
Today, Four Seasons has expanded on the open-air dining concept. The windows that face east have been opened as well. The result? A constant gentle ocean breeze and an uninterrupted view of the Atlantic Ocean and Meads Bay's lights in the distance.
Meads Bay View From Four Seasons' Cobà

The tables on the far east of the restaurant look out to a view of Meads (photo above). Those that face north have intimate views of the vivid turquoise sea, lit up against the night sky (photo below). A beautiful touch, the addition of the sea lights brings the romance of the ocean into Cobà.
We were ready to settle in...
My Sister, Yuki at Cobà

Cocktails & A Modern Wine List Display
As we took to our seats, our waiter presented us with a slick tablet...
Modern Wine List Display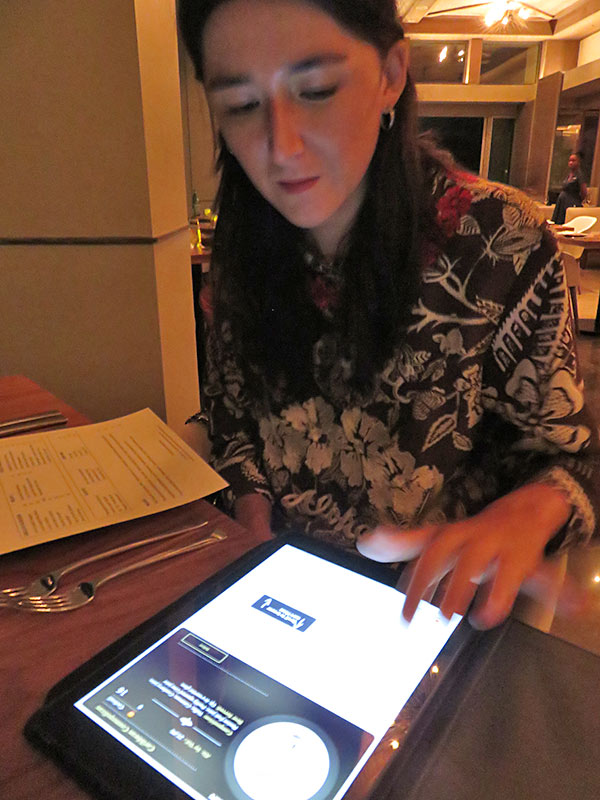 Listing Cobà's vast selection of champagnes and wines, it is a convenient and thoughtful touch, sure to be enjoyed by wine aficionados. For each bottle of wine, the country and appellation as well as grape variety and "best pairings" are all listed.
Both in the mood for white, we went with a crisp bottle of Sancerre...
Henri Bourgeois Les Baronnes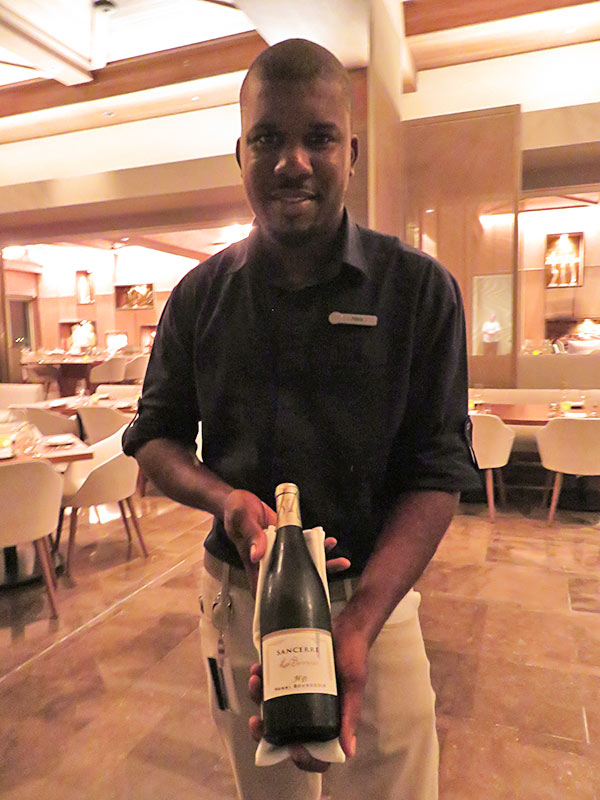 Yuki left the Sancerre cooling on ice, choosing to indulge in a favorite cocktail that she had not yet seen in Anguilla.
Four Seasons' Version of The French 75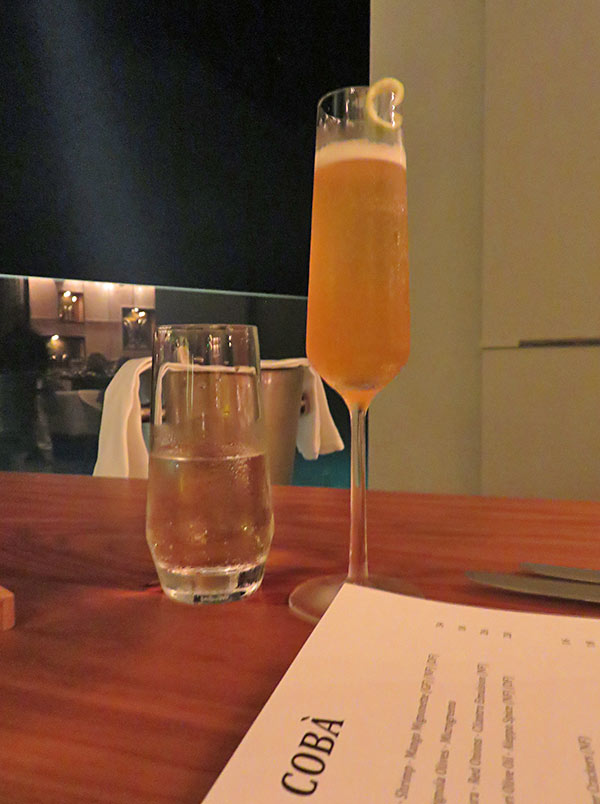 Courvoisier VS Cognac, simple syrup and lemon juice is all topped with champagne and a lemon twist. Normally made with vodka or gin (no cognac), this is a fragrant and full-bodied take on the classic drink. A wonderful start to the meal ahead.
Fresh Beginnings
The meal begins on a delightfully light note...
Dill Rolls with Sea Salt Butter & Caper Butter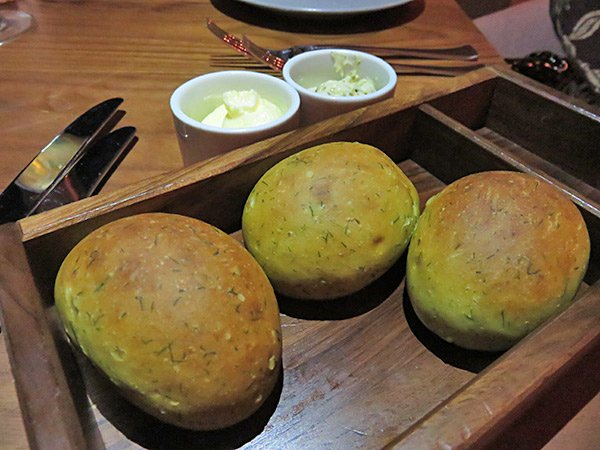 House-made rolls are laced with dill, bringing a fresh zest to each bite. Add sea salt butter to enhance the dill. Or, opt for the caper butter for a full flavor of caper and dill. The combination is outstanding.
The appetizer menu continues in a light and fresh vein. Seafood plateau (of oysters, Anguillian lobster, shrimp and mango mignonette), Anguillian salt fish croquettes, crab cake and char-grilled octopus are followed by a selection of soups and salads.
The ever-popular caprese salad gets a creative, gourmet upgrade at Four Seasons' Cobà.
Caprese Appetizer at Four Seasons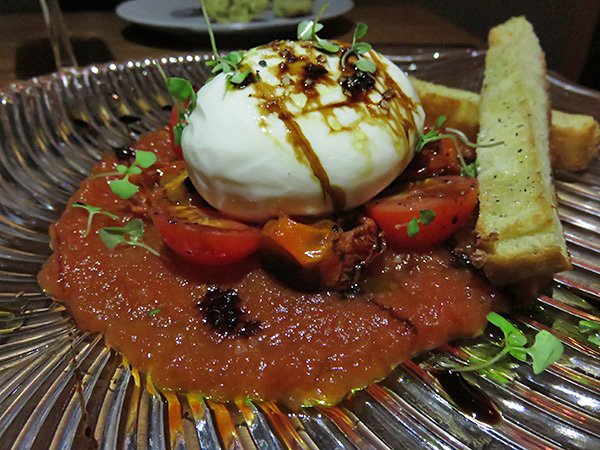 Local tomatoes are macerated, lightly flavored with cinnamon and spice. This sweet and spicy creation forms the dish's base. Halved cherry tomatoes fill the middle of the plate with a sizable chunk of rich, creamy burrata being the standout in the dish's center. Pine nut brittle is served on the side.
Next on the appetizer menu is the "Ceviche Bar."
Snapper Ceviche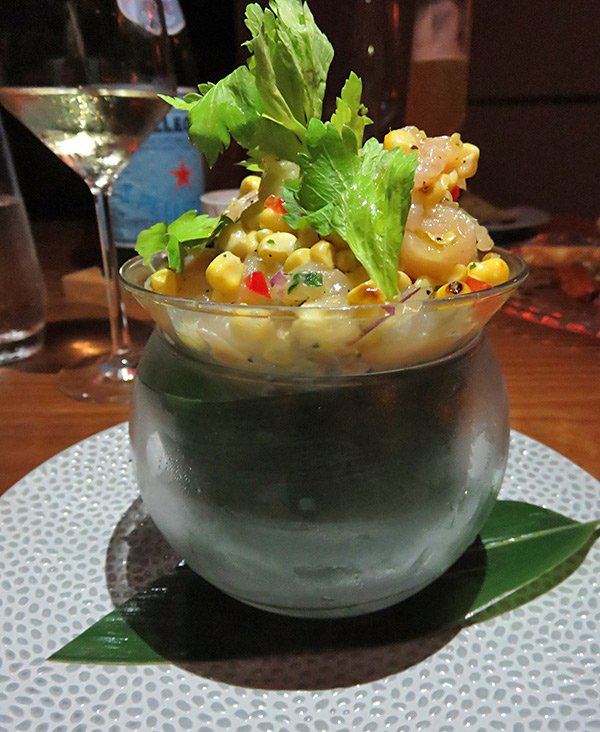 The restaurant features a number of ceviches with a special flavor for every palate. Local mahi mahi is bathed in "leche de tigre," Anguillian conch is lathered in citrus and jalapeño, ahi tuna is prepared with coconut milk and chilies.
For those more adverse to spice, the locally caught snapper ceviche is an excellent choice. Snapper is complemented by light flavors of lime, while slices of red onion and aji amarillo bring a gentle kick to the dish. The crunch of celery and corn makes for a nice contrast to the melt-in-your-mouth snapper.
Appetizers devoured, the staff cleared our plates. On that note, service is now exceptional at Cobà. In-line with Four Seasons' high standard, and as at the resort's other restaurants, service is attentive, efficient and warm.
The staff goes above and beyond to satisfy your every wish. Four Seasons has breathed enthusiastic, first-class service into all of their dining experiences.
Grilled Mains & Nightly Specials
Cobà specializes in grilled seafood and meats. Entrées are broken into two sections. The dishes from "the grill" and the specialty dishes.
The "grill" features a plethora of seafood and meats. Local catches (snapper, mahi mahi, crayfish and lobster) are offered alongside a number of imports (grouper, salmon, 16oz. New York strip loin, Kurobata pork chop).
Diver Scallops with Lemon Caper Butter

Each dish comes with your choice of sauce, including a tropical pineapple sweet & sour, an Asian soy-citrus vinaigrette, Caribbean creole, oregano chimichurri and many more.
As is customary at grills, the sides are ordered separately and include...
Asparagus Lemon Gremolata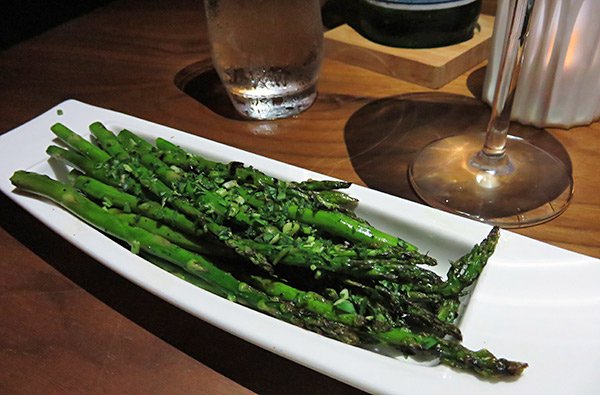 ... Anguillian rice & peas, coconut creamed spinach, sweet plantains, jerk roasted potatoes, parmesan truffle fries, truffle mac & cheese and potato purée.
Potato Purée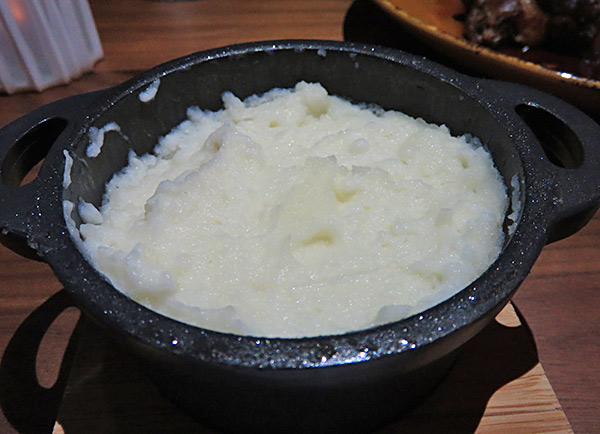 Build your own "haute cuisine" Anguillian BBQ with crayfish, rice & peas and a Caribbean creole sauce, or mix and match to your stomach's delight.
The diver scallops called my name. With the lemon-caper butter sauce and the gremolata's lemon and garlic, it is a match made in fresh seafood heaven.
Tip: Chef features special dishes nightly. From time to time he features exotic catches, beautifully prepared. If he has a special catch of the day, make that choice #1. Our two opportunities have been among our best seafood meals in Anguilla.
In addition to the "grill" menu, there are a number of more creative specialty entrées including macadamia crusted grouper, red snapper West Indian curry and Anguillian crayfish risotto. My sister went with the...
8 Hour Braised Short Ribs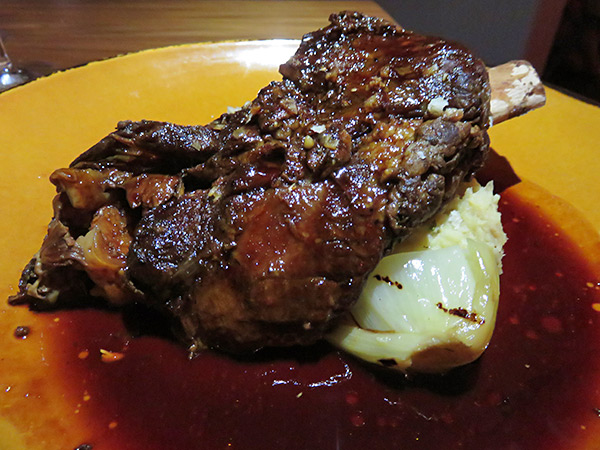 With a weakness for Sunset Lounge's 12 hour braised short rib, she could not pass up another bite of Four Seasons' cooked-to-perfection dish.
Rubbed with horseradish, Cobà's 8 hour braised short rib is served with parsnip purée and crispy shallots. The entire dish is bathed in a gentle red wine sauce. Falling off the bone, Cobà's short rib lives up to the high bar Sunset Lounge has set.
Sweet Endings
An indulgence we normally forego, the special evening called for a sweet ending.
Cobà's dessert menu is rich with nods to Anguilla's culture. Lemongrass crème brûlée, piña colada cake with pineapple rum caviar and an assortment of chocolates and truffles named after The Valley, Anguilla's capital.
Valrhona Chocolate Molten Cake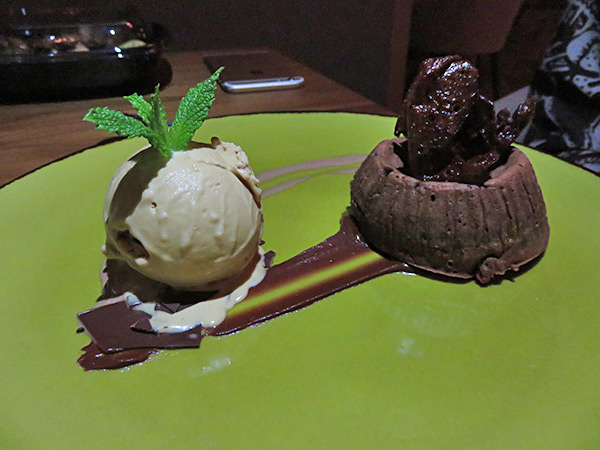 In the mood for a decadent chocolate dessert, the Valrhona chocolate molten cake did not disappoint. Effortlessly rich yet fluffy and light, the chocolate nib's crispy texture is a pleasant contrast to the light cake. The espresso ice cream is the perfect complement to the cake's warm heart.
At the night's end, we thanked Chef de Cuisine George Reid, a man who first started cooking at four years old in his grandmother's kitchen here in Anguilla. His talents have been refined through "stages" in New York and his many years at Cap Juluca.
Today, all of his influences have come together to this great pinnacle: Cobà at Four Seasons where creating a gourmet Anguillian cuisine experience is what Chef does best.
With Chef De Cuisine George Reid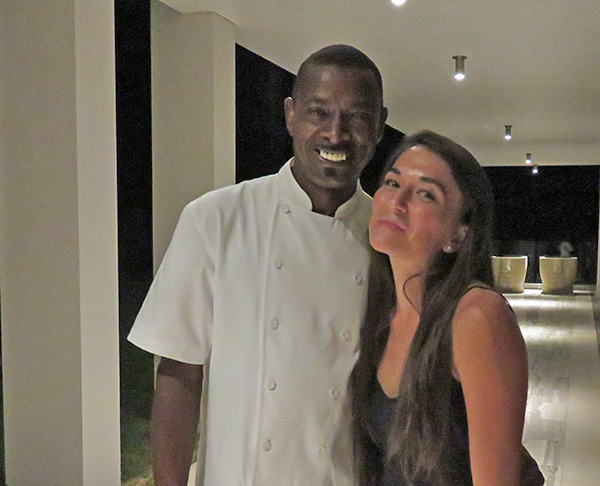 This is fine dining, Four Seasons style.
Cobà is open for breakfast daily, dinner nightly - closed Wednesday for dinner.
For reservations, call: 264-497-7000.