SALT...
Fine Dining, Four Seasons-Style!
By: Louise Fayet
Overlooking the sparkling Caribbean Sea, SALT's location sets a majestic tone. Four Seasons delivers on the promise of its signature restaurant's magnificent setting with an experience that exceeds expectations at every turn, while paying homage to Anguilla's rich history.
The experience begins before you even set foot inside SALT. The stroll to the restaurant will take your breath away.
The sunset views...
Vivid Sunset Views at Four Seasons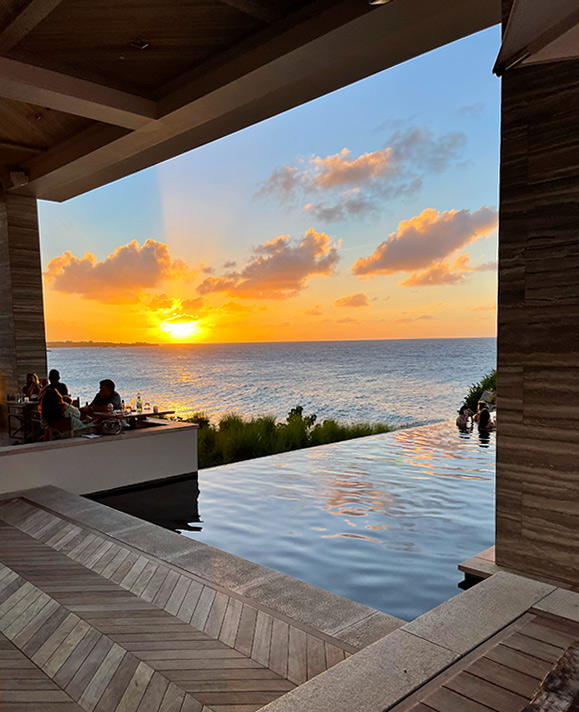 A moment of respite in the resort's iconic face chairs overlooking the sea...
Louise & the Iconic Face Chairs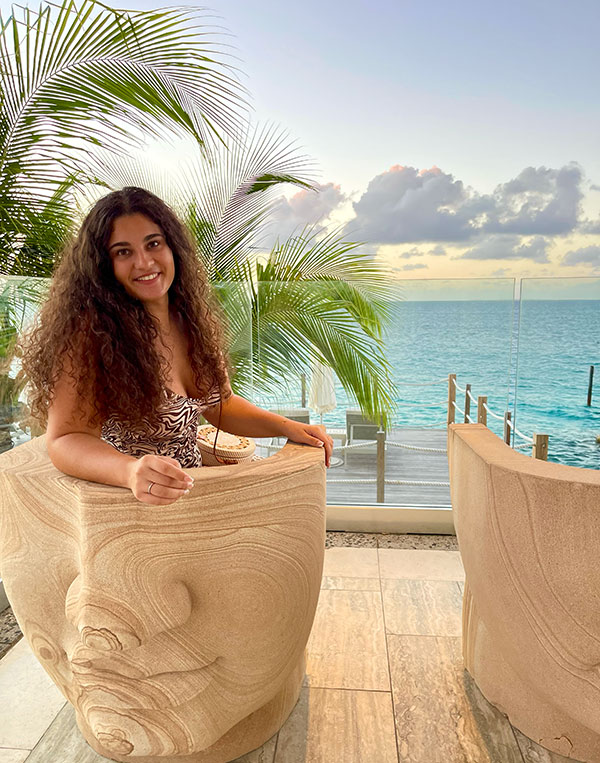 Four Seasons' atmosphere sets a tone of elegant tranquility.
As the sun comes to rest, the stars and candles shine, leading the way to SALT.
Let's step inside...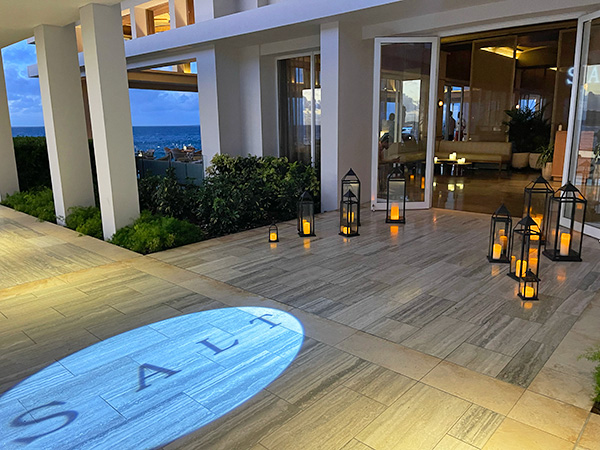 The SALT Experience
We were graciously greeted by Carnicia, a member of SALT's five star team.
She kindly introduced us to Walter, the restaurant's mixologist. Originally from Antigua, Walter started to bartend from an early age. In 2017 he left the Caribbean to venture to the United Kingdom, where he was chosen from a group of 150 people to become the mixologist for Gordan Ramsay!
A man with high accolades, we were honored to be in his presence.
Warm Welcomes from Walter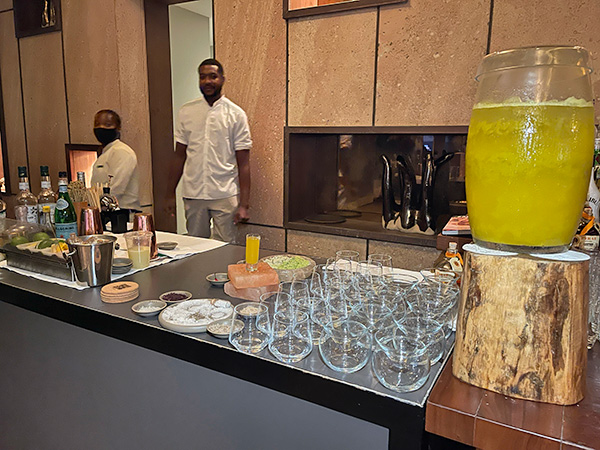 Walter familiarized us with his bar and created the freshest welcome shot in existence.
He dipped the shot glasses in locally made lemon grass and basil salt, and poured in a concoction of passion fruit mango juice, club soda and fresh mint.
This shot glass packed an explosion of flavor!
Infused Salt Shots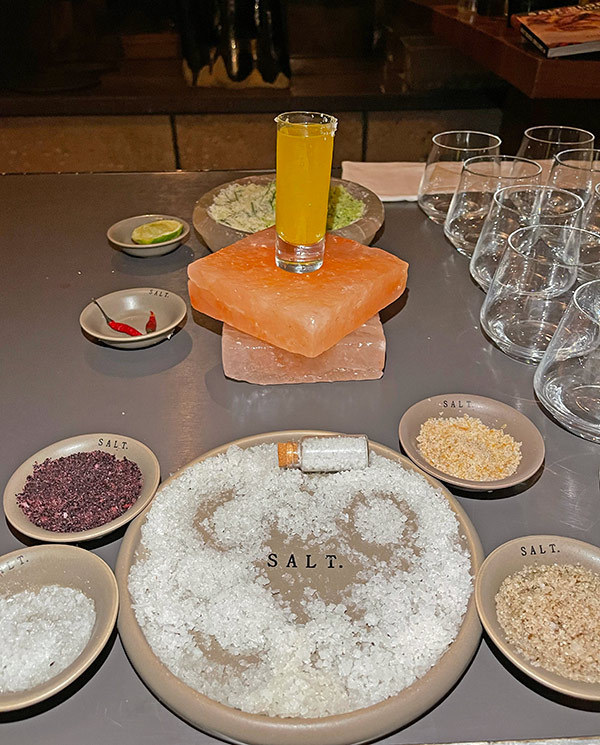 You can certainly say SALT had us from hello :-)
We had to have more of Walter's custom cocktail creations. We moved to our dining table for the evening and Carnicia recommended her favorites...
Tranquility & The Sea

Tranquility comes in as my #1 pick. Made with plantain-infused Pyrat rum, apricot brandy, tamarind and sparkling water, it is equal parts sweet and light.
Next up is The Sea. This bluuuetiful beverage is made with vodka, "bush tea," limoncello, blue curacao and honey, and topped with a coconut and lemongrass foam. Every sip is oh so refreshing!
Sip, Sip, Hooray!

The two pair perfectly together, as the menu explains. "The background on the Anguilla flag is white to symbolize peace and tranquility and the turquoise-blue base stands for the island's surrounding sea," hence the names Tranquility and The Sea.
Naturally, these drinks are a match made in heaven with the dining table's view of the ocean. Tables line the restaurant's edge, giving a front-row view of Anguilla blue. Projecting lights let you see fish and even turtles as they glide through the sea. The lights certainly add a romantic touch!
Sea Side Dining

Custom Infused Salt
In no time another waiter, Yariel, arrived to our table with a serving trolley full of surprises.
Infused Salt & Johnny Cakes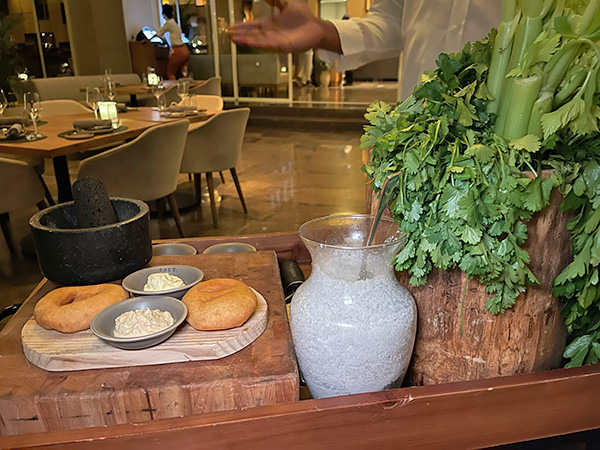 He began by giving us the low down on SALT. The restaurant's name is inspired by Anguilla's rich history with salt production. Salt was the foundation for Anguilla's economy as far back as the 1600's. Its impact on the island is undeniable.
SALT is a celebration of that rich history.
At your table, the SALT experience continues with the creation of your very own infused salt.
Yariel's trolley features a huge vase of locally picked salt from Sandy Ground, a variety of ingredients for mixing into the salt and two picture perfect Johnny cakes. I asked Yariel to include garlic, lime zest and red pepper flakes in our salt. Using his mortar and pestle he blended it all together.
Infused Salt & Johnny Cakes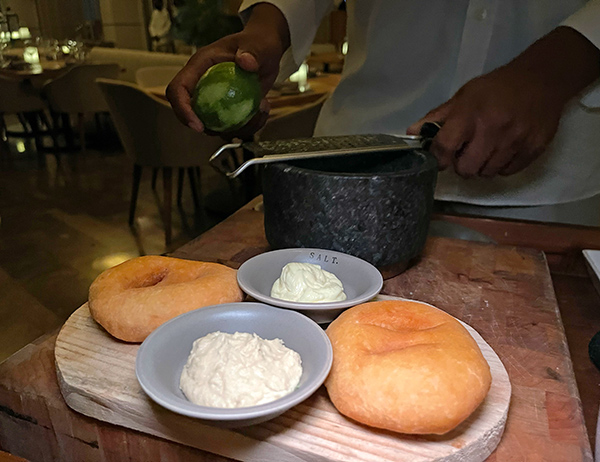 One dash of our salt onto our butter and we were in heaven! We had to ask for more Johnny cakes to soak up our custom-salted butter. Talk about gourmet :-)
Dinner at SALT
Appetites whetted, it was time to get to the real good stuff. Let's begin with the starters.
The menu features Anguillian king conch crudo, local crayfish, charred kale, king conch chowder, goat confit and a personal favorite...
Crispy Saltfish Cakes

These crispy cakes are made with breadcrumbs, caper remoulade, Allison's hot sauce and a charred lemon aioli, and served with a side of a refreshing salad. The cakes are pan-fried to golden brown perfection. Crispy on the outside, super moist inside and topped with that zesty aioli, they are utterly scrumptious!
Next, a top seller at SALT...
Signature Salt Ceviche

This starter is made table side. A heaping bowl of lime and salt cured mahi-mahi chunks are mixed with scotch bonnet and red onions, making an intensely aromatic marinade.
Signature Salt Ceviche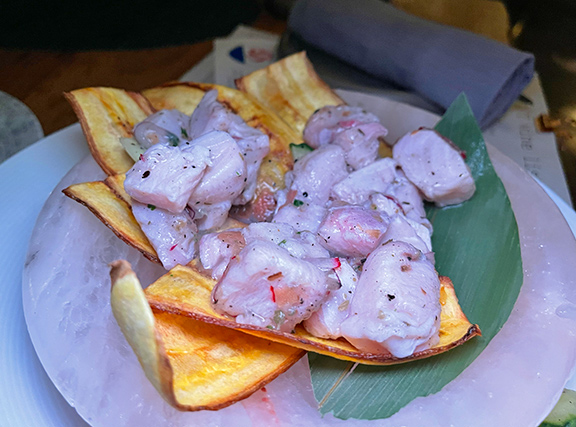 Its serving bowl is an especially nice touch. This fragrant, fresh dish comes in a pink Himalayan salt bowl! As for taste? The mahi-mahi melted in my mouth. Each cube was rich in flavorful marinade. It goes down, hands down, as one of the best ceviches on-island.
Appetizers devoured, it was time to check out the main courses.
Catch of the day, jerk spiced chicken, 12 oz strip loin tagliata with rosemary salt, Caribbean vegetable curry and...
Chef Darren's 12 oz Pork Chop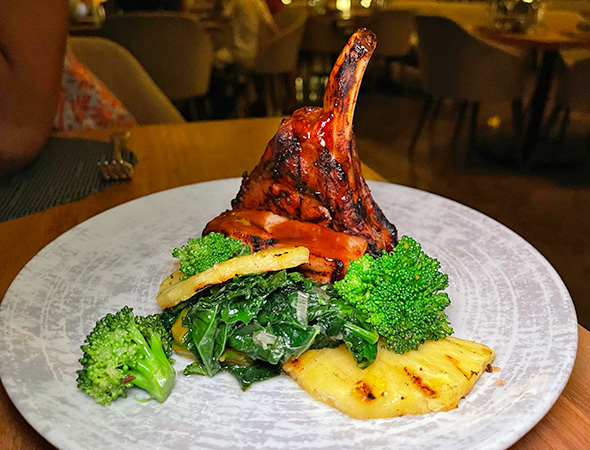 This dish is Chef Darren's signature dish. One of Anguilla's top chefs, Chef Darren has won awards with this dish in a variety of international cooking competitions.
A huge 12 oz cut of pork, Chef cooks it to perfection and slathers it in a Pyrat rum jus. Its sides of wilted greens and grilled pineapple complement its Caribbean flavors.
Lastly, from the main course, a mouthwatering lobster.
Locally caught spiny lobster is removed from its tail, soaked in a light and savory creole sauce and topped with breadcrumbs and lemon salt. It's baked and garnished with grilled lemon slices for an extra zesty kick.
Spiny Lobster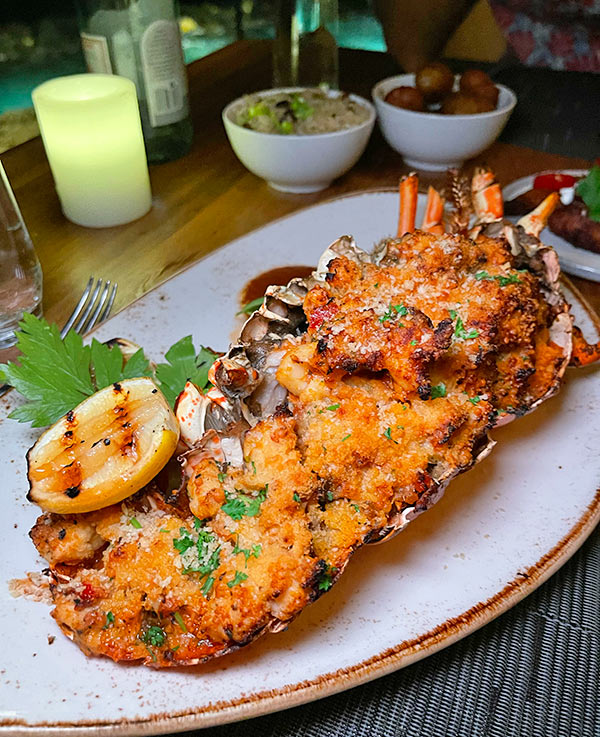 Another cooked-to-perfection dish. I ate every last bite!
Rounding out our main dishes were our sides. Choices of sides include grilled broccolini, yucca fries, veggies, crab rice and Anguillian staples...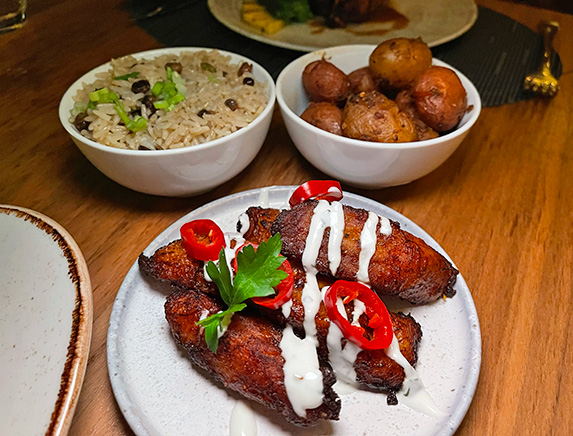 ... ripe plantain topped with goat cheese and sweet pickle pepper slices, pigeon peas & rice, and jerk crushed potatoes. If you are a lover of spice, these potatoes will take your taste buds for a wild ride!
Sweet Endings
"Can I interest you in dessert?" Carnicia asked. We know the answer to that question :-)
With so much trust in Carnicia, we asked her to bring us her favorite desserts to end the evening.
First up...
S A L T (Soap) Bar

A soap bar shaped shell of white chocolate is filled with 36% Valrhona Chocolate cremeux. The signature creation is then surrounded by lemon crumble and garnished with passion fruit caviar. The dessert doesn't end there! When sliced down the middle we were delighted to see a fluffy chocolate cake at the bottom.
Decadent, sweet and creative, this bar was polished off within minutes!
Another unique dessert...
The Pineapple Pocket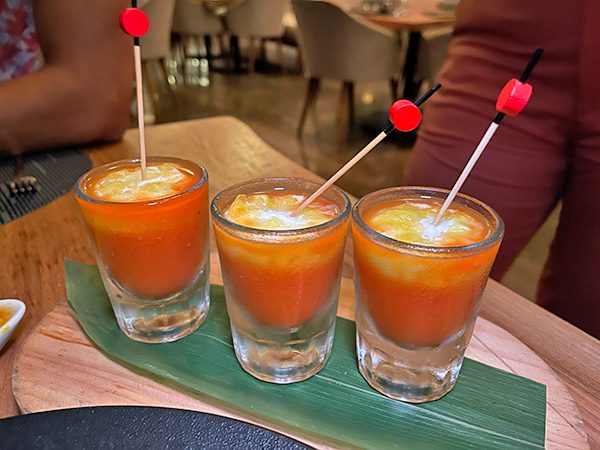 A slice of pineapple filled with coconut ice cream is left to float in a shot glass filled with a soup of exotic fruit. Drinking this dessert tastes like a sunny afternoon on Meads Bay. It is a tropical getaway in a cup.
Lastly, another member of the clean plate club...
Lemongrass Crème Brûlée

A local twist on the classic crème brûlée, the addition of lemongrass adds a softness to the dish. Paired with dollops of mango chutney and moringa croutons, no crumb of sugar was left uneaten!
Also available is the caramel cheesecake served with lemon earl grey ice cream and dulce de leche.
Blown away by an incredible meal, attentive service and a captivating sea view, we sat back in complete admiration. It is obvious that no detail was overlooked when crafting this culinary experience and menu.
My hat goes off to the whole SALT team. In classic Four Seasons fashion, they have created an experience that sets the bar for haute cuisine.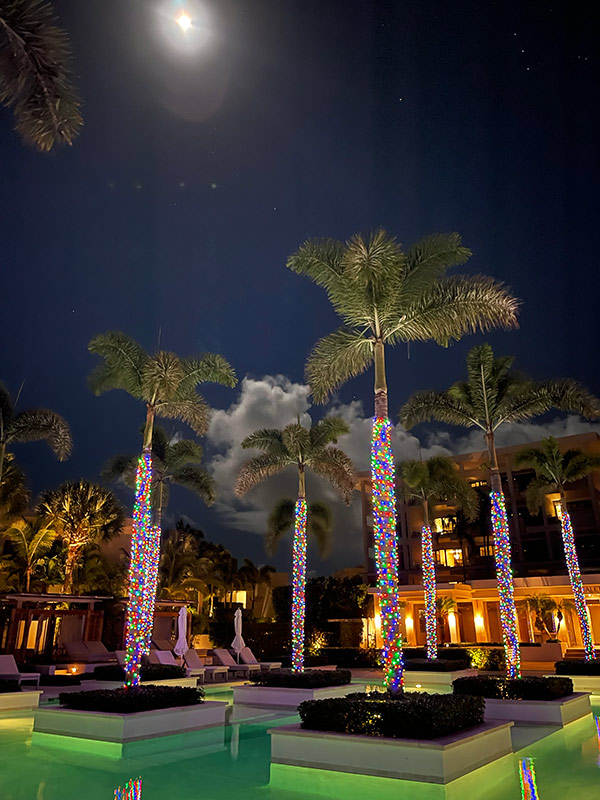 This is fine dining, Four Seasons style.
Hours, Contact & Location
SALT is open for breakfast daily, dinner nightly.
For reservations, call: 264-497-7000
Menu: SALT menu
Location: The promontory between Meads Bay and Barnes Bay at Four Seasons.