<![endif]-->
Four Seasons' Sunset Lounge...
Chic Relaxation with an Anguilla Blue View
Imperially perched on the imposing promontory that separates Barnes Bay from Meads, one can say that the Sunset Lounge at Four Seasons has "natural advantage."
Sunset Lounge, Four Seasons, Anguilla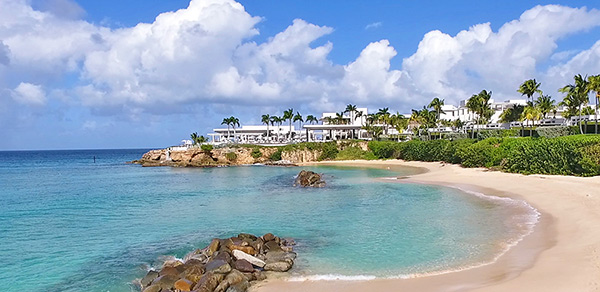 Its location is among the island's best, with deep hues of Atlantic blue surrounding the spit of land on three sides.
The Sunset Lounge occupies the western half of a peninsula that jets out of Anguilla's west end. "All west," Sunset Lounge's location makes it a top stop for majestic sunsets.
Welcome to Sunset Lounge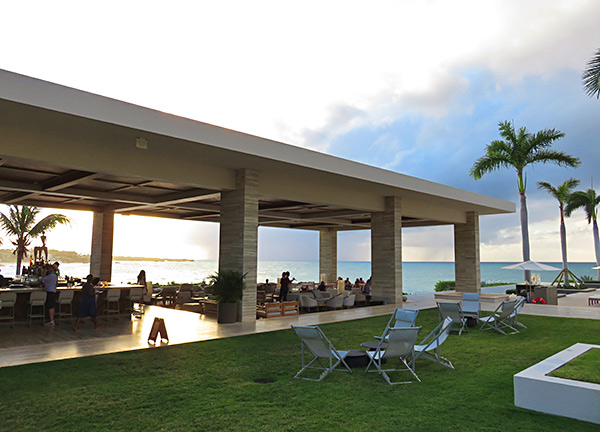 The open lounge flows naturally with its surroundings. Since its opening in 2009, this chic bar has been the "it" spot. It is the place to see and be seen while indulging in libations and light bites of trendy cuisine.
Today, Four Seasons Anguilla takes the experience to a higher level with noteworthy improvements throughout.
Let's see what's new...
Inside Four Seasons Anguilla's Sunset Lounge

"Anguilla blues" catch your eye from the moment you step foot inside Sunset Lounge.
Tip: Start your evening well before sunset for best choice of seating and magnificent day views.
Sunset Lounge During The Day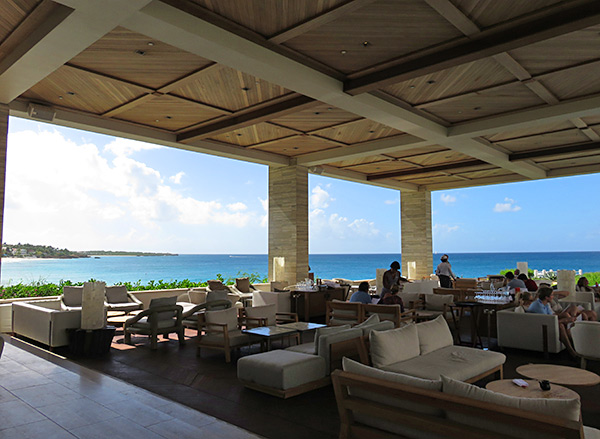 As you absorb the scenery, your attention shifts to...
Sunset Lounge's Marble Bar

The resort was designed by internationally recognized designer, Kelly Wearstler. From the walls, to light fixtures, to accent touches, each piece was hand-picked (and in some cases hand-designed and created) for this specific property.
A successful blend of modern-cool and elegant sophistication, the design is one of a kind in the Caribbean. The Sunset Lounge is the luxury hotel's focal point. It steals the show.
Sunset Lounge Bar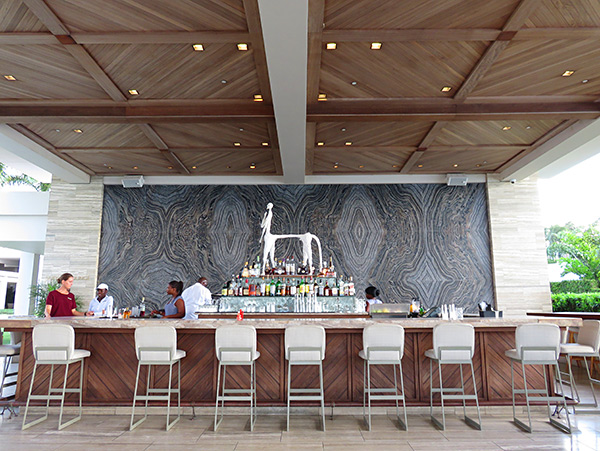 Floor-to-ceiling black marble is gently offset by the use of warm wood above and travertine tiles underfoot.
Adjacent to the bar is a brilliant new touch...
Intimate Ocean View Counter

A polished wood counter with comfortable high seats provides patrons with a magnificent view of the sweep of Barnes Bay.
The changes don't end there. Four Seasons has improved upon Sunset Lounge's previously awkward seating. Not well optimized, it often resulted in a crammed feeling.
Day beds have been replaced with extra couches and chairs. Superior seating and larger tables have been re-organized to create more dining areas with greater elbow room.
Loftier Layout at Sunset Lounge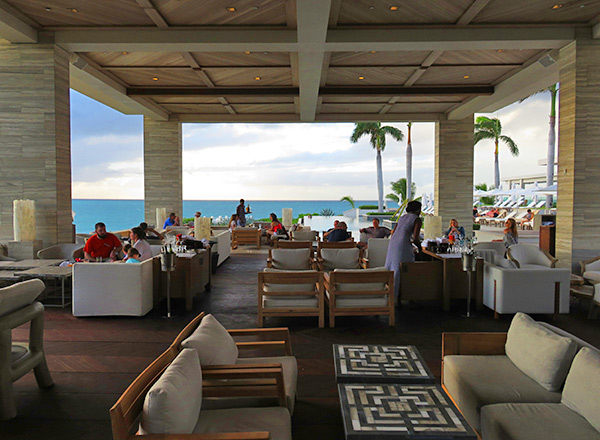 The deck has also been expanded. The far left (western) corner of the lounge has been built out along the pool. These tables boast an extra-vivid view. They are often the first "to go."
Far Western Corner Tables at Sunset Lounge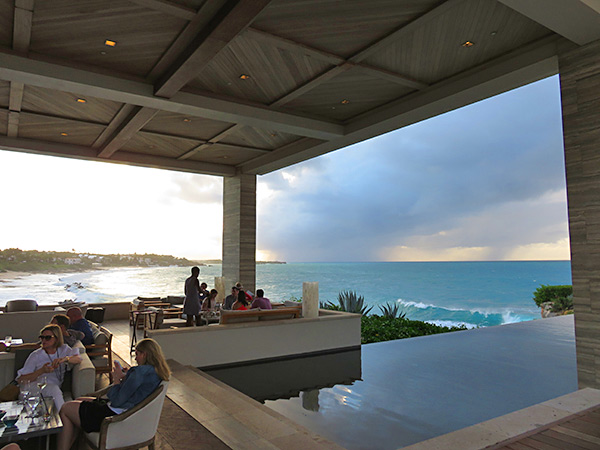 Right on the edge of the restaurant and with an uninterrupted view of Barnes Bay, this addition was a stroke of genius.
Who knew you could improve on greatness? Only Four Seasons, naturally.
Signature Cocktails & Asian Cuisine
The creativity of the Four Seasoned team of mixologists and bar-tenders breathes new life into Sunset Lounge's cocktail menu. Innovative and inspired drinks make up the first half of Sunset Lounge's drink menu.
By far the most popular is the Lotus Frozé. Rosé granita is blended with strawberry-infused Cointreau, Zonin Prosecco and fresh lychee. Rosé aficionados will also be delighted to see the revered Whispering Angel rosé on the wine list.
For gin lovers, the Dragon's Breath is a top choice. Hendricks is mixed with sake, cardamom syrup, fresh lemon juice and soda. The drink is rounded out with Anguilla's native dragon fruit. Light, it is wholly refreshing on a warm Anguilla day.
Dragon's Breath Cocktail with Bar Snacks of Wonton Chips & Spicy Popcorn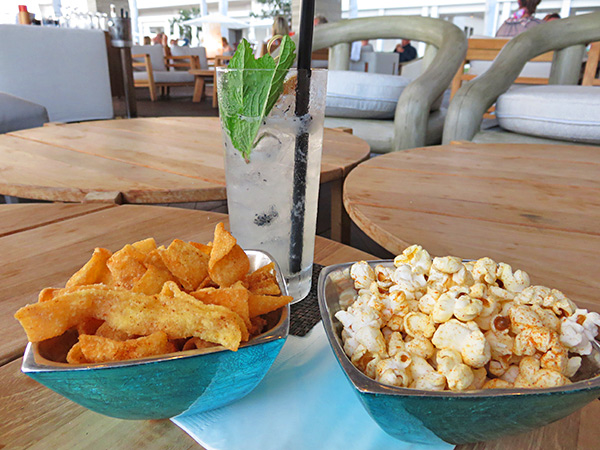 Drinks are now served with crisp wonton chips and spicy popcorn.
The dining menu still features the lounge's loyally-loved dishes. Asian is the flavor of the day at Sunset Lounge, going hand-in-hand with the chic setting.
The first part of Sunset Lounge's menu is sushi-focused, with a number of specialty rolls, maki rolls, nigiri and sashimi pieces. The specialty rolls are decadent, including shrimp tempura with agave chipotle aioli, soft shell crab with takuan and my favorite...
The Last Emperor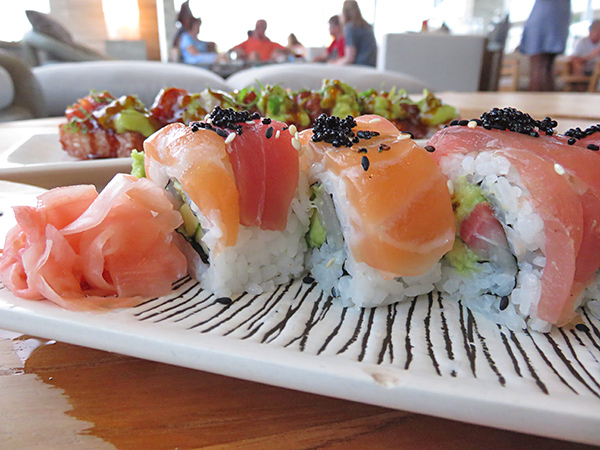 A sizable roll, avocado, cucumber and hamachi are rolled "inside out." Each piece is layered with salmon and/or tuna. The whole creation is topped with sesame seeds and black tobiko, a visual treat that lends a salty-savory hint.
The Last Emperor answers that recurring question, "Salmon or tuna? Avocado or cucumber?" It is the best of all worlds.
Avocado Roll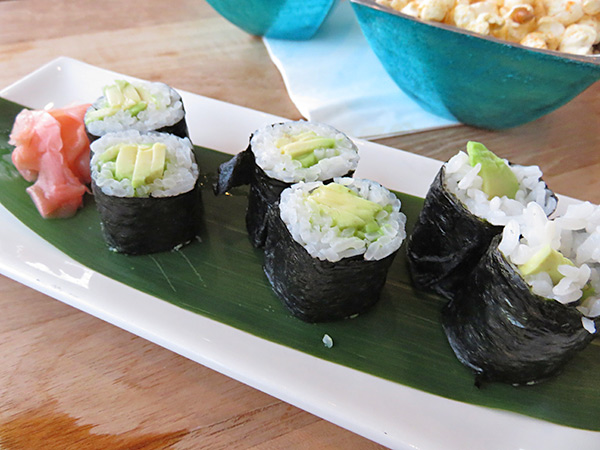 A Note on Allergies & Attention to Detail: My sister, Yuki ordered the avocado roll. It is worth noting as she has a severe allergy to all fish. The restaurant manager assured her that he would ask the chef to prepare the roll on a separate cutting board, with a different knife.
True to his word, the roll had no trace of fish. Normally, Yuki gets a slight allergic reaction (mild tingling, which can be a sign of a more severe reaction to follow) from avocado and cucumber rolls. The knives are often used to also prepare the fish-based rolls. Not a tinge of discomfort at Four Seasons. Just veggie sushi bliss.
This attention to detail is an example of how the Four Seasons staff goes above and beyond. The same is true for all aspects of service now. Previously slow, service has improved vastly under Four Seasons management. Attentive and friendly, efficiency comes with a genuinely warm smile and a desire to delight.
Moving on from the sushi, the next part of the menu features a variety of light bites and more robust dishes. "Sunset Lounge classics" of crispy rice, rock shrimp tempura and Kobe beef sliders pepper the menu.
Sunset Lounge's Famous Crispy Rice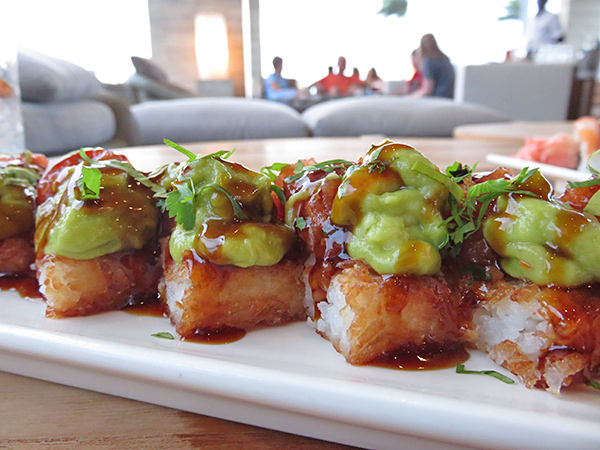 My Mom's favorite dish at Sunset Lounge, the crispy rice is a Sunset Lounge "must." Sushi rice is fried to a golden-brown and layered with spicy tuna, guacamole and eel sauce. The kick in the spicy tuna complements each bite of guacamole, while the syrupy eel brings a sweet touch to the famed dish.
Alongside these "menu staples" are new favorites including Pacific Rim tuna poke and a true star...
Korean Short Ribs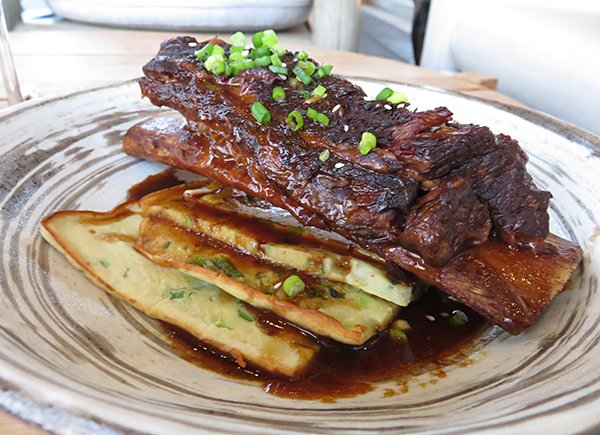 Your tastebuds stand at attention the moment the dish is presented. Braised for 12 hours, the short rib literally falls off the bone. Succulent, it is rubbed with gochujang. The fluffy Korean scallion pancake partners with the meat perfectly.
Putting The "Sunset" in Sunset Lounge
Plates cleared and with your new beverage of choice, it is time to enjoy the Sunset Lounge's natural show...
Over...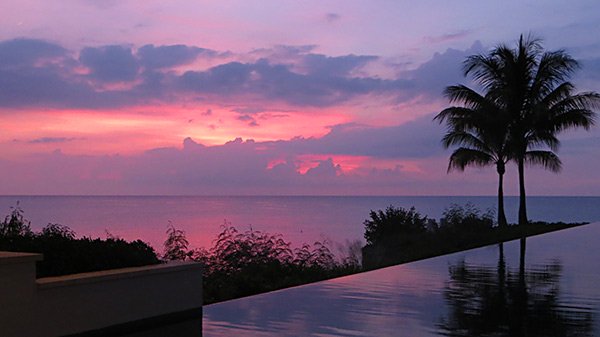 And over...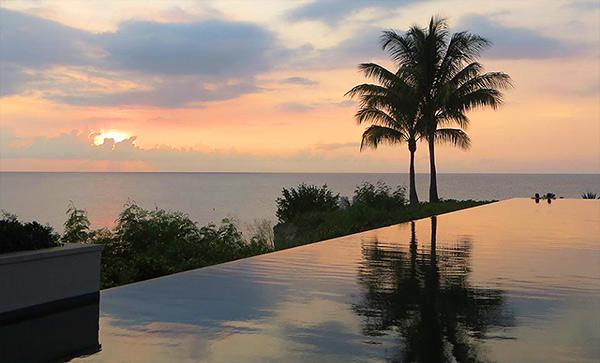 Again...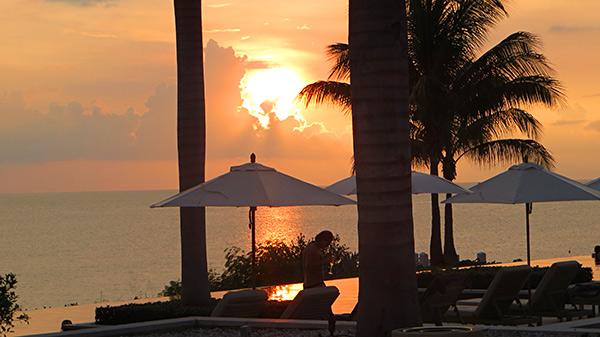 Sunset Reminder: Avoid disappointment. Sunset ranges from 5:30pm in the winter to 6:30pm in the summer. But come well in advance for the best views.
Sunset Lounge By Night
Once the sun goes down, the lights twinkle inside Sunset Lounge.
Four Seasons' Sunset Lounge By Night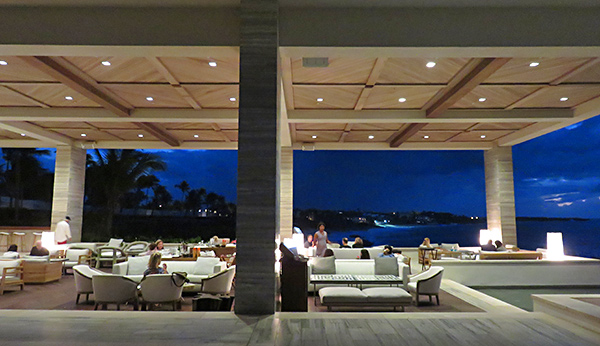 On Sunday, Thursday and Friday, Anguilla's most popular musicians (including DJ Sugar and Omalie 360) persuade you to lounge the evening away. They take to the newly built stage that sits over Sunset Lounge's pool.
Live music or not, evenings at Sunset Lounge make for a memorable night cap to every Anguilla day. It is one of our favorite unwinding spots, whether it is for a late afternoon bite or a cocktail long after the sun goes down.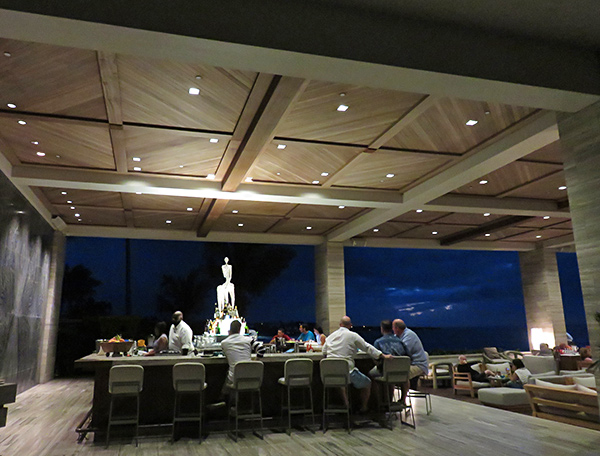 Four Seasons has done an impeccable job bringing Sunset Lounge up to its five-star standards. Greatly improved seating and service now does justice to the jaw-dropping setting. Sunset Lounge is at the top of its game.
Directions, Hours & Contact
Directions: Located inside Four Seasons resort, just past the resort's boutique.
Sunset Lounge at Four Seasons Anguilla
Hours: Lunch & dinner daily.
Tel: 264-497-7000
Menu: Sunset Lounge menu