Bamboo Bar & Grill...
Caribbean Elegance on Meads Bay Beach
Over the years, Meads Bay has become a Caribbean dining destination. The beach is known for its wide collection of top tier beachfront restaurants that attract the most discerning travelers and gourmands.
Set over sparkling-white sands that give way to dazzling diamond-like seas, Bamboo Bar & Grill has long been a favorite for crisp cocktails and long, leisurely lunches.
Four Seasons Anguilla, Meads Bay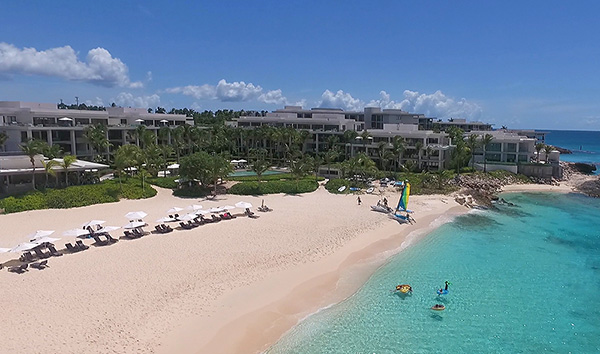 Today, Four Seasons Anguilla's enhancements move it into firm "best of beach" contention. Ambiance, layout and menu have all been taken to new heights.
Step inside Four Seasons Anguilla's upscale Caribbean beach bar. The improvements are remarkable.
Dining Al Fresco
One is immediately struck by Bamboo Bar & Grill's openness to the beach.
Doubling the terrace size was a brilliant change that exposes a view previously closed off.
Welcome to Bamboo Bar & Grill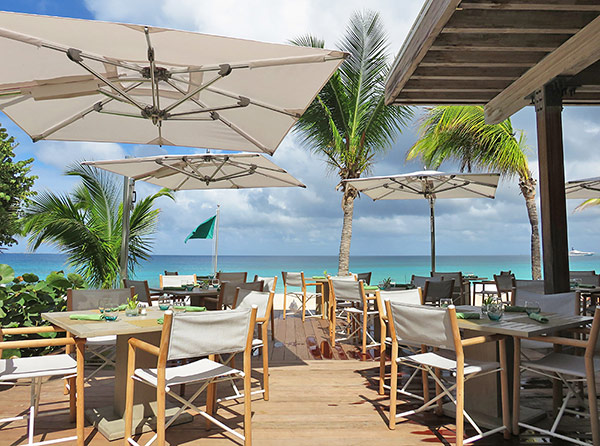 Its spacious terrace now expands over the sands of Meads Bay. Views stretch down the long sweep of white-sand beach.
Sweep of Meads Bay Beach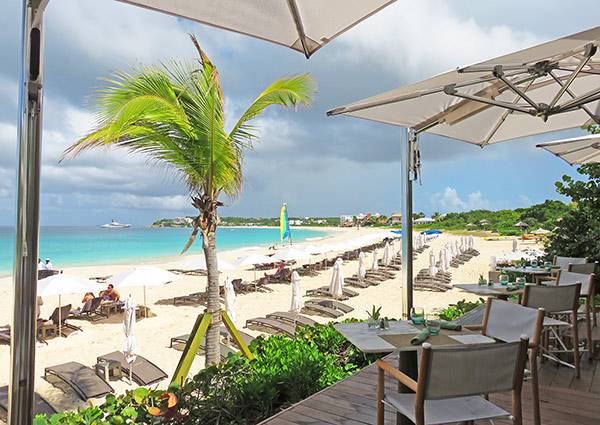 And what a remarkable and variable view it is!
A beach with a jetset buzz, Meads Bay always puts on a show. You may find yourself watching some of the world's most famous mega yachts as they in turn watch you. "A", Eclipse and Yalla are all regulars.
Mega Yacht "A" on Meads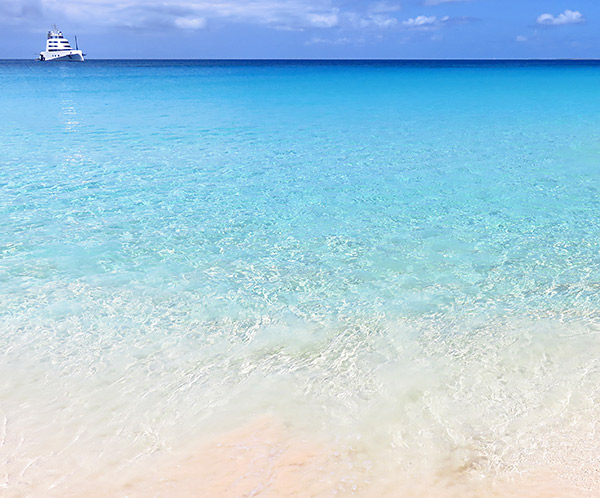 On another day powerful waves may pound Meads mercilessly.
Surfing Meads Bay, Anguilla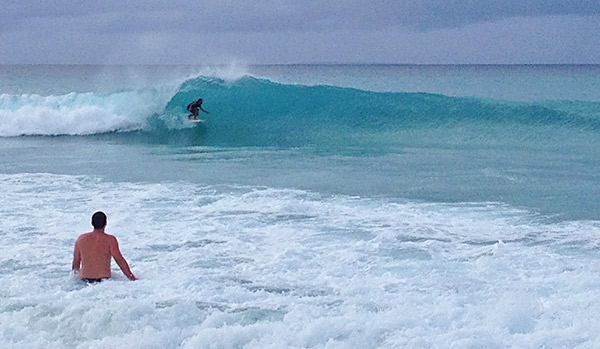 And on the very next day you may find yourself hypnotized by a million points of light shimmering in fifty shades of calm blue water.
Serene Meads Bay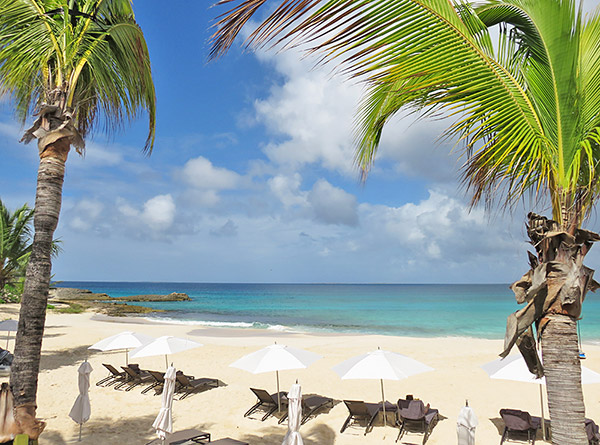 Meads never fails to wow.
Bamboo's corner of Meads Bay is one of the beach's best. Tucked on the western end, this cove is ripe with excellent snorkeling on calm days. When Mother Nature stirs, it transforms into a surfer's paradise.
Set back from the outdoor deck is the restaurant's covered dining space and bar, surrounded by swaying palms and manicured gardens.
Inside Bamboo Bar & Grill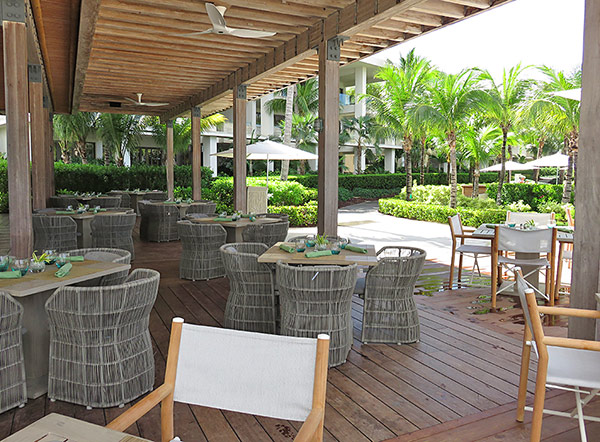 Dressed in woods and lined with bamboo accents, the feeling is markedly tropical.
The long, elegant marble bar offsets the use of warm wood.
It lends a polished and upscale feel to the beachside eatery.
At Bamboo Bar & Grill, the balance of "laid-back" and luxury is well struck.
Fancy a couple of hours of sports with drinks and friends? The bar features two flatscreen TVs.
The whole covered dining space opens onto the open air deck. Out on the terrace, crisp white umbrellas provide shade while you take a "front row seat" on Meads Bay beach.
Let's settle in...
... with an "AXA" Drink with a View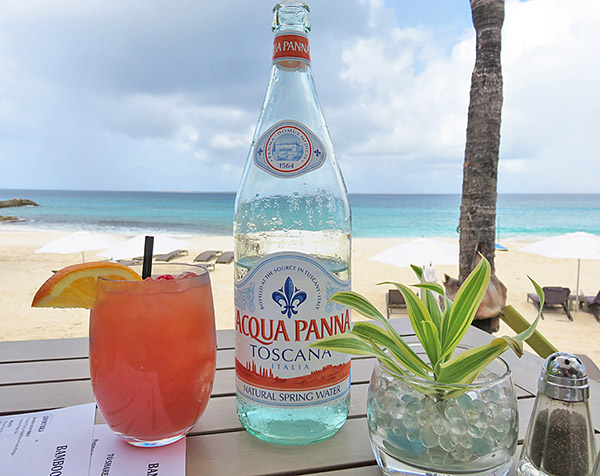 Meet Chef Darren Connor
Chef Darren Connor is a respected name in Anguilla. Famous for his many gold medal wins at Miami's prestigious culinary competition, Taste of the Caribbean, he is the island's true, homegrown "MVP."
Meet Chef Darren Connor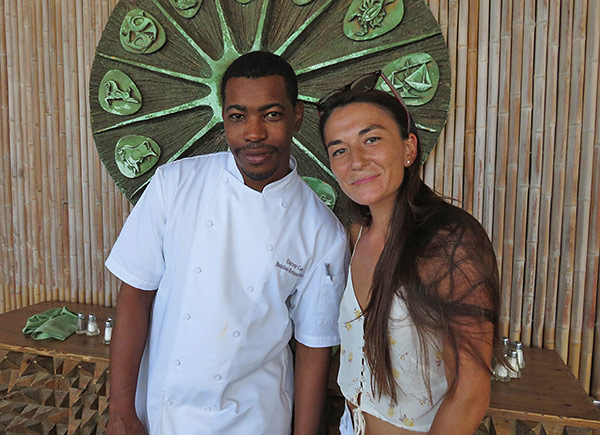 It is no surprise to see this man of many accolades join Four Seasons. Today, he heads up the culinary team at the widely-loved Bamboo Bar & Grill.
A man with experience, skill and a whole lot of passion, your taste buds are in for a treat with Chef Darren.
What's on Chef's menu?...
Refreshing Mediterranean Cuisine
Long, leisurely lunches done "Anguilla-style" begin at the cocktail menu. The Jalapeño Margarita is Four Seasons' signature beverage. Fresh jalapeño is diced and added to the tequila-based drink.
Sip slowwwwly. Each sip delivers a uniquely special kick.
Four Seasons' Jalapeño Margarita & Rum Punch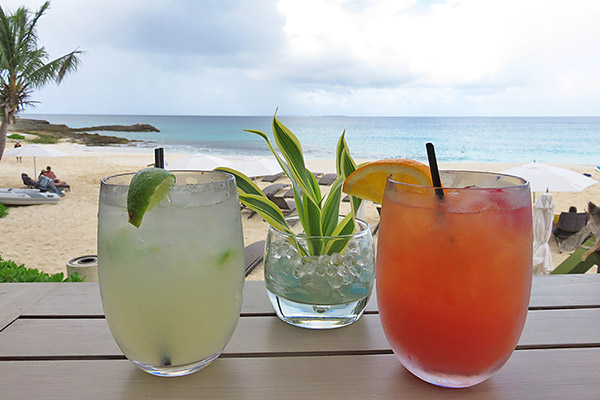 Mediterranean fare is the order of the day at Bamboo. The menu starts with a selection of "to share" dips including hummus, baba ghanoush, herbed feta dip and tabbouleh that can be ordered à la carte. The "Mezze Platter" features all four.
Mezze Platter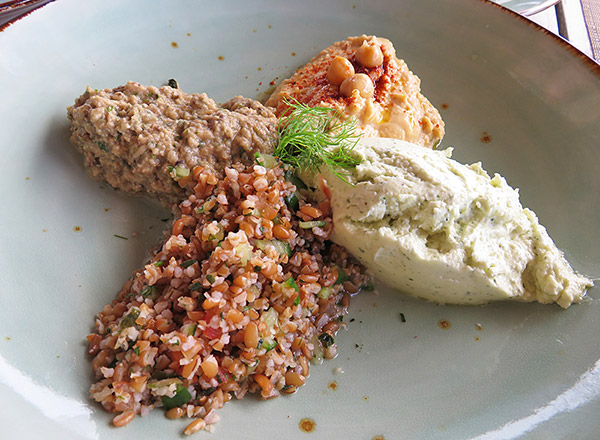 Chickpeas, roasted garlic and tahini are whipped to perfection with lemon and topped with Tangier spice. Fire-roasted eggplants bring an especially rich flavor to the baba ghanoush.
The star of the show is the herbed feta dip with mint, dill and parsley. Savory feta is complemented perfectly by the mint and dill. Each bite is refreshing and rich.
... with Warm Pita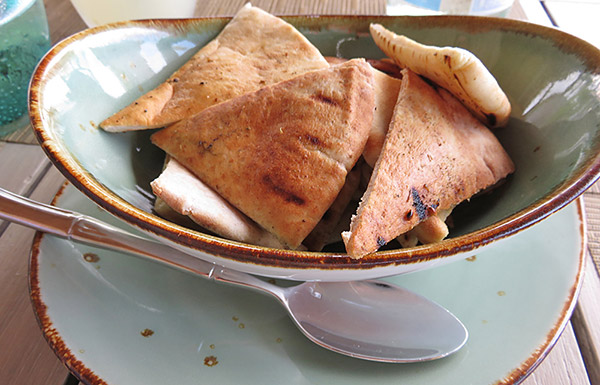 Next on Bamboo's menu are a number of appetizers, including roasted beets salad, greek salad, crispy calamari and our personal favorite...
Local Conch Ceviche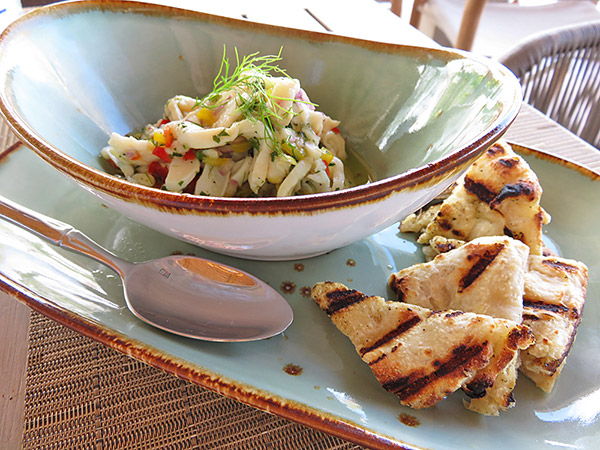 Thick pieces of ultra-fresh Anguillian conch are tossed with fennel, mint and peppers. Light and delicate, the peppers add a pleasant zest. A Mediterranean twist on the Latin American classic, the ceviche is served with a side of Za'atar-spiced house-made flatbread. Straight off the grill, the smokey flavor makes your mouth hum.
At this point you are likely to notice that the service is another area of Four Seasons' improvements. Fast and friendly, they anticipate without hovering.
Moving on to the main plates, your choice includes a variety of pizzas (rock shrimp, spanish Chorizo and vegetable pesto), falafel, chicken/lamb gyro, shrimp kebabs, local snapper tagine, grilled skirt steak and...
Aegean Mahi Mahi

Artichoke, feta, basil, capers and Kalamata olives are combined into a rich tomato-based sauce. The Moroccan-esque concoction is layered over a succulent piece of mahi mahi, and served with a side of couscous. A unique take on a classic Anguillian catch.
With a vastly improved setting, efficient service and an outstanding menu, Bamboo Bar & Grill is challenging to be your favorite spot on the beach. Bamboo Bar & Grill brings a sumptuous bite of something different to Meads Bay, living up to Four Seasons' world-class standard.
More on Bamboo Bar & Grill
Directions, Hours & Contact
Directions: Located on Meads Bay at Four Seasons Anguilla. Park inside Four Seasons' visitor parking and take the road on the right (away from the main hotel and lobby). Follow that road and follow the signs to Meads Bay.
Bamboo Bar & Grill at Four Seasons Anguilla
Hours: Lunch & dinner daily.
Tel: 264-497-7000
Menu: Bamboo Bar & Grill menu