Chef Eddy Dhenin Proves Why You Should
Eat Dessert First at Four Seasons Anguilla
Update 2019: Chef Eddy Dhenin has moved to Four Seasons Nevis.
True to their global reputation as a leading luxury brand, Four Seasons Anguilla hits every high note. The five-star experience lies in the details. One of its sweetest notes yet can be found in its fine dining.
I have never met a man with a finer attention to detail than Four Seasons Anguilla's Director of Food & Beverage, Jan Valasek. Always on a mission to impress, perfection on the floor and creativity in the kitchen has pushed Four Seasons Anguilla's dining scene sky-high.
Jan brought the best of Four Seasons from "all over" to Anguilla. A lead mixologist from Whistler re-invigorates the cocktail menu at Sunset Lounge. Top restaurant management from London handles "the action" at Bamboo Bar & Grill. Then, I started to see this on Instagram...
Edible Fine Art by Executive Pastry Chef Eddy Dhenin
Photo after photo of exquisite desserts by Four Seasons Anguilla's Executive Pastry Chef Eddy Dhenin.
Each creation different from the next in texture, use of color and ingredients, these dishes are far more than "desserts." They are works of art, each one leaving a unique impression.
Only available on-request for special celebrations at Four Seasons, I curbed my excitement until I saw this...
"A twist on a favorite Caribbean bread and a Chef Eddy creation available in-restaurant?" I thought in wonder. We were on our way!
Meet Executive Pastry Chef Eddy Dhenin
Google "Eddy Dhenin" and rave reviews populate the search results. He is gushed over for his works of art that have elevated "dessert" to "main dish" status of importance at Four Seasons restaurants across the globe.
Executive Pastry Chef Eddy Dhenin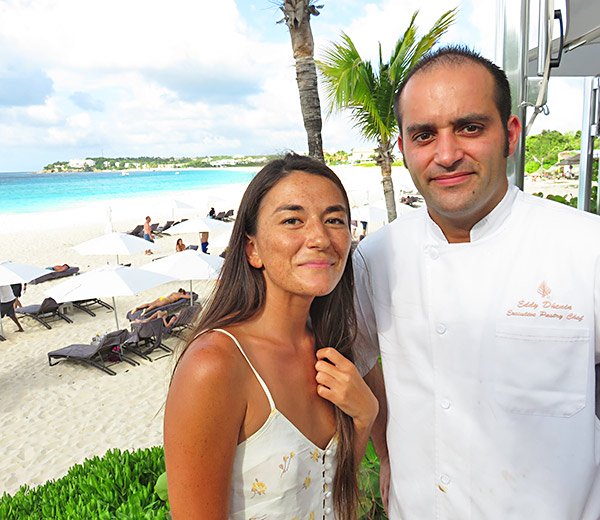 Joining the Anguilla team from Four Seasons Bali, he began his career with Four Seasons 13 years ago. Originally from France, he studied at the highly acclaimed Lycée Michel Servet before he attained another degree, the Culinary Art Master Degree in D.C.
His professional career began in France's top Michelin-starred restaurants. The detail-focused training and experience put him on track to begin his life-long journey with the Four Seasons family. Chef Eddy has worked in Four Seasons Dublin, Costa Rica, Mexico and, most recently, Bali. In Chef Eddy's kitchen, cuisine meets fine art.
Filled with passion and armed with razor-sharp skills, Chef Eddy is the man you call to bring the "sweet side" of your menu to life.
A Chef Eddy Creation at Bamboo Bar & Grill
Blue View From Bamboo Bar & Grill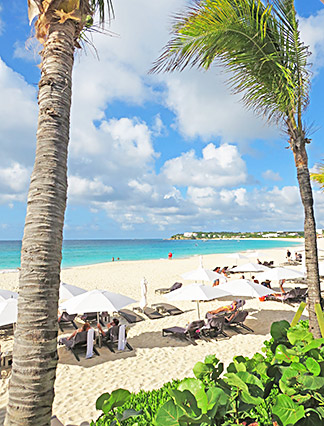 My Dad and I set off on a quest to taste the Chef Eddy creation at Four Seasons' Bamboo Bar & Grill.
A favorite for long, leisurely lunches on Meads Bay, Bamboo Bar & Grill's expansive wooden terrace hangs over the beach's sparkling-golden sand.
The turquoise waves are a mere stone's throw away.
What the restaurant boasts in beauty it matches in excellent service.
Always armed with a warm and genuine smile, the staff delights at every turn.
Knowing we had dessert ahead, we kept lunch light with Bamboo Bar & Grill classics.
Greek Salad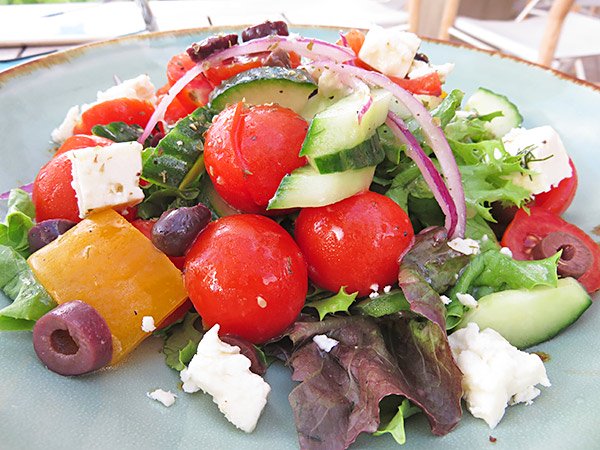 Caesar Salad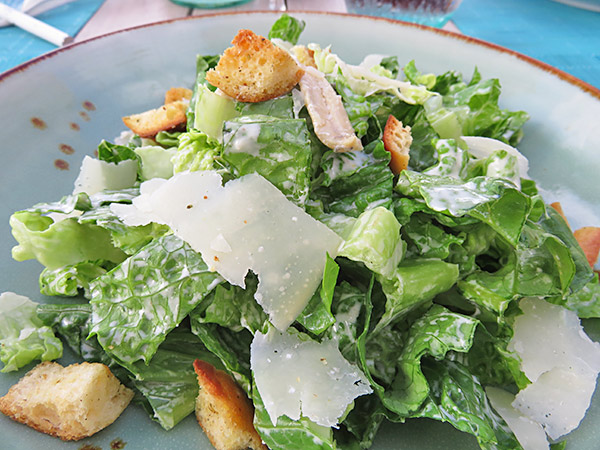 Side Note: If you are looking for a healthy lunch, Four Seasons' fresh salads pair perfectly with a side of...
Herbed Feta Dip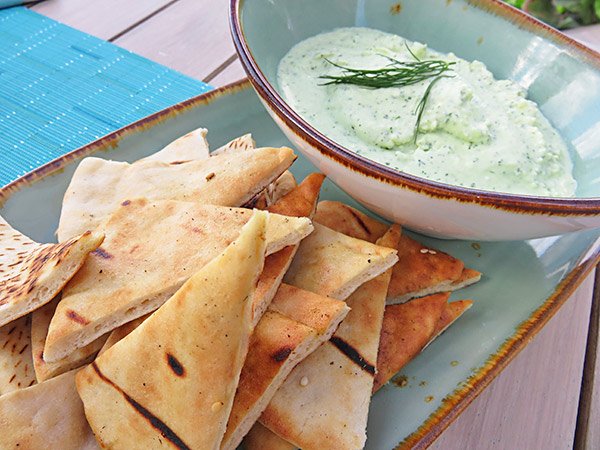 Feta is macerated with olive oil, mint, parsley and dill. Each bite is oh-so smooth and refreshing. On a warm Anguilla day, it is a match made in feta heaven.
Vegetable quota filled, it was time for something a little more indulgent, our real reason for today's visit...
Chef Eddy's Sweet Johnny Cake Pizza Pie
Johnny cakes are a staple in Anguilla. Classically thought of as "Anguilla's doughnut," Chef Eddy looked at the Johnny cake and asked, "What if?"
Yes, he dared to flatten it into a pizza - a dessert pizza, no less.
The Sweet Johnny Cake Pizza Pie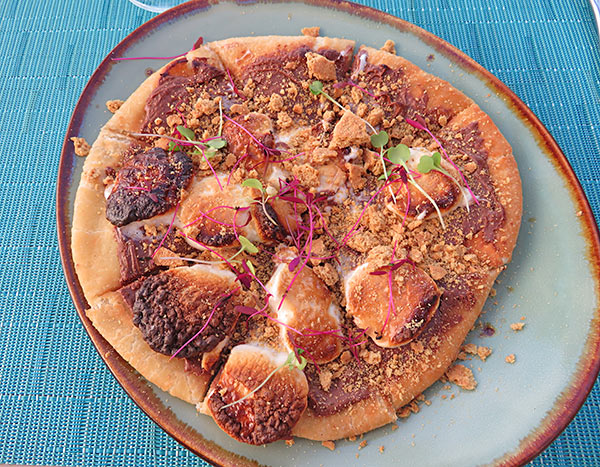 The exterior crust is magically flakey, almost airy. (Eddy's French influences at work?) The inside is unmistakably Johnny cake in flavor, doughy and moist.
Inside The Johnny Cake Pizza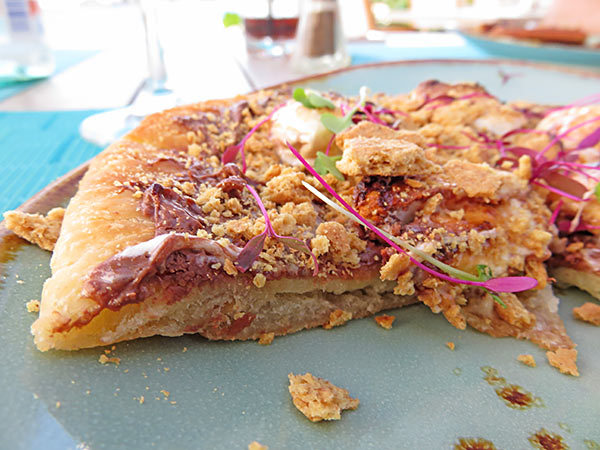 A generous layer of Nutella forms the pie's base. Chef dots that with another stroke of genius...
Housemade Burnt Marshmallows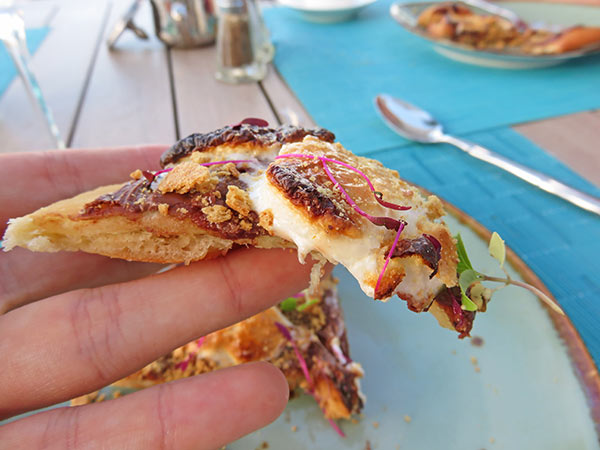 The entire creation is then dusted with cookie crumbs and shreds of flowers to delight the eye.
Each aspect works together flawlessly. The flakey crust gives way to a warm and moist Johnny cake interior. The burnt marshmallow complements the rich Nutella, the cookie crumbs adding a pleasant extra crunch. (See below for a video-slice of this Johnny cake pizza pie!)
There is no way to do verbal justice to the tastiness of this treat. My Dad and I both agreed that this Anguillian-French combination ranks as one of our favorite desserts ever.
The rule for dining is simple when Chef Eddy's creations are on the menu: Eat dessert first.
Tip: Unlike other desserts, I do not recommend sharing. "That" good, you will regret the decision and resent your dining companion for "stealing" even the smallest of bites.
With more spectacular creations on the way, we wait, steeped in anticipation to see what will grace Chef Eddy's canvas next.