Falcon Nest...
A Laid-back Beach Bar in the Heart of Island Harbour
By: Kirmani Honoré
Anguilla beach bars... I know I can't think of a better style of dining! Laid-back, unpretentious, sand under foot, tasty seafood eats on the grill... what's not to love?
Located in Island Harbour, Falcon Nest ticks all of the key "beach bar boxes," offering sun, sand and excellent seafood. Falcon Nest is quickly established itself as a formidable beach bar and restaurant, one of the best on the eastern side of the Island.
Welcome to Falcon Nest Bar & Grill, a beach bar that is fresh out of water! (See what I did there? ;-)).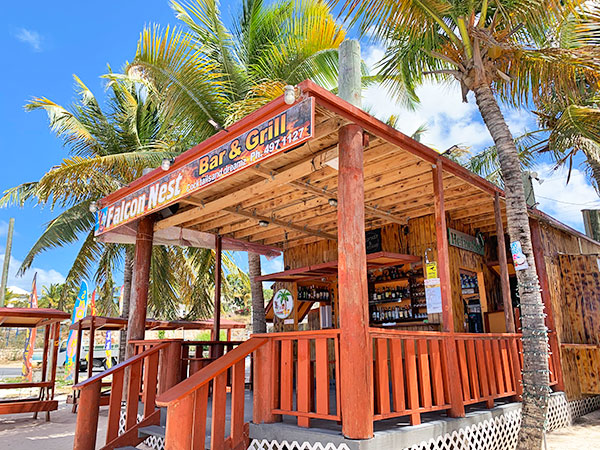 My friend Jamal and I just had to experience it for ourselves...
The Setting
The wooden beach bar is located just a few feet away from the Island Harbour wharf, overlooking that clear turquoise sea.
Dark brown lunch benches spot the beach close to the shore, inches away from the sparkly blue water. They're covered by a wooden top that provides more than enough shade even on those extra sunny days.
Island Harbour's Scenic Setting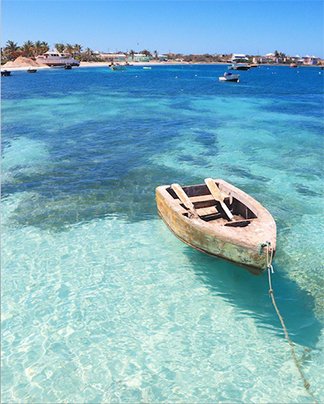 A few feet up from the sand is the actual beach-shack. Short steps lead you up into the open patio area and the bar. A mounted speaker lightly fills the air with various styles of Caribbean music, guaranteed to have you tapping your feet or bobbing your head, or just straight up swaying in the middle of the patio.
Palm Trees Sway On Both Sides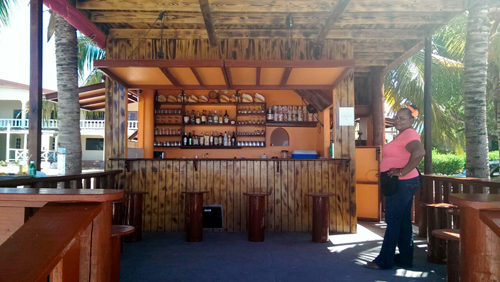 Stubbed bar stools line the bar and railings around the patio. The railings are wide enough to use as counters, a more creative dining experience. They're also a favorite for those who want to dine completely shaded and off the sand.
If you're lucky enough to come just after the lunch rush hour like we did, you have Ren, the host, all to yourself.
The Host
Your host Lauren, or Ren as she's usually called, is your waitress, bartender, your best friend.
Meet Ren

She's the only one who works out front and she handles the restaurant well with warm, positive energy and big smiles.
The Food
We sat down and chatted it up with Ren as we read through the menu over a few drinks. Jamal had a rum punch. I was a little more conservative that day and just had a ginger ale.
Sweet and soothing...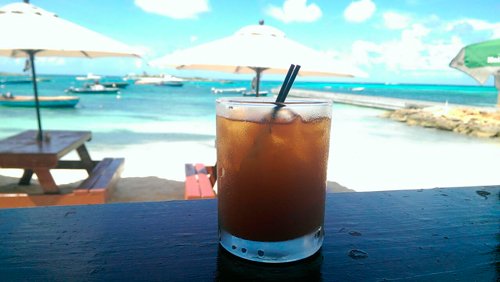 I still stole a sip of his rum punch. I just couldn't resist that strikingly bright color. It was sweet and savory but just a little low on the actual rum.
The Menu


(click for full-size version)
Falcon Nest's menu offers a good selection of seafood choices.
Grilled wahoo, mahi-mahi, lobster and pot fish. Each item can either be ordered separate or with a "meal" (served with sides of rice and peas or fries, cole slaw, salad and fried plantain).
You can have your fish either grilled or fried, or steamed if ordering pot fish.
Apart from seafood, Falcon Nest also serves burgers, BBQ wings and ribs, baked ribs and fried wings. On some days they even have their special conch fritters.
We placed our orders.
I was getting the mahi-mahi meal while Jamal decided on a simple Angus beef burger.
The wait time was about 20 minutes. That time flies when you're gazing out to Island Harbour's shimmering seas and laughing with Ren. Soon Ren headed to the kitchen and returned with our meals.
From the look at my perfectly grilled mahi-mahi I knew I was in for quite a treat. The one thing I didn't expect? For it to be that good.
Time To Dig In!

The perfectly seasoned fish was succulent, melt-in-your-mouth amazing.
I'm always a bit hesitant when it comes to seafood, especially fish. I can't say that I'm a fan of those small pesky bones that slip in from time to time. But Falcon Nest got it 100% right. I loved it.
The yellow rice and peas and crispy, gently salted fries were tasty. The coleslaw was a little bit on the sweet side, but still refreshing and light.
I heard no complaints from my friend either... other than that he wished he had found this place sooner. His juicy, mouthwatering burger, stacked with fresh lettuce and tomato inside, made him a very happy camper.
Yum!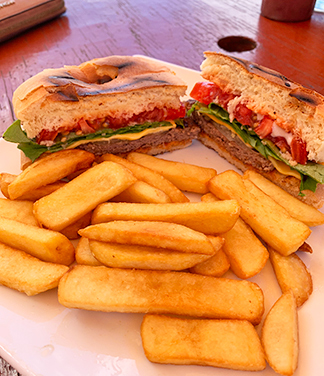 Another favorite from Falcon Nest...
Fish Burger With Rice & Fries

Soft and juicy fish between two soft, grilled buns! Topped with a secret sauce, this burger is irresistible and always delicious.
Food Tip: Try the fish burger with the Falcon Nest Sauce! It is a rich and flavorful homemade sauce. It's delightful with the burgers and steak fries.
Another fish option that's a local favorite?
Steamed Fish

This steamed snapper comes in a sauce of pure goodness. It is perfectly seasoned with thyme and peppers!
Our plates empty, we were stuffed. We said our good-byes to Ren and left with giant, satisfied smiles on our faces, noticeably more upbeat than when we had walked in. Good food does that to you. ;-)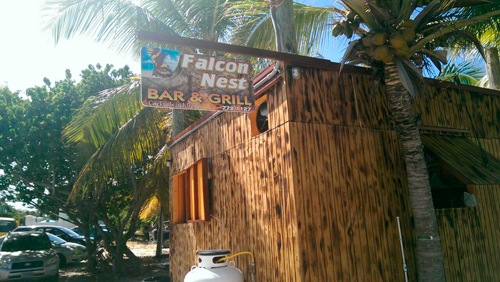 Falcon Nest has placed itself in the top-ranks of great beach-shacks, a staple when it comes to Anguilla dining. The good news is Falcon Nest doesn't break the budget.
Since my first visit, I have been back time and time again. The mahi-mahi has lived up to that first encounter on each trip back.
For so many reasons, Falcon Nest is indeed here to stay!
That View!


Map, Hours & Contact
Direction: Right on the beach in Island Harbour just next to the wharf. Can't be missed.
Hours: 12pm until closed Monday-Saturday. Closed Sunday.
Tel.: 264-497-1127 / 235-1995