Beautiful but Deadly
Anguilla Beaches
Anguilla is a teeny island covered with thirty-three breath-taking beaches, each unique in its own way. While we were there, my Dad set his "collect-them-all" mind to visiting each and every one of the Anguilla beaches. It was nearing the end of our month vacation, and my Dad had almost achieved his goal. Like I said... almost.
There were still a couple of beaches he had yet to see. And I knew that he really wanted to at least walk them before we left! Which brings me to the story of the beach that almost killed my dad!
It was a hot afternoon and we had spent several hours around and about the island, in the hot blistering sun. Driving back to the villa, in the nice air conditioned car, was so refreshing. So cooling that when our turnoff to the villa came, I told my dad to keep on driving for just a little longer.
My mom and sister agreed with me, so my dad kept straight.
And that's when my dad realized that he was headed to one of his "missing Anguilla beaches!" We bumped through a maze of sandy back roads, finally coming to the end of the road and Sherrick's Bay, a bay unknown to most Anguillians, actually lying behind the famous Cove Castles resort. Here's a view of Cove Castles that you won't see very often, with Sherrick's Bay in the foreground...
What a "coincidence" (ha! ha!)! Sherrick's bay was one of the last Anguilla beaches my Dad hadn't visited yet. He parked the car and got out. My sister, Mom and I all groaned while my Dad motioned us out of the car. We shook our heads and my Dad went on without us.
He said he was just going to "explore a bit" and take a few pictures of this charming, unknown beach. But once he was out there, that wasn't good enough for Dad... oh no!
Once he had left, my mom had turned the car on again, so we could stay cool. We sat comfortably in the cool car, and waited... and waited... and waited! Twenty minutes passed and my Dad was not yet back. My Mom told my sister and I to go onto the beach to see if we could see my Dad.
My Dad was nowhere to be seen! We told Mom. She climbed out of the car to come see for herself. He still wasn't there.
My mom looked around, and saw a ton of cliffs and rocks heading out to the most western tip of Anguilla. She figured he had gotten curious and had followed them to the Western tip of the island (boy, it turns out that she really knows my dad!).
We all agreed that climbing out on the cliffs in sandals would be "so Dad," so we got back into the air conditioned car. Once fourty-five minutes passed, we started to get worried.
We climbed back out of the car to try to find him. My mom wouldn't let us go on the rocks to search for him, in case we fell and hurt ourselves. The only thing we could do now, was wait. After sitting impatiently for ten minutes or so, we saw a sweaty, red, figure stumbling its way through the bushes. It was Dad! We all breathed a sigh of relief.
He collapsed into the car, out of breath, lips cracked, really dehydrated. Naturally, we all asked him where the heck he had been!
Mom was right. He had gotten curious, walked along the rocks, and climbed up the cliffs that led to the most western point. He said that before he even reached his destination he was out of breath and feeling dead. But no, he wouldn't give up. He was almost there. And when he did get to where he wanted to be, he said it was a spectacular view and feeling. The sight of roaring ocean, and Anguilita island in the distance was more than anyone could ask for.
Even though we didn't get to experience this "beautiful but deadly" journey, my Dad brought some memories back. He collected two conch shells and one helmet shell (a rarer shell) in perfect condition (he said there were lots of others, too), and some spectacular snapshots!
Pelicans Roosting

Blow Hole
Dad Said It Made A Loud Whistle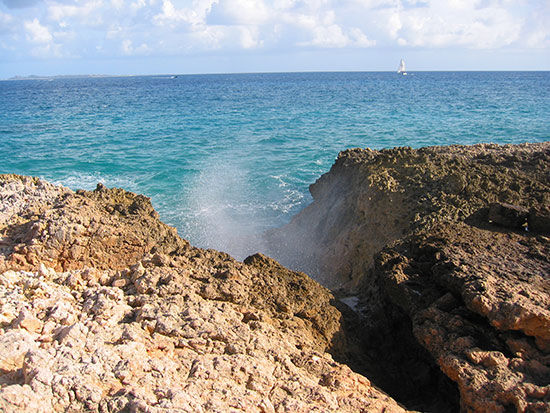 "No Name"
Sandy Beach On The Western Tip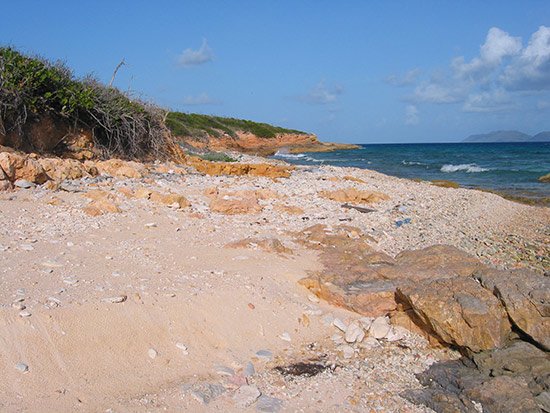 As Far West As You Can Go
Anguilita Island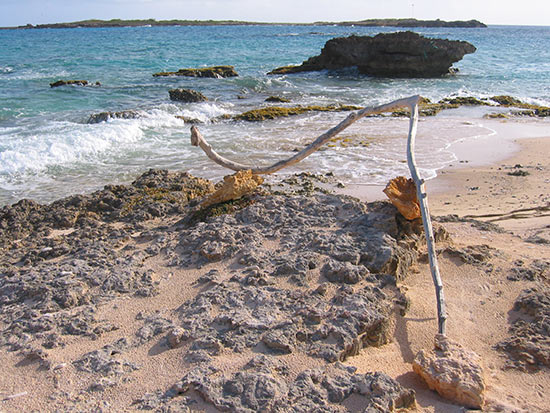 My Dad had came back half dead. His shirt was torn, his face was red, his throat dry, and his body tired. He had climbed along sharp coral rocks, then up cliffs and then back down onto the rocks... up and down, back and forth.
On the way home, though, he was more desperate, no scenic tour, just a straight beeline through all kinds of nasty shrubbery up on the cliffs.
But, it was worth it. He aquired some one of a kind photos and a checkmark on his "Anguilla Beaches list." Actually he discovered a beach on the Western tip that has no name on any map we've ever seen. I think they should name it after my Dad, after all that!
And he also learned a life long lesson. Next time, bring a water bottle!