Anguilla Beaches Walk...
Anguilla's Large, Undeveloped Beauty of a Beach...
Savannah Bay
By: Kristin Bourne
Savannah Bay is Anguilla's largest and least developed sandy beach bay.
While Anguilla's beaches are not overdeveloped - in general and when compared to other Caribbean islands, Savannah Bay's untouched expanse makes it a rarity in today's world... even in Anguilla.
Welcome to Savannah Bay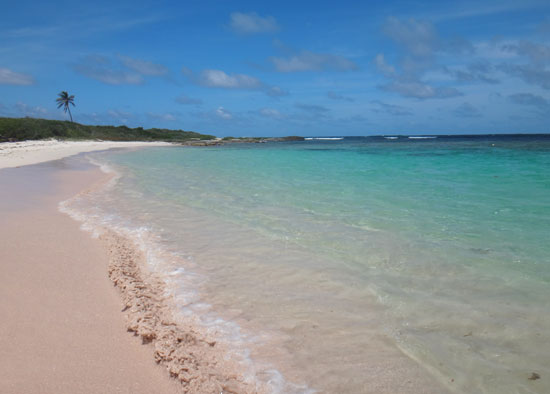 Getting to Savannah Bay
Savannah Bay is often touted as a remote beach destination in Anguilla, not as easy to find, or easy to get to. I mostly disagree with that presentation.
As with "firsts", your first excursion to Savannah Bay may have you feeling as though you are driving off into the middle of nowhere on a dirt, sand, and rocky road without a lot of landmarks or signage.
If you're nervous about seeking out Savannah Bay, don't worry. Anguilla is only 3 miles wide at its widest point and 16 miles long. You may have a small moment where you question yourself, but you should keep going… it's hard to get lost in Anguilla.
The road is marked just often enough, too, pointing you to Savannah Bay in the form of Palm Grove (also referred to as Nat's Place) directional signs. It is the only business and the only structure on Savannah Bay.
The mountains of St. Martin from Savannah Bay

A Note on Vehicles: Every vehicle I've ever ridden in to reach Savannah Bay has not had issue - and that's everything from a small, low-riding rental car to a jeep.
If you want to see this beach, don't let anything stop you. It provides wide open Caribbean Sea views of St. Barths (on a clear day) and the St. Martin mountains show themselves to the far right of your bay view.
Plus, the sounds and sights of nature without man-made disruptions is reward enough.
How to Get to Savannah Bay
On that note, get your Anguilla map and look at the eastern end of Anguilla, find Savannah Bay and get to Liberty Road (see map below for Savannah Bay's location).
You can reach the turn off to Savannah Bay/Palm Grove from Liberty Road which is a paved road (it's the main road that goes from Island Harbour to the Sandy Hill / Long Path area).
Turn here off of the main road. Your destination is the water almost straight ahead.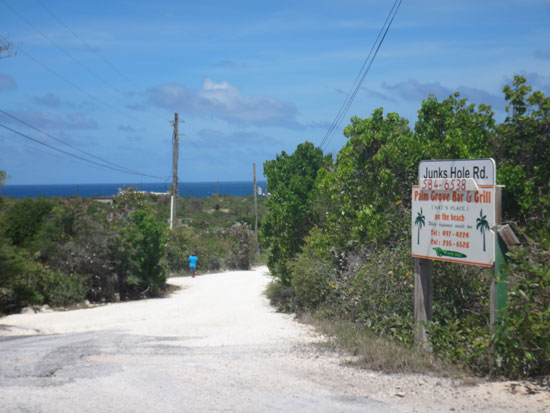 Several different signs
mark the way to Palm Grove

The turn off is marked with a sign to Palm Grove and there is a small store near the turn.
From there the road becomes a soft, dirt road and it is passable.
Keep to the main road and look for signs that point you to Palm Grove. Look for the water (your final destination) and for a few tall and isolated palm trees. They are scattered at the edge of the bay.
Savannah Bay and scattered palms in the distance.

The road will curve so you are parallel with the sea for a short part of the jaunt but it will eventually curve back around and deposit you in Nat's (Palm Grove's) parking lot on Savannah Bay.
The drive from the main, paved road to Nat's Place takes 5-10 minutes.
Arriving at Savannah Bay & Palm Grove
When you arrive, you'll see the Palm Grove building.
Park in this general area and then experience the unique pleasure of Savannah Bay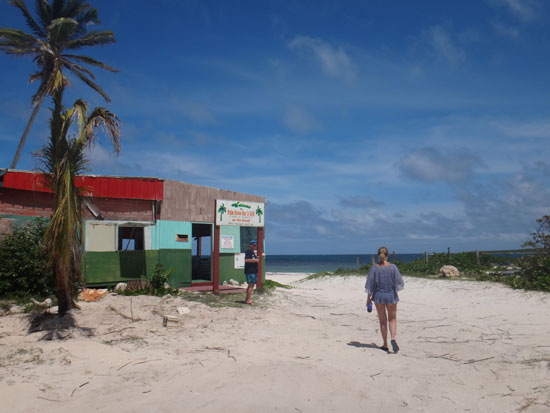 Nat has always been welcoming of those passing through to reach the public beach. His place is perfect for getting a BBQ crayfish lunch and a rum punch, if you get hungry on your day at the beach.
Since there's nothing except for Palm Grove on Savannah Bay, if you want to spend a fair amount of time there, you will want to prepare.
Nat rents chairs and umbrellas within his opening hours (late morning to late afternoon).
Otherwise, like nearby Captain's Bay, there is no shelter from the sun or from rain and no refreshments unless Palm Grove is open. If you don't plan to patronize Palm Grove, bring some water or load up a cooler with drinks and snacks.
Savannah Bay is natural.
Expect to see an unraked beach. Seaweed comes and goes, depending on the season.

When you reach the beach, you will have full run of where you might want to relax, although the water might entice you in immediately.
You'll see Savannah's signature rock that often is a rest stop for passing pelicans.
You know you're at Savannah
when you see this rock in the bay.

There's nice snorkeling around the rock. Word of Caution: It's very shallow. Take care of the plant and sea life as you snorkel.
The water of Savannah Bay is mostly calm.
When the wind is kicked up, you'll see steady ripples in the bay and some white caps beyond the bay.
The calm bay and sandy beach stretches for about 0.7 miles. With just the sand, wind and waves, take a walk along the beach and you feel truly remote and at ease. You almost always have the sand entirely to yourself.
Savannah Bay stretch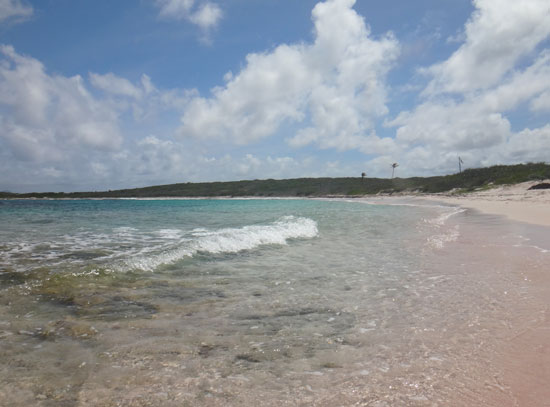 Nat keeps an eye on the area around his establishment. But, since there are no major resorts in the area to fully "maintain the beach," you never know exactly what you'll find washed up on its shores...
Junk's Hole
If you trek to the left, and away from the calm bay toward the extended bay referred to as Junk's Hole, you might find nothing but flora, rocks and seashells, but you can also find washed up debris that the sea has claimed from boats out in the open ocean. Hence the name, Junk's Hole. It can make for a nice afternoon of beachcombing.
Looking toward Junk's Hole, to the left from the sandy beach .

Heading in to the more rugged side...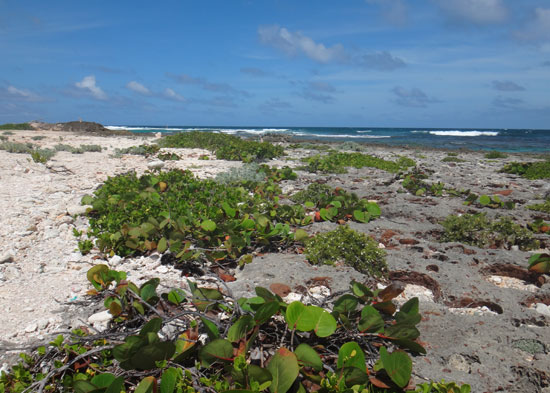 This side is a nice contrast to the sandy beach and bay. The sea rushes in and emits an invigorating sound as the waves crash against the rocks.
I prefer to be barefoot when I can and Junk's Hole is no exception. It is possible to explore it barefoot but it's good to note that since you're likely barefoot on the sandy portion of Savannah Bay, when and if you decide to take to the left and explore Junk's Hole, you may want to bring flip flops or shoes.
The rocks vary from smooth to sharp and jagged along this section of coastline. It makes for a beautiful display of nature.
Wear shoes if you want to get close to the sea on the jagged rocks and note they are sharp enough to puncture a thin, rubber flip flop.
Look down, look up and over at Junk's Hole.
Beauty everywhere.

Along this part of the bay, you'll see small pools with whelks and tiny crabs.
You'll see plants that thrive in harsh conditions.
Look out to sea and watch the stark white foam form on the top of navy blue waves.
When you walk back around to the calmer, more turquoise, beach side near Nat's Place you'll notice the hum in your ears from the rushing waves is gone - but now you'll know exactly where that constant sound in the distance is coming from.
Back to the Sands of Savannah Bay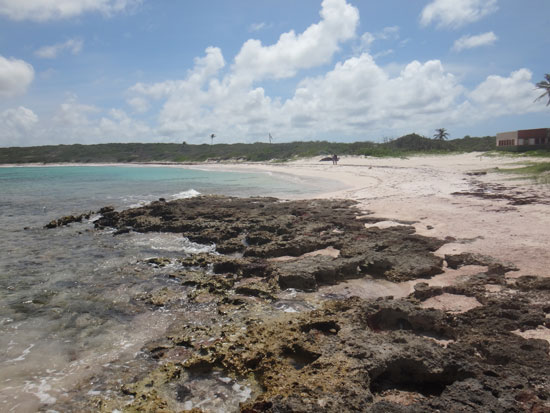 Whether you take 15 minutes to have a look or choose to spend a day at Savannah getting sun, snorkeling (bring your own gear), walking and filling up on some of Nat's delicious food and cold drinks…
You are sure to never forget a day on Anguilla's Savannah Bay.