Nat's Palm Grove...
The Quintessential Beach Bar in Anguilla
Palm Grove At A Glance
One of our first "favorite" restaurants on the island, Palm Grove offers an unforgettable beach-side dining experience.
The restaurant is set in a beach shack on calm and secluded Junk's Hole and serves tasty BBQ and fresh Johnny cakes and fries. With friendly service, Nat and his son, Theon, make you feel right at home.
More on Palm Grove, below...
On our first trip to Anguilla (March 2002), my Dad and I discovered a colorful little beach bar on Savannah Bay/Junk's Hole.
We were thirsty and starving after a long day of exploration (my sister was sick, so she and my mom were back at the villa).
To this day, that quiet meal with my Dad, the gentle waves of Savannah Bay in the background, remains one of my best experiences in all Anguilla restaurants.
We split the lobster and crayfish combo, along with a rum punch for my dad (two actually), and a Coke for me. No doubt about it, this was the best meal we had during that trip! And that includes some meals at super-expensive, 5 Star Anguilla restaurants like Blanchards and Mango's.
So naturally, during our month-long return trip, my mother really wanted to try this "best of all Anguilla restaurants" (in the words of my dad). So here we are at the Palm Grove...
The owner of the Palm Grove, Nat, actually remembered us, welcoming us back!
Of course my Dad ordered a rum punch while the rest of us had Cokes. Since I had to continuously remind Dad to drive on the left side of the road after two rum punches last time (heh heh), he stuck to one this time. Here's Nat's wife preparing it...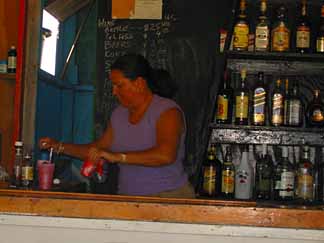 As you can see, my sister Yuki was rather worried because she doesn't like lobster and crayfish. But I am quite happy with anticipation...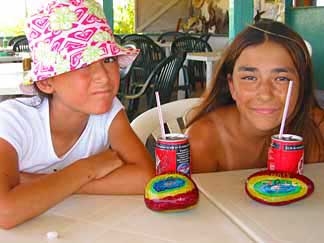 My Dad caved in and ordered the chicken for Yuki, while the rest of us split six crayfish and a five pound lobster.
We actually saw the fisherman deliver our dinner, live!
Nat boils his lobsters to seal in the juices. Then he bar-b-q's and spices them to perfection!
Despite the anticipation, waiting for dinner at the best of all Anguilla restaurants, is easy, because a brisk sea breeze continuously refreshes and the view encourages relaxed daydreaming...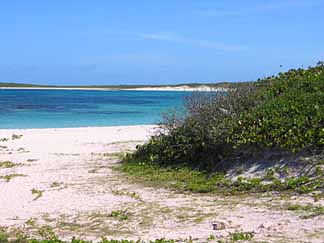 We all lick our lips as Nat approaches...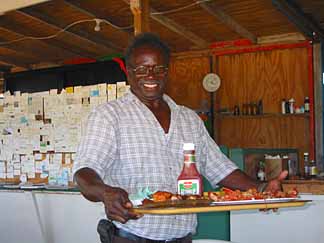 And the final verdict? Mouth-watering. Nat makes his own special hot sauce which adds even more zest to the experience.
Still one of the best of all Anguilla restaurants!
Return Visits to Palm Grove
Since our first meal with Nat in 2002, many restaurants have opened and closed, new favorites have come and gone.
But one has held steady and true...
Nat's Palm Grove has always been
one of the best Anguilla restaurants!

And now there is more room to enjoy the island's freshest seafood.
Palm Grove Has Grown


One of our original favorite Anguilla restaurants has expanded.
Don't panic!
Nat's Son Theon

It hasn't been bought out and blown out by a big corporation.
Nat's Palm Grove remains the small, sand-swept shack we love and look for on every Anguilla vacation.
Now, you simply won't have to wait for a table, and you have more room to stretch out.
Nat and his family have built out an addition, doubling the size of the establishment.
Otherwise?
Everything's the same, just the way we like it...
Plates of crayfish, heaps of thick, hand-cut steak fries, hot, straight-from-the-fryer Johnny Cakes, and a cool rum punch!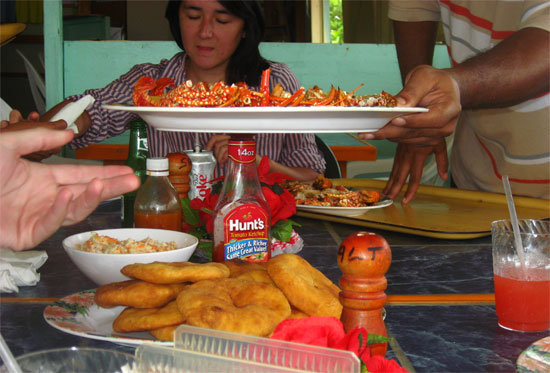 As Nat Approaches, Our Mouths Water!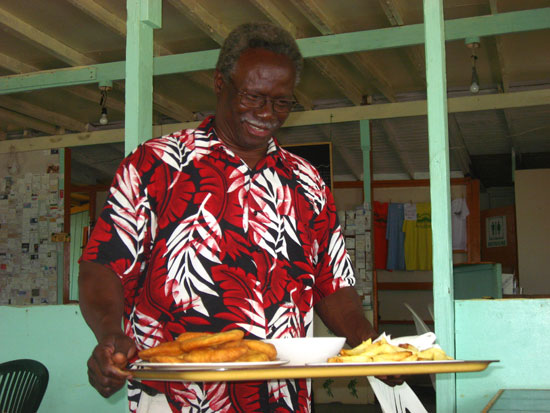 Over the years (and over several rum punches!) Nat has become a good family friend.
After a meal fit for a king, my Dad and Nat talk politics for hours.
As for my Mom, Yuki and I? We retreat into a food coma on the beach!
There is no better remedy.
2013 Update!
Nat Richardson and his son Theon have been hard at work renovating their loyally loved restaurant, Palm Grove. One of their changes has been long awaited and highly anticipated. Let's take a look.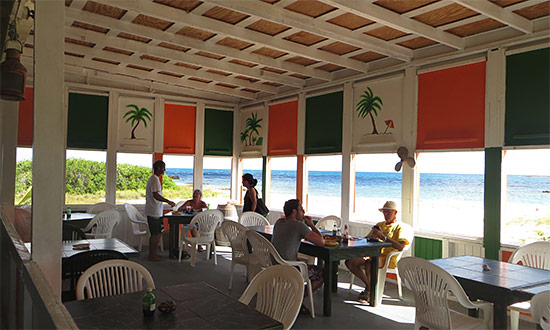 At the end of a long, dusty road, Palm Grove's location is dreamy. On the ever quiet and tranquil Junk's Hole (with no other buildings on the beach and no electricity!), Palm Grove restaurant is something out of an old travel novel. A little ramshackle of a bar serving terrific locally caught seafood and mean rum punches, and owned by the most inviting Anguillian family, it wins on all levels.
Junk's Hole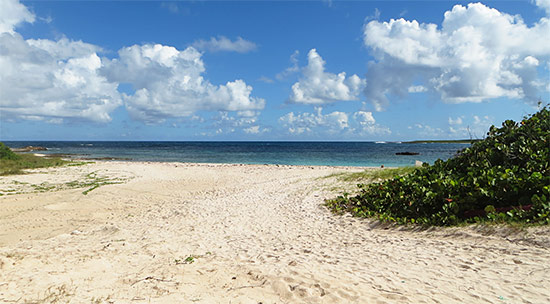 Now, Nat's building is taking full advantage of the natural beauty that surrounds it. Before the renovations, the windows at Nat's were high, preventing you from taking in the view. That's all changed!...
The windows have been lowered AND the shutters, which used to flip up attached by a hinge on the exterior of the building, now slide down from inside the wooden structure of the building. Genious and efficient!
"I was replacing hinge after hinge. The heavy salt air just disintegrates them," Nat explained.
Theon has changed up the menu a bit, too. He's added several fresh salads (crayfish, chicken, lobster on a bed of lettuce with shiny tomatoes) and some special sandwiches. I didn't see it on the menu, but I did see it on a plate... fried fish between two Johnny cakes, topped with lettuce and tomato. Brilliant!
We were tempted by the Johnny cake sandwich, but couldn't bring ourselves to skip our very favorite...
Caught-that-day large, juicy crayfish and fresh-made coleslaw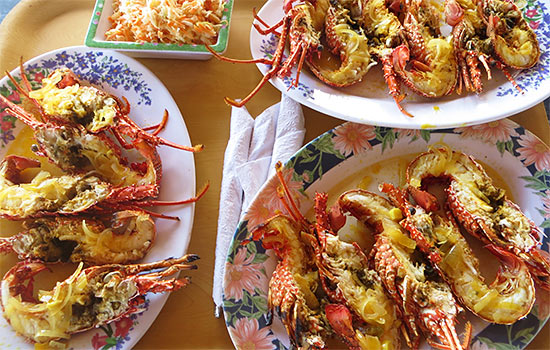 Thick, hand-cut steak fries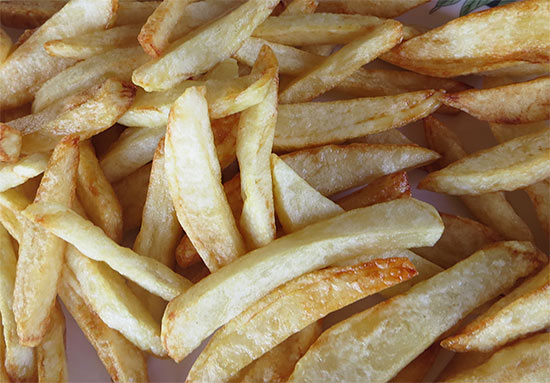 Piping hot Johnny cakes

Ending it all off with a long conversation with Nat, the afternoon was simply perfect.
Palm Grove is still one of the best... now it has a great view. :-)
Directions, Hours & Contact
Directions: If you're coming from the west, drive to the round-about in Sandy Hill (past Proctors grocery store, Best Buy supermarket and AARF). When you come to that round about, you will see two roads, take the right road. Follow that stretch. If you see the National Heritage Museum, you know you're on the right path. Continue past the museum. In a few minutes you will see a sign to Palm Grove. Follow the signs.
Palm Grove
Good for a quiet beach day of grilled crayfish, hot Johnny cakes, hand-cut fries and fresh rum punches.
Hours: Daily. Call ahead of time.
Tel: 264-235-6528