Anguilla...
Its Unknown Water
Anguilla's Atlantic and Caribbean beaches are not its only breath taking bodies of water. But they are the ones that get "all the good Anguilla press." But if you look in the opposite direction, inland instead of out to sea, you'll find a watery experience of a completely different kind...
Salt water ponds. Calm. Rarely even a ripple. Perfect for a peaceful walk. And bring binoculars, because you'll see birds that you'll never see over the ocean... and that you've probably never seen before...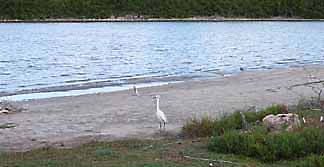 In total, there are seventeen ponds on Anguilla (all salt water, there is almost no naturally occuring fresh water on Anguilla). Along the shores and on the sandbars, you will find many different kinds of birds. You will discover many different species of ducks, egrets, flycatchers, herons, plovers, sandpipers, and more.
But what really makes Anguilla's salt water ponds so different? They are extremely salty.
While driving by certain ponds, you will even see balls of salt bouncing across the road! Yes, really! They look like big balls of cotton candy (but they don't taste like them!).
The ponds are so salty, they used to "mine salt" from them. Our friend Christine told us that when she was a girl and worked in the Road Salt Pond, it would burn your feet to stand in the pond. People would go out in their sun hats, collect big flats of salt, and process it for export.
You won't see any of that anymore, but you can still visit the pond and enjoy them in their natural state. Many of these ponds are out in the open, and easy to find. But if you really get into it, and are anything like my Dad, there will be a few that are tricky to get to, but you just have to see them!
So don't leave home without it... your Anguilla map, that is!
Anguilla's salt water ponds just don't get the attention they deserve! They may not be as dramatic as their more famous cousins, the Anguilla beaches (after all, I didn't call this site anguilla-ponds.com!). But they certainly are special and worth the detour whenever you see on your map that you are nearing one.
Just you, a peaceful calm, and birds that call Anguilla "home" (at least for a while)...