Guide to Renting Beach Chairs in Anguilla
It isn't an Anguilla vacation without a beach day... or two... or three... or four... or more!
Elvis'...
A Top Spot For a Beach Day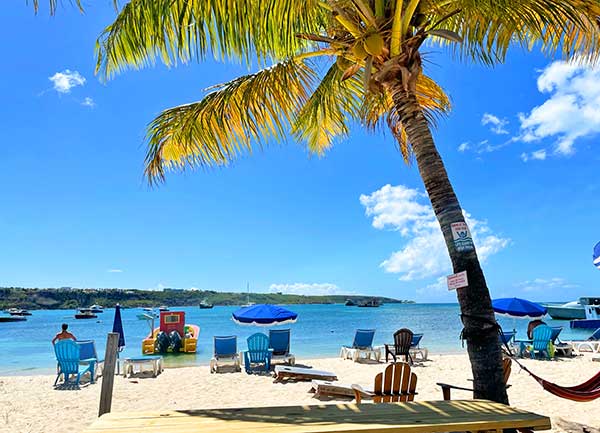 Whether lunching at Garvey's on Rendezvous Bay or grabbing a drink at Tropical Sunset on Shoal Bay East, every day at the beach is a treat.
What goes perfect with beaching? Lounging on... and on... and on... Beach, eat, snooze, repeat is an all-time favorite activity of every Anguilla lover ;-)
One question we get asked frequently is about beach chair policy. Can you rent beach chairs at the big resorts? Do restaurants include beach chairs with lunch? Are they available at an added cost?
Sunshine Shack's Rendezvous Bay Beach View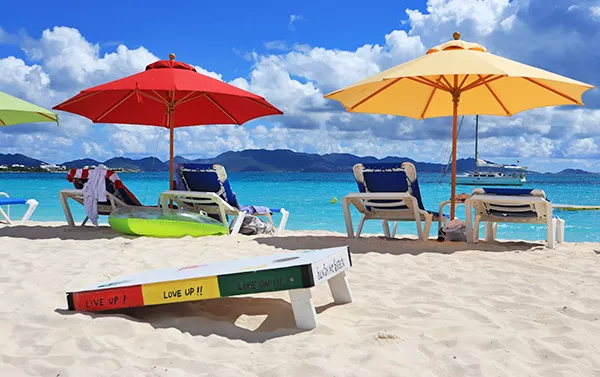 Keep reading for our definitive guide to beaching in Anguilla!
Guide to Beaching in Anguilla
Before we begin, note that all hotel and resort beach chairs are reserved for on-property guests. Any exceptions and all other beachfront establishments are listed below.
Let's begin in...
The West End
Anguilla's West End is famous for its world-class beaches including Meads Bay, Maunday's Bay, Shoal Bay West and Rendezvous Bay. They are all home to some of the Caribbean's top beach bars and beach-front restaurants.
Tulsa's Punch
A Must-Have at Trattoria Tramonto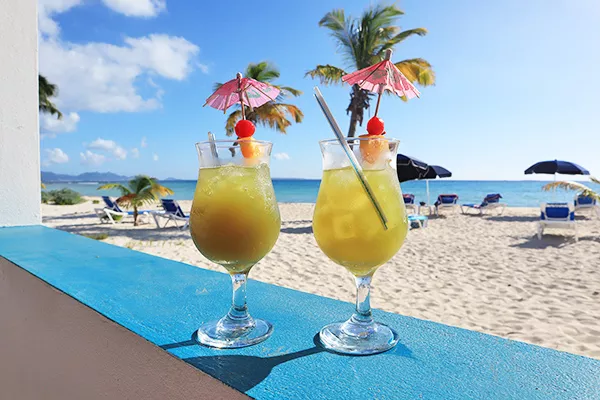 Meads Bay in particular is known for its high-end dining establishments. From indulgent Jacala, to Savi Beach Club's impressive and sophisticated beach club, spending a day or two experiencing Meads Bay is a must when on an Anguilla vacation.
Sumptuous Savi Beach Club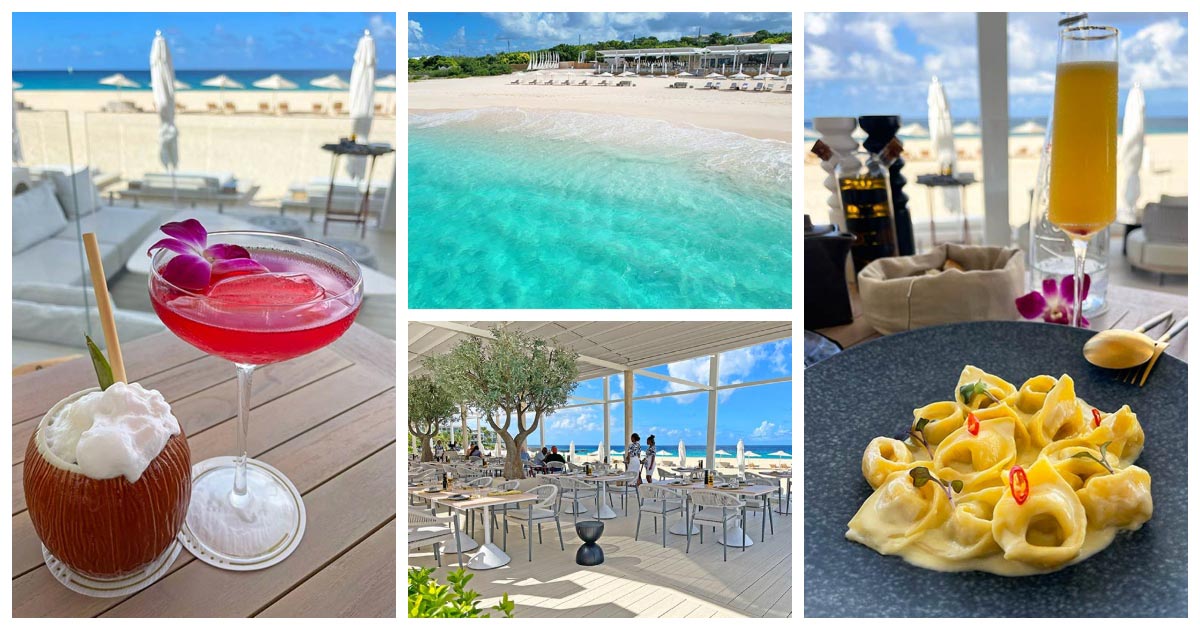 Plenty of Meads Bay's bars & restaurants offer complementary beach chair access to their patrons. Others offer chairs at a fee.
Jacala: Included with lunch.
Ocean Echo: Included with lunch.
Straw Hat: Included with lunch.
Blanchards Beach Shack: $5 per chair and umbrella for the day.
Savi Beach Club: $30 per chair.
Lounging at Cap Shack on Maunday's Bay

Other beautiful beaches in the West End include Maunday's Bay, Shoal Bay West and Rendezvous Bay. They are all "must visits," each unique in their sand, water and curvature of their bays. That's not all! Each beach offers a unique dining experience.
Here's who rents chairs to the public on these beaches...
Cap Juluca's Cap Shack and Uchu: $100 per chair (deducted from your bill). Based on hotel availability.
Trattoria: Included with lunch. If not having lunch, $50 per beach chair for the day (can go towards drinks).
Sunshine Shack: Included with lunch.
The Center of Anguilla
Moving east, the middle of Anguilla has a number of sweet stretches of sand and funky beach bars.
First up, on Anguilla's North shore is Crocus Bay...
Da'Vida's Bayside Grill: Beach chairs are included with lunch.
da'Vida on Crocus Bay

On the opposite coast, take a beach seat at Ferryboat Inn. This family owned and operated bar & restaurant serves up excellent burgers and rum punches with a beautiful view of St. Martin!
Ferryboat Inn: Beach chairs included with lunch.
Down on Sandy Ground you will find some of the best beach bars on the island. Waves, Roy's and Elvis' Beach Bar serve happy patrons all year long! Elvis' has even won USA Today's "Best Caribbean Beach Bar" award.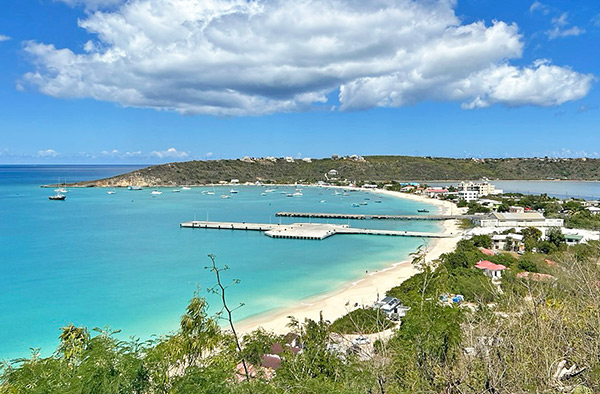 With seas that sparkle clear and calm, here is where you can soak up the sun from a comfy beach chair...
Elvis': Beach chair and umbrella included with lunch.
Waves: Included with lunch.
Roy's: Included with lunch.



Sandy Island
Just offshore of Sandy Ground is Sandy Island.
One of Anguilla's closest cays, Sandy Island is loved for snorkeling, swimming, live music and BBQ eats!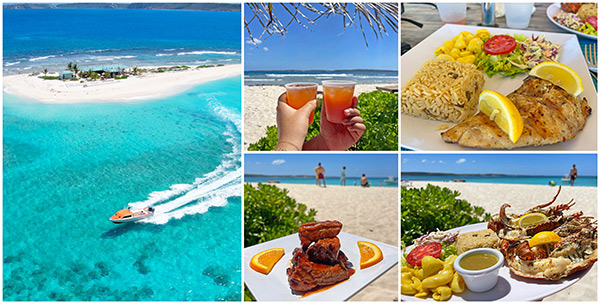 This sandbar in the middle of the sea shore offers it all.
Sandy Island: $10 for beach chair and umbrella.
Let's head further east to...
Shoal Bay East
... aka the beach capital of Anguilla!
World famous and rightly so, Shoal Bay has a number of sought after beach bars lining its two-mile long stretch of pristine white sand.
Don't be surprised if you park your car at Tropical Sunset and find yourself meandering down the beach, marveling at the water, the sand, and stopping in at every beach bar along the way.
Love Those Shoal Bay Blues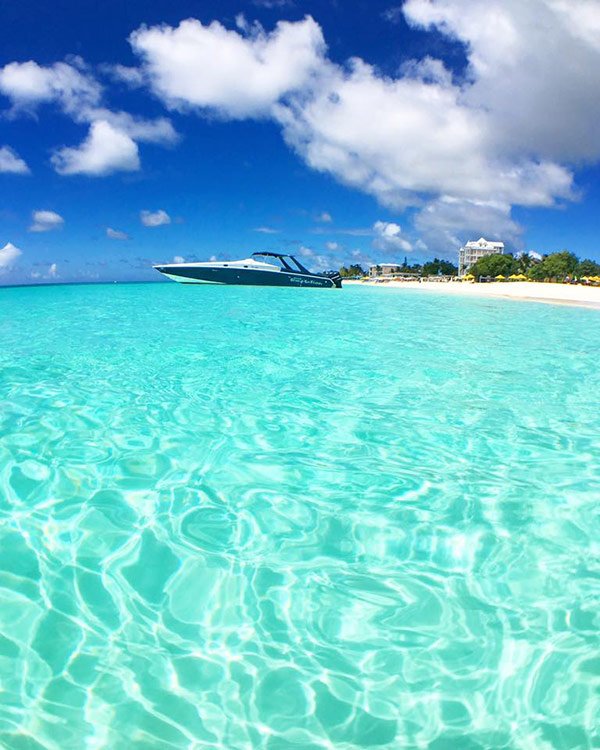 Refueling with drinks and food is easy with so many prime spots lining the sand.
Elodia's: Beach chairs included with lunch.
Gwen's: Included with lunch.
Madeariman: No beach chairs. Rent from Jamel just in front of Madeariman - $10 for 2 chairs and an umbrella.
Beachfront at Olas

Manoah: Beach day pass - $30 per person. Pool day pass - $60 per person.
Olas: Included with lunch.
Serenity: $12 for 2 chairs and an umbrella.
Tropical Sunset: Included with lunch. $5 if not having lunch.
Zemi Beach House: Day pass - $50 per person (accredited to your bill if you dine/drink at the beach bar or restaurant).
Last but not least, and sitting furthest east on our tour...
Scilly Cay
The gem of Island Harbour, Scilly Cay sits just 5 minutes from Shoal Bay. This mini-island paradise is the ultimate beach treat.
A mouthwatering BBQ restaurant on an island all its own, Scilly Cay delivers soul-soothing beach days.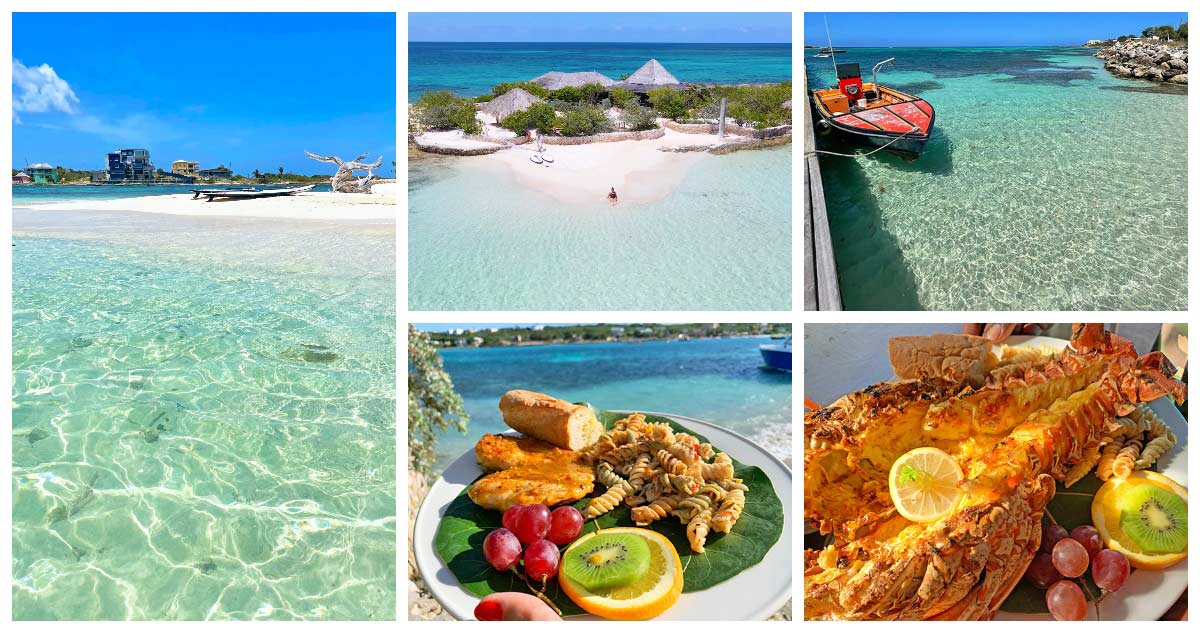 Catch their boat from the Island Harbour pier ($5) and sit back, relax and float on in total calm!
Scilly Cay: Beach chairs included with lunch.
Sea You at The Beach!

Let us know in the comments below which is your favorite spot for a beach day! If we missed any toes-in-the-sand establishments, be sure to mention those down below, too, and we will add them to the list.
Sea you at the beach!